Small Guest Bathroom Makeover
This was a bigger project than we realized it was going to be! There were a lot of details we just didn't think about, but it's done now and it's beautiful in my humble opinion! 🙂
This post contains affiliate links for your convenience. See my disclosure policy here.
Guest Bathroom Before
This guest bathroom was U-G-L-Y. Yellow counter tops, outdated paneling, ugly linoleum (if you didn't see my posts on how we tiled over the linoleum and updated the paneling, check them out)! Here's a before picture:
How about that wallpaper?! We found that after taking down the mirror. The previous owners had painted over the wallpaper. However, they did not texture the walls first so you could see the seams in the wallpaper. Tacky.
On a Budget
We wanted to do this guest bathroom makeover as budget-friendly as possible which meant keeping the cabinets and paneling and shopping around for good deals. We started out at Home Depot to get some inspiration.
Backsplash
I knew I wanted to carry over the paint color we had used in the laundry room makeover, which is a very light gray. I love the look of marble and beveled subway tile so when I found both in a mosaic on our shopping trip, I knew we had to incorporate it somewhere! We ended up using it as a backsplash in the bathroom and laundry room to tie the spaces together. We only had to purchase about seven sheets total since we cut it into sections of three rows.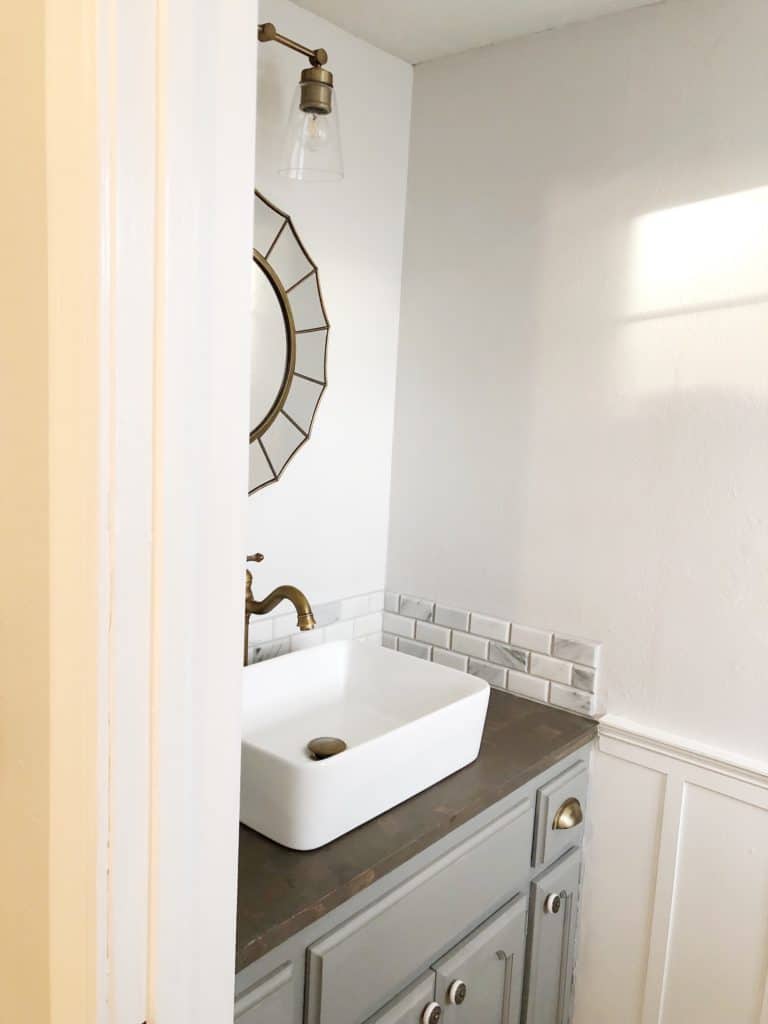 Faucet and Sink
After browsing the aisle at Home Depot and finding some ideas, I turned to Amazon to see if I could find better prices on sinks and faucets. I found this beautiful antique brass faucet for a steal which led us to pick out this rectangle vessel sink to go with it, both on Amazon.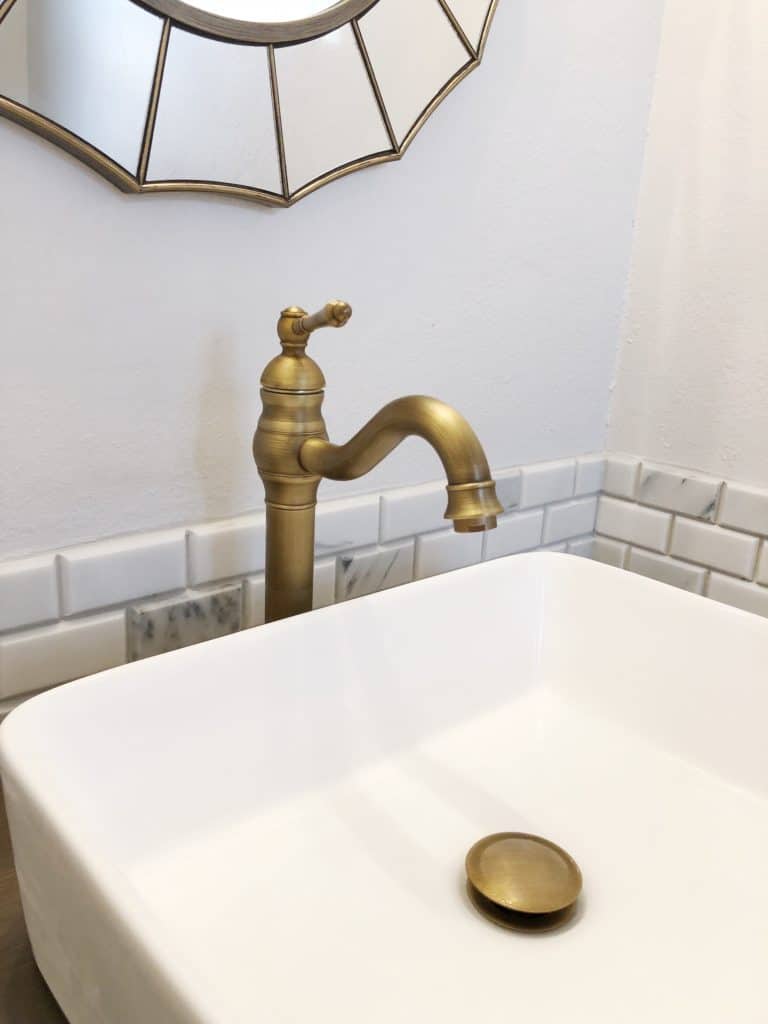 Butcher Block Countertop
At that point, we decided we'd do a butcher block countertop. It's inexpensive and looks amazing and we knew it would be pretty contrasted against the white sink. For the countertop, we purchased a large piece of pine and cut it down to size. We stained it in Varathane's Briar Smoke, the same stain we used on our coffee bar counter. We used Watco's Butcher Block Top Coat to seal it.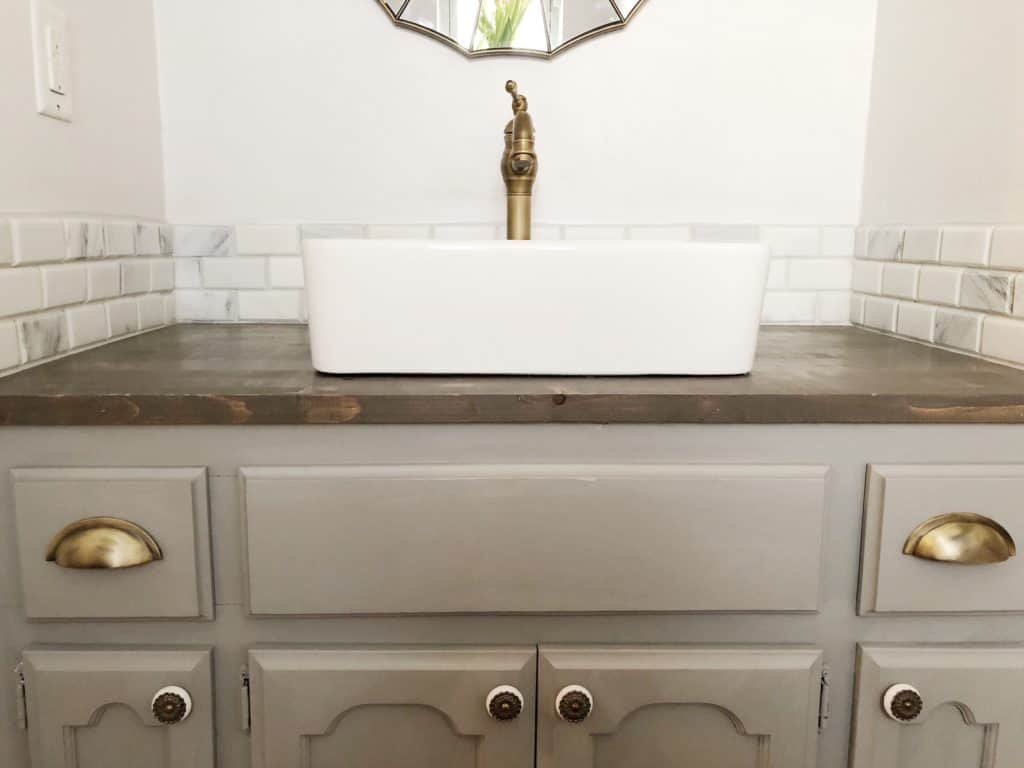 Painting the Cabinets
For the cabinets, we decided to use Valspar's Furniture Paint in SW's Perpetual Gray again. We used this on our coffee bar, as well as our front door. It's such a pretty gray. I found new knobs and pulls at Hobby Lobby with brass accents to match the faucet.
Vanity Light and Mirror
I wanted the vanity light to match the faucet, as well. I almost purchased one on Amazon, but then found a great deal on an open box vanity light on Birch Lane instead. We weren't sure what we were going to do for a mirror and then I remembered the mirror we had hanging in our upstairs hallway. We had purchased it at Target several years ago and it was just the right color. I went and yanked it off the wall and brought it down to the bathroom and it fit the space perfectly! I love the way the faucet, mirror, and light tie together!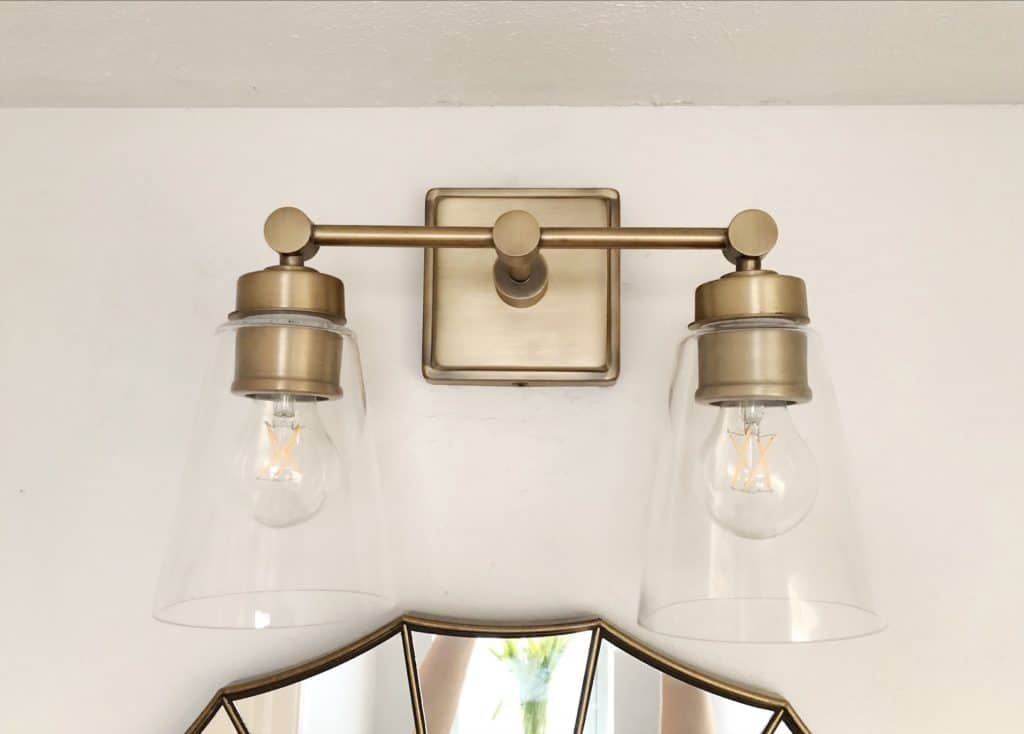 Texturing the Walls
On the walls, my husband had to go over the wallpaper seams with putty, sand it down until the surface was smooth and then texture the walls. It was his first time using the spray texture (along with using it in the laundry room) and he did a great job!
Flooring
For the flooring, I had originally planned on going with a hexagon tile, but then we found this beautiful marble mosaic tile at Lowe's for a great deal and decided to go with it instead. I'm so pleased with how it turned out!
To learn how to seal your tile grout, check out How to Seal Grout in 4 Easy Steps!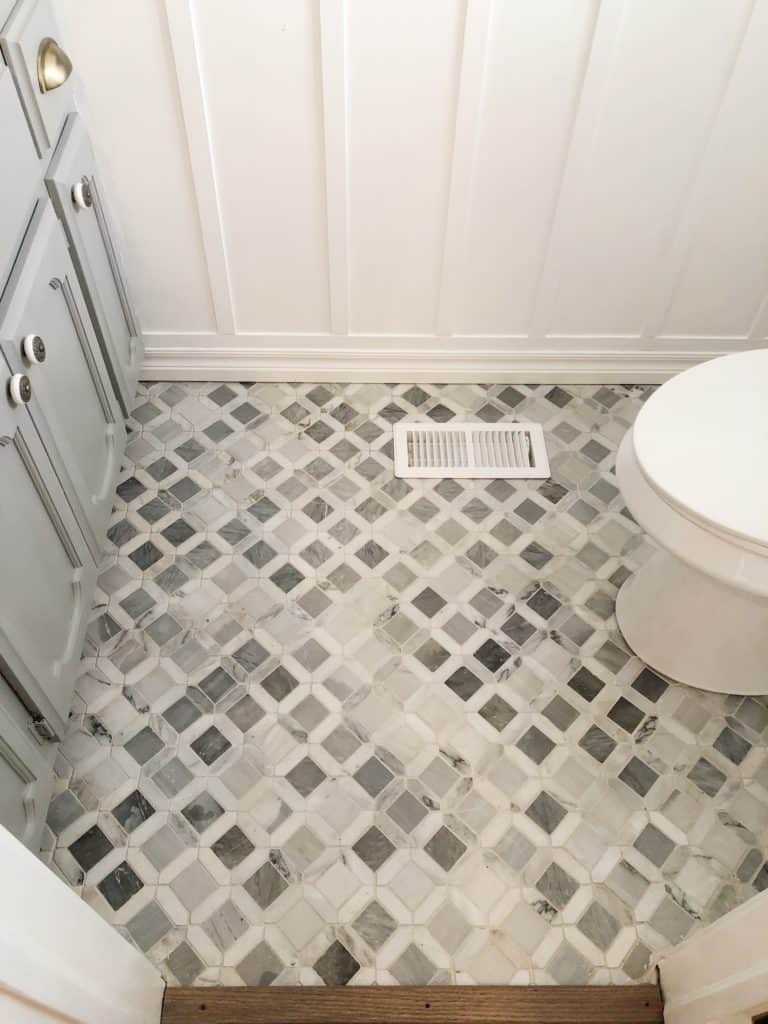 Updating the Paneling
As mentioned before, we decided to update the paneling using trim to give it a board and batten look.
New Toilet
Finally, we replaced the toilet with a more efficient elongated toilet.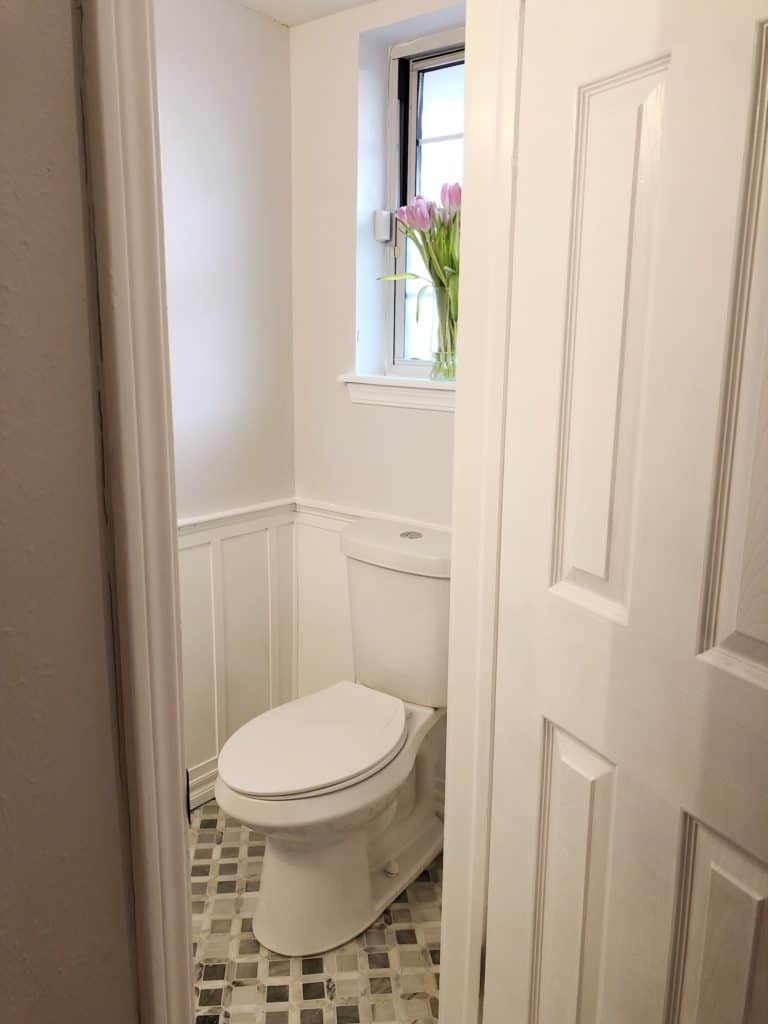 Updated Guest Bathroom
Whew! This was a big job. We're glad it's finished and so glad to have a working bathroom again! If you've read some of the other posts, you know it was out of commission for a while due to our busted sewer line. It's the only bathroom downstairs so it's nice to have it working and even nicer to look at!
Thanks so much for taking the time to hang out on my site today! I appreciate you stopping by! Next week I'll be sharing our buffet makeover so be sure to come back and check it out!
Don't forget to follow me on Pinterest, Instagram, and Facebook and subscribe to my emails so you don't miss a post!
Have a blessed day!
Pin for later: