Stunning Half Bath Makeover for Under $1,000
Remodeling a bathroom can be a big undertaking, not to mention expensive. We have a small half bath downstairs off the laundry room that hadn't been touched since 1972.
This post contains affiliate links for your convenience. See my disclosure policy here.
According to HomeGuide, the average cost of a small bathroom remodel ranges from $2,500 to $5,000 or $120 to $275 per square foot. Labor costs make up 40 to 60% of that total.
We decided to put our DIY skills to the test to save some money on this half bath makeover that came in under $1,000.
Guest Bathroom Before
This guest bathroom was U-G-L-Y. Yellow counter tops, outdated paneling, ugly linoleum (if you didn't see my posts on how we tiled over the linoleum and updated the paneling, check them out)! Here's a before picture:
How about that wallpaper?! We found that after taking down the mirror. The previous owners had painted over the wallpaper. However, they did not texture the walls first so you could see the seams in the wallpaper. Tacky.
Half Bath Remodel on a Budget
We wanted to do this half bathroom makeover as budget-friendly as possible which meant keeping the cabinets. The original plan was to install a pedestal sink but that would've meant repairing the wall and ordering more flooring.
Plus we would've lost the storage under the sink for extra toilet paper, etc. since there isn't room for a medicine cabinet.
We opted to give the cabinets a coat of fresh paint in a light color and to install a new sink. We also kept the paneling and shopped around for good deals. Keep reading for all the ways we saved on our small bathroom makeover!
Backsplash
We painted the cabinets Perpetual Gray by Sherwin Williams and I wanted an elegant touch of backsplash to go with it. I love the look of marble and the shape of beveled subway tile so when I found both in a backsplash at Home Depot, I knew I had to have it!
We kept it budget-friendly by cutting it in half to make sections of three rows. This meant we only needed 4 sheets which kept the total cost under $50.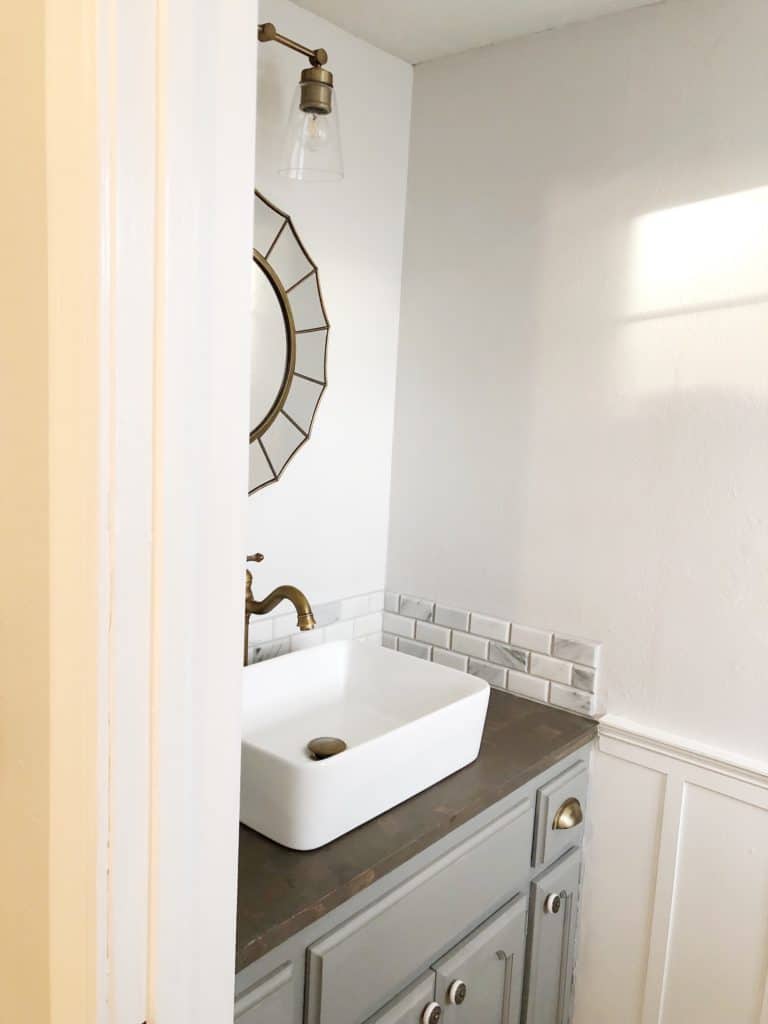 Faucet and Sink
As I mentioned earlier, we opted to replace the old sink and we needed a new faucet, as well. Both of these can be high ticket items.
But I found this beautiful antique brass faucet for a steal which led us to pick out this rectangle vessel sink to go with it, both on Amazon. The total for the sink and faucet came to $125.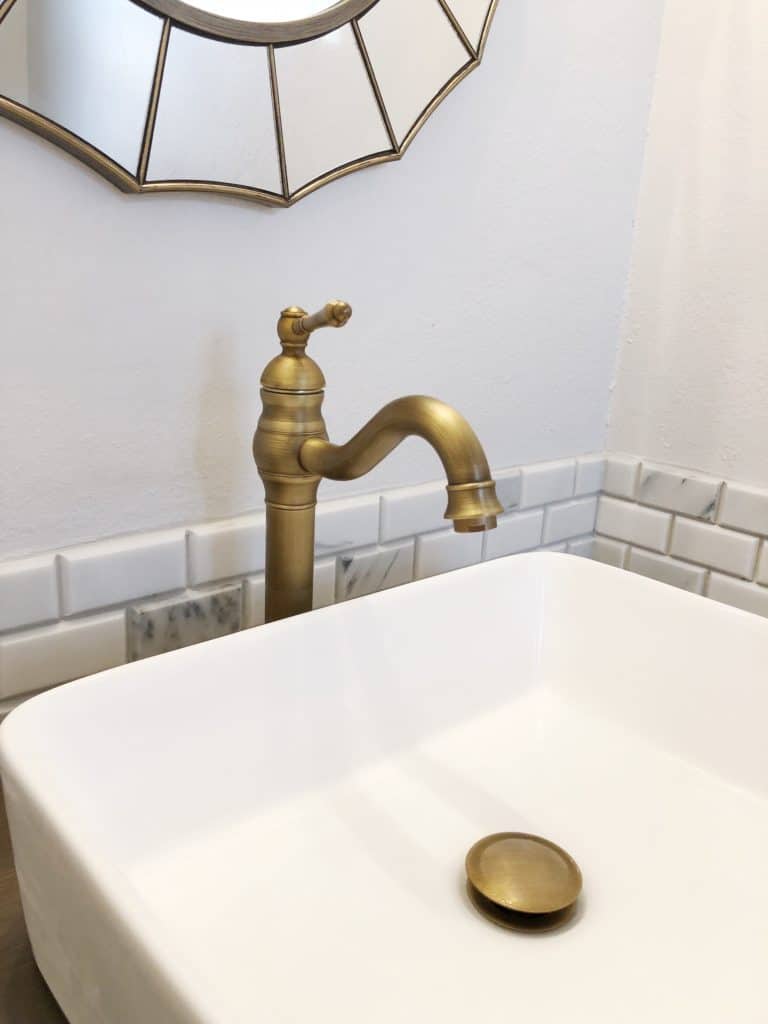 Butcher Block Countertop
We also needed to replace the outdated countertops, another item that can break the bank. After researching, we decided to go with a DIY butcher block. It's inexpensive and looks amazing and we knew it would be pretty contrasted against the white sink.
For the countertop, we purchased a large piece of pine for $25 and cut it down to size. We stained it in Varathane's Briar Smoke, the same stain we used on our coffee bar counter. We used Watco's Butcher Block Top Coat to seal it. The total cost for this project was about $50.
Another way to save money on countertops on a powder room or full bathroom renovation is to purchase a remnant.
For our main bathroom makeover, we found a business on Facebook Marketplace that specialized in kitchen countertops and they sold their leftover remnants for a fraction of the cost. They are usually willing to cut it to size, including sink and faucet holes, for a an extra fee.
We saved a ton of money on our marble countertops by going this route!
Painting the Cabinets
As mentioned, we opted to keep our current cabinets and repaint them. This is a great way to save money!
For the cabinets, we decided to use Valspar's Cabinet and Furniture Enamel in gray. We've used this paint everywhere in our house, including on our kitchen cabinets. Check out the review on this awesome Valspar paint here. We purchased a quart for $28 and gave it two coats.
I found new knobs and pulls at Hobby Lobby with brass accents to match the faucet.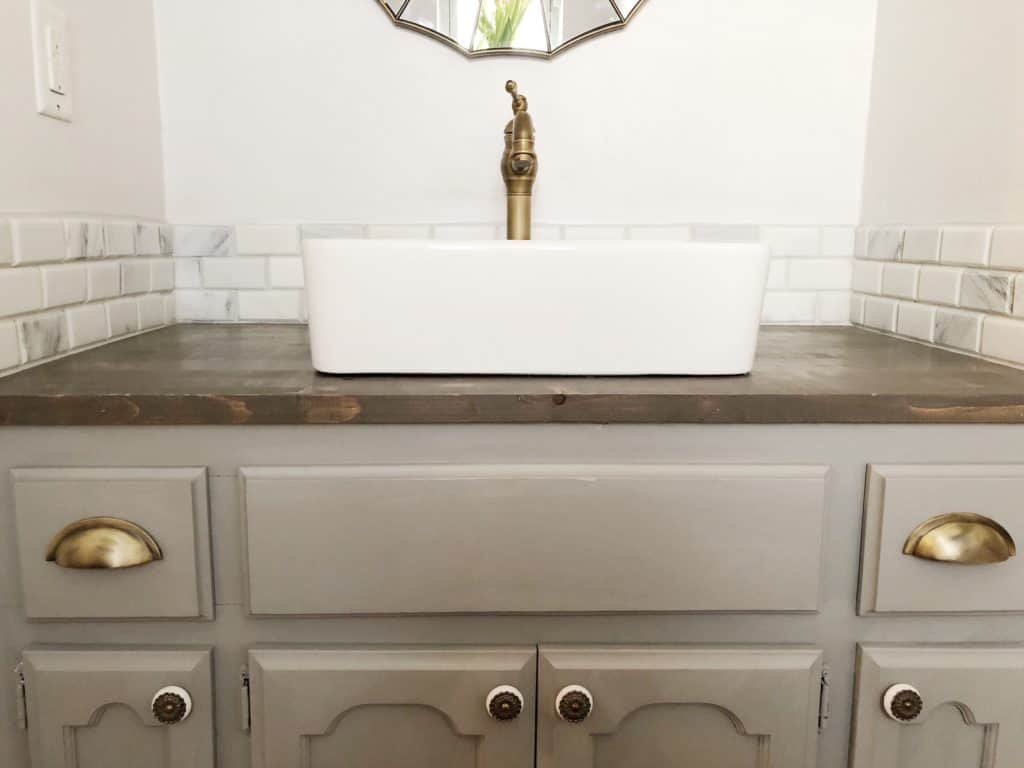 Vanity Light and Mirror
I wanted the vanity light to match the faucet, as well. I almost purchased some wall sconces on Amazon, but then found a great deal on an open box light fixture on Birch Lane instead.
We weren't sure what we were going to do for a mirror and then I remembered the mirror we had hanging in our upstairs hallway. We had purchased it at Target several years ago and it was just the right color.
I removed it from the hallway and brought it down to the bathroom. It fit the space perfectly and the best part was that it was free! I love a good repurposed piece! The mirror helped tie everything together.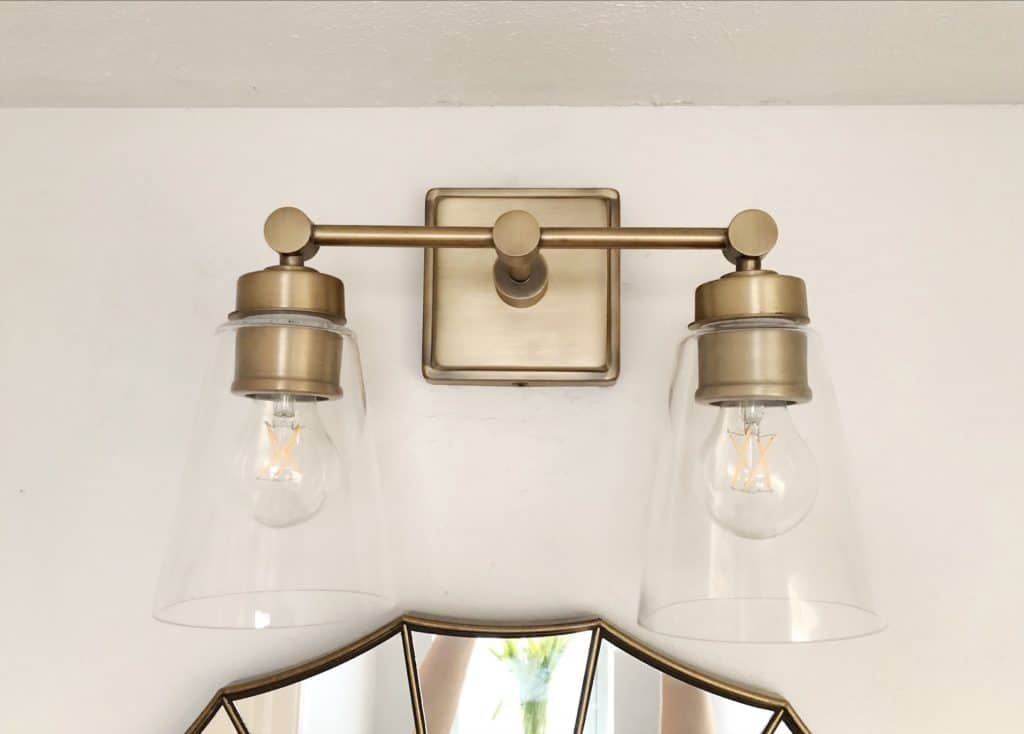 Texturing the Walls
On the walls, my husband had to go over the wallpaper seams with putty, sand it down until the surface was smooth. Then he used a knock down spray to texture the walls.
It was his first time using the spray texture and he did a great job! If you end up needing to tackle this project, I recommend watching a YouTube video for a how-to first.
After the texture was dry, we painted the entire room a light neutral gray.
Ceramic Tile or Marble Flooring?
For the flooring, I wanted something that would make a big impact without adding a ton of cost. I had originally planned on going with a ceramic hexagon tile, but then we found this beautiful marble mosaic tile at Lowe's for a great deal. We decided to go with it instead.
Since it's a very small room, it was less than $250 to complete the flooring start to finish.
The marble flooring gave this tiny little half bath a bold look without being overwhelming! My husband tiled over the linoleum floor, adding a light gray grout. Then he sealed it for a lasting finish.
To learn how to seal your tile grout, check out How to Seal Grout in 4 Easy Steps!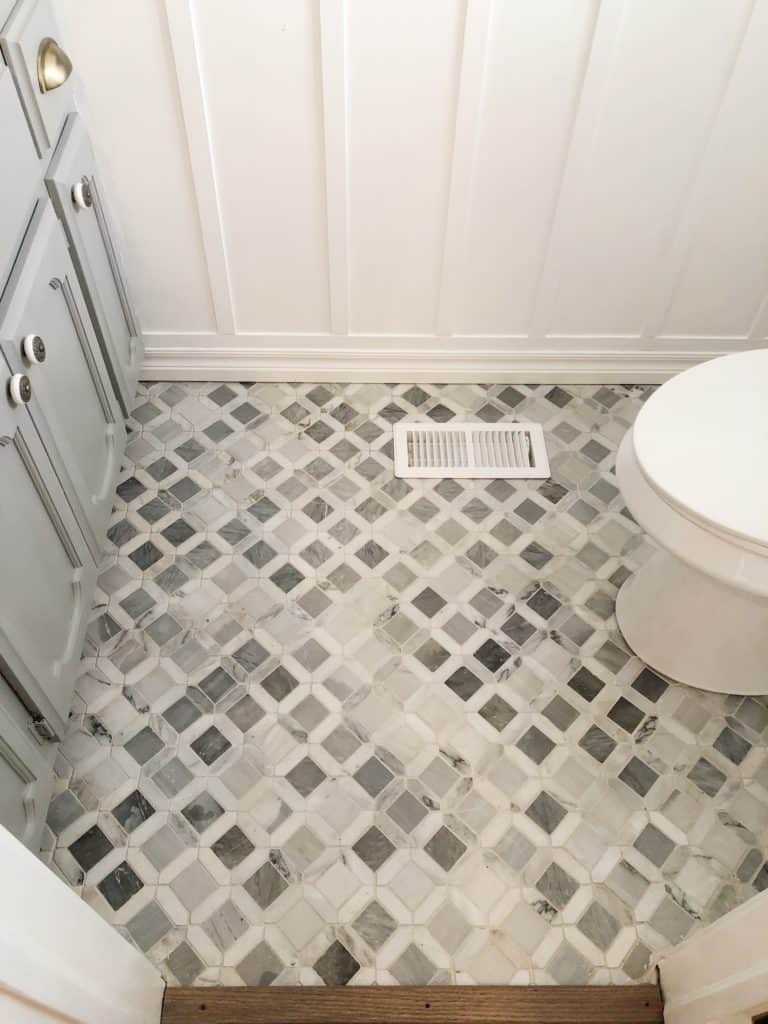 Updating the Paneling
To save more on this reno, we decided to keep the classic brown paneling you always see in an older home but gave it an updated look. To do this, we added trim to give it a board and batten look.
If you have outdate paneling, you can check out the process for turning it into board and batten here. We used a bright white paint color in Valspar's Door and Trim Enamel to make the tiny room feel bigger!
Total cost for this project was around $100.
New Toilet
Finally, we replaced the old toilet with a more efficient elongated toilet for $100.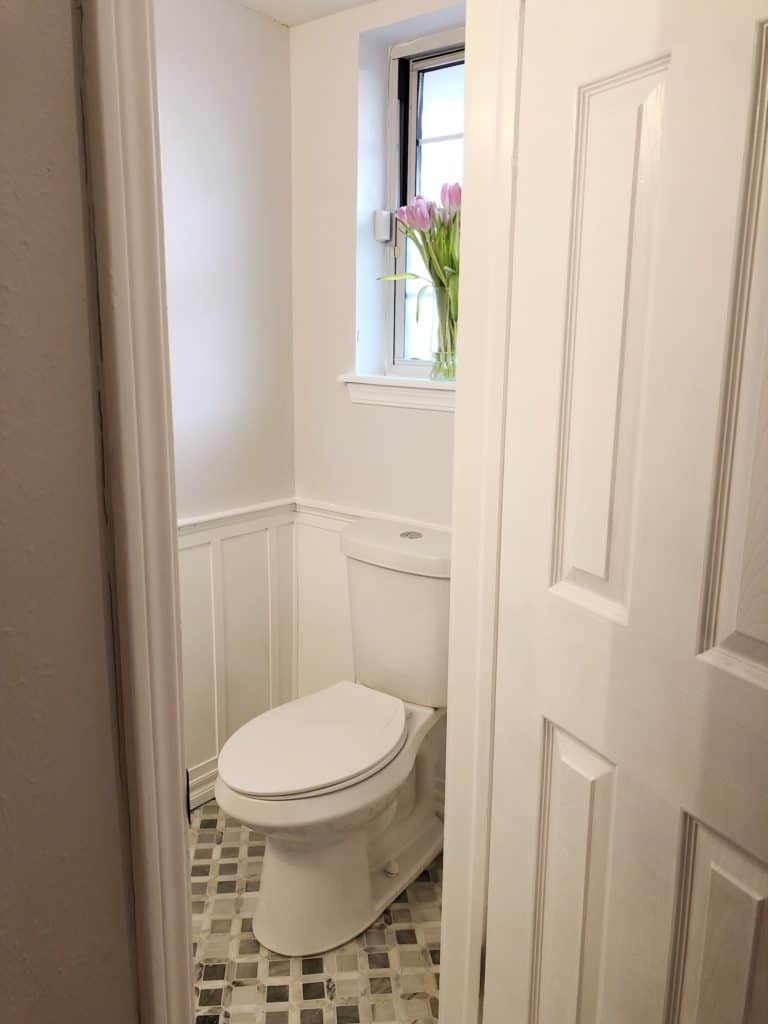 New Bathroom Decor
To give our completed half bath a finished look we needed to add some decor. We installed a toilet paper holder and hand towel rack to match the rest of the fixtures.
We purchased new hand towels for guests. A round gray rug on the floor (not pictured) warmed up the tile. A pretty faux plant in the window sill added a pop of color!
Budget Half Bath Makeover: Final Cost
Whew! This was a big job. We're glad it's finished and so glad to have a working bathroom again! It was out of commission for a while due to our busted sewer line. It's the only bathroom downstairs so it's nice to have it working and even nicer to look at!
By having the necessary tools on hand, we were able to DIY this project and save a ton of money. With a little love and a lotta work, this bathroom has come a long way! The total cost for this small half bathroom makeover came to $986!
Half Bath Makeover FAQs:
How can I make my half bath look fancy?
There are a ton of ways you can make a half bath look fancy! Try adding a peel and stick wallpaper for a focal point on one wall. Repaint the cabinets and switch out the hardware for a bold look.
Add some decor like wall art, turkish hand towels, faux plants or a floating shelf for a modern look.
How much does it cost to remodel a half bathroom?
If you hire a professional to remodel your half bathroom, expect to pay as much as $5,000. If you are able to DIY the remodel, you can expect to pay between $1,000 and $2,500 depending on the cost of your finishes.
How long does it take to redo a half bath?
Depending on the scope of the project, expect for it to take a couple of weeks to redo a half bath.