Quartz Countertops: What to Know Before You Buy
Quartz countertops have been gaining in popularity over the last few years and it's no wonder why! They're made to look like beautiful stone and are much easier to care for.
But choosing new countertops for your home is a big decision. Let's take an in-depth look at quartz and all the reasons it is becoming the new favorite in kitchens and bathrooms everywhere!
This post contains affiliate links. See my disclosure policy here.
Pros and cons of quartz countertops
Quartz countertops are a popular choice for homeowners who want the beauty of natural stone like marble but don't have the budget. Quartz comes in multiple colors and patterns, plus they can be honed or polished to look like marble.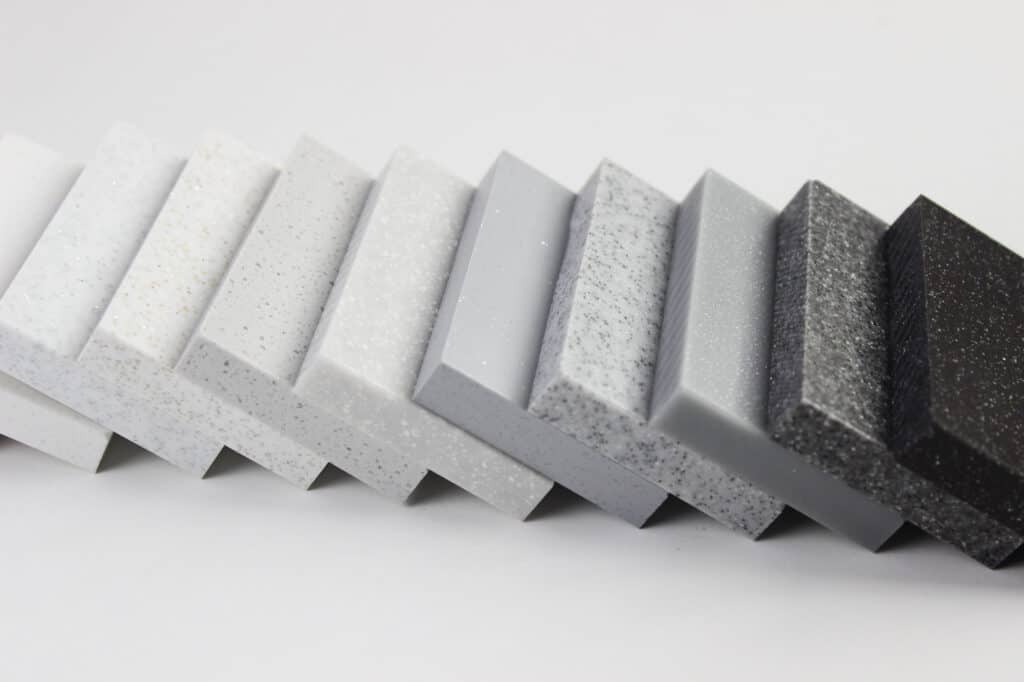 It is often compared to granite as it has been used in the same capacity, however quartz does give a more contemporary look with brighter hues.
Quartz countertops also have the added benefit of being very durable, impermeable to stains and heat resistant making it an ideal material for kitchen and bathroom surfaces.
More recently, quartz that looks like marble is gaining in popularity. They provide a great way to enjoy the benefits of quartz without having to sacrifice functionality because they are known to withstand heat and scratches where marble isn't.
And, unlike marble, these countertops are much easier to maintain since they don't require resealing each year.
A downside to quartz is that you'll still pay a lot more than you would for something like laminate or butcher block.
Can't afford stone right now? Check out my DIY marble countertops here!
How is quartz made?
Quartz countertops are created by combining crushed quartz stone with resin, pigments, and polymers to create the desired finish. The final product looks very similar to marble but without all the inconveniences of natural stone including higher cost lack of durability.
Different types of quartz countertops
Quartz countertops come in multiple colors and patterns, plus they can be honed or polished to look like marble. Let's look at different types of quartz:
Leathered quartz countertops
Leathered quartz countertops have a leather-like textured look and are available in multiple colors.
It is made by combining crushed quartz with resin, pigments, and polymers to create the desired finish. The result is seamless, high gloss countertops that have the appearance of leather.
Honed quartz countertops
Honed quartz countertops have a matte finish with a slightly rough surface that feels almost gritty. It is ideal for busy households as it can withstand scratches from knives and will not show smudges from fingerprints.
This countertop is generally less expensive than other options, making it an affordable yet stunning choice for any kitchen or bathroom.
Polished quartz
Polished quartz looks just like shiny granite but without the weight and cost of stone – plus it's impermeable to stains so you never have worry about rings or damage leaving you with permanent marks on your vanity top.
Related: Matte vs. Polished Quartz Countertops
Sueded quartz countertops
Sueded quartz countertops have fine air bubbles and watermarks that give it a soft, smooth touch. It is made by adding polyacrylic to the quartz mixture to add texture that feels much like suede. The result is a countertop with low sheen and subtle tones.
It's best used in rooms where you won't be hosting formal parties or large family gatherings as it can easily show marks from silverware.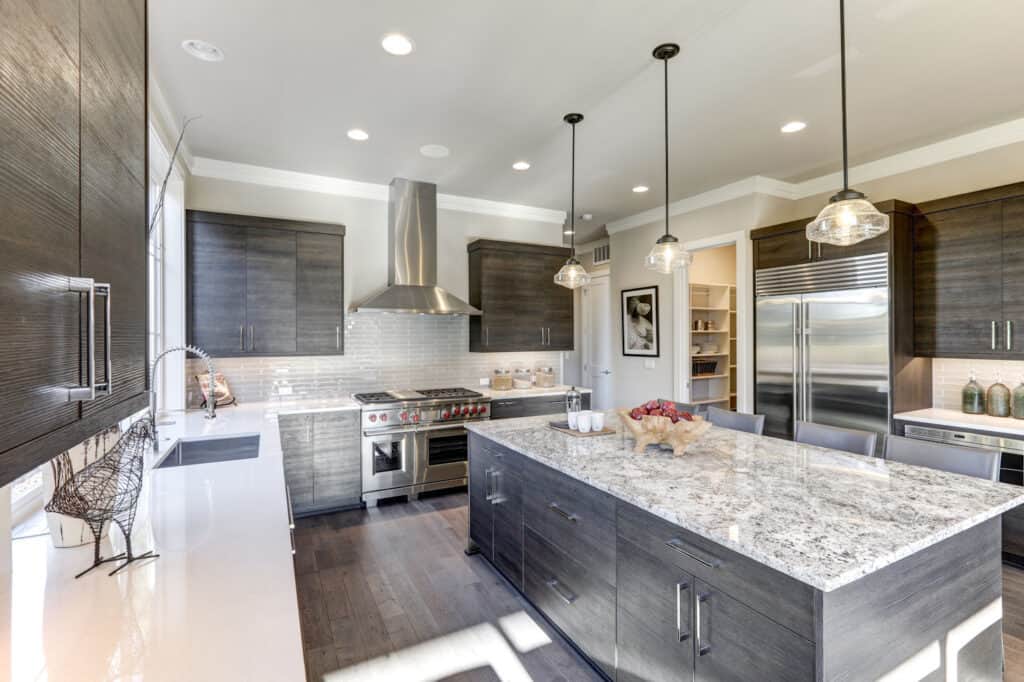 What Colors are Quartz Countertops Available In?
While quartz countertops can be found in more than 300 colors, these nine popular choices offer a wonderful range of styles that will work for any kitchen or bathroom.
Butterscotch quartz
Butterscotch quartz is one of the most popular choices for kitchen counters because it can be combined with other materials like wood or brass to give your space a chic rustic feel. It comes in lighter hues than traditional brown granite but has more of an orange undertone making it both unique and inviting.
Chocolate brown quartz
Chocolate brown quartz features rich, warm tones that expand the already extensive selection of earth-tones typically found in natural stone such as granite or marble. This smooth, glossy surface easily fits into transitional and contemporary spaces.
Related: 6 Brown Quartz Countertop Design Ideas for a Neutral Kitchen
Black quartz
Black quartz is ideal for areas that need a touch of elegance but with the durability to withstand heavy-duty use. It provides extreme contrast and is perfect as a stand-alone feature for modern, contemporary bathrooms or kitchens.
Related: 12 Black Quartz Countertop Ideas for your Kitchen
Blue quartz
Blue quartz like Cambria blue quartz countertops are a wonderful choice for accent pieces or to lighten up darker spaces.. The blue hue is calming but also energizing making it a great option in rooms where you'll need a little pick me up like the laundry room or powder bath. But it also works great in kitchens! Check out this Tidewater quartz from New York Quartz.
White and gold quartz countertops
White and gold quartz countertops are the ideal choice for those who want their kitchen or bathroom to feel more upscale.
This color is by far one of the most popular hues in the quartz spectrum and is definitely a great way to create a warm ambiance along with an aesthetically pleasing appearance.
Gray quartz
Gray quartz countertops are perfect for those who want their home to exude a modern feel, especially in bathrooms where tile is already being used.
A glossy surface finish and neutral tone that can be paired with any color palette makes it easy for this countertop to suit all kinds of design aesthetics.
Related: Popular Gray Quartz Countertops from MSI
Black and white quartz countertops
Black and white quartz is a wonderful way to add some visual pop in spaces where you're on a budget.
The contrast it provides is best utilized in more contemporary kitchens or bathrooms, allowing the sleek black lines to really shine against the almost transparent white color of the countertops.
Related: 7 Countertops Using Black and White Quartz
Sparkling white quartz countertops
Sparkling white quartz is by far one of the most popular choices for kitchen countertops because of the way it pairs perfectly with stainless steel appliances.
The light color provides a sophisticated look perfect for modern kitchens or bathrooms where you don't want to overdo the decor. See examples of sparkling white quartz in different spaces here.
Looking for paint colors to match your beautiful quartz? Check out my post on Revere Pewter and how it compares to other popular grays.
What patterns are quartz countertops available in?
The patterns available in quartz are some of the main reasons this option is quickly becoming a popular choice for homeowners.
Tile and stone countertops have long been desired for their durability, versatility, and stunning appearance but until recently they've had to be done with natural materials like marble or granite. Now you can add in the elegance of quartz for a fraction of the cost.
Quartz countertops come in both polished and matte finishes which can be combined with popular patterns like veined quartz. They can also be made to mimic marble.
Veined quartz
Veined quartz countertops provide a diverse range of looks that mimic the look and feel of natural stone, but offer all the benefits of quartz in an exceptional durability.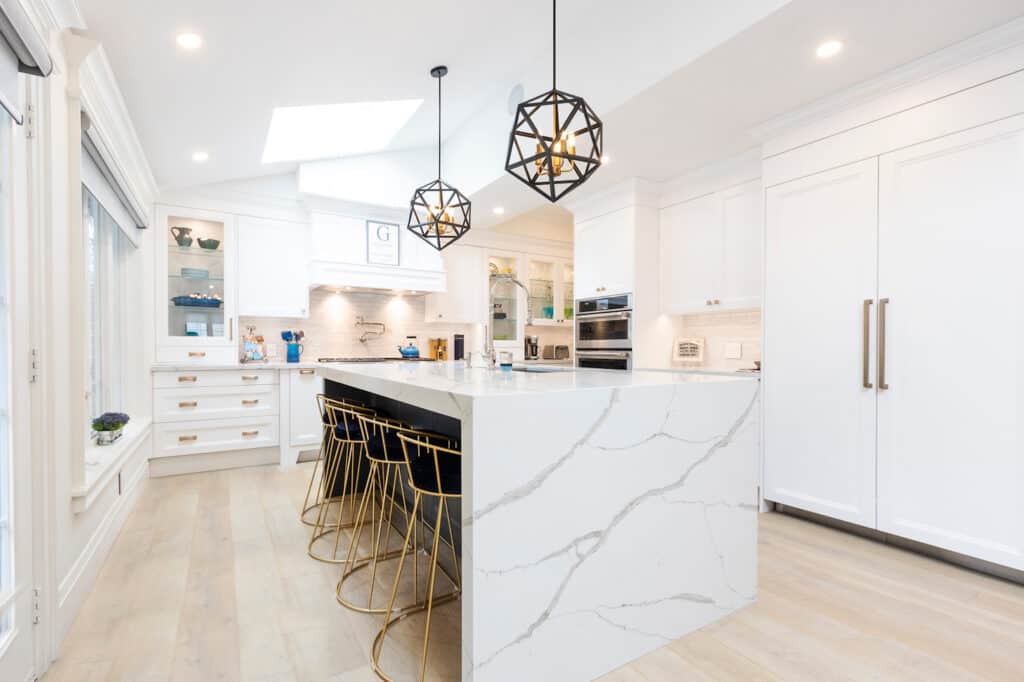 Prefab quartz countertops vs slab
Prefab quartz countertops are a great way to save money. The prefabricated counters come ready to install right out of the box and can be used immediately upon installation with no additional time or costs involved.
This is a great choice for homeowners who want to add quartz but don't necessarily have the budget for an entire kitchen.
Slab quartz countertops provide the most natural feel and appearance. Quartz is a naturally occurring stone and the look of slab quartz is going to provide an authentic feel to your space.
Although it's more expensive than prefabricated options, the cost can be lowered by letting a professional handle the installation for you which will save valuable time as well as money.
Cost of quartz countertops
Quartz countertops are comparable in price to other natural stones, but will have a much longer life expectancy and require less maintenance.
As stated before, if you choose a prefab quartz you'll pay less than going with a slab. The cost difference between prefabricated and slab quartz depends on the type of countertop you choose, and how many pieces you need.
If you go to a large home improvement store you may pay a little less but not have as many options as a business that specializes in quartz. Quartz countertops from Home Depot range from $50-90 per square foot.
Cost of having quartz installed
Quartz countertops installation is a job that can be done by a general contractor or any other professional who has experience working with natural stone.
The cost of installing your quartz countertops will depend on several factors such as the size of your counters, how many cuts you will need, or if they have to be custom cut (in which case it's best to contact a professional).
Sometimes the cost of installation is built into the price of the quartz, but you'll need to clarify when purchasing.
In addition to these expenses make sure you account for miscellaneous work and supplies such as tools, adhesive, sealants, grout etc.
Looking to renovate your kitchen on a budget? Check out our budget-friendly kitchen reno here.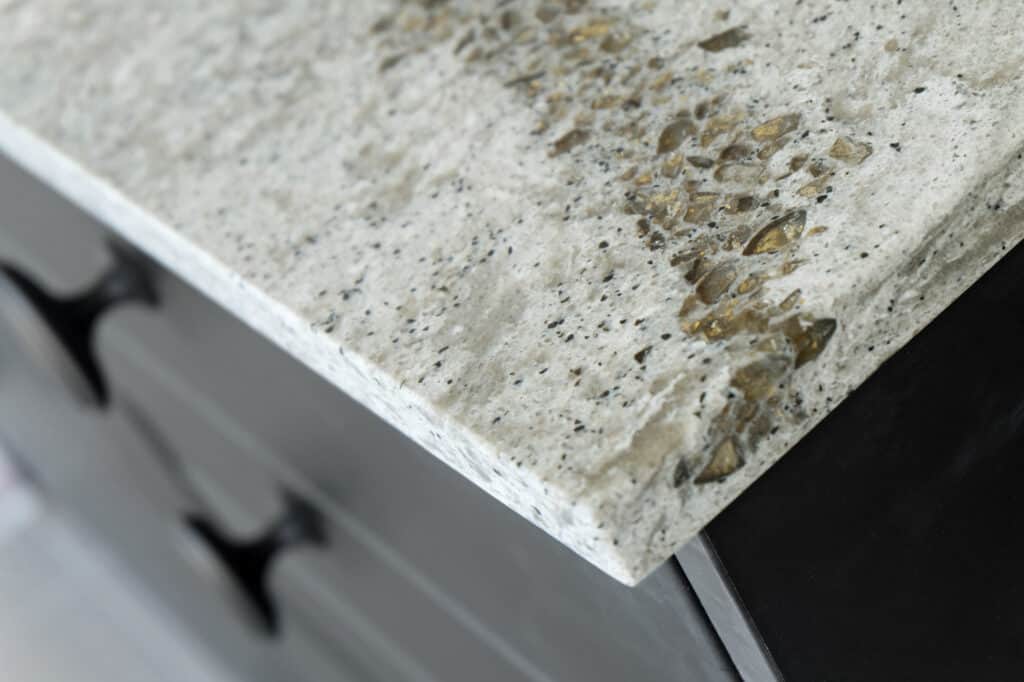 Caring for quartz countertops
Quartz is very easy to care for in comparison to other natural stones or manufactured materials like marble.
How to clean quartz countertops
You should always consult your manufacturer's care guide before cleaning any type of stone surface. The cleaner you use depends on the maintenance plan you choose for your countertop.
A good way to keep your quartz looking its best is to wipe up spills as soon as they happen and regularly clean with recommended products.
Just like your granite countertops, a cloth works just fine when it comes to cleaning your quartz. It's important not to use bleach or harsh chemicals when cleaning quartz countertops. This could lead to damage of the natural stone in the quartz.
Products like Weiman Quartz Countertop Cleaner and Polisher offer maximum protection against stains and general household spills.
Do quartz countertops stain?
Quartz countertops do not stain easily, but there are some things you can do to maintain their appearance and avoid staining.
Some things you can do to avoid staining include keeping your kitchen clean and free of any spills, especially grease. Also avoid using abrasives on the countertops as they can scratch or dull the surface over time.
To remove a stain from quartz countertops you can use some household items like dish soap, baking soda, salt, vinegar and lemon juice. You just need to mix these ingredients with some water and apply them to a clean rag.
If that doesn't remove the stain then you can try some rubbing alcohol or nail polish remover.
How to remove water stains from quartz countertops
You can remove water stains from quartz by mixing a 50/50 solution of isopropyl alcohol and water. Apply the mixture to a clean rag and wipe down the surface until it's clean, then dry with another clean rag.
What is quartz countertops heat resistance like?
One of the main questions people have is are quartz countertops heat resistant? Quartz is heat resistant and suitable in many different environments. It has the same basic properties as natural stone, except it's more durable.
According to RSK Marble and Granite quartz is heat resistant between 210 and 300 degrees depending on the type, but you want to be careful not to continually expose your countertops to high heat or they can discolor over time.
Do quartz countertops need to be sealed?
Sealing quartz countertops after installation is recommended. Protecting the investment that you've made in your newly installed quartz is very important because without proper treatment, they may require frequent maintenance and cleaning.
How to polish quartz countertops
If your countertops have scratches or have dulled over time, you can polish them. If you're doing it yourself, make sure you purchase a quartz polishing kit like this one so you don't damage the surface of your stone.
Check out this YouTube video for step-by-step instructions on how to polish quartz countertops!
Polishing will help restore color and shine to dull or scratched surfaces making it look just like new! It's recommended to polish your quartz once every two years to keep them maintained.
Other quartz FAQs:
Are quartz countertops high end?
Quartz countertops are considered a high-end option, which means they can cost more than other types of solid surface countertops like Corian or granite.
Which is more money, granite or quartz?
In general, quartz countertops are more affordable than granite, because they take less time to install compared to their porous counterparts. This also makes them much easier to keep clean since grout isn't required.
Is quartz worth the extra cost?
Ultimately, it's up to you. Quartz countertops are worth the cost if you want to add a natural stone look but don't want to deal with all of the cleaning and maintenance that actual stones like marble require.
Do quartz countertops increase home value?
Quartz countertops will increase the overall value of your home and are considered to be one of the best investments you can make in terms of kitchen or bathroom remodeling.
Quartz Countertops: The Popular New Trend
Quartz countertops are low maintenance and highly durable that will last a lifetime without requiring any special care.
If you want to add a natural stone surface to your space but don't need the hassle of additional cleaning, quartz countertops could be perfect for you!