How to Paint Your Kitchen Cabinets (the Right Way!)
Painting kitchen cabinets is a big job so before you get started, read on to find out how to paint your kitchen cabinets the right way.
If your kitchen cabinets are out of date, choosing to paint them instead of replacing them can breathe new life into your cabinets and save tons of money at the same time.
If you're not sure what color you should paint your kitchen cabinets, check out my post on choosing kitchen cabinet colors!
But where do you start? If you don't know how to paint your kitchen cabinets, there are several things you need to be aware of.
This post contains affiliate links for your shopping convenience. See my disclosure policy here.
How much does it cost to paint kitchen cabinets?
The cost of painting kitchen cabinets professionally will be much higher than doing it yourself. We're talking thousands of dollars.
If you choose to do it yourself like I'm going to teach in this post, the kitchen cabinet paint cost for everything including supplies will less than $200! And go here for more ways to save on a kitchen renovation!
What tools do I need?
First you need to consider what tools you'll need to paint your kitchen cabinets.
Stir stick
Paint can opener
Drop cloth
Shop Painting Supplies

Can I use a roller to paint my cabinets?
You can use a roller to paint your kitchen cabinets, in fact, I recommend it! It goes faster and leaves a smooth finish.
I recommend a 4-inch roller with either a foam or nap roller. Both will work great and since the material wraps around the end on these smaller rollers, it allows you to get into the nooks and crannies of the cabinet doors.
RELATED POST: How to Paint Your Trim Like a Pro
What surfaces can I paint over?
You can paint over your wood cabinets and wood is the ideal material to paint over.
But you can also paint over laminate or other non-wood materials, you just need to make sure you prime first, and be aware that the finish may not last as long.
How to prep your kitchen cabinets for paint
Before you even begin to paint, there are several steps you need to take to make sure your kitchen cabinets are prepped and ready for paint.
It might be tempting to skip these steps, but skipping them could compromise the finish on your cabinets.
Clean Your Cabinets
Make sure you thoroughly clean your cabinets, removing any food, dust, grease, and other grime before moving on to the next step.
Use a deglosser
If your cabinets have a high gloss to them, use a deglosser to remove the sheen and give your cabinets an easier surface to stick to. You can use a product like Krud Kutter which will both clean and degloss your cabinets at the same time.
RELATED: DIY Painted Brick Fireplace: Tutorial + FAQs
Do I need to remove the cabinet doors before painting?
Most professionals will tell you to remove your cabinet doors before painting them, but it is possible to leave them on if you choose. We chose to leave our kitchen cabinet doors on and it worked out great for us.
If you choose to leave them on, you have two options. You can tape over the hinges using blue painters or Frog Tape.
Or you can paint over the existing hinges, which is what we chose to do. Since our hinges were white and we were painting our cabinets gray, we opted to paint over the hinges.
If you decide to remove your cabinet doors, make sure you number each door, and place the hardware in a bag with the corresponding number so that when you're ready to re-install the doors, you'll be able to match the door with the correct hardware.
Remove kitchen drawers
Ideally, you do need to remove your kitchen drawers to be able to paint around the area without getting paint on the inside of your drawers.
If you plan to paint the inside of your drawers, you'll want to remove them anyway so you can reach all sides of the drawers.
Remove handles and knobs
Be sure to remove any handles or knobs from your cabinet doors and drawers before you start to paint.
Do I need to prime my kitchen cabinets before painting?
I do recommend priming your kitchen cabinets before painting them. Even if the paint you purchased claims you don't need to prime, it is best to use a primer first to create the ideal surface for your paint to adhere to.
This will also ensure your paint job lasts! Make sure to use a high-quality primer like Valspar's High Hiding Primer and Sealer tinted to the color you're painting your cabinets. This will enable you to do fewer coats of paint.
What kind of paint should I use on my kitchen cabinets?
There are several options out there for cabinet paint. Ideally, you want to choose an enamel because it will harden and create a tougher surface, which is what you need in a kitchen that gets a lot of traffic.
We used Valspar Cabinet and Furniture Oil-Enriched Enamel for our kitchen cabinets. I liked this paint because it came with both a semi-gloss and satin option. We opted for a satin finish.
RELATED POST: Valspar Cabinet Enamel Review
When we first painted our kitchen cabinets we used a regular latex paint not specifically made for cabinets and the finish ended up chipping really bad. I would definitely use a paint made for cabinets, preferably enamel.
Also, these cabinets look AMAZING now that we've finished our DIY marble countertops! Be sure and check them out!
How to paint your kitchen cabinets
Now you are ready to paint your kitchen cabinets!
Starting with your primer, give your kitchen cabinets one coat of paint. When painting cabinet doors, if they are paneled it's best to start in the center and work your way out. Use an angled trim brush to get into the crevices the roller can not reach.
If you chose to leave your doors on, paint the outside of the door first, then move to the inside of the door. Lastly, paint the base of the cabinets and allow them to dry completely.
Tip: If you chose to remove your doors, make sure you give the paint plenty of time to dry before you flip them over to paint the other side.
Moving in the same pattern, give your kitchen cabinets two coats of an enamel-based cabinet paint, allowing sufficient drying time in between coats. Refer to your paint can for how long you should wait before applying a new coat.
A coat of primer and two coats of enamel cabinet paint should be enough, but if you need to, you can always apply another coat.
Once you've finished painting, allow your kitchen cabinets to dry for 24 hours before using them. The enamel will continue to harden over time, giving your newly painted cabinets and lasting finish.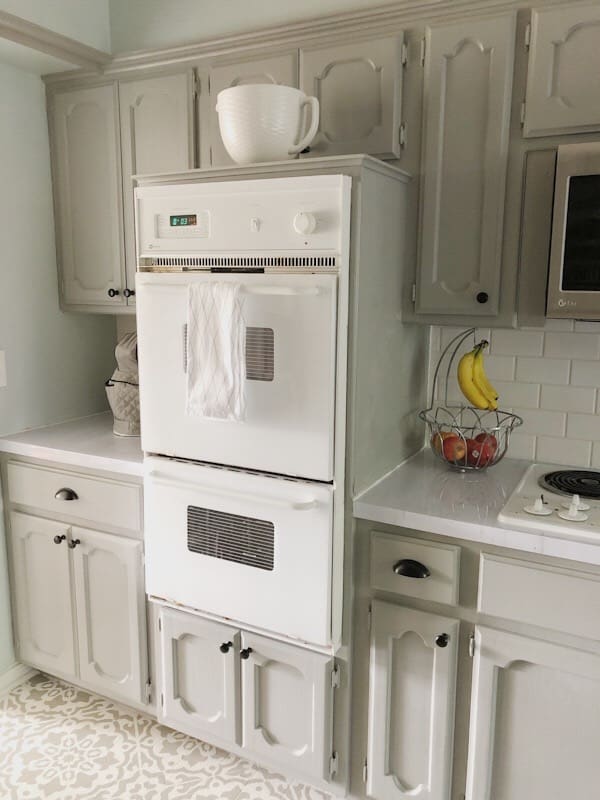 If you removed your doors, go ahead and re-install them after 24 hours. You can also install the knobs and pulls and replace the drawers.
Tip: Once your doors and drawers are back in place, be sure to install bumper pads so that your doors don't stick to the base of the cabinets and pull the paint off.
You are ready to enjoy your beautifully painted kitchen cabinets!
More Paint Your Kitchen Cabinets FAQs
How long does it take to paint kitchen cabinets?
When painting kitchen cabinets you should plan on three to four days if you're remove the cabinet doors and painting both sides. It will take the paint time to fully dry on one side before switching to the other side and then it takes time to reinstall them.
If you're not removing your kitchen cabinet doors, you can finish the job in 2 days.
How many gallons of paint do I need for kitchen cabinets?
This will depend on the size of your kitchen. For smaller kitchens you should plan on two gallons. For larger kitchens you'll use three to four or more depending on the amount of doors and drawers you have and if you have a kitchen island.
What sheen should I use for the finish?
A matte finish would not be ideal for kitchen cabinets. You want them to be easy to clean and a matte finish will not allow for easy cleanup. Semi-gloss is the best finish with Satin a close second.
Can I paint my kitchen cabinets without sanding first?
That depends. Several cabinet enamels claim that you can apply their paint without sanding, but if you read the fine print, they tell you to sand or degloss high-gloss surfaces before painting.
What are some frequent mistakes people make when painting their kitchen cabinets?
One mistake people make when painting their kitchen cabinets is skipping the prep work. If you skip this part, your cabinets will not have an ideal surface for your paint to adhere to.
Another mistake people make is not using the right kind of paint. Paint specially formulated for kitchen cabinets like an oil-based cabinet enamel is ideal.
How do I paint my cabinets without leaving brush marks?
Most cabinet enamels have a self-leveling formula to help even out the finish as you paint. Look for cabinet enamels that specifically say "no brush marks" on the label to be certain.
Best primer for kitchen cabinets
A primer formulated for use on kitchen cabinets like this one from Valspar is ideal when painting your wood cabinets.
Best brand of paint for kitchen cabinets
From experience, Valspar's Cabinet and Furniture Enamel is a great choice to use if painting your kitchen cabinets!
Best type of paint for kitchen cabinets
You'll want to choose a cabinet enamel to use when painting your kitchen cabinets. This type of paint is specially formulated to adhere to the surface of your cabinets and over the course of several days will harden to a durable finish.
How to paint your kitchen cabinets the right way!
For more on how to paint your kitchen cabinets, check out this post by Cate from West Magnolia Charm: How to Paint Your Kitchen Cabinets
Cate and her husband own their own paint company in New Jersey and she has some great tips for getting a smooth finish on your kitchen cabinets!
Updating more than your cabinets? I have several posts on painting! Check out my posts on how to paint paneling, how to paint shiplap, and how to paint a door with windows!