DIY Modern Farmhouse Coffee Bar
We turned our outdated wet bar into a farmhouse coffee bar!
When we moved into our home we inherited an outdated wet bar.
We really had a hard time deciding what to do with this area. At first, we didn't see the point in even having it and had thought about getting rid of it when we eventually redo the kitchen. UPDATE: Read about our kitchen remodel here.
Plus there's already a coffee bar in the kitchen, which was another reason we didn't think we'd use the wet bar.
This post contains affiliate links. See my disclosure policy here.
Current Coffee Bar
We've been using an antique dresser for our coffee bar and it's been a good fit! I'm able to keep extra cups in the drawers and store all of my hubby's necessities like his French press, coffee grinder, pour-over, and beans.
He might be a little bit of a coffee snob haha! I can also keep my extra stock of k-cups in them.
We went back and forth but finally decided to use this space for another purpose and turn the wet bar into a farmhouse coffee bar. I'll be able to move all of this over to the storage area under the wet bar shortly, and that area just made sense for a coffee bar so we went for it!
Wet Bar Turned Farmhouse Coffee Bar
Here's what the wet bar looked like when we moved in.
How do you like that wallpaper?
The wallpaper paired with the outdated cabinets and lighting was a real eye sore. Really it's amazing to us that the only thing that had ever been updated in this house cosmetically was our master bathroom and the flooring in the main areas of the house.
Everything else was mostly original to the house, which was built in 1972.
We've gone all in with farmhouse style as we update our home and if you want to know how to get the look, you can check out my post on farmhouse design here!
First things First: Painting the Cabinets
We started by painting the cabinets. I chose Perpetual Gray by Sherwin Williams. I LOVE how they turned out! I had the color mixed in Valspar's Furniture Paint and could go on and on about it! You can read my Valspar Furniture Paint Review here.
Also, if you want to know about how to paint cabinets, you can check out my post on how to paint kitchen cabinets here.
We also changed out the hardware on the cabinets with these black knobs that tie into our built-in black hutch across from the bar.
Shiplap over Wallpaper
We chose to shiplap over the wallpaper, as we've discovered they applied the paper directly to the sheetrock and it's not coming off without ripping holes in the wall. Shiplap was an easy solution, plus I'd been wanting to incorporate it in our home anyway!
We bought the primed shiplap so it just needed a quick coat of white paint to finish it off.
Related Articles:
8 Ways to Decorate with Shiplap for a Modern Farmhouse Look
DIY Butcher Block
We went with a butcher block countertop and stained it to match our mantle and barn doors in the entryway. We used Varathane's Briarsmoke and you can read my review on Briarsmoke here. It has a gray undertone to it that also blends well with our dining room table so it all ties together.
Keep the Sink?
At first, we thought we'd get rid of the sink to make enough room for our Keurig and accessories. But then we decided it would be pretty handy to be able to refill the Keurig right there at the sink so we opted to move it over to the left instead.
We kept the original sink and faucet because they still looked fine and it saved money!
Check out our video on how we installed a budget-friendly shiplap on our kitchen island!
Farmhouse Lighting
The box for the light had to be moved from the ceiling to the top of the wall. I love that my hubby is so handy and was able to do that in no time!
I had originally pictured a black gooseneck light for the space, but then I found this galvanized light at Lowe's and changed my mind! It's perfect for this nook.
Farmhouse Coffee Bar Decoration Ideas
All that was left to do was decorate our farmhouse coffee bar! We added farmhouse style hooks to hang our mugs from. I found a "gather" sign from Hobby Lobby and we hung it under the light.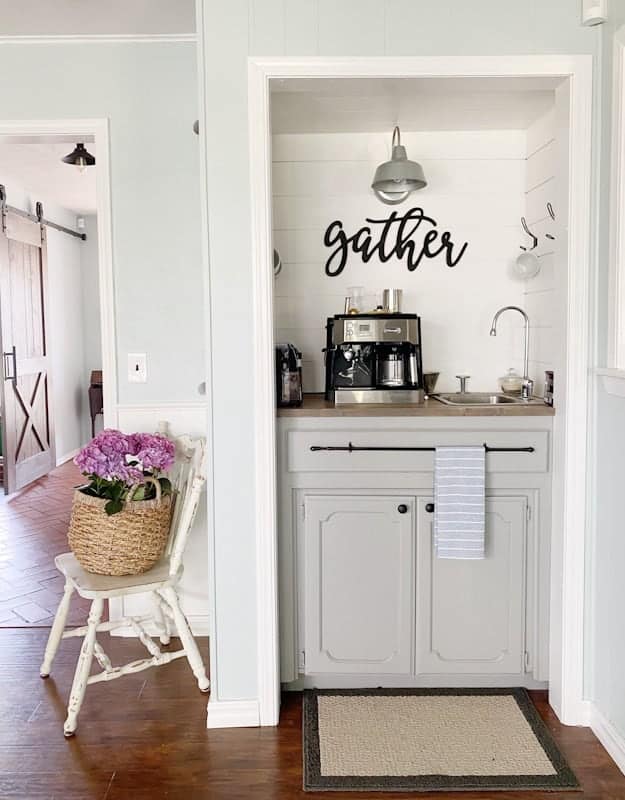 We installed a bar to hang a towel from and added a small rug to stand on while we're making our coffee.
DIY Farmhouse Coffee Bar
We are so glad we chose to keep this space and give it a makeover! We use it every single day and it's one of our favorite spots! When guests come, we get so many compliments and it adds so much character to the dining room!
OTHER RELATED POSTS:
De'Longhi All-in-One Espresso and Coffee Maker Review
Farmhouse Dining Room Makeover
Pin for later: