Valspar Cabinet and Furniture Enamel Review
Is Valspar Cabinet and Furniture Enamel all it claims to be? How does this cabinet and furniture paint hold up in a kitchen? Read on for the answers!
Kitchen Cabinet Painting Gone Wrong
Two years ago we painted our kitchen cabinets. We used Valspar's Furniture Paint because we had used it in other areas in our home and LOVED it.
Read my review here: Valspar Furniture Paint
But even though it performed beautifully when we used it on our coffee nook makeover and our guest bathroom reno, it was not designed to hold up to the daily wear and tear that a kitchen gets since it didn't have the advantage of being an enamel that dries to a harder finish.
The paint chipped easily and would scratch off when I went to clean them. I was touching them up so often it just wasn't worth it anymore. After a year of touch-ups, I was ready to repaint.
I had used Valspar's Cabinet Enamel before and was not impressed. So I knew I didn't want to go that route again.
Read my review here: Valspar Cabinet Enamel
ValspaR Cabinet and Furniture Enamel
During a trip to Lowe's, I came across this new product from Valspar. It was a combination of their furniture and cabinet paint in one. I'm not sure if this product is replacing those products, but that would make sense.
Purchase Valspar Cabinet and Furniture Enamel HERE!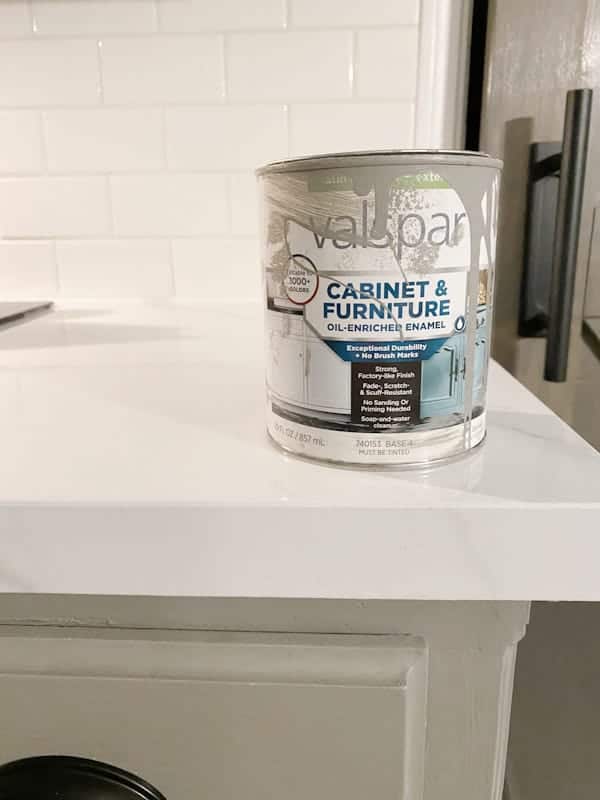 I decided to give it a shot.
I purchased the paint in the same gray we had already painted the cabinets previously. I took it home and prepared to repaint my kitchen cabinets.
Valspar Paint Claims
Now let's talk claims. Valspar Cabinet and Furniture Oil-Enriched Enamel promises:
No brush marks
Strong, factory-like finish
Fade, scratch, and scuff resistant
No sanding or priming needed
Soap and water cleanup
No Brush Marks
This claim was true with the furniture paint and it's true with this new line, as well. I used both a foam roller and a brush on the cabinets and both dried to a smooth, consistent finish.
Fade, scratch, and scuff resistant
It's been seven months since we repainted with Valspar Cabinet and Furniture Enamel and I've been so impressed with the durability. Night and day difference on how well they've held up!
I can clean them without the finish scratching. I will say, I've still had a little chipping on the drawers that get the most use. But only a few, nothing like what it was before when I was basically having to repaint whole drawers and doors at a time.
I had a friend who hired a professional to paint her kitchen cabinets last year and the paint is already peeling off!
So I'll gladly touch up a few places here and there with my leftover paint that only cost me $25!
No Sanding or Priming
I didn't sand before using this paint and I chose not to prime either since I was going over the same color.
As I said, I've been happy with the durability, but if I was starting from the beginning, I would prime. Since kitchens are typically a high traffic area and get a lot of wear and tear, it'll help your finish last longer if you prime.
Soap and water cleanup
This claim has been true, as well. Most of the time I just run a towel under hot water and give them a quick wipe down. Sometimes I'll use my Young Living Thieves cleaner and that has worked well, too.
I will also say that this paint goes FAR. It only took a quart for me to repaint mine, but you could easily do a standard size kitchen with one gallon of paint unless you're painting white over a dark color.
IS VALSPAR'S NEW CABINET AND FURNITURE OIL-ENRICHED ENAMEL ALL IT CLAIMS TO BE?
Overall, YES! This paint is everything it claims to be. It's everything I loved about their furniture paint in a durable enamel.
If you're thinking about painting your kitchen cabinets, I would definitely recommend this paint!
And if you need some tips on cabinet painting be sure to check out my post: How to Paint Your Kitchen Cabinets (the Right Way!)
Pin for Later: