Varathane Briarsmoke Stain Review
Varathane is one of my favorite brands of stain and Varathane Briarsmoke is probably my favorite stain color! Read on for a complete review of the product (including how to apply it!) and where we've used it in our home on different types of wood!
Over the course of our years of DIYing, we've done a lot of staining! We've stained unfinished wood and also gone through the process of stripping and staining furniture, as well.
This post contains affiliate links for your shopping convenience. See my disclosure policy here.
I wrote a step-by-step post on how to stain wood furniture in case you've been wanting to dive in but aren't sure where to start. I also wrote one on how to strip and refinish furniture, as well.
Varathane Briarsmoke
Our first experience with Varathane stain was on our entryway barn doors. We purchased them in unfinished pine from Menard's, opting to stain them ourselves.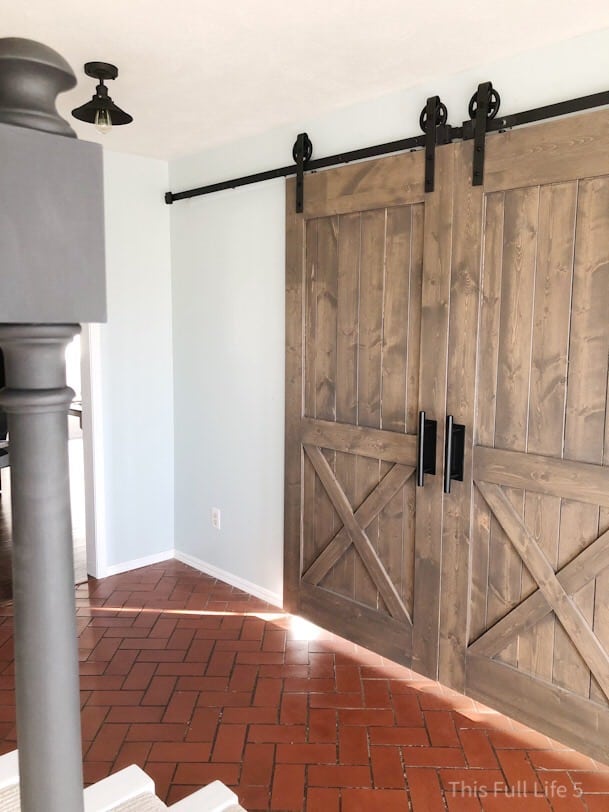 We had always used Minwax, but I loved the color Briarsmoke by Varathane. It has a gray undertone paired with a rich brown and it's just beautiful!
We had just stained the top of our dining table gray so we thought it would tie together well.

Why I Love It
I fell head over heels for this stain! Why you ask?
Only One Coat
First, the stain goes on thick, more like paint and only takes one coat! No waiting around for it to fully dry before adding another coat. This makes projects go so much faster!
Quick Staining
It only takes the stain 3-5 minutes to penetrate the wood. With Minwax you're waiting 5-15 minutes depending on the look you're going for and then you may need to do another coat. Not with Varathane. Again, a huge time saver.
Fast Dry Time
The dry time is fast. SUPER FAST. Once you've thoroughly wiped the stain off with a clean cloth, your project is ready to go in about an hour. Or you can topcoat it with Varathane's Ultimate Polyurethane, wait 4 hours (if it's water-based), and then hang your project.
If you're an impatient DIYer like me, this is music to your ears! A staining project able to be done in afternoon? Yes, please!
Varathane Stain on Pine
Stain looks different on different types of wood. In our home, we've used Varathane Briarsmoke on pine in several areas of our home.
In addition to our barn doors, we've used it on our wood countertops in our coffee nook and in our guest bathroom, both pine.
We also used it on the doors of the DIY entertainment center my hubby built.
Varathane Stain on Oak
We've also used Briarsmoke stain by Varathane on oak. When we gave our fireplace a makeover, we refinished the oak mantle with Briarsmoke.
We also used it on the oak top of our vintage buffet.
Varathane Ultimate Polyurethane
If you're wanting to protect the finish of your newly stained project, Varathane Ultimate Polyurethane or Varathane Triple Thick Polyurethane are both excellent choices.
We used the triple-thick poly on the barn doors. You essentially get the protection of three coats in one. That's my kind of topcoat! Our barn doors still look as good as they did three years ago when we installed them thanks to this poly!
The ultimate poly is great, too! We've used the water-based version on many projects and the protection it provides is excellent.
You really can't go wrong with either unless you're needing an oil-based and they have those, too!
Varathane Briarsmoke Review
So go ahead and give Varathane a try on your next wood project. You will not be disappointed! And be sure to check out the full line of stain colors they offer!
They even offer Varathane Briarsmoke in a gel stain!
Pin for Later: