Tricorn Black Sherwin Williams – Why So Popular?
The color black is a staple in many different design styles including modern farmhouse and mid-century modern. It's trendy but also classic, never going out of style.
Tricorn Black Sherwin Williams is a popular choice for homeowners wanting to incorporate black into their design. But what makes this black paint color better than others?
This post contains affiliate links for your convenience. See my disclosure policy here.
SW 6258 Tricorn Black – A True Black
Sherwin Williams Tricorn Black is a "true" black. With no evident undertones like blue or brown that you can sometimes find in other shades of black, it is arguably the perfect black shade.
I can speak on this from personal experience! When we were remodeling our upstairs bathroom we decided to go with black cabinets for a touch of drama. The design was modern farmhouse and we were doing white shiplap on the walls.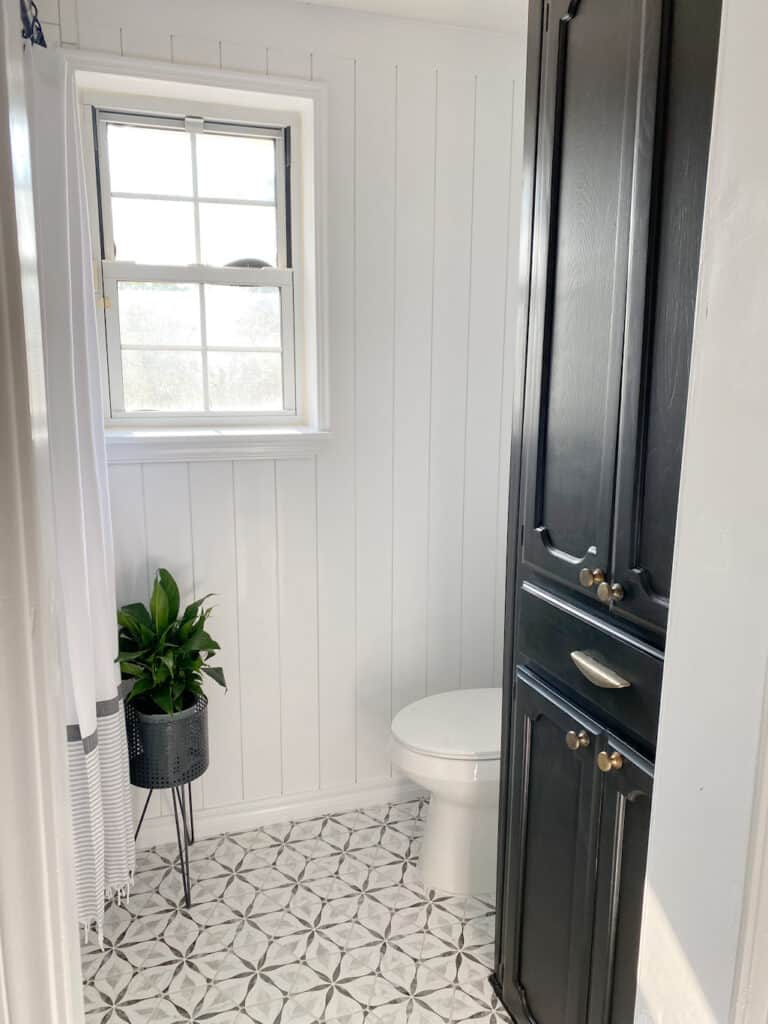 I researched different blacks and landed on SW Tricorn Black. Other black shades I looked at didn't quite stack up.
When compared to Tricorn Black Sherwin Williams they were either more of a charcoal or had undertones that made them look not quite black in different lighting. Tricorn Black really was the truest black I could find.
The bathroom cabinets turned out fantastic and I get compliments on this color all of the time!
TIP: A great way to compare colors without the mess is by using Samplize! Order your peel-and-stick on swatches and place them together in your space to see how they compare and look in different lighting! This is a great resource if you're painting the interior of your home!
Comparing Tricorn to Other Blacks
So if Tricorn Black is a "true" black, how does it measure up against other popular Sherwin Williams black shades?
Tricorn Black Sherwin Williams vs Iron Ore Sherwin Williams
Sherwin Williams Iron Ore is a beautiful color that has gained popularity over the last few years. Some consider it black, but it's not a "true" black, having more of a dark charcoal feel to it.
See how it compares to Tricorn: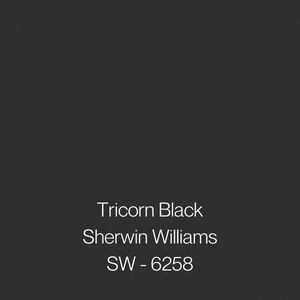 Tricorn Black vs Black Magic
Black Magic is another popular black by Sherwin Williams and is close to Tricorn Black on the color chart. While Tricorn is considered the truest black, Black Magic is very close. See how they compare: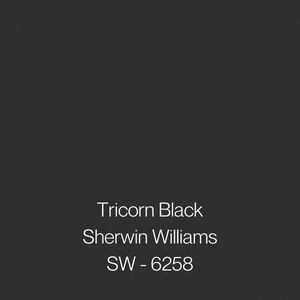 Sherwin Williams Caviar vs Tricorn Black
SW Caviar is in between Tricorn and Black Magic on the color chart so it's also very close in shade to Tricorn and would also be a great option.
Be sure to look at all colors in different lighting to get the full effect of how it will appear in your space!
Here's how Tricorn Black and Caviar compare: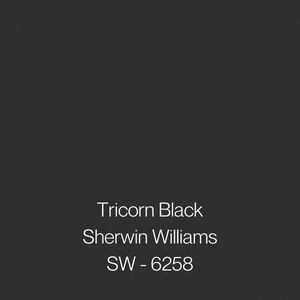 Tricorn Black Sherwin Williams in the Home
Tricorn Black Interiors Doors
We had outdated flat interior doors that had been painted in a cream color at some point by the previous owners. They looked dirty and outdated.
Since doors can be expensive to replace, not to mention having to worry about new doors not fitting right due to settling in older homes, we opted to paint them and change out the hardware.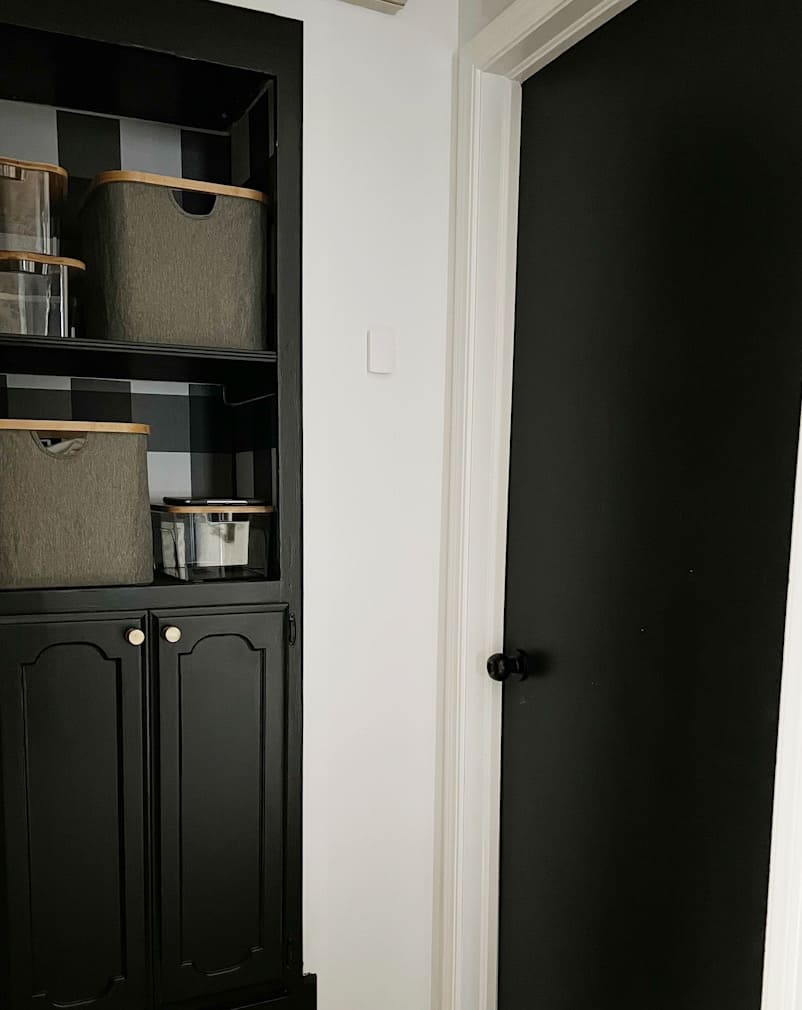 What a difference using Tricorn black on our interior doors made! Now our sleek black doors with white trim look updated and classy instead of tired and dated!
Tricorn Black Cabinets
Tricorn Black on kitchen and bathroom cabinets can add elegance and some drama to your space. We painted our bathroom cabinets in this black and added antique brass pulls for contrast.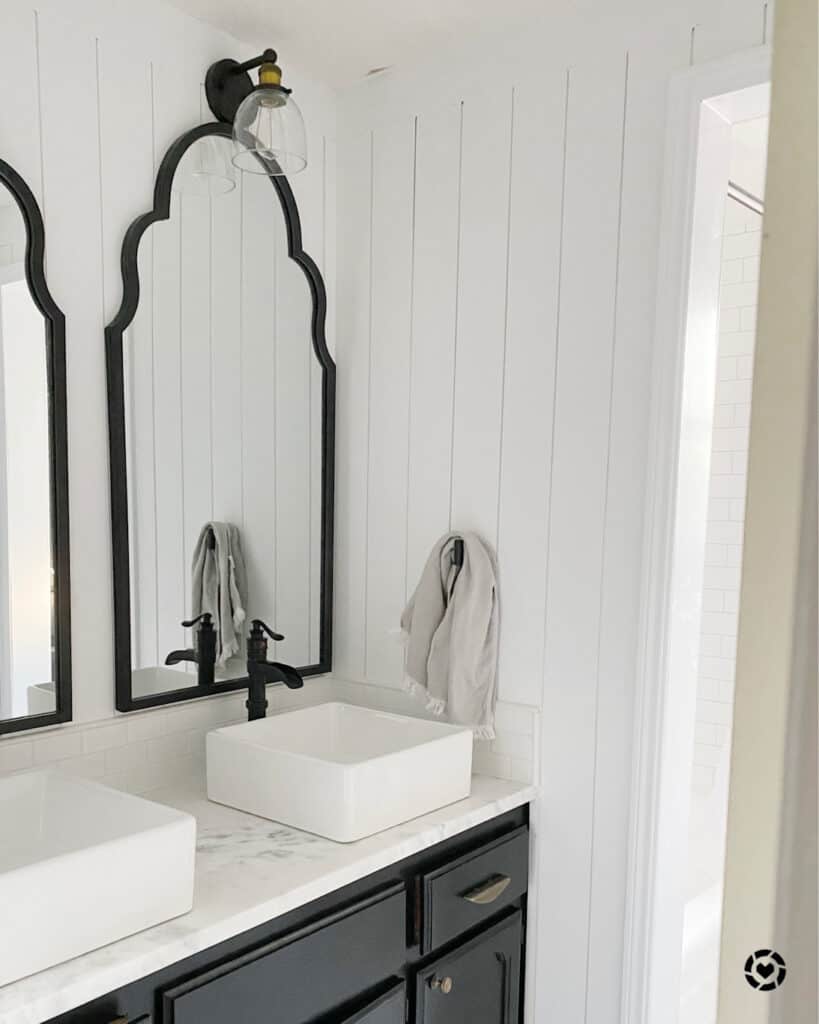 Tricorn Black Sherwin Williams Front Door
Black front doors make a bold and beautiful statement and can really add curb appeal to a home. Such a versatile color, Tricorn looks great with brick exteriors as well as bright colored exteriors, white exteriors and neutral exteriors like gray or beige.
Check out this beautiful door painted in Tricorn Black featured on the Sherwin Williams blog!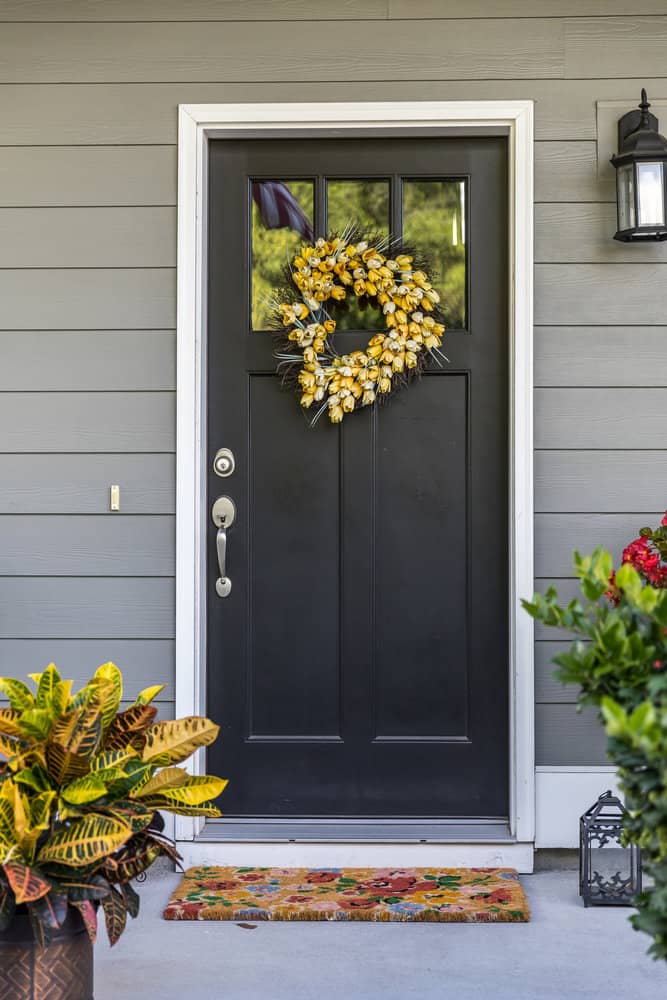 Tricorn Black Exterior
Sherwin Williams Tricorn Black can be a great option for the exterior of your home. Use it on the front door, shutters, garage doors or trim as an accent color. Or go bold and paint the entire house black – this works especially well if your home lends itself to mid-century modern or modern farmhouse style!
Other Tricorn Black FAQs:
Is Tricorn Black too black?
Tricorn Black Sherwin Williams is considered a "true" black, but only you can decide if it's too dark for your space. I recommend using Samplize peel-and-stick paint samples and trying different shades in your space.
If you're not wanting to commit to black, try a shade like SW Iron Ore.
Is Sherwin Williams Tricorn Black warm or cool?
SW Tricorn is a true black with no evident undertones making it a perfect neutral with no warm or cool tones.
Does Tricorn Black look blue?
No, Tricorn Black doesn't have any undertones like blue or brown, which is why it's considered a "true" black.
What color goes best with Tricorn Black?
If you're looking to coordinate colors with Tricorn Black from the Sherwin Williams line, Repose Gray, Accessible Beige, Chantilly Lace, or Sea Salt are all great options!
Tricorn Black Sherwin Williams – In Conclusion
SW Tricorn Black is a popular black and for good reason! When people ask, "Is Sherwin Williams Tricorn Black a true black?" I can answer confidently with a yes! If you're wanting to incorporate the color black in your home, Tricorn Black is the perfect choice!
I have posts reviewing other popular Sherwin Williams paint colors like Accessible Beige so be sure to check them out!