Painting Black Interior Doors – A Good Idea?
Black interior doors have become a popular look with the modern farmhouse trend and look great with white painted shiplap. But it can be intimidating to paint your interior doors, especially if you're going from a light color to a dark color.
Going from white painted interior doors to black doors or another color doesn't have to be scary and the process isn't difficult. You just need the right paint and tools! But first, let's talk about what goes into some deciding factors for painting your interior doors.
This post contains affiliate links for your convenience. See my disclosure policy here.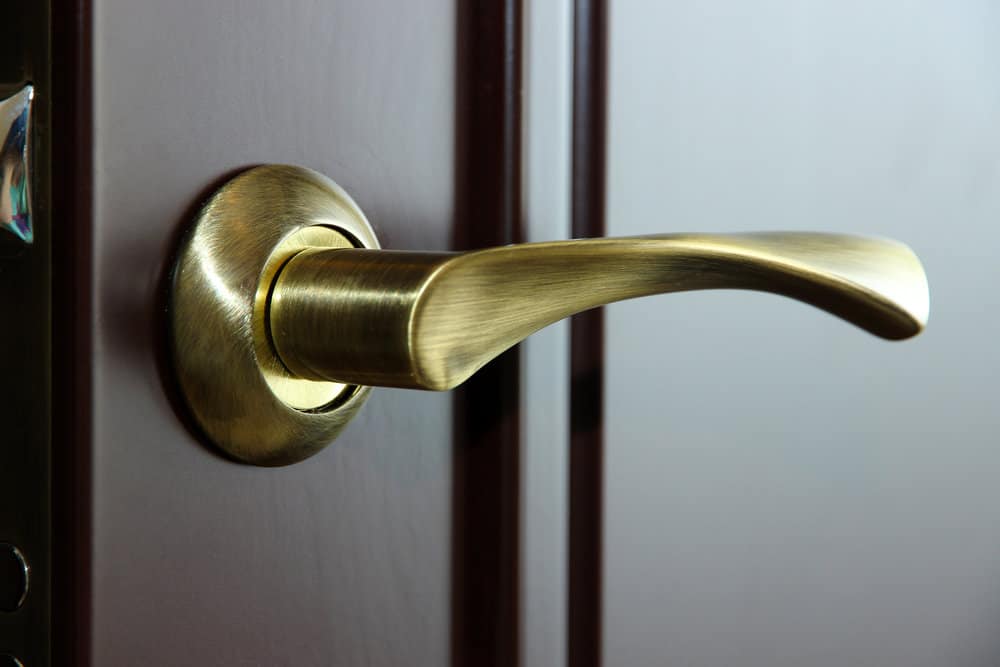 Black vs white interior doors
White painted interior doors are the standard in houses. But they may not be the best choice for your home depending on your wall color, lighting, and design style.
Especially if your wall color is a lighter color like beige and you have windows bringing in natural light, painting black interior doors can really make them pop without making the space look too dark.
Should doors match the trim or wall?
It's a misconception that your interior doors have to match the trim. While it's common for them to match, you can do a different color on the doors, especially if you have white or wood trim.
You want to make sure your interior door colors coordinate well with the wall color you've chosen. Black doors look great with some of the most common wall colors like white, beige, and gray walls. But even green painted walls can look great with dark interior doors.
Going monochromatic is a popular trend right now where you see the walls, trim, and doors all the same color. You'll see the walls in a satin finish with the trim and doors in a semi-gloss or gloss to add depth and interest.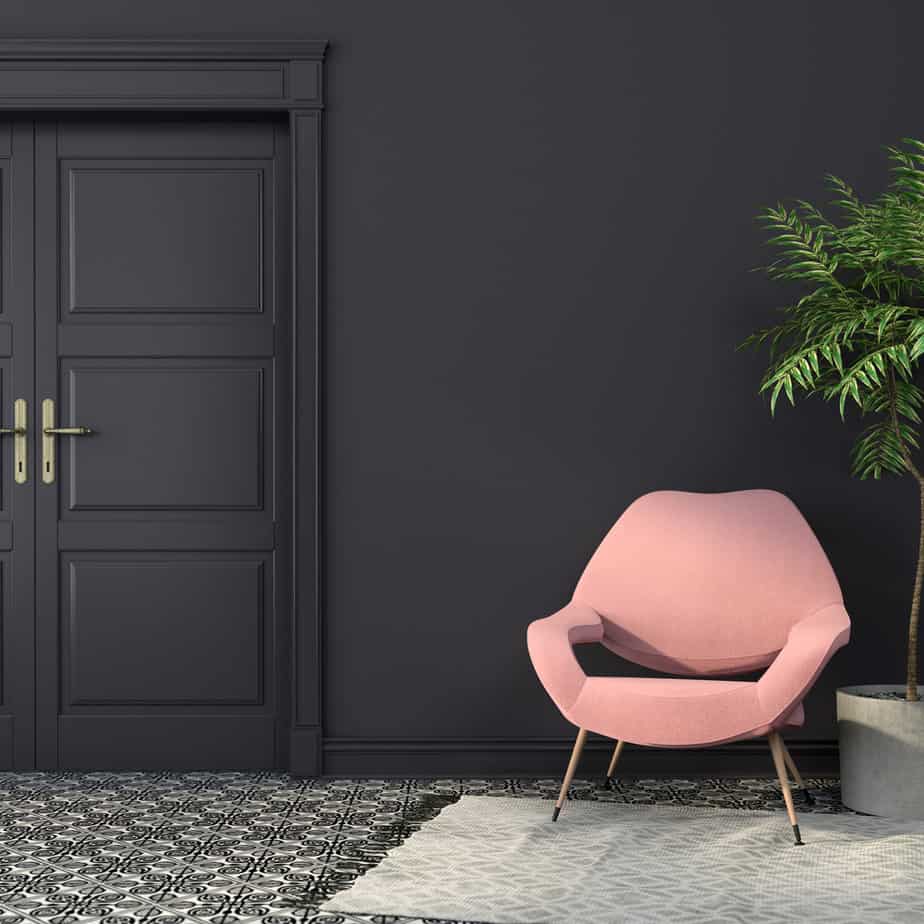 Should all interior doors be the same color?
If you want a consistent, cohesive look, then painting your interior doors all the same color is the way to go. But if you love a more eclectic look, choosing different colors may be more your vibe!
When we painted our interior doors we went with all black bedroom doors on the second level and gray interior doors for the main level. I painted my downstairs built-in hutch in black so even though we have grey interior doors downstairs, the hutch ties in with the black interior doors upstairs.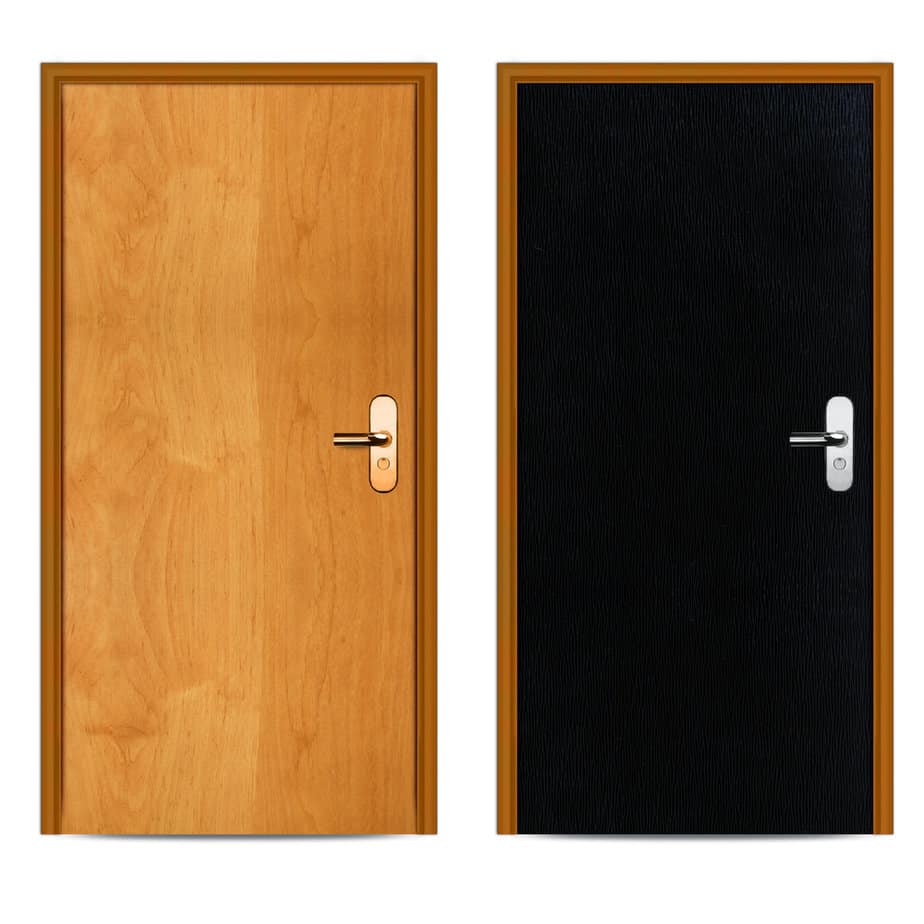 Best black paint for interior doors
A common question people have when looking to paint their interior doors black is what's the best color? This is really subjective, but I'll give you my biased opinion!
I chose the color Tricorn Black by Sherwin Williams for our upstairs bedroom door color and we loved the transformation compared to the off-white they were before. I researched popular black door colors and Tricorn Black kept coming up. I was not disappointed!
We earn a commission if you make a purchase, at no additional cost to you.
Tricorn Black doesn't have any competing undertones like some black shades do. It's a truly pure black which means it will work in almost any lighting and look great with tons of colors.
It looks great against the white walls in our upstairs bathroom and also stunning against the blue gray walls downstairs.
Whether you're going for modern black interiors doors or farmhouse black interior doors, you can't go wrong with Tricorn Black Sherwin Williams.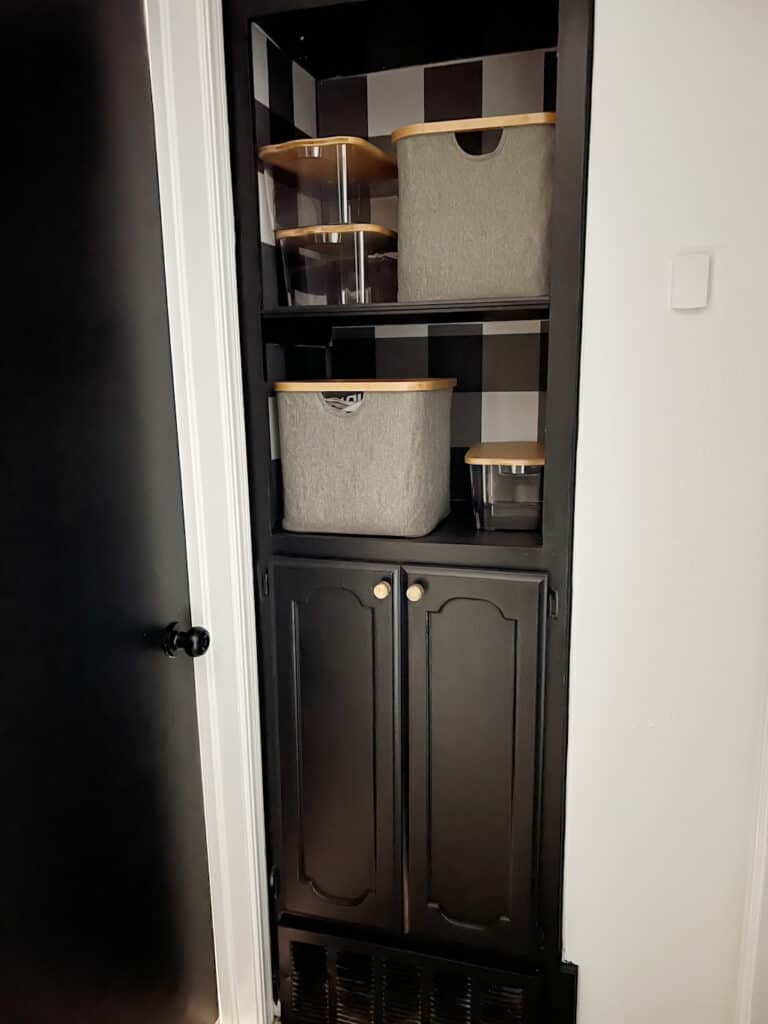 Painting interior black doors
Now that we've answered some questions about having black doors in your house, let's talk about the process of painting your interior doors.
Supplies:
Primer (optional)
High quality paint for doors (I recommend Valspar's Door and Trim Enamel)
Angle paint brush
4″ roller pads and roller
Paint tray
Drop cloth
Should you paint door with a brush or roller?
The answer is both! You'll want both to do this project, especially if you have paneled doors. But my interior doors are flat and it was still helpful to have both my favorite angled trim brush and a roller.
When asked the best brush for painting doors, I have to say this Wooster brush. I have used this particular brush over and over again for so many projects because it's so versatile. I love the short handle which makes it easy to grip and have a steady hand.
Prepping the doors
Now that you have your supplies ready, let's talk set up. You can choose to completely remove your doors and lay them down on an elevated flat surface or choose to leave them on the hinges.
If you remove your doors, you will need to make sure you allow enough drying time before flipping your door to the other side or it will ruin the finish.
If you leave your doors on the hinges you'll want to tape them off or be very careful when painting around them. I do recommend removing the door knob, but you can also tape around it if you prefer to leave it on.
Place your drop cloth under the door to catch any drips. Now you're ready to start with a coat of primer. Using your roller, roll the coat of primer starting at the top of the door and moving down. Use the brush to trim the edges.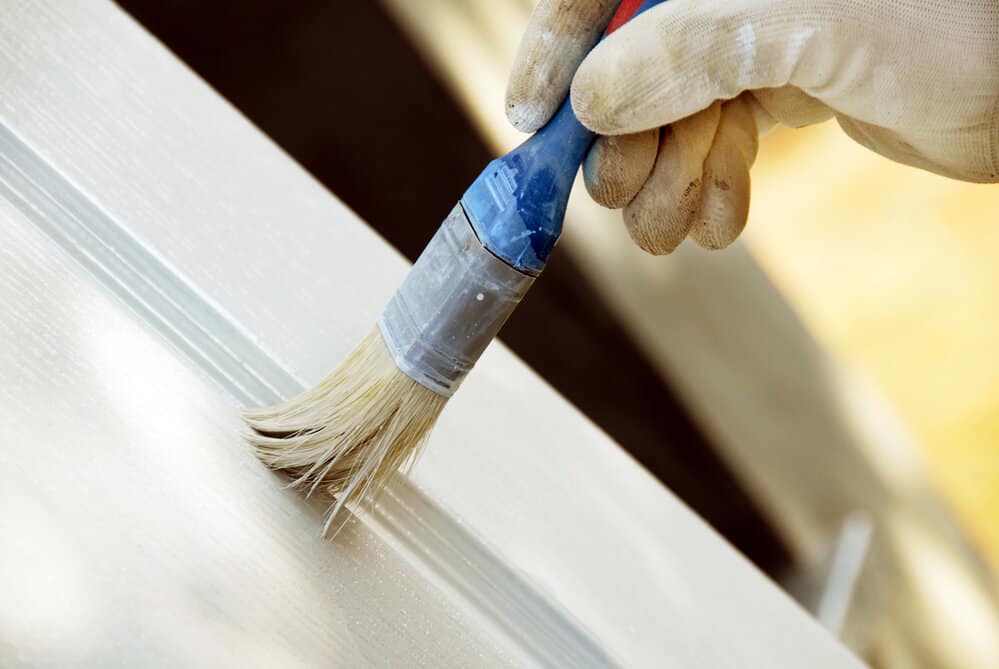 Painting pre-primed doors
If you're replacing your interior doors, new doors can be purchased already primed. If you're painting pre-primed doors then you can skip the priming step and go straight to the paint.
What sheen is best for black interior doors?
Gloss or semi-gloss are typically the sheen used most commonly on doors and trim. It's easy to clean and looks great against satin or eggshell walls. But if you prefer less shine you can go with satin, eggshell or even a matte finish. Note that matte is harder to keep clean.
What type of paint should I use on my interior doors?
An enamel made specifically for doors like Valspar's Door and Trim Oil-Enriched Enamel is ideal for interior doors. The finish will harden over time to create a durable and lasting finish.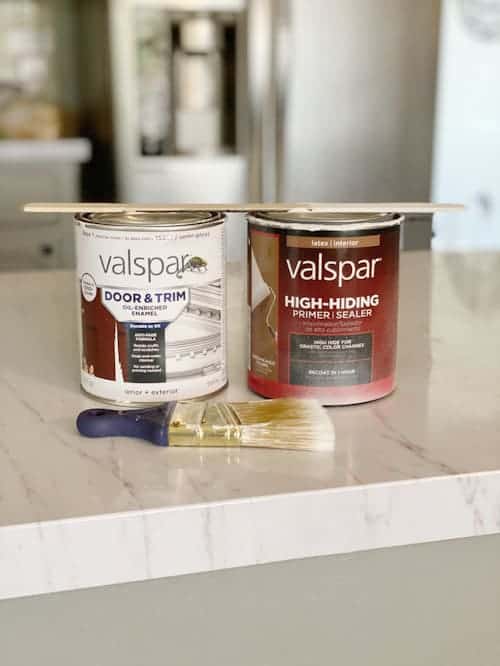 Now that you're ready for your paint, the process will be the same as applying the primer (if needed) in the previous step. Start at the top and work your way down. You will most likely need two coats of paint to cover the door thoroughly.
Allow the doors to dry completely in between coats for a flawless finish. You'll want to allow the doors to cure for a couple of days before reinstalling or adding hardware.
How to paint closet doors
If you're looking to paint your closet doors, the process is much the same. I find it easier to leave them installed and to just remove the knobs to paint them, but you can remove the doors if desired. Follow the steps above for a beautifully updated finish!
Painting black interior doors FAQs:
Are black interior doors a trend?
While black doors have become popular with the modern farmhouse look, black is a timeless color that will look good for years to come.
Should you paint interior doors black?
This is completely based on your preference and style, but if you've been thinking about black interior doors and like the idea, check out other homes similar to yours that have dark interior doors. You shouldn't be afraid to go black, it makes a great statement!
For more, check out this article on 5 Reasons to Have Black Interior Doors in Your Home!
Are black interior doors hard to keep clean?
It depends on the sheen you choose (semi-gloss will be easier to clean than matte) and how much traffic your doors get, but I've found them much easier to keep clean than my old white doors.
Painting Black Interior Doors – In Conclusion
Black is a beautiful, timeless color that can add depth and character to your home when used in the right places. Painting interior doors black could be a great option to make your doors pop and give your home that WOW factor you've been looking for!