11 Accent Wall Ideas with a Fireplace for Any Room
Everyone loves a beautiful fireplace. Even if you don't use it much, they make any space feel more cozy! The struggle is what to do with the space above and around the fireplace. If you've been needing accent wall ideas with a fireplace, I'm here to help!
This post contains affiliate links for your convenience. See my disclosure policy here.
Whether your fireplace is in the living room or dining room, home office or bedroom, these ideas are sure to help get the creative juices flowing! You can look into hiring interior designers to implement the design or do it yourself to save money!
Living Room Fireplace Accent Wall
Besides the kitchen, the living room is the heart of the home where people typically spend the majority of their time. A fireplace is the focal point of the room and makes the space feel welcoming.
If the wall your fireplace lives on needs some attention there are several options. One simple way to spruce up the accent wall is by layering artwork above the fireplace on the mantle.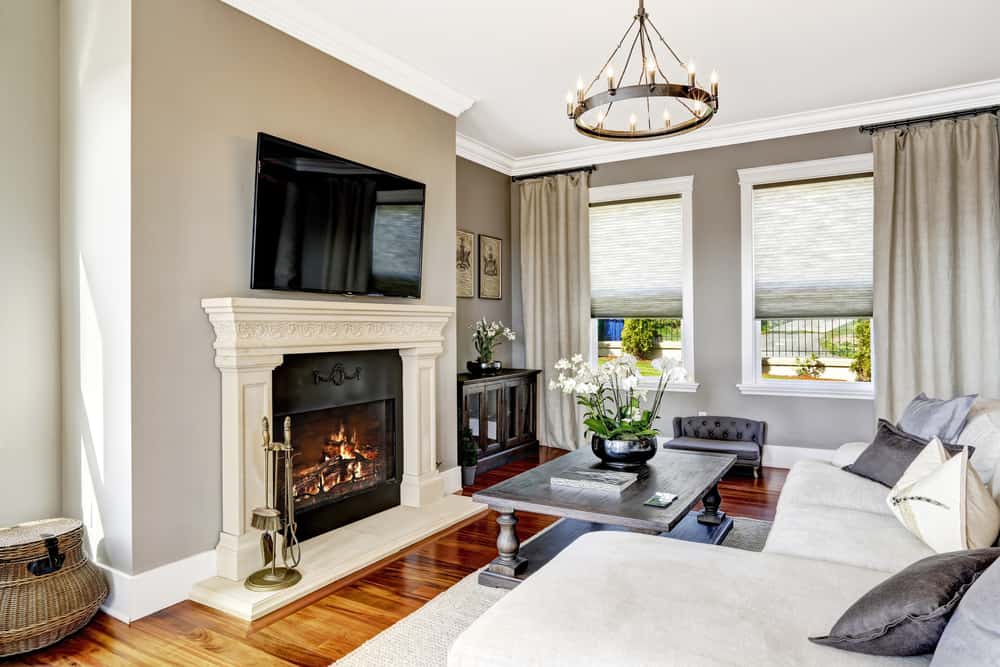 Add a faux plant or some decor pieces to round off the look. Large pieces like mirrors are perfect for rooms with high ceilings to go above the mantel.
If your living room doubles as the family room then something like the new Samsung Frame TV would be the perfect complement to the space as it looks like artwork when the TV is off.
If your fireplace accent wall has windows on either side, you can add window treatments to spruce up the space, as well!
Dining Room Fireplace Accent Wall
Our fireplace is the main focal point of our dining room. Brick walls surround the fireplace with beautiful builtins that we painted white and they look so crisp against a toasty fire!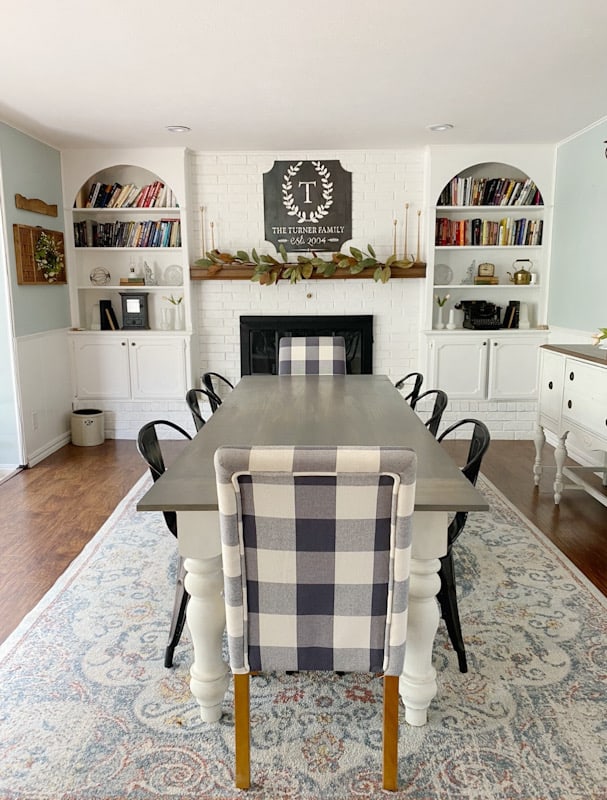 If you have builtins around your dining room fireplace, it's the perfect opportunity to show off that fine China you inherited. Decorate with a large mirror over the mantle or a piece of artwork.
We hung our metallic design monogrammed piece featuring the letter of our last name and the year we married. You can also hang decorative plates in a pretty pattern using plate hangers.
Home Office Accent Wall Idea
Depending on the room feel you're going for and the color palette you've chosen, a textured wall or temporary wallpaper could be a fun and different design for above and around the fireplace if you have a blank wall and you're going for a new look.
Hang a large clock for functional decor or a decorative piece for something pretty over the fireplace mantel.
Fireplace Mantel Ideas
Fireplace mantels can vary depending on the style of a home, the time period it was built in and the preference of the homeowner.
A fireplace mantel can be an elaborate architectural piece that surrounds the entire fireplace or it can be as simple as a wood beam. It can be a mantel shelf used to display decor and artwork.
It can made from different materials including wood, stone, brick or metal. A stained wood mantel against painted brick can really make a fireplace pop.
Feature Wall with Electric Fireplace
A lot of people are installing electric fireplaces in their homes that weren't built with a fireplace so they can create the feel of warmth and add a visual impact to their space. A lot of times it gives a more modern feel to a home.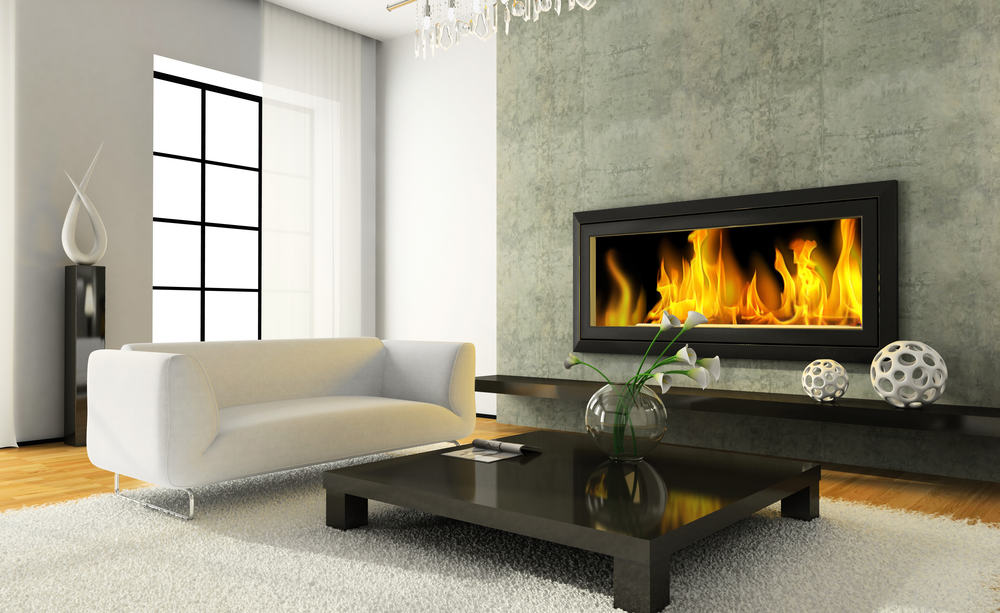 To make it feel more a part of home you can add elements to make it feel builtin. The easiest way is by adding a mantel. You can also do a tile surround or even add a concrete hearth. A wallpapered accent wall above the fireplace would really give the whole space a welcoming feel.
Entertainment Center with Family Room Fireplace
A family room fireplace, whether it's a gas fireplace or wood-burning, is where everyone wants to gather when it's time to entertain. Add a TV above and get ready to enjoy time with family and friends watching the big game or the latest movie release.
Depending on the size of the wall, adding builtins or an entertainment console for a small space allows you to hide game consoles, cords, etc.
Using Paint Color as an Accent Color
A painted accent wall with your fireplace can enhance the look and really make it stand out. It's a great way to add some character to the space. Check out Samplize for an easy way to try out different paint colors without the mess!
Bold Color and Bright Hues
Bold colors are a great choice if you're really wanting to make a statement. Choose bright hues such as red, blue, or green to draw attention and create a focal point.
Dark Colors
Dark moody colors are in right now and a dark accent wall with your fireplace is an easy way to incorporate this dramatic look in your home. Black and navy are both great choices, as well as deep green when considering a dark shade.
White Walls or Neutral color scheme
If you're a neutral kind of guy or gal, you can still make your fireplace pop with paint. If you have builtins around the fireplace you may choose to paint them white and then choose a neutral beige or gray for the rest of the walls. Accessible Beige by Sherwin Williams is a popular choice.
If your fireplace is brick you may decide a white room looks best against the brick color. Or you may decide a painted brick fireplace would add the update you're looking for!
Add Geometric Patterns to Create Visual Interest
If you're wanting to create a focal point and add visual interest, a geometric pattern is the way to go! You can achieve this by using a stencil with a geometrical pattern or installing patterned wallpaper above your fireplace.
If you have builtins around your fireplace, add the pattern to the back of the bookshelves. You can also add the wallpaper to the entire wall to really make it pop.
You can also install a geometric tile to your fireplace surround.
Create Interest with an Architectural Feature
Adding architectural elements above or on the surrounding wall is an effective way to accentuate your fireplace. There are several options when looking to add architectural details to the accent wall.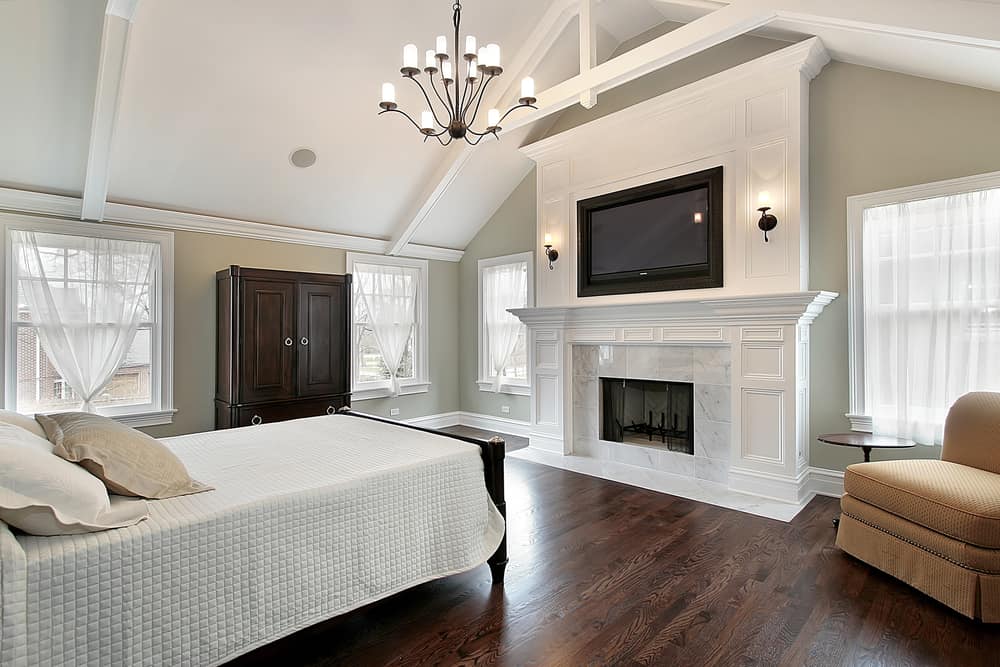 Shiplap Fireplace Wall
Shiplap is still popular today and an excellent way to add texture and interest to a space. Shiplap installed above a fireplace is a beautiful way to give your fireplace some depth.
The shiplap can be painted white for a farmhouse look or charcoal or black for a more modern look. You could leave it raw for a rustic look. Either way, it's a great option to add beauty to the accent wall around your fireplace.
Wood paneling
Adding wood paneling such as board and batten, or bead board would give your fireplace a cottage feel and add warmth to the space.
You could paint it white or go with a different color like a soft green or gray blue. Or leave it raw for a wooden wall if you want a more rustic cabin feel.
Natural Stone and other Natural Materials
A different material to consider would be natural stone or a natural element such as brick when designing an accent wall with fireplace. You could do a stone fireplace surround or stone tiles for a more traditional style.
A stone wall adds warmth and coziness to a fireplace and is an excellent addition when creating a natural focal point. A red brick fireplace is still a popular choice or you can give it a coat of paint for a modern twist.
Fireplace Accent Wall FAQs:
Is a fireplace wall a good accent wall?
Absolutely! The fireplace is the focal point of the room in most cases so accentuating it with paint or architectural details is a great way to make it pop!
What can I put on the wall behind my fireplace?
This is a great place for artwork, a large mirror, or a beautiful decorative piece. Layer it with faux plants, stacked books, vases or interesting architectural pieces like corbels.
What do you call the wall with a fireplace?
It's often referred to as the fireplace surround if the fireplace with mantle and side pieces take up a good portion of the wall.
Can you wallpaper a fireplace?
You can install wallpaper above the mantel of the fireplace as an accent, you just want to make sure the wallpaper isn't too close to the firebox or it may not adhere well to the wall.
What goes in front of a fireplace?
The hearth is the area in front of the fireplace that it typically created from tile, brick, or stone.
How do I build a fireplace focal point?
It could be as simple as adding some shiplap or wallpaper around the fireplace and framing it out. You could choose to beef up your mantel if the current mantel doesn't do the fireplace justice.
If you're wanting a fireplace surround you'll want to make sure you have the right tools and plans to build a sturdy feature.
Accent Wall Ideas with a Fireplace for Any Room: In Conclusion
The ideas for designing your fireplace accent wall are endless! There are tons of options for each type of preference and style out there.
Depending on the design of your home you may choose to go all out or keep it simple. Some of the changes are so simple like a fresh coat of paint or a splash of wallpaper – you could transform your fireplace accent wall in one day!