Sherwin Williams Accessible Beige: The Perfect Neutral
Looking for the perfect neutral beige for your home? Sherwin Williams Accessible Beige may just be the color you've been searching for.
Beige is a popular paint color for homes and businesses. It's soothing and neutral plus it's considered easy to decorate with. But even the most beige-friendly home can use a little sprucing up.
This post contains affiliate links for your convenience. See my disclosure here.
Sherwin Williams brings the color of beige to life with Accessible Beige – a safe and stylish shade that's perfect for any space!
SW Accessible Beige Undertones
Accessible Beige SW 7036 is a light beige with subtle gray undertones making it part of the "greige" family. But even with the gray undertones, it's still a warm paint color and works as a great neutral in almost any space.
Unlike the beiges of the 90s and early 00's known for their yellow undertones, Accessible Beige mixes in those gray undertones for a color that stays true to its intended shade.
With an LRV of 58, Accessible Beige reflects a good amount of light and is the perfect choice if you're wanting a neutral color to brighten up your room.
A quick reminder, LRV is short for light reflective value and measures how much light a color reflects or absorbs. LRV Light Reflectance Value: The Definitive Guide by Land of Color is a great resource for more information.
Test First: Peel and Stick Paint Samples
No matter what shade of paint you're looking at, I recommend getting samples to see how each color looks in your home. Samplize Peel and Stick paint samples are perfect for this because you can sample several colors without the mess.
When looking at paint colors, whether using peel and stick or painting on a swatch, make sure you make note of how they look in the different lighting over a 24 hour period.
This will give you the best idea of what the paint color will do in your space. No one wants a beige that looks pink or a gray that looks purple!
How does Sherwin Williams Accessible Beige measure up against similar shades? Let's take a look!
Accessible Beige vs Revere Pewter
SW Revere Pewter, like Accessible Beige, is a warm greige. Where Accessible Beige is considered a beige with gray undertones, Revere Pewter is considered gray with warm undertones.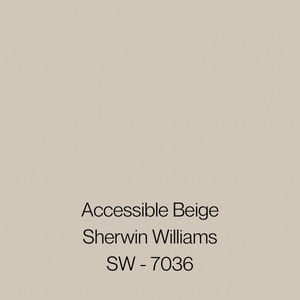 Revere Pewter has an LRV of 55 so the light reflected from this popular color will be slightly less than SW Accessible Beige. Both colors are great choices for a neutral shade but again, make sure you test it in your space!
I've written another post dedicated to Revere Pewter so be sure to check it out!
Accessible Beige vs Agreeable Gray
Agreeable Gray is Sherwin Williams highest selling paint color and for good reason. It can be used in almost any space with beautiful results. Agreeable Gray has an LRV of 60 and will reflect slightly more light than Accessible Beige.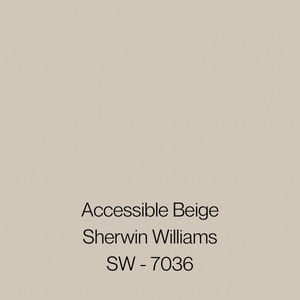 Even though it has "gray" in the name it's also considered more of a "greige" due to the brown undertones. But compared to Accessible Beige it definitely looks more gray. If you're leaning more towards beige for your home then Agreeable Gray might be more gray than you're wanting.
Accessible Beige Complementary Colors
With the versatility of Accessible Beige the colors you can pair with it are endless. SW Iron Ore looks fabulous if you're looking for a black paint color. Dover White is a beautiful creamy white that is also a great complementary color.
SW Naval is a rich navy that looks fantastic against Accessible Beige and SW Courtyard is a deep green that also pairs well.
What white paint goes with Accessible Beige?
You can find tons of white shades that will look beautiful with Accessible Beige whether you prefer a bright white or a creamy white. One popular color that seems to be used often with Accessible Beige is SW Pure White. People also like SW Alabaster.
Similar Sherwin Williams Colors to Accessible Beige
If you're looking for similar colors to Accessible Beige but are wanting to stay with the Sherwin Williams brand, check out SW Symmetry and SW Soft Suede. Both colors are close to the shade of AB.
Sherwin Williams Accessible Beige: Not Just for Walls
The versatile shade of SW Accessible Beige makes it a great choice not just for walls, but also for trim, cabinetry, and the exterior of your home. Let's take a look at Accessible Beige on different surfaces.
Accessible Beige on the Home Exterior
A great choice for the main color of the exterior of homes, pair Accessible Beige with SW Pure White trim and SW Tricorn Black shutters or front door for an eye-pleasing palette that will give great curb appeal!
Accessible Beige on Kitchen Cabinets
A great choice to make your cabinets pop while still giving a neutral feel, AB looks great paired with black or gold hardware and creamy white walls. In this kitchen by Kate from Centsational Style you see her taupe cabinets paired with white countertops and backsplash.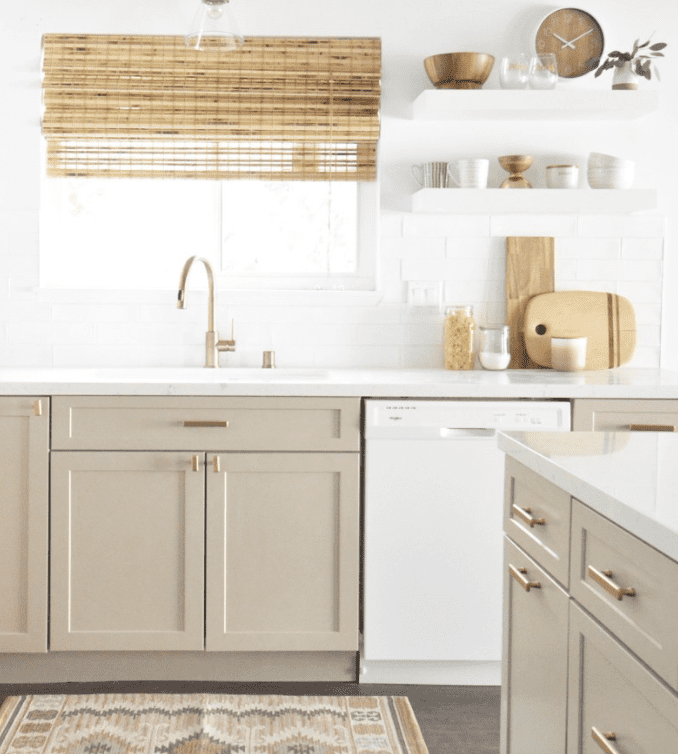 Accessible Beige on Trim
Like kitchen cabinets, AB looks great on trim. I love this trend that gives a space unexpected interest. See the beautiful contrast in this beautiful home by Jenna Sue Design Co.
Paint your trim and cabinetry in Accessible Beige and go with a pretty white on the walls for a nice change.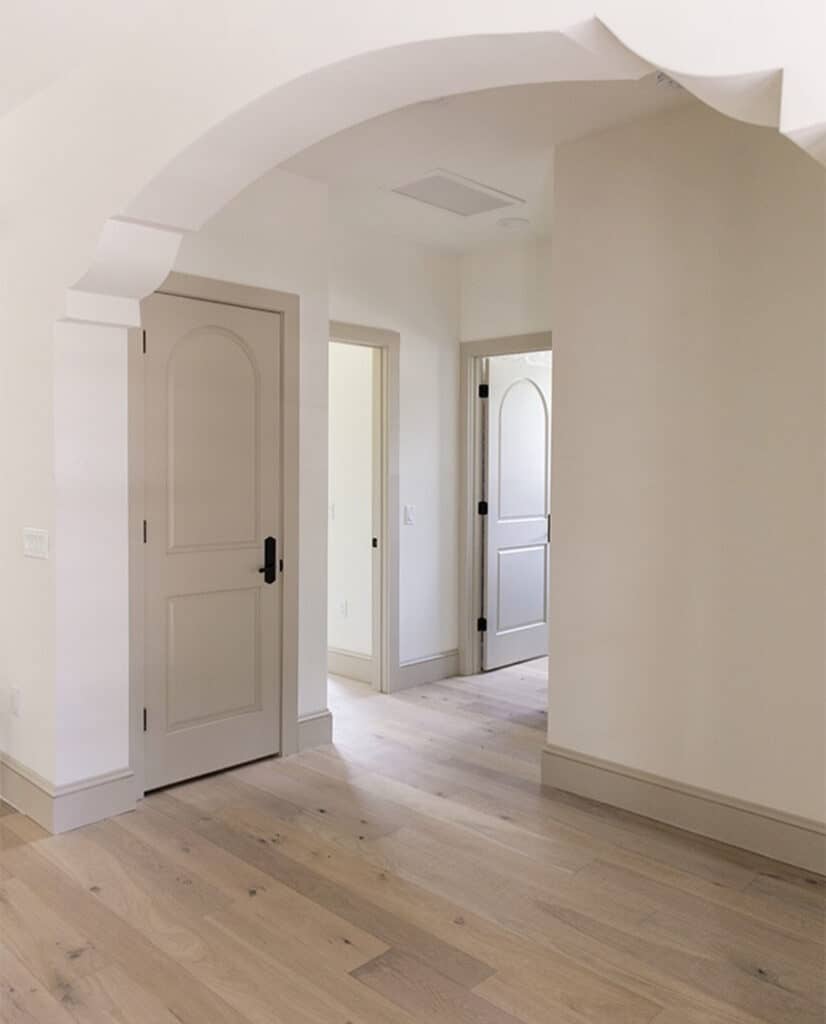 Accessible Beige in the Living Room
Back to walls, Accessible Beige is a great choice for living rooms because it pairs nicely with virtually any style and shade. Add pops of color using accessories like pillows, throws, and artwork while keeping the walls neutral.
In this modern farmhouse home showcased by Ashley Crisostomo Real Estate, Sherwin Williams Accessible Beige can be seen on kitchen and living room walls paired with white cabinets and beautiful wood beams.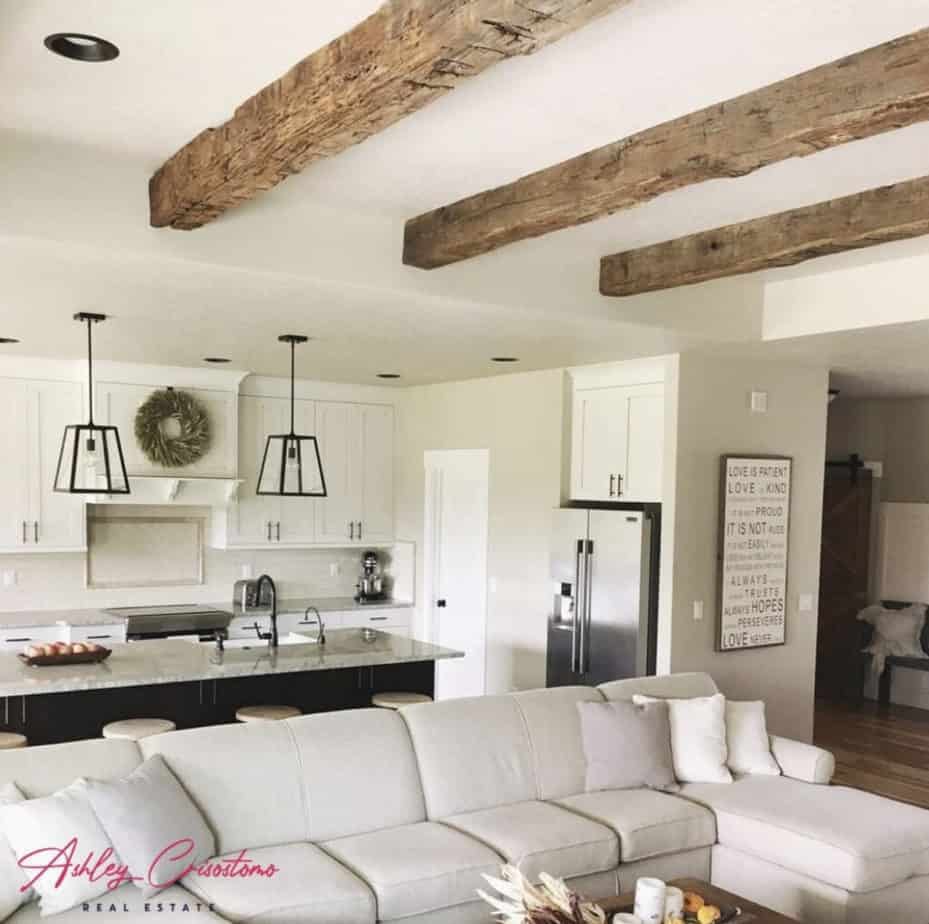 Accessible Beige in the Bathroom
Also a great choice for bathroom walls, you can pair it with almost any color or stain on the vanity with countertops like soapstone for an interesting detail or a fun tile in the shower.
Is Accessible Beige outdated?
In general, beige was considered to be outdated in recent years due to the overuse of the color in builder grade homes during the late 90s and early 2000s. These shades were known for there yellow undertones and are tired and outdated.
Sherwin Williams Accessible Beige shouldn't get a bad rap for the beiges of old. It's a fresh take on beige with gray undertones that make it an extremely versatile color because it doesn't pull undesirable undertones.
Other Accessible Beige FAQs
Does Accessible Beige look gray?
Accessible Beige does have gray undertones so in certain lighting it may take on more of a gray tint.
Does Joanna Gaines use Accessible Beige?
Before Joanna Gaines came out with her own Magnolia Home paint line she gravitated towards Sherwin Williams paint colors. It's said that two of her go-to colors were Repose Gray and Mindful Gray.
Does Accessible Beige go with gray?
Accessible Beige is going to look better with a complementary color such as navy, deep greens, blacks and creams. Pairing it with gray may be too much competition with AB's gray undertones unless you're looking at a darker charcoal like SW Cadet.
Can Accessible Beige be lightened?
Yes, like any color, you can request Accessible Beige be lightened at 25% or more depending on the look you're going for.
Does Accessible Beige go with oak?
Since Sherwin Williams Accessible Beige doesn't have the yellow undertones of the beiges in the past it really can go with just about any type wood trim, flooring, etc. including oak.
What is one shade darker than Accessible Beige?
Sherwin Williams Balanced Beige is considered one shade darker than Accessible Beige.
Sherwin Williams Accessible Beige: In Conclusion
Accessible Beige is not the tan of decades past. It's a beautiful neutral that looks great in almost any space and you shouldn't be afraid to use it in your home paired with the right accent colors!