DIY Front Door Makeover with Krylon Frosted Glass
Front doors are expensive. We looked at changing ours out but when we saw the price tag we changed our minds. DIY front door makeover to the rescue!
DIY Front Door Makeover Before and After
Our door is solid wood which is a plus, but the paint was chipping and we needed a solution to the glass panes you could see through. Check out the before picture:
This post contains affiliate links for your convenience. See my disclosure policy here.
Yikes, right? That nasty piece of fabric was keeping prying eyes away, but it was time for it to go! And the paint on the door and trim was needing a fresh coat.
First, we started by removing the curtain, cleaning the door and taping off the hardware.
Cue the frosted glass spray paint. We purchased the Krylon version at our local hardware store as an alternative to having a curtain over the windows. This is similar to what we used. I wanted to be able to let light in, but still have privacy, so we decided to give this a shot!
We sprayed the glass in even coats until it was thoroughly covered.
After the windows were dry, I used a trim brush to carefully paint the door in between the panes. I didn't want to risk taping it off and then the tape pulling off the frosted spray. We used the same paint that we used on our wet bar turned coffee nook makeover and you can read about it here. I wanted it to tie in with the dining room where the nook sits off to the side. (See pic at end of the post.)
Time for the rest of the door! I gave it a quick coat and then gave the trim a quick fresh coat while I waited for the door to dry. Then I started back up at the top of the door with the second coat. The nice thing about this paint is it has great coverage and a super fast dry time!
After the second coat was finished on the door we gave the trim another quick coat, as well. Then we removed the tape from the hardware and DONE!
Front Door After
What do you think? Here's the view from the dining room/coffee nook: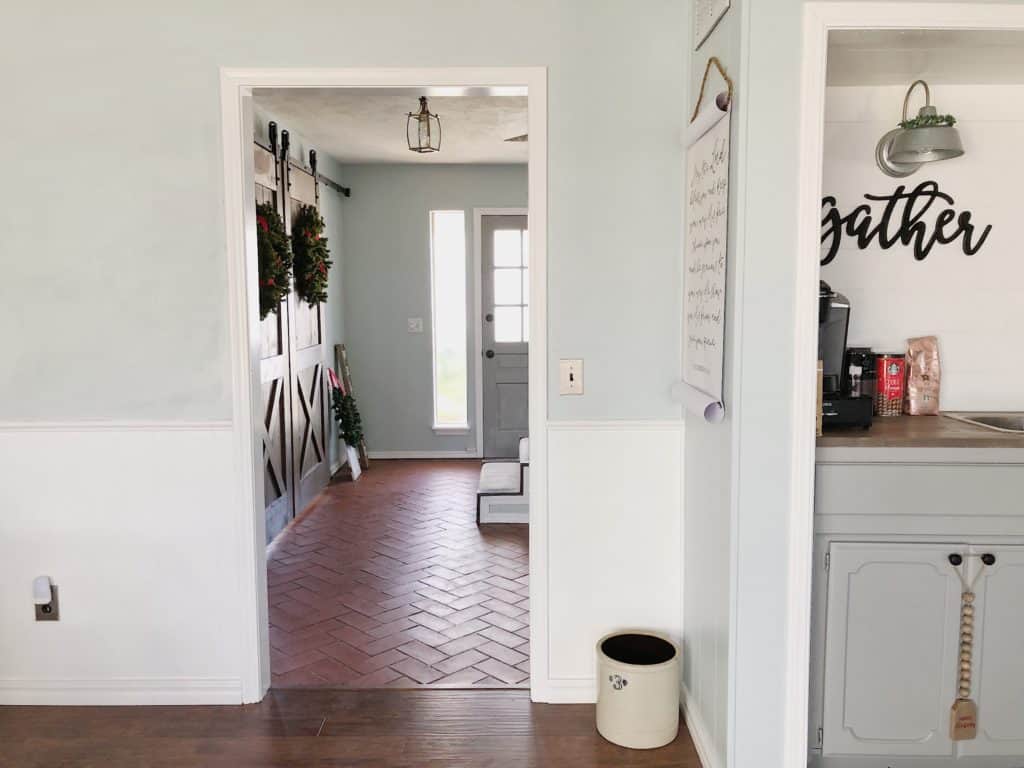 I love the way it all ties together from the gray stain on our dining table to the gray cabinets on our coffee nook and on out to the front door. It gives it a very cohesive look.
Well friend, thank you for stopping by today! I hope you have a wonderful day! I'll see you soon!
Pin for later: