Easy Before and After DIY Fireplace Makeover
I had wanted a white painted brick fireplace for YEARS. In our last house the ugly fireplace brick color was dark and dingy with a dated tile hearth.
I kept planning on giving it a coat of fresh paint, but just never got around to it. After moving into our new house we decided to make it a priority on the to-do list.
Our new home had a fireplace similar to our old fireplace, dark and dingy. But it had great potential to be a beautiful focal point with the wood mantle, brick fireplace surround and pretty built-in shelving that add so much character.
It also featured a gas fireplace insert which was a nice convenience.
RELATED: 11 Accent Wall Ideas with a Fireplace
When we purchased this house, the previous owner had used this space as an extension of the living room and had it set up as a sitting area.
When we moved in, we turned the formal dining room into an office space and used this space for a dining room. The beautiful fireplace lent a cozy feel to the design.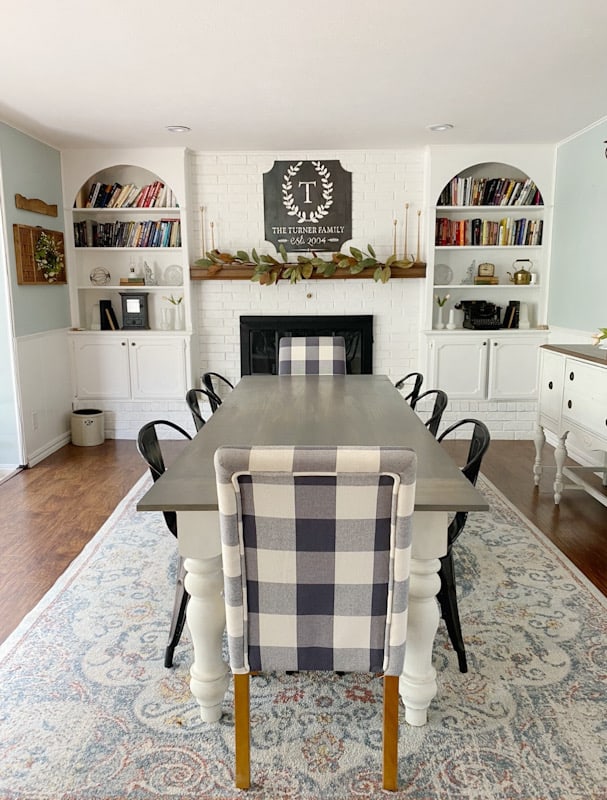 I wanted to give it a whole new look with a fresh coat of white paint to brighten the space. It's amazing how a can of paint can transform a space in a very budget-friendly way!
We got to work researching everything we needed to tackle this project. It's been six years since we completed this project and it still looks fantastic!
Keep reading for a tutorial and to see the amazing transformation of our before and after DIY fireplace makeover!
This blog post contains affiliate links. See my disclosure policy here.
DIY Painted Brick Fireplace
What you'll need for this project:
Primer (if using regular latex paint)
Heat resistant paint OR High-quality interior paint
High-density roller cover OR Paint Sprayer
Paintbrush
Paint tray and liners
Painter's tape
Plastic covering
Do you need special high heat paint for fireplace brick?
First things first, let's answer an important question: Do you need special paint for fireplace brick?
Some say yes, others say a regular interior paint works fine. Professionals argue that if you want the paint to last for years to come, heat-resistant paint is the way to go.
Heat Resistant Paint for Brick Fireplaces
There are several options on the market if choosing heat resistant paint for your brick fireplace. Behr's Fireplace Glow Masonry, Stucco, and Brick Paint is a high-quality acrylic latex paint that comes with a 20-year customer satisfaction guarantee.
Kilz Interior/Exterior Self-Priming Masonry, Stucco, and Brick Paint is another great option when it comes to heat resistant paint for brick fireplaces.
Heat-resistant paint typically comes in a flat finish with a built-in primer, eliminating the need to prime first. You can also find heat resistant spray paint.
Interior Fireplace Paint
For our old brick fireplace, we went with regular latex paint. We chose Glidden's Paint and Primer in one. As mentioned earlier, it's been six years and it's held up so well! We've never had to touch it up and have no complaints.
I will say that even though it was a paint and primer in one, we decided to go ahead prime first anyway since we were going from a dark brick to a white brick fireplace.
So if you're going to use regular interior paint, I would just say make sure you choose one that's high-quality and use a primer if you're going over dark brick.
Pro tip: Use peel-and-stick Samplize paint samples for an easy mess-free way to test different paint colors!
So let's dive into the tutorial and if you still have questions before you start, be sure to skip down to the FAQ section at the bottom of this post!
Here's what the fireplace looked like before: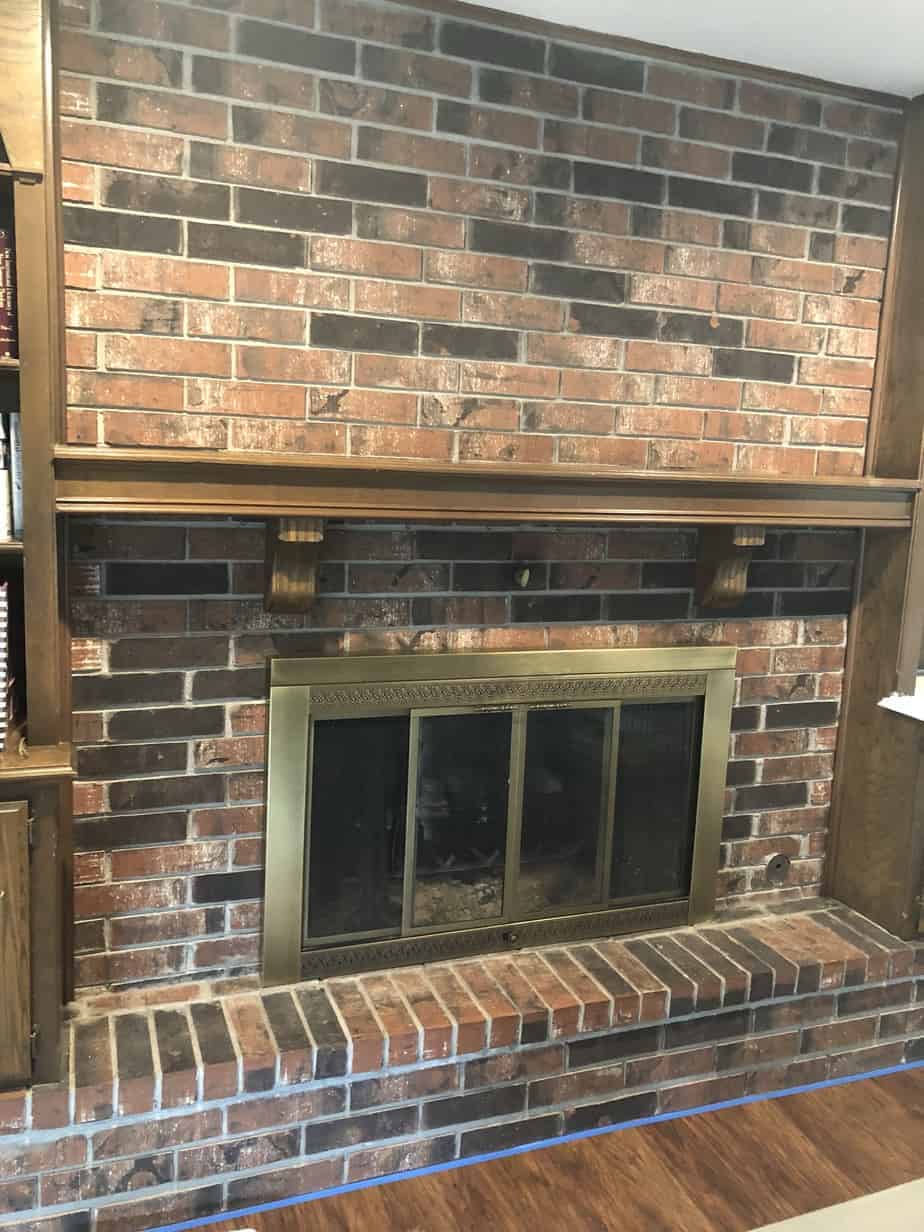 Prepping the new fireplace makeover
First thing, we started by cleaning the brick with soap and water to remove the dust and soot. Next, we taped off around the area using blue painter's tape. I also recommend laying down plastic sheeting to protect your flooring.
As mentioned before, we primed it first since we were going over a dark brick with white paint. Here's the top of the fireplace with one coat of primer: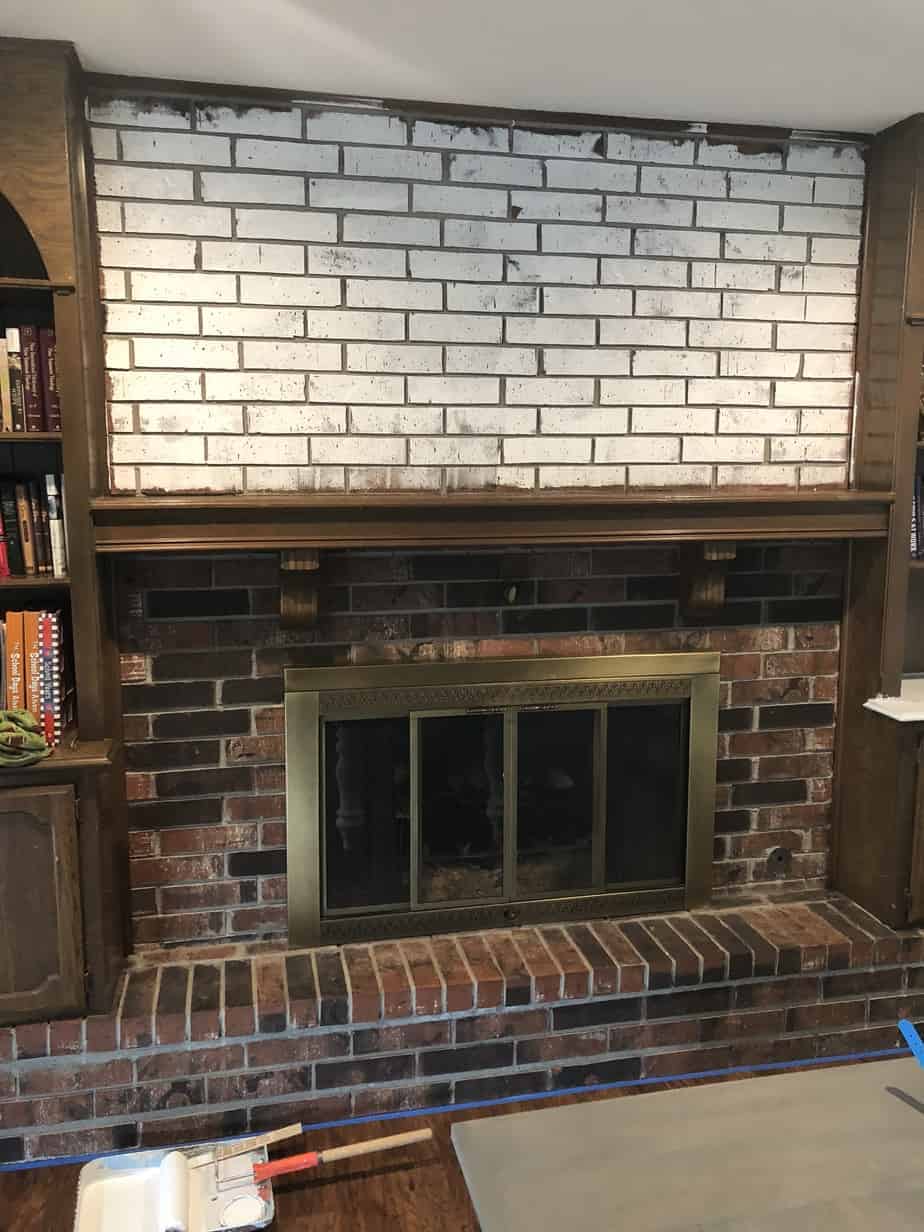 After we finished priming, we allowed it to dry completely. It didn't take long, in fact by the time we were done priming the bottom brick, the top was dry and ready for the first coat of paint.
Painting the brick
We chose the color Ultra Pure White by Behr but we needed a more budget friendly option so we chose Glidden's Premium Paint + Primer, which is also a great paint. We had them look up the Behr color in their database at Home Depot and mix it with the Glidden brand.
We chose an eggshell finish. Most brick fireplace paints come in a flat finish but I thought eggshell might be easier to clean.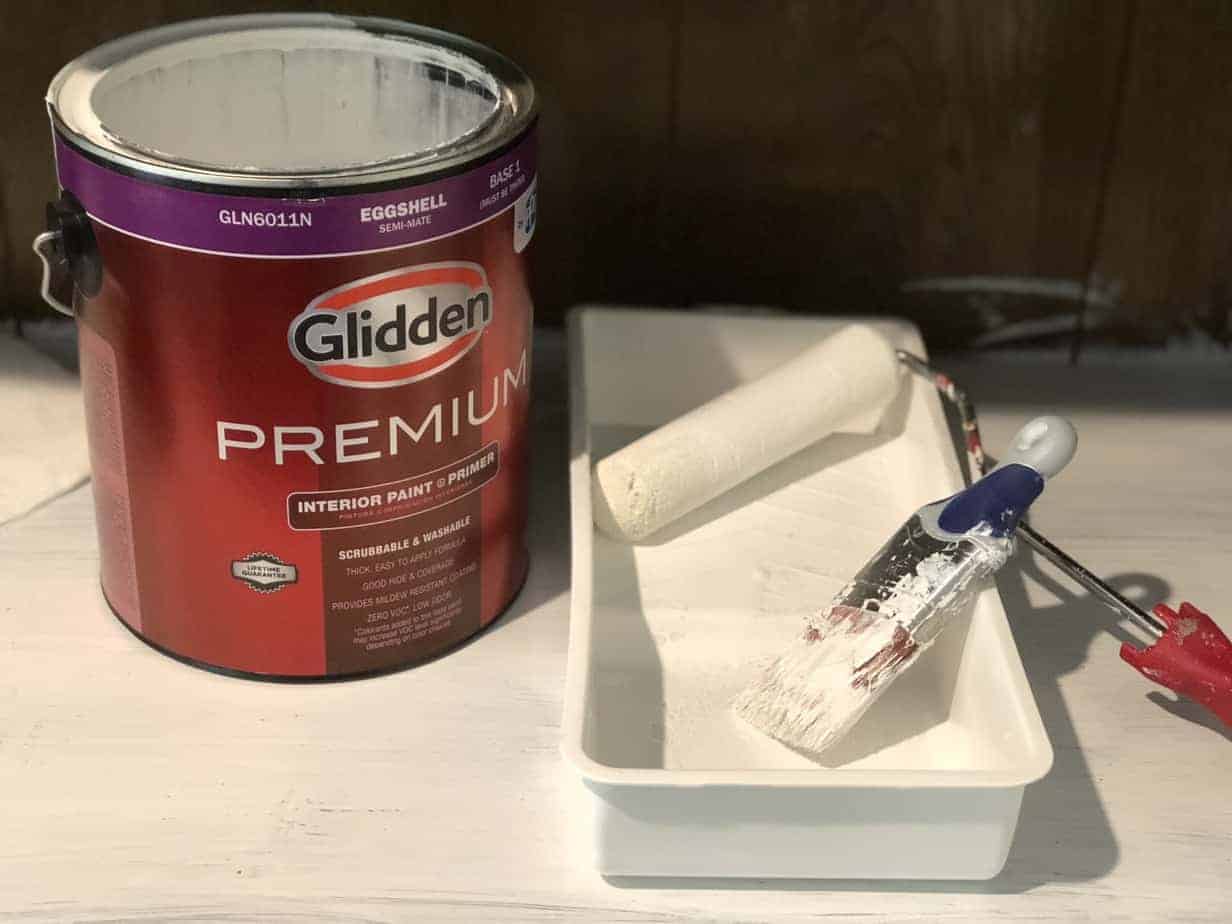 Having never done this before, we just purchased a regular roller cover. But the surface of the fireplace is obviously rough, so the rolling got a little tedious.
Be sure to purchase a high-density roller cover. They are thicker and made for rough surfaces like brick.
The bricks came out close to a 1/2 inch from the mortar in some places. We had to go back in with a brush to get the mortar. A thicker roller cover probably would've helped with this, as well!
Another great option would be to purchase a paint sprayer like this one. You would need to make sure everything in the area is covered and protected first. But, a paint sprayer would've made it easier to get in between the bricks and the cracks.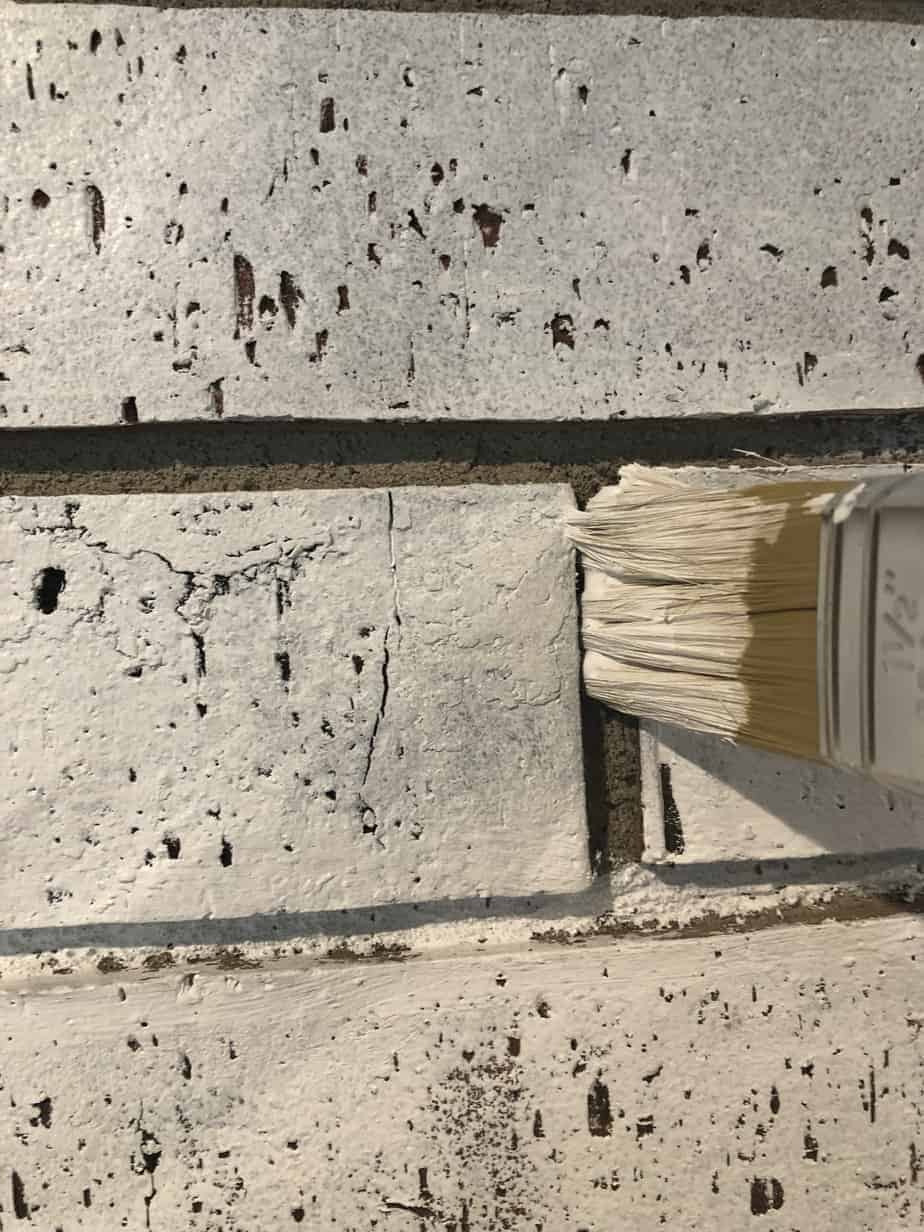 It took one more coat for a total of three (primer + two coats of paint) to completely cover the brick.
Here's how the fireplace looked after the final coat of paint: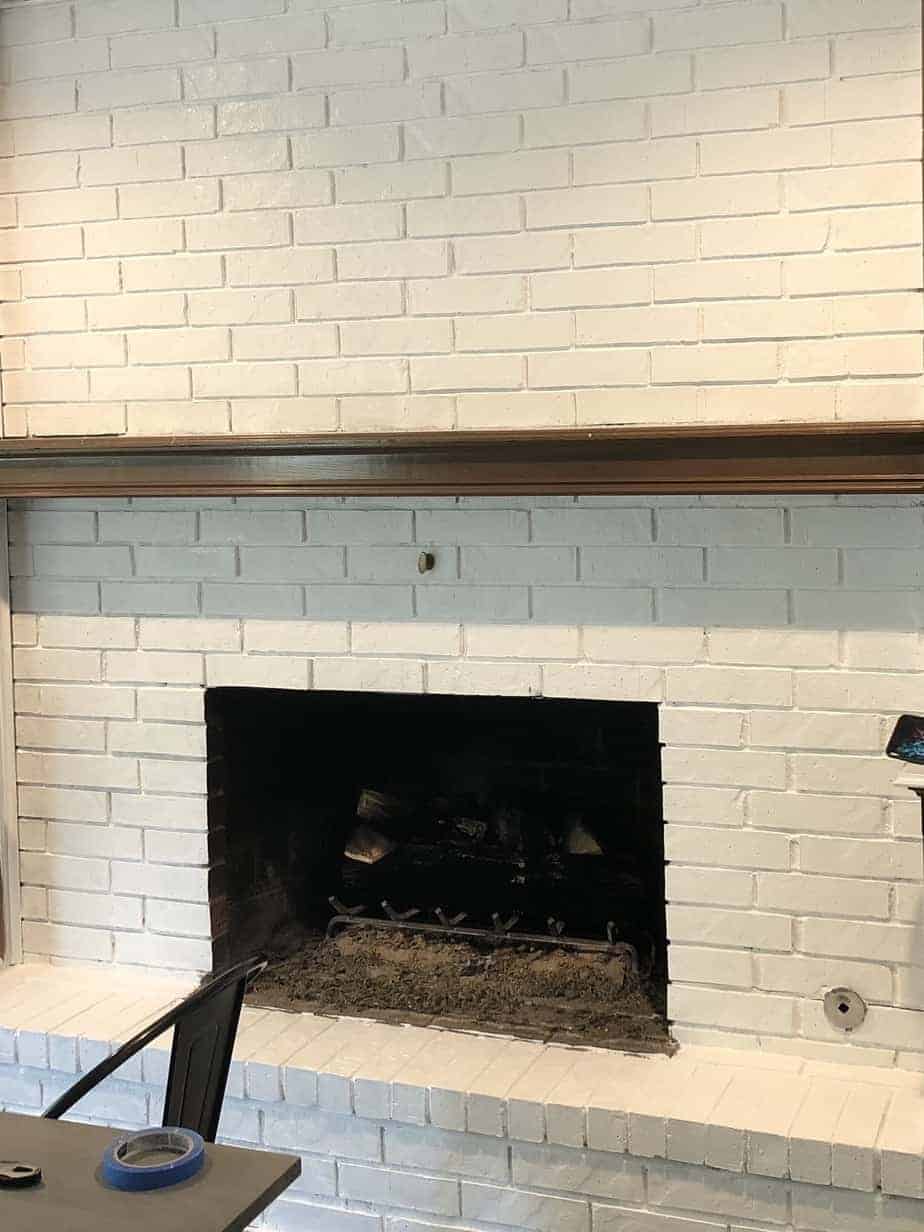 Fireplace mantel gets a more modern look
Before painting the fireplace, we started by removing the corbels from the fireplace mantel. They just looked weird to me. They were almost too much for the mantle.
I kept them and repurposed them as bookends to use as decorative pieces for the fireplace built-in shelves.
We stripped the stain and used Varathane's Briarsmoke to re-stain the mantel. Updating the mantel is a great way to give an outdated fireplace a more updated look.
Before and after DIY fireplace makeover
Here's a full shot of the fireplace and surround before: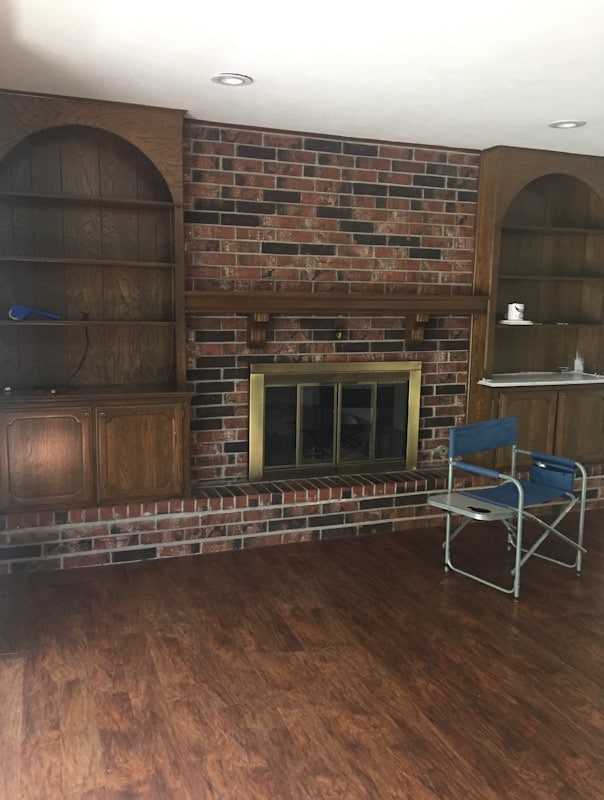 And here's the whole thing after!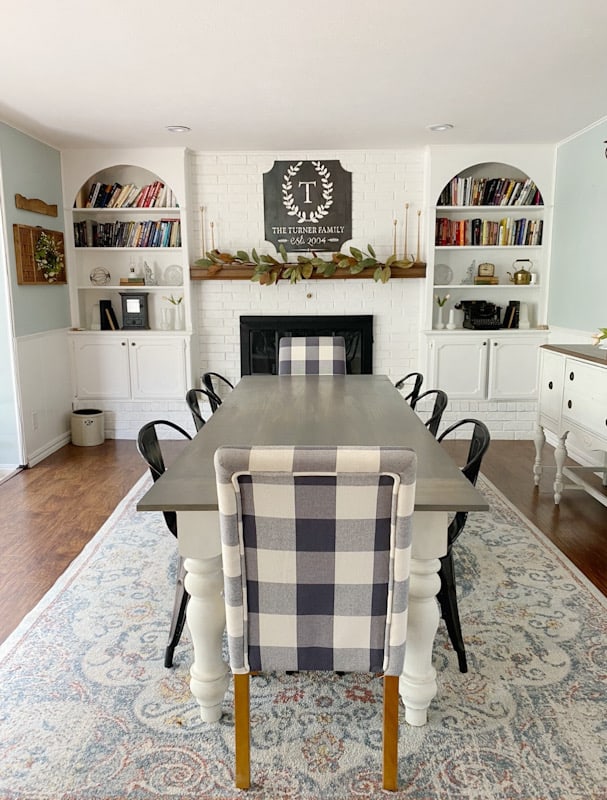 Painted built-in shelving
We also painted the built-ins surrounding the fireplace in the color Ultra Pure White by Behr. We primed them first. If I had to do it over again, I would've used a cabinet paint like Valspar's Cabinet and Furniture Enamel in semi-gloss.
Cabinet enamel dries to a hard finish and holds up better over time to wear and tear. Our built-in's have held up pretty well, but I would still choose an enamel.
How to Paint the Inside of a Fireplace
We didn't need to paint the inside of our fireplace, but painting the inside of a fireplace can be done if you need or want to.
Obviously, if your fireplace is not a working fireplace and is purely decorative, you can use latex paint.
If you are planning on using your fireplace, you'll need to purchase a special high heat spray paint for the inside of the existing fireplace. Black is recommended since it will hide the soot.
Here's a great example from Brick Anew on how to paint the inside of a fireplace.
Painted Brick Fireplace FAQs:
What color should I paint my brick fireplace?
The best color to paint a brick fireplace really depends on your style and taste. A white brick fireplace is a very popular choice and goes with almost anything, but so is a gray painted brick fireplace.
Black is becoming a more trendy choice and teal is also a great option for a pop of color!
Is painting brick a bad idea?
People are sometimes hesitant, wondering if painting brick is a bad idea.
According to this article on Progressive.com, "Brick that's chipping, deteriorating, molding or in overall poor condition is always a bad candidate for paint. Paint blocks the natural pores in the brick's surface, which can cause existing problems to become exaggerated over time."
It goes on to say, "Also remember that removing paint from bricks is no easy process. Chemicals have to be used, and often the paint won't come completely off. If you don't like the look, you may be stuck with it."
So make sure before you paint that your brick is in good condition. As far as not being able to remove the paint, you need to decide if you'll be happy with a painted brick fireplace long-term.
For us, our brick was really dark and ugly. It wasn't a pretty brick. I've had no regrets since choosing to paint our fireplace.
Is painted brick high maintenance?
If your brick was in good condition before you painted and you use a high-quality paint with the right tools, a painted brick fireplace is a great, low-maintenance update.
I use a small vacuum once or twice a month to clean off the dust and a damp cloth if needed.
Is a red brick fireplace outdated?
Not at all! Red brick fireplaces are beautiful and if you're wanting to keep yours but also want your space to feel updated, consider changing the color of your wall paint or updating your mantle. That may be all it needs to feel fresh and new.
For a video on how to paint your fireplace, check out this great tutorial!
Other fireplace makeover ideas:
21 Inviting Stone Fireplace Makeover Ideas to Make Your Home Cozier