Choosing Kitchen Cabinet Colors
Choosing kitchen cabinet colors can be a daunting task. But picking out the perfect kitchen cabinet color will help create a new look and a space that is uniquely yours.
The question for many homeowners is what colors they should be using to paint or stain their kitchens. With so many choices out there, it can be difficult to decide which one to pick!
In this article I'm going to cover different ways to go about choosing kitchen cabinet colors for your kitchen. We'll cover the latest trends, as well as timeless kitchen cabinet colors that never go out of style!
Choosing Kitchen Cabinet Colors
When you are choosing kitchen cabinet colors you want to consider the style of your home and the other colors in your kitchen.
Do you have a traditional kitchen? You may want to go with stained dark cabinets or a creamy white. If your home is more modern you may want bolder colors.
Think about the color of your walls and trim and whether you want to pick a shade that will stand out for a nice focal point or blend in for a neutral look.
You also need to take into consideration that dark tones can make a small space feel smaller, while lighter shades will make it feel bigger.
One of the easiest ways to decide when choosing kitchen cabinet colors is by looking in magazines or online for inspiration. Head to your local Barnes and Noble and grab a stack of home design magazines and a coffee and start browsing.
Or hop on Pinterest and search for kitchen cabinet colors according to the style of your home. Create a board to save your favorites to refer back to later. You should start to see a pattern for what you're drawn to when it comes to colors or stains.
Kitchen Cabinet Color Trends
Now that we've discussed ways to narrow your options down, let's talk trends and popular kitchen cabinet colors!
This year, white paint colors are fading out and color is making a comeback!
Sage Green Kitchen Cabinets
Sage green is all the rage for kitchen cabinet colors. This color is popping up all over the place! Sage green kitchen cabinets are the perfect choice if you're looking for a way to add some life to your kitchen cabinets and make a statement.
This beautiful kitchen designed by Caitlin Flemming features sage green cabinets with white tiled backsplash and white oak flooring to add some warmth to the space. Oil Cloth by Benjamin Moore is a great light sage green color for cabinets.
Dark Green Kitchen Cabinets
If you'd like to add some drama to your kitchen, dark green kitchen cabinets are the way to go! A versatile color, dark green kitchen cabinets can be paired with light or dark quartz countertops or stained butcher block.
Use a creamy white or a light beige like Sherwin Williams Accessible Beige on the walls to enhance dark green kitchen cabinets.
Did you know you can order peel and stick paint samples from Samplize? Try these popular Farrow and Ball kitchen cabinet shades of green:
We earn a commission if you make a purchase, at no additional cost to you.
We earn a commission if you make a purchase, at no additional cost to you.
Yellow Kitchen Cabinets
Another popular trend for kitchen cabinet colors is yellows. From soft buttery yellows to bright lemon yellows, this happy color is perfect for kitchens that need a boost. Pairing yellow cabinets with white walls and appliances is a classic look that will never go out of style.
Try Benjamin Moore's Yellow Lilies for a softer yellow or Delightful Yellow for a brighter yellow!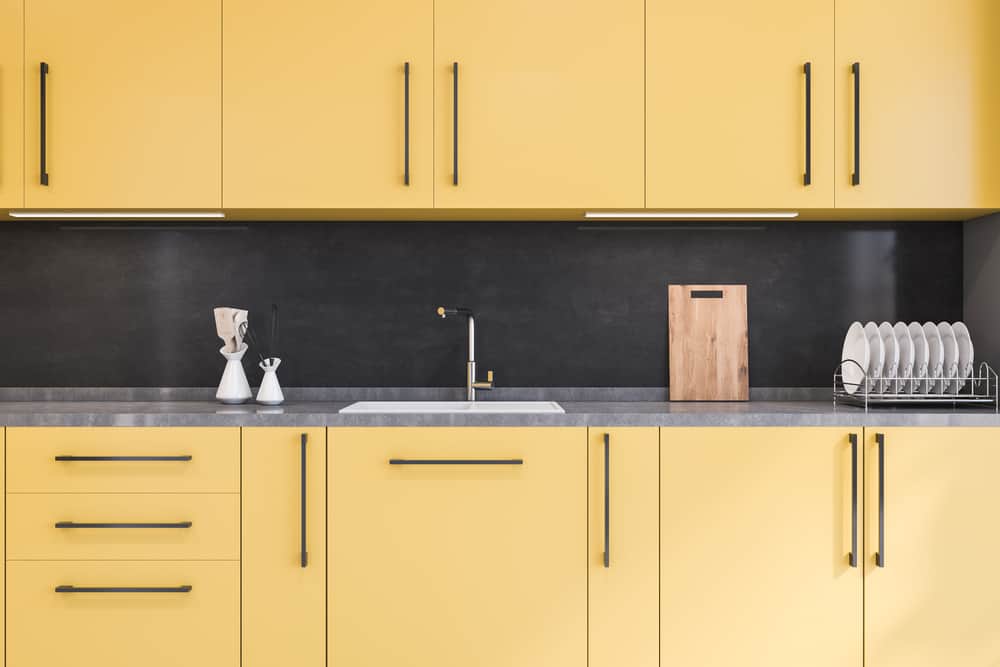 Black Kitchen Cabinets
Still trending in cabinet paint colors this year is black, particularly matte black. While black kitchen cabinets can seem overwhelming, using them as an accent or with white walls and appliances is a minimalist look that works in any home.
Choosing a black kitchen island with white or stained cabinets can make a beautiful statement.
Sherwin Williams Tricorn Black is a popular choice! We chose this color for our bathroom cabinets and love how they turned out!
We earn a commission if you make a purchase, at no additional cost to you.
Navy Blue Kitchen Cabinets
Navy blue is another popular trend in kitchen cabinet colors this year. It's a bold color that can make a room feel cozy and intimate. Paired with beige or white walls and brass hardware, navy blue kitchen cabinets with a satin finish are elegant and create a timeless look.
Benjamin Moore's Hale Navy is a beautiful choice for kitchen cabinets!
Gray Kitchen Cabinets
Last but not least, gray is still a popular choice for kitchens in 2023. A light gray can make your kitchen feel airy and bright, while a dark gray can give it a more masculine feel. Paired with beautiful quartz countertops and white walls, gray cabinets are a versatile choice for any kitchen.
For a nice medium gray shade, try Sherwin Williams Gray Clouds or Perpetual Gray.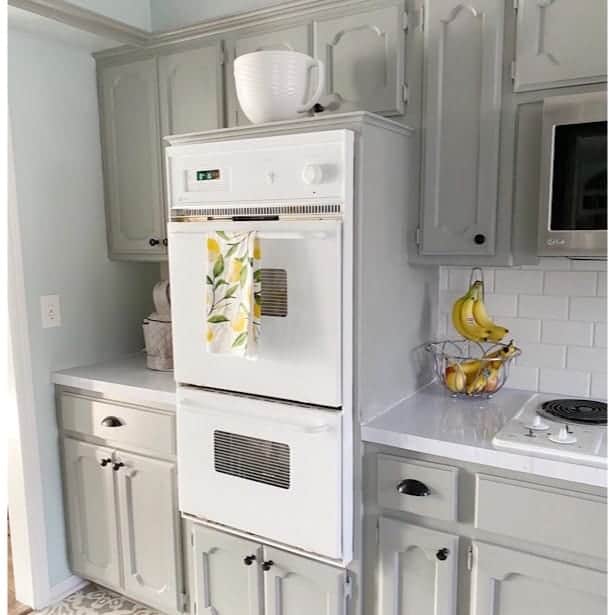 Remember: Try ordering different paint color samples from Samplize to get the perfect shade for your cabinets!
Trendy Kitchen Cabinet Stain Colors
Darker stains are making a comeback this year and are a great way to add some character to your kitchen. If you're looking for a traditional look, try a dark mahogany or cherry stain. For a more modern feel, go with an ebony or black stain.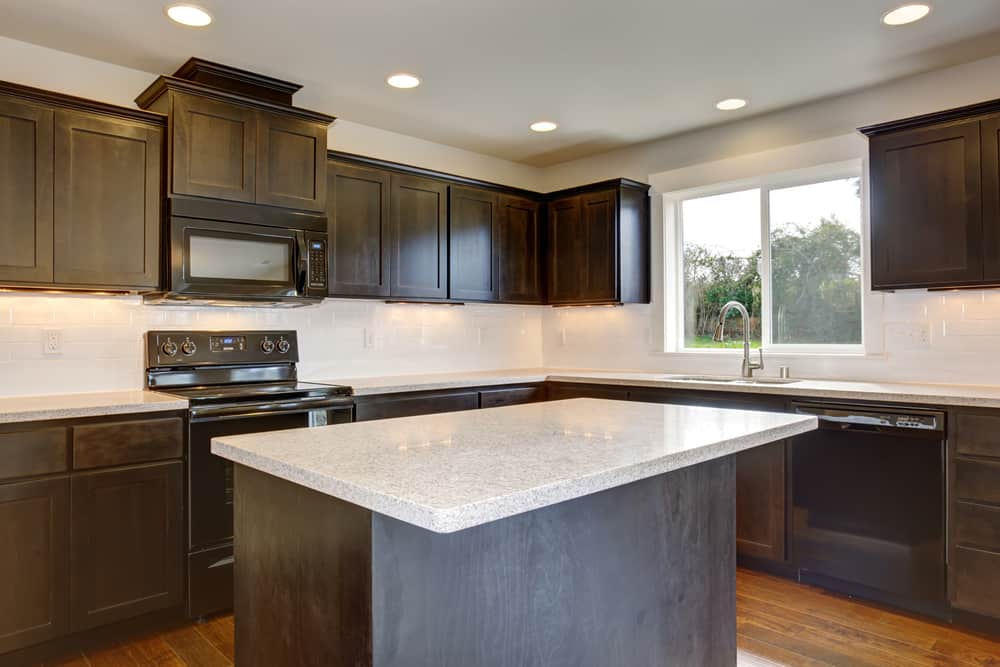 But lighter stains are still very popular and can give your kitchen a fresh, airy look. Try a light oak, maple or birch stain for a traditional feel or a white wash for a more modern look.
No matter what style your kitchen is, there's a cabinet color or stain to match! So get creative and have some fun with it. The possibilities are endless!
Timeless Kitchen Cabinet Colors
Now that we've covered the latest trends in kitchen cabinet colors and stains let's talk colors that stand the test of time.
While all of the colors I've mentioned are trendy this year, there are also some timeless kitchen cabinet colors that will never go out of style.
Classic White Kitchen Cabinets
White kitchens are always a safe choice and will never go out of style regardless of what anyone says. They're perfect for almost any design style and can be paired with virtually any color scheme.
The downside of having white cabinets is that they can show dirt and stains. If you want white cabinets, you may want to choose white uppers and go with a darker color on the lowers, which we'll talk more about later.
Timeless Black Kitchen Cabinets
Black cabinets, while currently trendy, are also another timeless classic that can give your kitchen an updated look. Whether your home is traditional, farmhouse or more modern, black cabinets can make a beautiful statement.
They can also be paired with a wide variety of wall colors making it a versatile color.
But you'll want to take into consideration the size and lighting in your kitchen. If you have a smaller kitchen that doesn't get a ton of natural light, black cabinets may make it feel small. Choose a light wall color like white to contrast the darker cabinets.
Versatile Gray Kitchen Cabinets
Gray is another color that will always be in style. Versatile and timeless, it can be used in any kitchen no matter the style. Try a color like Benjamin Moore Revere Pewter paired with creamy white walls for a classic look.
Mixing Kitchen Cabinet Colors
Mixing kitchen cabinet colors is still a popular trend in 2023. By using a contrasting color or stains on your cabinets, you can add visual interest to your kitchen and make it stand out from the rest.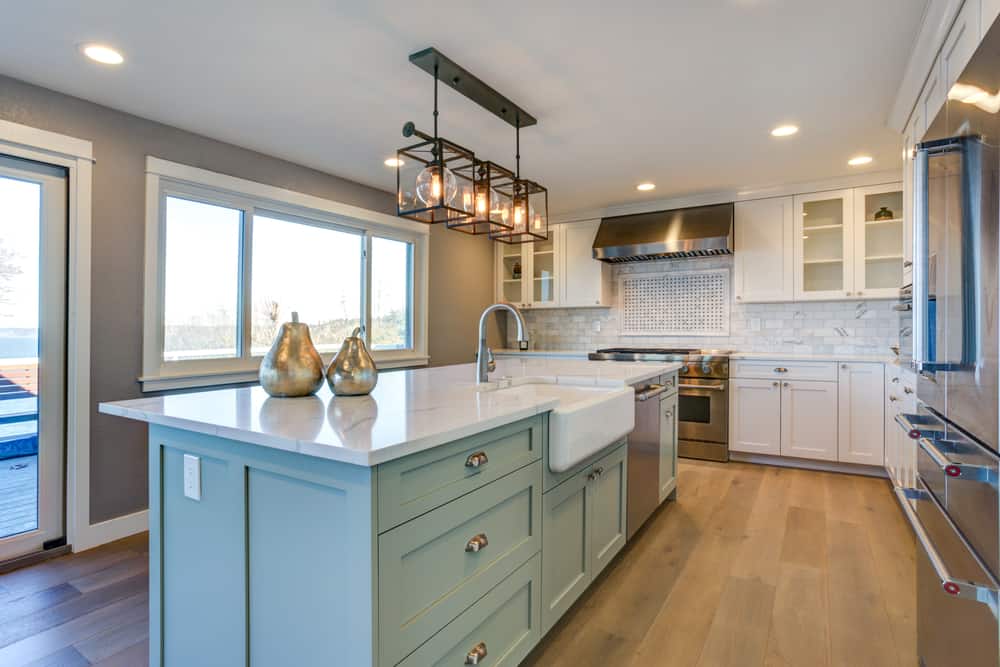 Try a lighter stain like white oak on the bottom cabinets and white paint on the upper. Or pair a navy like Sherwin Willams Naval or Admiral Blue on your cabinets with a stained island.
Here are a few more color options to try when mixing kitchen cabinet colors:
Sage green lower cabinets with white oak upper cabinets
Yellow cabinets with gray island
Dark stained cabinets with white island
Black lowers with white uppers
Dark green lowers with buttery yellow uppers
The options are endless and will really make your kitchen pop!
Changing Kitchen Cabinet Colors
If you're looking to change kitchen cabinet colors and it's not in the budget to hire a professional, be sure and check out my article and video on How to Paint Your Kitchen Cabinets (the Right Way!).
When we moved into our home, our cabinets were an off-white and in need of a fresh paint job. We opted to paint them ourselves using SW Perpetual Gray and have absolutely loved them!
And if you're getting ready to remodel here are 10 ways you can save on a kitchen renovation!
Kitchen Cabinet Colors FAQs
How do I pick the right color for my kitchen cabinets?
Take into consideration the style of your home along with the current color scheme. What will match with what you already have in place? Don't forget to look at other design features like your countertops and backsplash.
Do you have marble countertops that go with almost any shade or granite countertops with a color pattern that will narrow down what shades you can choose? Use these features for inspiration.
Should kitchen cabinets be lighter or darker than walls?
If you have dark walls, lighter kitchen cabinets will provide contrast and brighten up your kitchen. If you have light walls you can go with a darker cabinet color.
Light walls and light cabinet colors work well together, too. For example, light gray cabinets with white walls provide a light and airy feel.
Should kitchen cabinets be painted the same color as the walls?
Generally speaking, you do not want to use the same color on your walls and cabinets unless you're going with a lighter or darker shade of the same color for contrast.
What is the most popular kitchen cabinet color for 2023?
Bolder colors like green are trending for most popular kitchen cabinet color of 2023!
What color cabinets show the least dirt?
Stained cabinets tend to show the least amount of dirt. Medium paint shades like sage green, grays or blues also work well to hide dirt.
Should cabinets and trim be the same color?
This is really your preference. If you want to create a cohesive feel then having your cabinets and trim the same color will bring unity. If you want to add visual interest and a pop of color then opt for different colors like white trim and gray cabinets.
How can I make my kitchen look bigger?
If you're wanting to achieve the feel of a larger kitchen opt for lighter colors on the walls and cabinets. This will give the illusion of space and will give your kitchen a roomy and airy feel!
What's the best color to paint kitchen cabinets for resale?
Stick to neutral paint colors like white or gray if you're painting your kitchen cabinets for resale. Neutral colors appeal to the masses and a lot of times it's the kitchen that is the deciding factor in making the sale.
Choosing Kitchen Cabinet Colors in 2023: In Conclusion
Choosing kitchen cabinet colors can feel intimidating but it doesn't have to be! Using the tips above will help you narrow down your choices and feel confident in your decision. Whether you choose trendy or timeless, just make sure it's the best choice for you!