How to Paint Shiplap: 5 Easy Tricks
Did you know that painting shiplap can be easy? It's true! There are some tricks to make the process as painless as possible. In this blog post, we will go over how to paint shiplap and how to do it quickly.
Shiplap Wall in Bathroom
We recently remodeled our main bathroom. We had to take part of it down to the studs due to mold, but the other half of the bathroom was fine. It did, however, have wallpaper that had been pasted directly to the sheetrock.
Instead of ripping it out and putting in new sheetrock, we decided to install a shiplap wall in the bathroom over the wallpaper. I've had people ask: do you put shiplap over drywall? You absolutely can! Installing shiplap in the bathroom was the easy option and it looks great!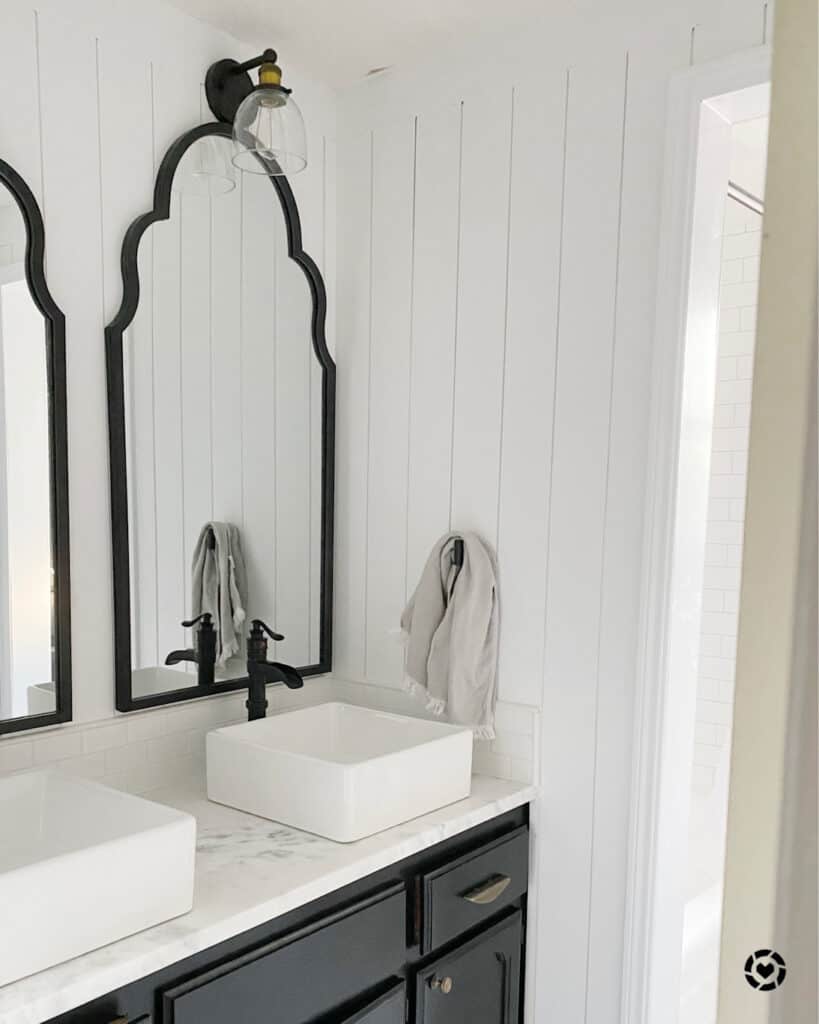 This isn't our first experience with shiplap. We installed MDF shiplap in our coffee nook. We did a faux shiplap using plywood on our kitchen island and as an accent wall in our son's room.
Supplies for Painting Shiplap
First things first, here is a list of supplies you will need to paint your shiplap:
Shiplap boards, preferably primed
Paint of your choice
Paint sprayer (optional)
Wooster paint brush
Small paint brush
Paint roller, pads, and tray (optional)
We've painted a lot of shiplap and learned a lot along the way, so let's dive in on how to paint shiplap! And of course, don't forget the best part: you can do this yourself! Check out these 5 neat tricks for easily painting shiplap!
1. Purchase Primed Shiplap Board
Primed shiplap is best if you're painting instead of staining your shiplap. You can definitely prime the boards yourself, but for not much of a price difference you can buy them already primed, saving you time and money.
Having primed shiplap boards will give your paint a smooth surface to adhere to and give it a nice finish overall.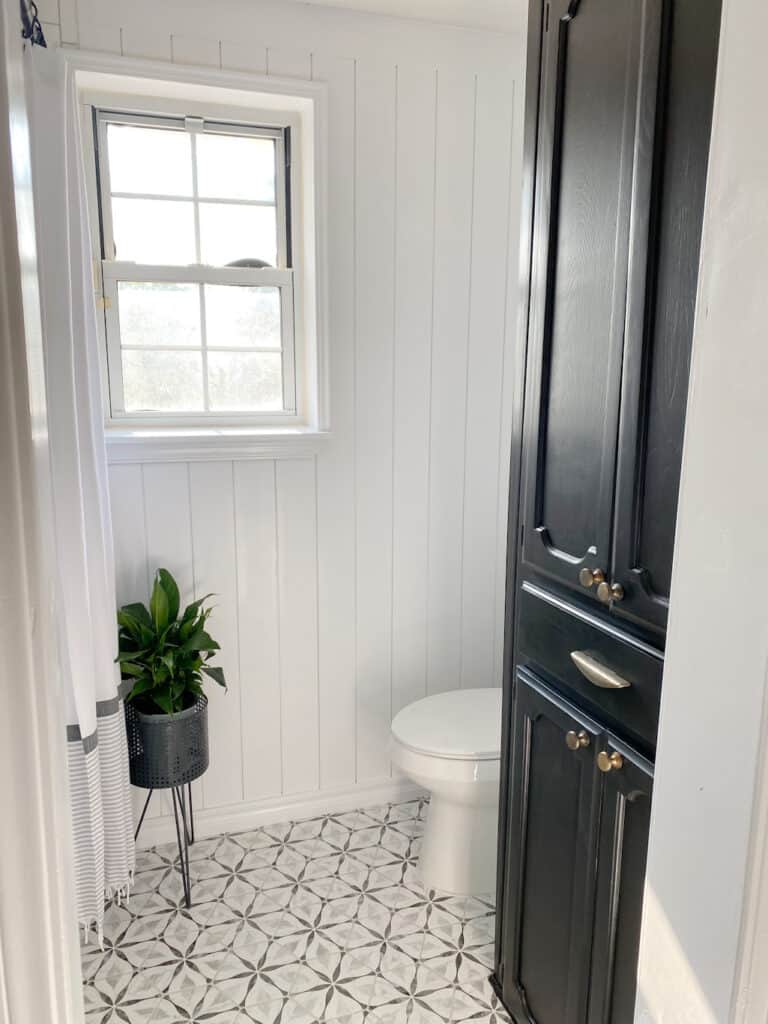 2. Paint the Shiplap Boards BEFORE Installing
People often ask how to paint shiplap cracks. Well the best way, especially if you're using a color other than white, is to paint the individual shiplap boards before installing them on the wall.
But if you're working with a shiplap wall that's already been installed it can still be done.
How to paint shiplap cracks using a brush:
You can try to paint the cracks by hand using a small or thin paintbrush, but it's very difficult. I suggest putting down painters tape first so that your lines are straight and clean. Be sure to tape off the trim if it's not the same color as your shiplap.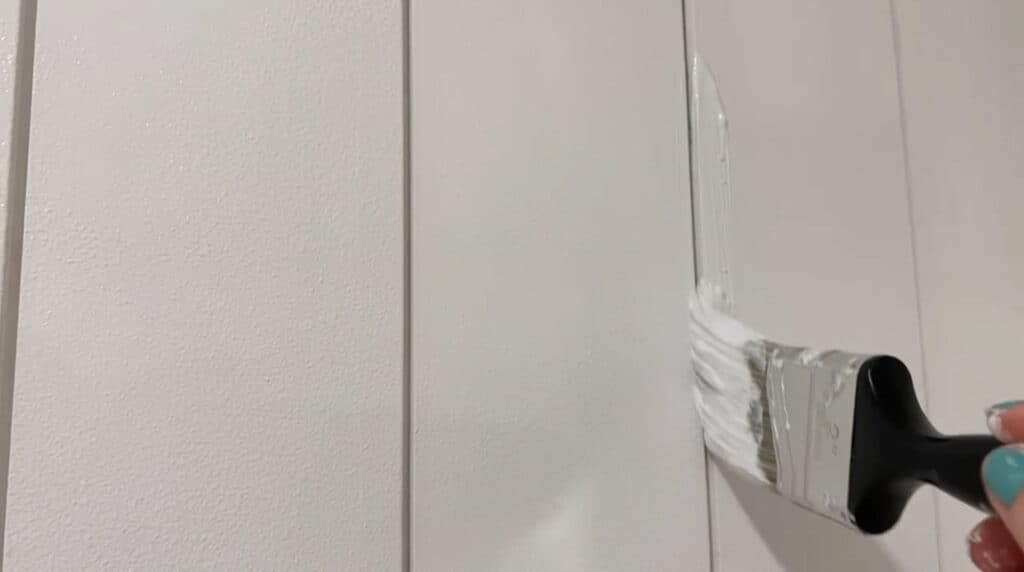 3. How to Paint Shiplap Walls using a Sprayer:
Another option for how to paint the grooves in shiplap when painting a shiplap wall that's already been installed is to use a sprayer.
You can use a paint sprayer or an airless sprayer to get into the cracks of your shiplap. This will give it great coverage and make painting your shiplap fast, easy, and almost effortless.
4. Give Shiplap Two Coats for Best Results
When painting shiplap, you'll need to apply two coats of paint, whether you're doing it by hand or using a sprayer. This will give it a nice finish and is how you achieve the best results for your project.
Should you roll or brush shiplap? You can use a roller or a brush, but I do recommend a foam roller if you want a smooth finish without much texture.
Many people ask what sheen of paint do you use on shiplap? You can use any type of paint that's designed for exterior or interior surfaces; however, we recommend semi-gloss if possible because it has great coverage and will be easy to clean.
Matte is the most popular sheen for shiplap, but in a bathroom matte is not ideal. If you don't want the shiny finish of semi-gloss you and try a satin sheen.
If you're wondering how to paint primed mdf shiplap, the process is the same. If you're wanting to know how to paint faux shiplap, you can check out this tutorial I wrote for my son's shiplap accent wall.
(And how about that gorgeous tile?! Read about how to seal tile grout here!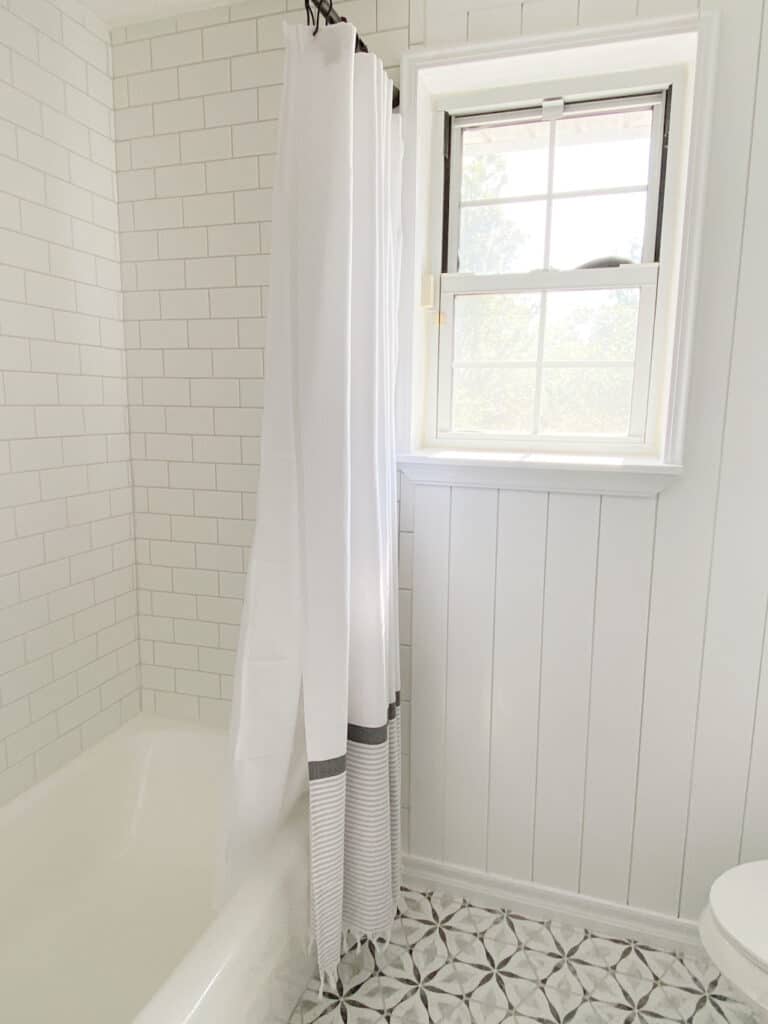 5. Don't Forget to Paint the Trim!
Another question often asked is should shiplap and trim be the same color? And the answer is that it's totally up to you! It can all be one color, but a lot of people will choose a color for the shiplap and then stain their trim or paint their trim white.
If you're using a different color for your shiplap than you are for your trim, be sure to paint both of them with two coats each before installing them on the wall, if possible. You can use an angled brush or small roller for this task if working by hand.
Again, if you're working with a shiplap wall that's already been installed, you can still use a paint sprayer. You'll just want to make sure you tape off the room, including the trim, so you don't accidentally get paint somewhere you don't want it!
Are you working with existing outdate paneling in your space? Check out this post on how to paint paneling!
Vertical Shiplap Walls in Bathroom
This time around we installed the shiplap vertically for something different. We followed the steps above, but since we were painting it white and we purchased primed pine boards, we installed it first.
After installing the vertical shiplap we went back and painted it white using Valspar's The Perfect White in semi-gloss.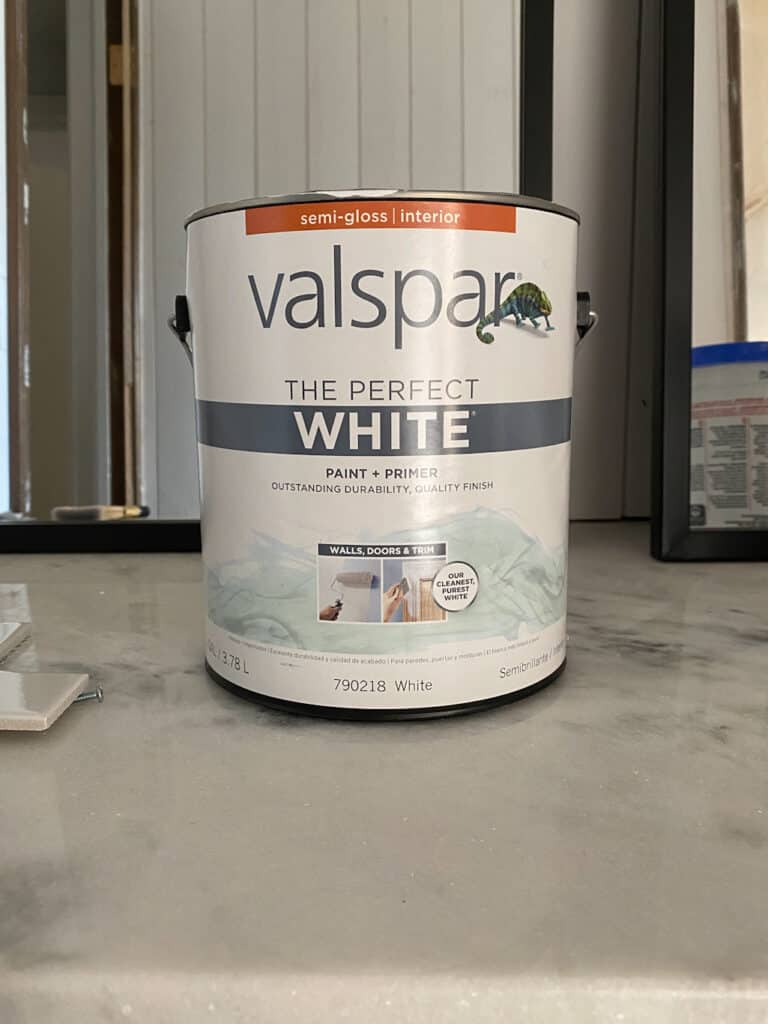 I used a roller and small angled brush to get into the grooves, but truthfully, the primed white was so close to the white paint we chose, you couldn't even tell if I missed a spot.
Wainscoting is another popular wall treatment that adds a ton of character to a space. Check out how to install wainscoting here!
How to Protect Shiplap in a Bathroom
You can put shiplap in a bathroom!
We chose to use real wood instead of MDF board since we were installing shiplap in a bathroom where there's moisture. We fixed the ventilation and installed a new fan in the bathroom so the air circulates properly and moisture hasn't been a problem at all.
Priming the boards and using a high-quality paint will also help protect the shiplap.
We love how our classic shiplap and subway tile bathroom turned out! The vertical shiplap look fantastic and the shiplap was easy to paint using the steps above! Still have concerns? Check out these frequently asked questions below:
How to Paint Shiplap FAQs:
How do you paint shiplap wood?
It's always best to paint shiplap before it has been installed on the wall. You can also use a brush, but we recommend using painters tape and sprayer if you have one available. Prime first, then paint!
Do you paint shiplap before or after you put it up?
If possible, paint it before you put it up. If you're working with a wall of shiplap that's already been installed, consider using a sprayer.
How do you paint shiplap to look distressed?
Painting shiplap to look distressed is a great way to give it an aged or rustic look. To give your shiplap a distressed look start by sanding the boards slightly and giving it a coat of primer.
You can then add paint or stain to make it how you want. Use sandpaper or steel wool to distress the finish and give it that rustic look.
How to Paint Shiplap: 5 Easy Tricks
Pin for Later: