Beautiful DIY Kitchen Remodel (for under $1,000!)
You can have a beautiful kitchen on a small budget! Check out our DIY kitchen Remodel for less than $1,000!
Kitchen renovations can be pricey, but with some creativity and a little thriftiness, you can do a DIY kitchen remodel on any budget!
This post contains affiliate links for your convenience. See my disclosure policy here.
We really hadn't planned on doing anything to the kitchen for a while, but then I had the opportunity to work with Cutting Edge Stencils for our floors and Instant Granite for our countertops so we decided to see how far we could get with the rest.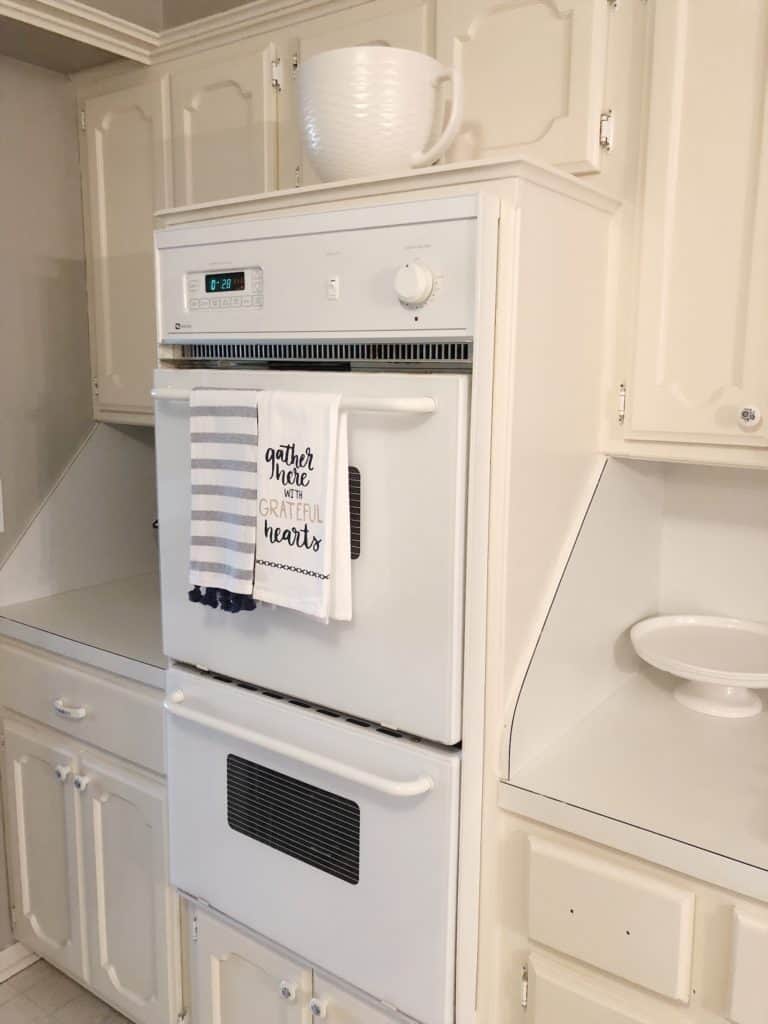 We couldn't believe just how doable it was! For under $1,000 we were able to redo every surface of our kitchen.
If you want to know more about the products we used for our budget kitchen, you can check it all out on the kitchen section of my Amazon Storefront!
SHOP THIS FULL LIFE AMAZON STOREFRONT
Budget Kitchen Reno
Here is a list of the projects we did to complete this kitchen reno.
Kitchen Flooring
We have linoleum floors. Since we didn't have the money to replace them we decided to stencil them instead. I worked with Cutting Edge Stencils for this project so the product was free, but it was valued at about $55.
They sent me two extra-large stencils and the paintbrush set. Then we had to purchase the paint. We purchased primer, a base coat, the gray for the stencil and a topcoat. You can check out the process here! This cost approximately $60.
Flooring: $105 (including stencil)
Faux shiplap on kitchen Peninsula
Our peninsula was covered with outdated paneling. We gave it a shiplap look for about $25. You can check out that project here.
Peninsula: $25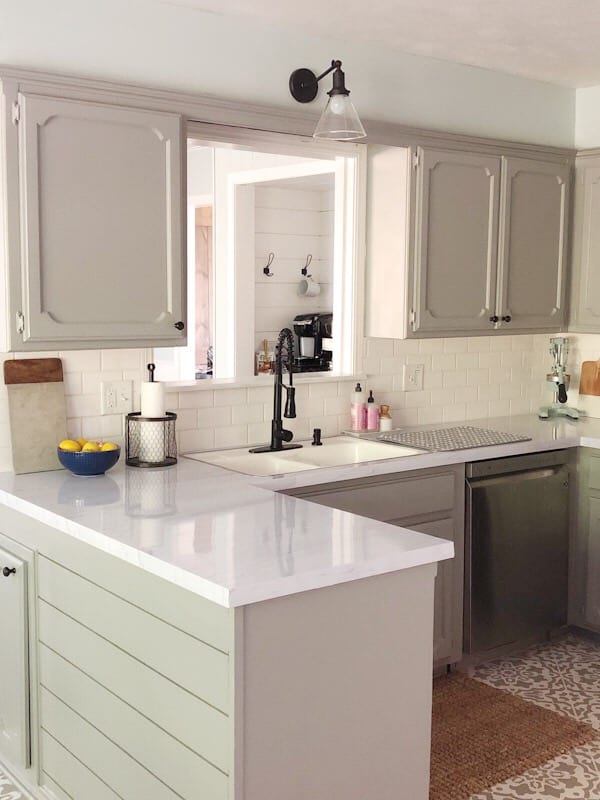 Kitchen Cabinets and Hardware
As part of our DIY kitchen remodel we decided to paint our kitchen cabinets which I will be sharing more about soon.
UPDATE: Read How to Paint Your Kitchen Cabinets the Right Way here
They were a cream color before and we chose to paint them Perpetual Gray by Sherwin Williams. But we used Valspar's Furniture paint and just had the paint center at Lowe's mix the color in.
I LOVE Valspar's Furniture paint and wrote a review on it here. We used two quarts of paint at $25 each. There's no need to sand or prime so that's all we needed for paint.
UPDATE: DO NOT USE the furniture paint on your kitchen cabinets. It turned out to be a chippy disaster. We ended up repainting them a year later with Valspar Cabinet and Furniture Oil-Based Enamel in the same color.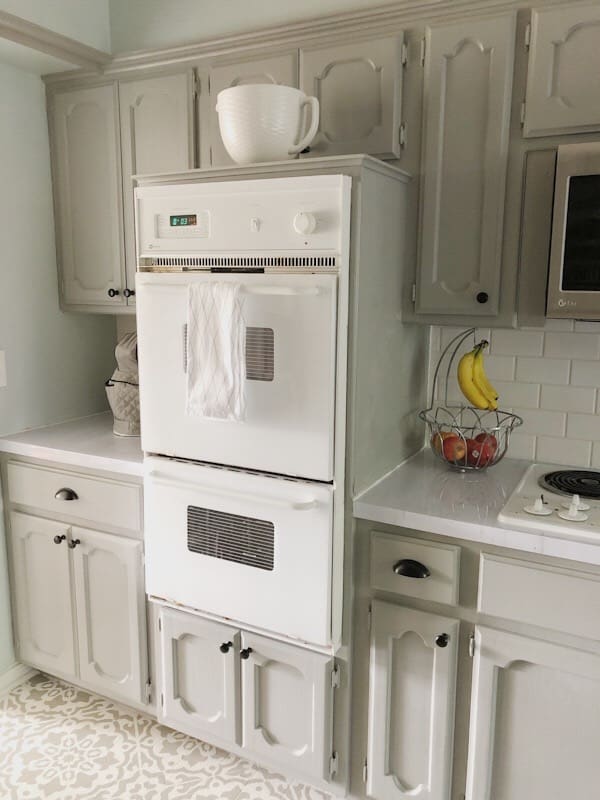 Then we changed out the hardware to black knobs and pulls. We found both on Amazon. The knobs were $40 and the pulls were $15. We did not change out the hinges and instead opted to paint over them because I wanted them to be inconspicuous.
Cabinets and Hardware: $105
Kitchen Lighting
We had three lights to replace in our kitchen and I wrote more about that process in this post. We purchased two pendant lights and a sconce for over the sink from Amazon. The pendant lights were $90 each and the sconce was $50.
Lighting: $230
Kitchen Sink and Faucet
Instead of replacing the sink, we opted to refinish it with a glazing kit that was less than $35. I wrote about the sink refinishing process in this post. Then we replaced our old faucet with a new black pull-down faucet for $105. We also purchased the deck plate for $15 and the soap dispenser for $20.
Sink and Faucet: $175
Since writing this post, we've replaced the cast iron sink with a Sinkology farmhouse sink. You can read about that process here!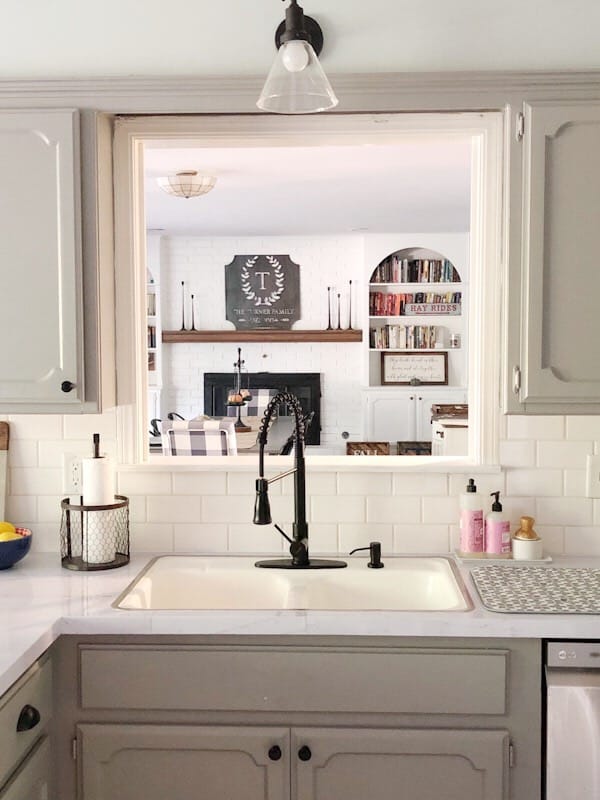 Countertops
Our countertops were old and stained white Formica. I was thrilled to have the chance to work with the company Instant Granite to redo our countertops and they provided the material free of charge. But had we purchased it, it would've only cost about $95!
It's so affordable. We went with the marble look and overall are happy with how it turned out.
UPDATE: Instant Granite is no longer available, but there are similar alternatives on Amazon!
Countertops: $95
Kitchen Backsplash
The last thing to go in was the backsplash. I really wanted beveled subway tile, but it was going to cost three times as much as the traditional subway tile so we opted for that instead. It was only 15 cents per tile! WOW! We did our whole backsplash for about $65 including grout, supplies, etc.
Backsplash: $65
My hubby also painted the walls to match our living and dining room but we had leftover paint so it didn't cost anything extra. We installed the barn door last summer so it's been in for about a year and I love it! We purchased the refrigerator, microwave, and dishwasher when we bought the house.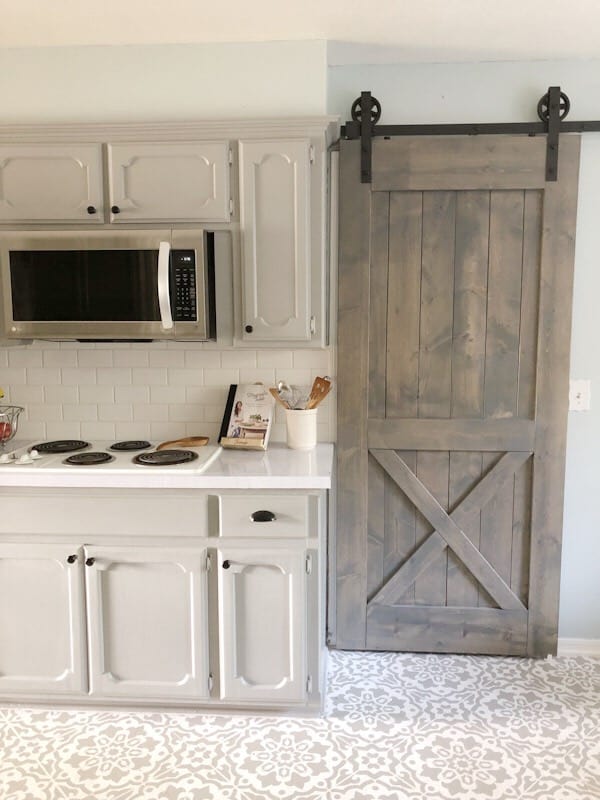 We still have the oven and stovetop that came with the house and will eventually change those out. We also plan to install crown molding in the near future.
So total for this DIY kitchen remodel we actually spent around $650 since we didn't have to pay for the stencils or the countertops. But even with both of those included, it comes to $800! A completely updated kitchen for less than $1,000?! I never would've thought it possible had we not done it!
So if you've ever thought about updating your kitchen but worried about the cost, here's proof that it can be done on a tiny budget! You still may have to make some sacrifices. I would love to have a farm sink and quartz countertops, but we were able to do so much more than I would've imagined with the budget we had!
Aren't sure you can do a DIY kitchen remodel? If you're handy at all, you can usually watch a YouTube video and figure it out. You can borrow or rent the tools you don't already have to save money, too. Or if it's plywood like we used for our peninsula, you can have the hardware store cut it for you if you don't have a table saw. There ARE options!
For more on our home, visit me on Instagram!
You can have a beautiful kitchen on a small budget! Check out our DIY Kitchen Remodel for less than $1,000!
Pin for Later: