10 Ways to Save on a Kitchen Remodel
Kitchen renovations are among the most expensive updates you can make to a home but they're also a great return on your investment. We were able to save a ton of money because we chose to DIY, but even if you're paying a professional, there are ways to save money when you're ready to renovate.
Here are 10 ways you can save money on a kitchen remodel!
This post contains affiliate links for your convenience. See my disclosure policy here.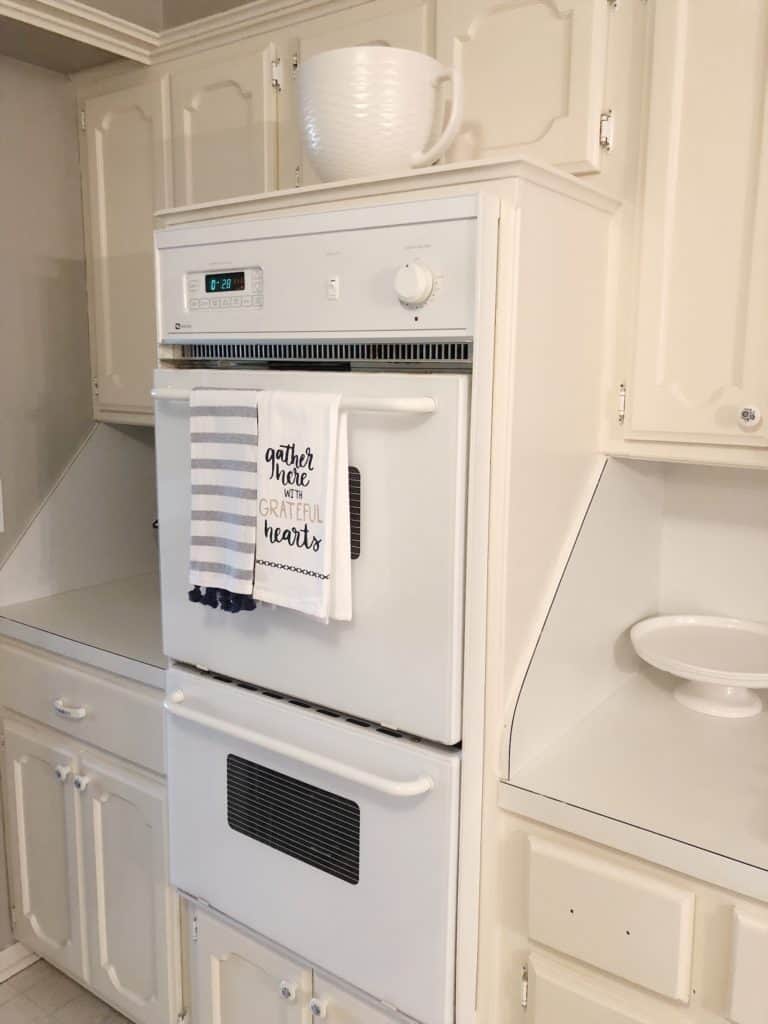 1. Keep existing layout
When facing a kitchen renovation, you'll save a ton of money if you're able to keep the footprint the same. Moving appliances may involve moving a water or gas line resulting in more money. Taking out a wall, especially if its load bearing will cost more, as well.
2. Get creative with kitchen flooring
We have linoleum floors. Since we didn't have the money to replace them we had to think outside the box. We decided to stencil them instead. I worked with Cutting Edge Stencils for the project so the product was free, but it was valued at about $55.
Then we had to purchase the paint. We purchased primer, a base coat, the gray for the stencil and a topcoat. You can check out the process here! This cost approximately $60. For right around $100 we were able to update our flooring with replacing. You can do the same if you have linoleum or even tile!
If you're hiring a pro or feel comfortable installing new floors yourself, check places like Sam's Club for a great price on bulk laminate wood flooring (and check out this article from House Method for pros and cons on popular brands of laminate wood).
Floor and Decor and LL Flooring are other great options for high-end flooring at affordable prices. Shop around for the best price!
3. Kitchen island upgrade
Have a builder grade kitchen island or peninsula? Add some corbels or shiplap to give it an expensive feel for little cost. Our peninsula was covered with outdated paneling. We gave it a shiplap look for about $25. You can check out that project here.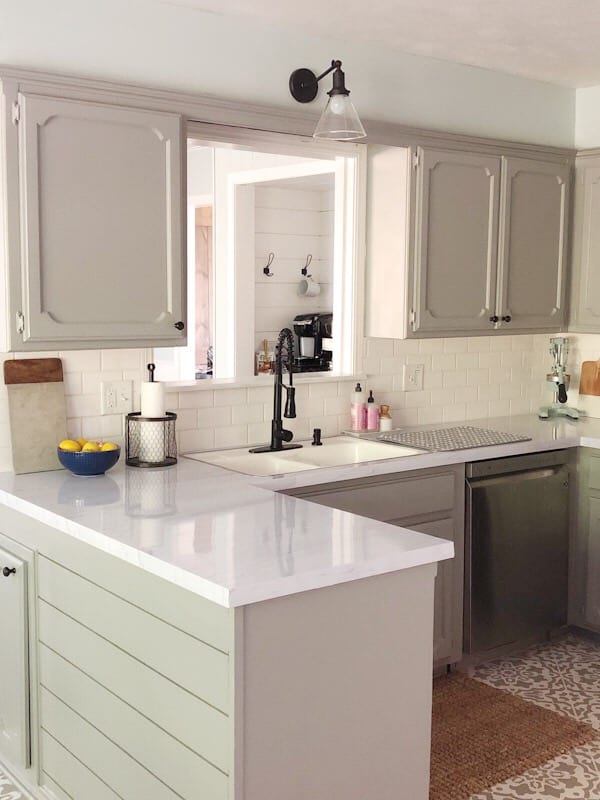 4. Painted kitchen cabinets
Painting your kitchen cabinets instead of replacing them will save you thousands! If you have outdated cabinets, painting them can make all the difference. And whether you choose to hire it out or paint your kitchen cabinets yourself, you will be saving a TON of money.
Not sure what color to paint your kitchen cabinets? Check out my post on how to choose kitchen cabinet colors!
Our cabinets were a cream color when we moved in. They were dirty and didn't look right against the white trim. We chose to paint them ourselves using Valspar's Cabinet and Furniture Enamel. Since Lowe's has Sherwin Williams color codes, we were able to have it mixed in SW Perpetual Gray.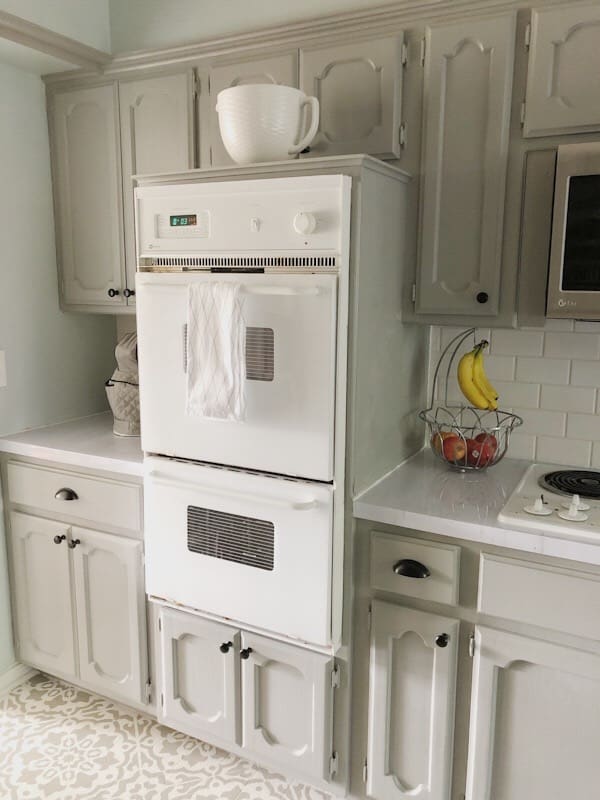 5. Bulk cabinet door pulls
Kitchen cabinet hardware can be very expensive. If you have several to replace, consider purchasing them in bulk. Sites like Amazon, Overstock, and Ebay are great places to look for bulk hardware.
We decided to change out the knobs and pulls to black cabinet hardware. We found both on Amazon. The knobs were $40 for a set of 20 and the pulls were $15 for a set of 10. We did not change out the hinges and instead opted to paint over them because I wanted them to be inconspicuous.
6. Affordable kitchen lighting
We had three lights to replace in our kitchen and if you need help deciding on kitchen lighting, check out this post.
Amazon, Overstock and sometimes Wayfair can have great prices on kitchen lighting. Also check Facebook Marketplace – I've found amazing deals on there when it comes to light fixtures!
We purchased two pendant lights and a sconce for over the sink from Amazon. The pendant lights were $90 each and the sconce was $50.
SHOP MY KITCHEN ON MY AMAZON STOREFRONT!
7. Kitchen sink options
When we did our first round of renovations, a new sink was not in the budget. Instead of replacing the sink, we opted to refinish it with a glazing kit that was less than $35. I wrote about the sink refinishing process in this post.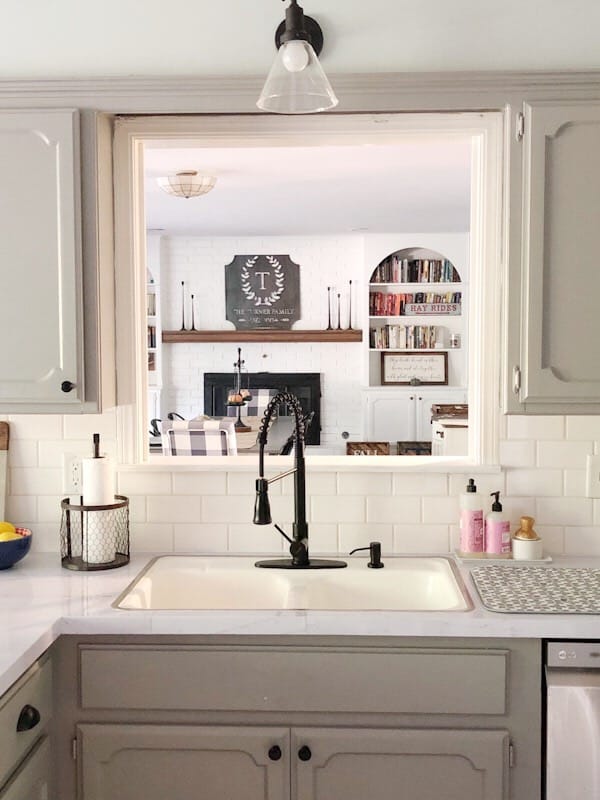 About two years later we changed out the sink with a farmhouse sink from Sinkology. If you're in the market for a farmhouse sink, their line of sinks are really affordable and so beautiful.
They even have sinks that fit over your existing countertops, which is what we did. If that's what you need, we documented how to install a drop-in Sinkology farmhouse sink in this post.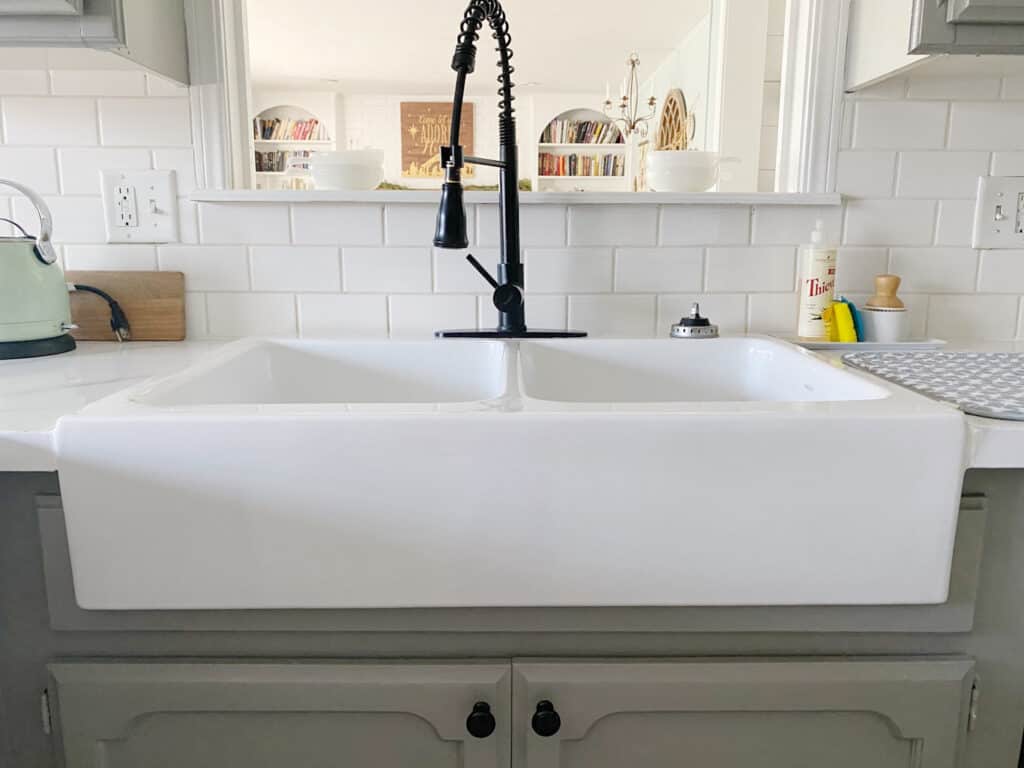 Amazon is an excellent place to find affordable sinks. We've purchased three sinks for our bathrooms now from Amazon and been so happy with them! Also check Overstock or discount hardware stores like Menard's.
Then we replaced our old faucet with a new black pull-down faucet, also from Amazon, for $105. We purchased the matching deck plate for $15 and the soap dispenser for $20. Again, Amazon and Overstock are great options for affordable faucets.
Since writing this post, we've replaced the cast iron sink with a Sinkology farmhouse sink. You can read about that process here!
8. Countertop hacks
Countertops can be really pricey and you may not be ready to take the plunge for granite or marble. Or maybe you already have granite but you hate the pattern. There are some options available to give your countertops an upgrade without breaking the bank.
If you're looking for a DIY solution you have a few options. Butcher block is very affordable and fairly easy to do yourself.
For us, our countertops were old and stained white Formica. With our first round of renovations on our kitchen, I worked with a company called Instant Granite to redo our countertops. They provided the material free of charge, but had we purchased it, it would've only cost about $95!
It was a vinyl sticker that adhered to the countertop. It was fairly easy to install and is great if you need a temporary solution. You can purchase Instant Granite on Amazon. We went with the marble look and it lasted us about two years.
Last year we decided to do another upgrade. We removed the Instant Granite sticker from our countertop and purchased the Giani Marble Countertop kit. We used the Giani kit to give our countertops the look and feel of marble or quartz.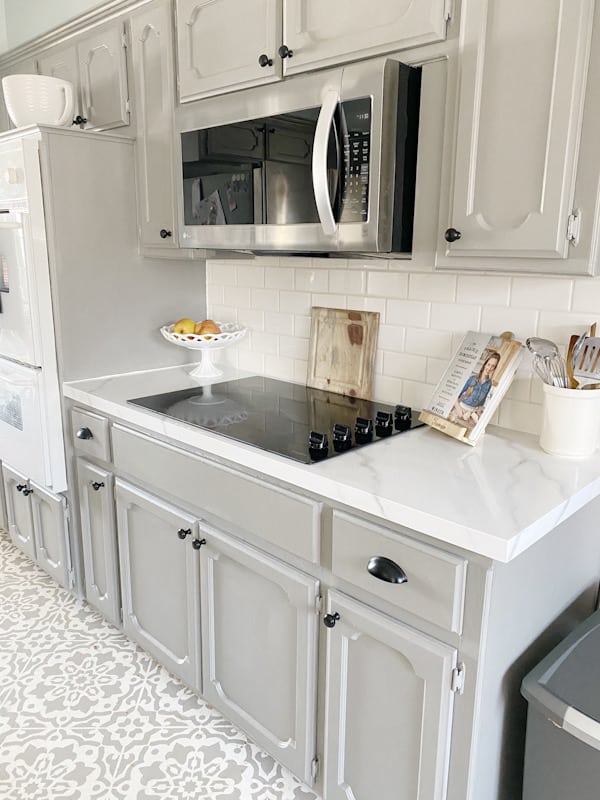 You can use this kit on stone like granite or on laminate countertops! You can check out the tutorial on my YouTube channel (it currently has almost 60K views and is my most popular tutorial!) or read about how to use the Giani countertop marble kit here.
If you're wanting to completely replace your countertops, check Facebook Marketplace for local deals. When we were redoing our bathroom we were able to find marble at a fraction of the cost of a big box store from a local guy who installs countertops for a living and had his own shop.
If you're trying to decide on stone countertops, check out my post on quartz countertops – how they compare to granite, different patterns and colors, and durability.
9. Kitchen Backsplash
If you love a tile that's not in the budget, consider using it as a focal point over the stove or sink. Then you can choose a more affordable coordinating tile for the rest of the backsplash. Floor and Decor has affordable tile and Home Depot is also a great option.
We opted for subway tile because it's classic and super affordable! It was only 15 cents per tile. We did our whole backsplash for about $65 including grout, supplies, etc!
10. Bulk kitchen appliances
The final piece of advice I have for saving money on a kitchen remodel is to purchase new kitchen appliances in bulk. Most of the time you can save money by purchasing at least two of the same brand of appliances at the same time and even more if you're purchasing three or four.
Shop for appliances around Black Friday, or holidays like Labor Day and Memorial Day for the best prices on appliances.
We purchased a new LG refrigerator and dishwasher when we moved in and decided to go ahead an add on the overhead microwave because we could save money buying all three at the same time.
Kitchen Remodeling FAQs
How much does the average kitchen cost to renovate?
According to Home Advisor, the average cost to renovate a kitchen is anywhere from $12,000 to $35,000 or as much as $50,000 for a high-end remodel.
What is the cheapest way to renovate a kitchen?
The cheapest way to renovate your kitchen is to do it yourself. But if you don't have the time or skillset to tackle the project there are still ways to save like shopping sales, buying in bulk or at wholesale, and reusing materials like cabinets and refinishing or repainting them, etc.
What is the most expensive part of a kitchen remodel?
If you're replacing your cabinets, those are typically the most expensive part of a kitchen remodel. Appliances and countertops come in next.
How much does it cost to completely renovate a small kitchen?
According to Home Advisor, a small kitchen renovation can cost as little as $4,000. But if you're planning on a complete gut job, you're probably looking at closer to $12,000 or more.
Does remodeling a kitchen increase home value?
A kitchen renovation can increase the value of your home. Generally you can expect to have at least a 50% rate of return on your investment meaning if you spent $12,000 you can expect to recoup at least $6,000 if not more.
10 Ways to Save on a Kitchen Remodel
So if you've ever thought about doing a kitchen remodel but worried about the cost, here's proof that you can save money if you just do a little research and price checking! You still may have to make some sacrifices, but by using these tips your budget will go further and get you more of what you want!