How to Stencil a Floor: Full Tutorial!
Three years ago we were doing a very budget friendly upgrade to our kitchen that started with our linoleum floors. We worked with Cutting Edge Stencils for the project and to this day our floors are still looking great! Keep reading for how to stencil a floor!
This post contains affiliate links for your convenience. See my disclosure policy here.
I'd like to thank Cutting Edge Stencils for collaborating with me on this project! All opinions are my own.
Stenciling Linoleum Floors
First, let's talk Cutting Edge Stencils. I used one of their large stencils in our previous home in our entryway. They have the prettiest designs and their stencils are high quality. They have the best floor stencils and I was thrilled to have the opportunity to work with them on this project!
Stencils are so versatile and can be used:
…as an accent wall
…in a bookshelf
…on furniture
…on concrete floors
…on floor tiles
…in a laundry room
…on a bathroom floor
and more!
Stenciled floors is probably the most budget-friendly change you can make! I chose the Amalfi Tile Stencils in extra-large.
They sent me two, which was SO great because it made the process go quicker. I definitely recommend getting two if you have someone helping you and you're doing an entire floor.
Supplies
Here's what you need for this project:
Stencil of your choice
Primer
Basecoat
Paint for stencil
Spray adhesive
Sealer
Small and large paint roller
Small and large foam rollers
Extension pole
Paint tray
Stencil brushes
Prep and Primer
First, we had to patch our linoleum floors. When we purchased our appliances the delivery guy accidentally gouged a hole in the floor. Eric filled it in and sanded it down level with the rest of the floor. Then we cleaned the floors really well.
Now we were ready to prime. I chose PPG primer because it claimed it would stick to a variety of hard-to-stick surfaces and the linoleum had a gloss finish to it. It also dries fast and has low VOC so the fumes aren't bad. We used a foam roller and gave it one coat then left it overnight.
Base Color
The next day we came back and applied a coat of Valspar's Simplicity in white with a satin finish to the linoleum floors. I had never used this paint before but I was impressed!
We allowed the paint to fully dry before applying a second coat.
I chose this paint because it was a paint and primer in one, so I knew the coverage would be good. But it was also low VOC and claims to withstand scuff marks and wear while providing a smooth finish.
Granted, they probably weren't thinking about flooring when they said that, but we're going with it!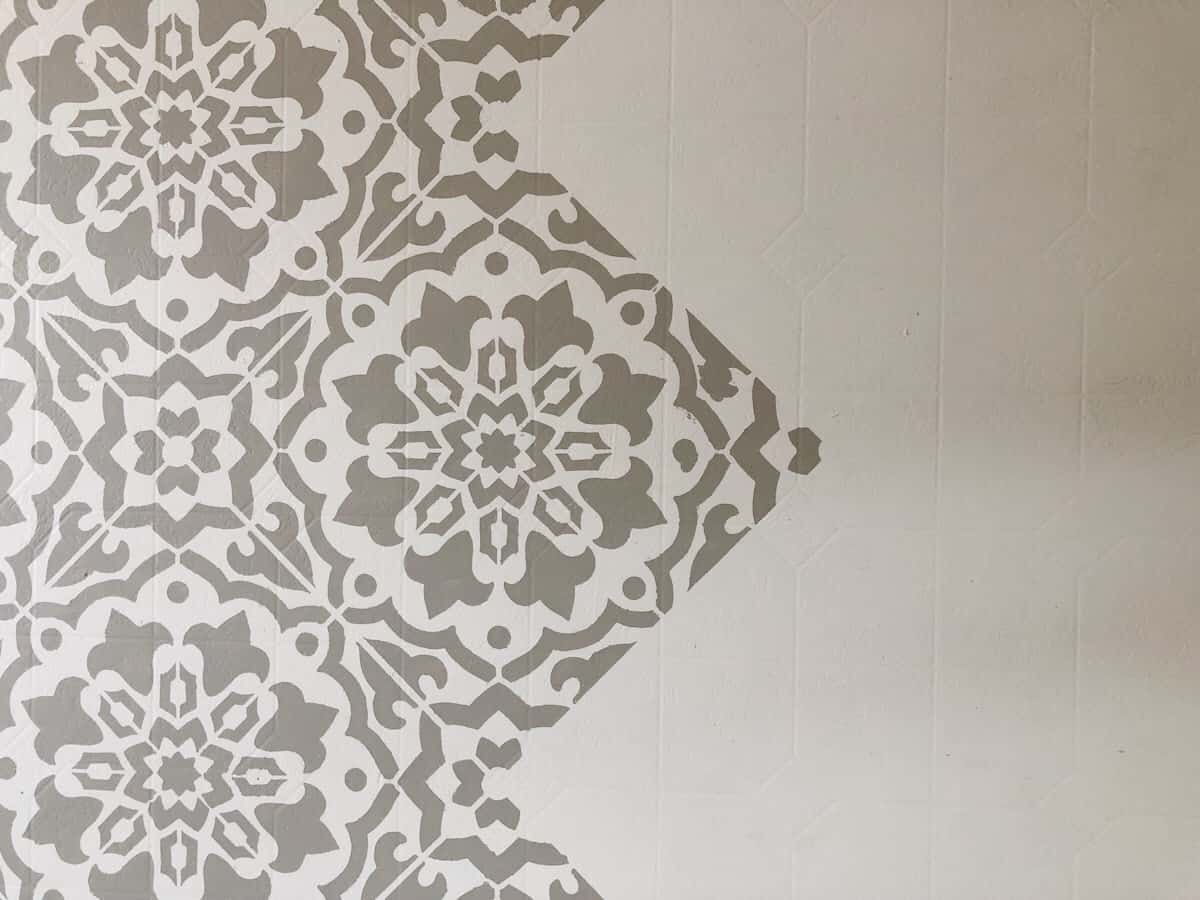 Stencil Color
We also used Valspar's Simplicity line for the stencil. We chose gray in a shade lighter than what we plan on painting the cabinets so there would be some contrast.
We measured the center of the room and Eric sprayed and laid the stencils while I painted. I used a small foam roller for this part. We chose to lay it in a diamond pattern.
The paint kept seeping under the edges of the stencil and it was a pain to try to wipe it off after every time.
We could've used painters tape to keep it in place but we finally figured out that if we sprayed the stencil with the adhesive after EVERY use it locked in any paint that got on the underneath. After this, we had very few touch-ups to make!
The edges and corners were more difficult so I finally cut one of the stencils in half to make it easier to get into those hard-to-reach spaces.
Top Coat
Once we were finished stenciling, we sealed the whole floor with Varathane's Ultimate Polyurethane in a satin finish.
While we were at it, we painted the trim and caulked to give it a finished look.
And here the linoleum floors are all done!
For the complete reveal check out our kitchen remodel and how we did it on a tight budget!
Stenciled Floors FAQs:
How can I update my floor tiles without removing them?
If removing your floor tiles isn't an option, choosing to stencil over them is a great option. It will give the appearance of brand new flooring at a fraction of the cost. Plus, it's easy to DIY!
How can I cover my tile floors cheaply?
Choosing to paint your tile floors is the most affordable way to give them an update without completely removing them. Measure your tile and purchase a tile stencil of the same size. Painting the grout lines with the stencil will give the look of new floors!
What kind of paint do you use to stencil a floor?
A high quality acrylic or latex paint is what we used with fantastic results. Make sure you start with coat of primer to give it a good surface to adhere to. Finish it off with a top coat for a flawless finish that will last!
Do stenciled floors last?
Stenciled floors can last years if properly cared for. Use a high quality primer, latex paint, and top coat for a lasting finish.
Can you stencil tile floor?
You can definitely stencil a tile floor. In fact, there are stencils made in common tile sizes to make it easy. Use a high quality paint and top coat and you'll have floors that look brand new!
How to Stencil a Floor: In Conclusion
Stenciling our linoleum floors was the best decision we made since it wasn't in the budget to replace. Guests have commented on multiple occasions that they thought it was tile and they always love it!
It was a very DIY friendly project and it's lasted years now. We're happy with how they turned out and would definitely do it again!