How to Stencil Over Linoleum Floors + YouTube Launch
You CAN stencil over linoleum flooring! Here's how!
I am so excited for this post! We've had the opportunity to work with two different companies to do a VERY budget-friendly makeover on our kitchen and I am chomping at the bits to share it with you!
We're starting with the flooring and today I'm going to share the process of how to stencil over your linoleum floors!
This post contains affiliate links for your convenience. See my disclosure policy here.
I'd like to thank Cutting Edge Stencils for collaborating with me on this project! All opinions are my own.
But first an announcement…
YouTube Channel Launch
It's here! It's finally here! I have dreamed of starting a YouTube channel since I started blogging almost a year ago! And today is the day it launches!
We thought it would be fun to document the progress on our kitchen through video so the timing worked out perfectly. Huge shoutout to my hubby, Eric, who is a whiz at all things video. I am clueless and will have to learn as we go!
OTHER RELATED POSTS:
Laundry Room Makeover on a Budget
How to Tile Over Ugly Linoleum
I'll be honest, it's a little nerve-racking being in front of the camera. And of course, we're our own worst critics, finding every flaw. I know it will get better as we do more and I get more comfortable with it. I won't tell you how many times we had to record the voice-over! So bare with my awkwardness lol!
My goal is to continue sharing our home, favorite recipes, and love for DIY as we have been over the last year. And the videos will correlate with my blog posts.
So I hope you'll check it out, I'd love to hear your thoughts!
On to the floors!
Stenciling Linoleum Floors
If you've been following along for a while, you'll remember my post about our ugly kitchen. It's bad. We honestly thought we'd be living with it for a lot longer, and there are still some upgrades we were wanting that will have to wait because it's not in the budget.
But we put our heads together and started thinking of other inexpensive changes we could make. We were surprised at how much we could do on a small budget. We decided to start with the linoleum floors.
Cutting Edge Stencils
I love Cutting Edge Stencils. I used one of their stencils in our previous home in our entryway. They have the prettiest designs and their stencils are of high quality. I was thrilled to have the opportunity to work with them on this project!
Stenciling your floors is probably the most budget-friendly change you can make! I chose the Amalfi Tile Stencil in extra-large. They sent me two, which was SO great because it made the process go quicker. I definitely recommend getting two if you have someone helping you and you're doing a large area.
They also send you a free surprise stencil with each shipment and my kiddos immediately snagged it for their crafting!
Supplies
Here's what you need for this project:
Stencil of your choice
Primer
Basecoat
Paint for stencil
Spray adhesive
Sealer
Small and large paint roller
Small and large foam rollers
Extension pole
Paint tray
Small brushes for touch-ups
Prep and Primer
First, we had to patch our linoleum floors. When we purchased our appliances the delivery guy accidentally gouged a hole in the floor. Eric filled it in and sanded it down level with the rest of the floor. Then we cleaned the floors really well.
Now we were ready to prime. I chose PPG primer because it claimed it would stick to a variety of hard-to-stick surfaces and the linoleum had a gloss finish to it. It also dries fast and has low VOC so the fumes aren't bad. We used a foam roller and gave it one coat then left it overnight.
Base Coat
The next day we came back and applied two coats of Valspar's Simplicity in white with a satin finish to the linoleum floors. I had never used this paint before but I was impressed!
I chose it because it was a paint and primer in one, so I knew the coverage would be good. But it was also low VOC and claims to withstand scuff marks and wear while providing a smooth finish. Granted, they probably weren't thinking about flooring when they said that, but we're going with it!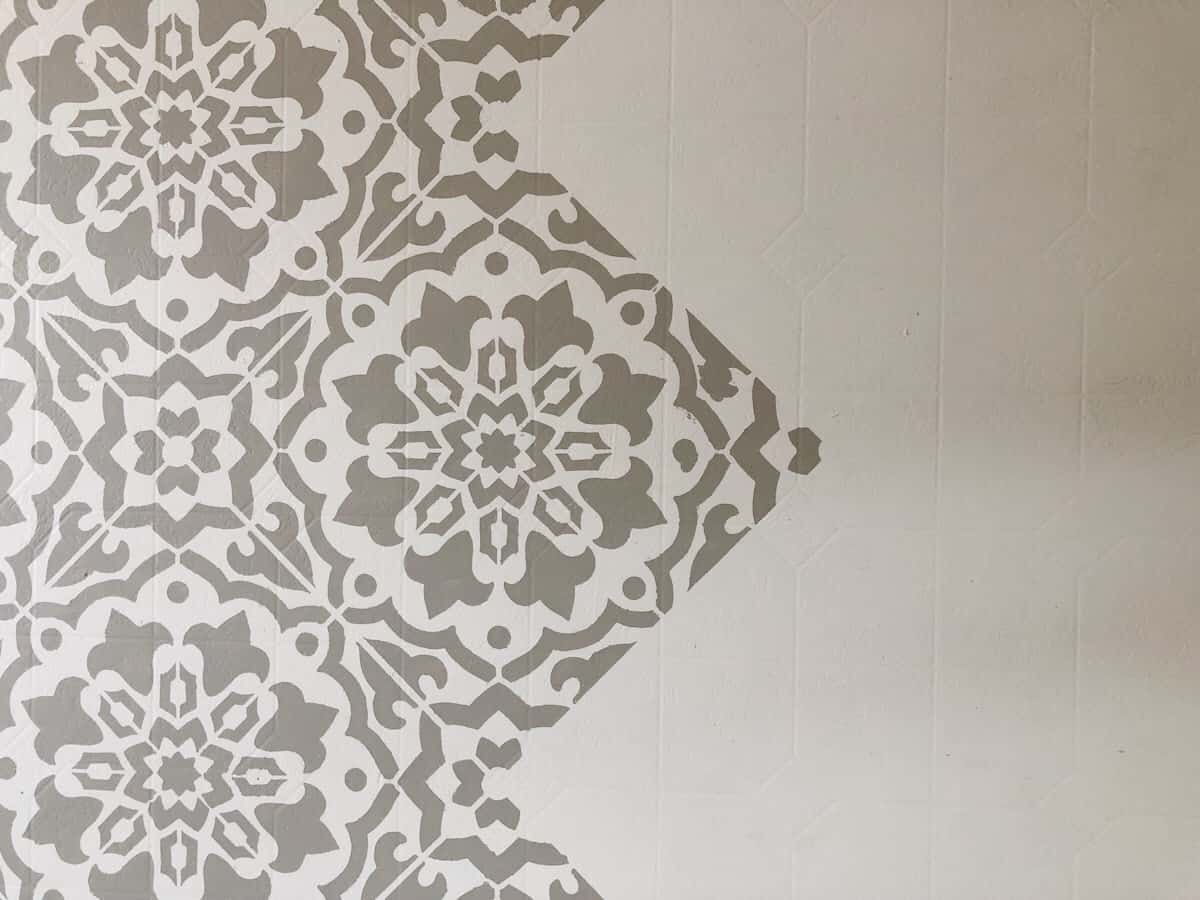 Stencil
We also used Valspar's Simplicity line for the stencil. We chose gray in a shade lighter than what we plan on painting the cabinets so there would be some contrast.
We measured the center of the room and Eric sprayed and laid the stencils while I painted. I used a small foam roller for this part. We chose to lay it in a diamond pattern.
The paint kept seeping under the stencil and it was a pain to try to wipe it off after every time. We finally figured out that if we sprayed the stencil with the adhesive after EVERY use it locked in any paint that got on the underneath. After this, we had very few touch-ups to make!
The edges and corners were more difficult so I finally cut one of the stencils in half to make it easier to get into those hard-to-reach spaces.
Once we were finished stenciling, we sealed it with Varathane's Ultimate Polyurethane in a satin finish.
While we were at it, we painted the trim and caulked to give it a finished look.
And here the linoleum floors are all done!
It's already looking so much better and I can't wait to see it all come together. The walls are next, and we'll be painting them the same color as the rest of the downstairs, Grey Leaf by Glidden.
So come back next week as we continue to share how it doesn't have to cost a fortune to update your kitchen! Once we're finished I'll give the breakdown of cost on each project and our total expenses.
Thanks so much for hanging out with me today! Follow me on Instagram for more pics of our home! Have a blessed day!
You CAN stencil over linoleum flooring!
Pin for Later: