Faux Marble Countertops with Instant Granite
If you've been following along this summer, you know we're in the middle of a budget-friendly kitchen reno! We're at the stage where we're just ready for it to be done. We can see the finish line, but still have a few things left. We just completed our countertops and I'm excited to share them with you!
This post is sponsored by Instant Granite. All opinions are my own. There are affiliate links in this post for your shopping convenience. See my disclosure policy here.
Outdated Formica Countertops
Our kitchen was so outdated and the countertops were no exception. They were old and ugly stained white Formica. I would love quartz countertops, but we knew that was out of the question right now so we had to find something within our budget.
Here's a before picture of our lovely countertops: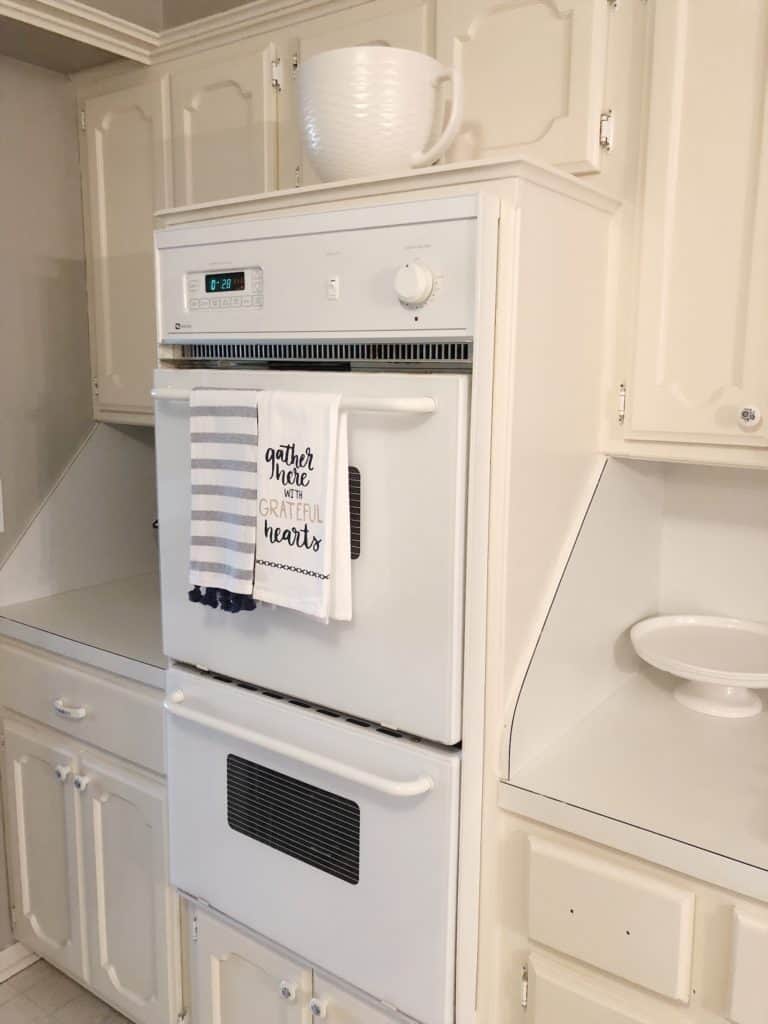 Instant Granite
We began brainstorming our options. I really thought we'd end up with butcher block. But then I ran across Instant Granite while scrolling through Instagram one day. They offer a high-quality, printed product that you can use on top of your existing countertops. Made out of vinyl, it has an adhesive back that sticks to the surface of your countertops. They offer several granite looks and a marble option, as well.
And the price can't be beat!
I reached out to them and they sent me free samples to check out. We loved the look of the White Italian Marble and after watching some of the tutorial videos, decided to give it a try.
Instant Granite was so great to work with! We sent them the dimensions of our countertops and they shipped the material out on a roll with extra in case we messed up or miscalculated.
We started out by watching the how-to videos and I've linked those here for you:
The corners can be tricky so the videos were helpful in being able to watch someone do it. They recommend using the sample to practice on the corners before starting the job.
From Ugly to Wow!
We removed everything from our countertops and gave them a thorough cleaning. My hubby had removed the sink, as well, but I'll share more about that in a later post!
Check out our latest YouTube video to see more pictures of the actual process.
Starting with our peninsula, we laid the vinyl out and cut it to size. We centered it on the countertop and then began to peel the adhesive out from underneath as we laid it down.
The included scraper tool is very helpful with pushing the air out so there are no bubbles.
We went around the kitchen, laying the vinyl on each section. I will say it was difficult to go over the stovetop, but it wasn't anything a little caulk couldn't hide! They recommended a 1/8″ overlap on the seams.
When we were finished, we went back and folded down the edges cutting off the excess with a utility knife. We used a hairdryer to help seal them. Then we finished the corners.
Here's how it turned out:
Aren't they pretty?!
I'm very interested to see how they hold up long term. You have to be very careful not to put hot dishes on it as it will melt at 190 degrees. And be sure to use a cutting board so as not to damage the surface. So far, so good!
I think this option is especially perfect for people who are renting an apartment or house! The adhesive does not damage the existing countertop and you can easily remove it when needed.
Overall we're happy with them. Marble-look for a fraction of the cost? Count me in!
What do you think? I'd love to hear your thoughts in the comments!
You can purchase Instant Granite through Amazon or by emailing them directly at [email protected]
Thanks so much for following along on this kitchen makeover journey with us! Be sure to subscribe so you don't miss a post!
You may also be interested in:
How to Stencil Over Linoleum Floors + YouTube Launch
Kitchen Peninsula Shiplap Look for $25
Pin for Later: