The Ultimate Guide to Painting with Chalk Paint
I've been using chalk paint for years. I've tried tons of different brands and learned different techniques along the way.
I love chalk paint because it's easy to use and so versatile! There's no priming or sanding required and you can mix colors to make new colors or to get a different shade. You can use a flat brush for a smoother finish or a round brush to add texture.
Then there's distressing and waxing and other fun details you can use to make your piece unique!
This post contains affiliate links. See my disclosure policy here.
Chalk Paint for Beginners
Chalk paint is a very thick paint that is high in chalk content. It's not made to be painted on top of varnish or polyurethane because the finished product will chip and crack over time. Chalk paint works best when it is applied upon a bare surface, such as wood or plaster.
Chalk Paint is great for beginners because it doesn't require any prep work. In most cases, there is no need to sand your furniture, use a primer or apply numerous coats of paint. It's very simple and straightforward!
Why Use Chalk Paint vs Regular Paint?
Chalk paint is a great option for painting furniture and other objects because it's easy to use and gives a really nice finish.
People choose to use chalk paint over regular oil-based paints or latex paints because it doesn't require any priming or sanding before you start painting, and also because it's a lot less likely to chip or peel if you forget to apply a protective topcoat after you're finished painting.
How to Get a Smooth Finish with Chalk Paint
You can do a lot with chalk paint and it really depends on the look you're going for as to how you go about painting your piece.
You will have brush strokes with chalk paint unless you spray it on. This seems to be the biggest complaint I hear about using chalk paint.
If you don't want any signs of brush strokes, you should probably use a different paint. But there are some ways to minimize the strokes. Keep reading on how to get a smooth finish with chalk paint.
Also, be sure and check out my recommendations for the best chalk paint brushes!
The Best Way to Apply Chalk Paint
If you don't want the brush strokes to be as noticeable, you can apply these different techniques to get different chalk paint finishes:
Use longer brush strokes while painting in the same direction
Use a flat brush instead of round
Add a little bit of water to thin the paint out
Use a roller or foam brush to apply the paint
Sand in between coats to minimize the strokes
You may recognize these side tables from the tutorial on how to re-stain your wood furniture. I refinished the tops and the drawers – I wanted the new knobs to pop on the drawers, which is why I chose staining them instead of painting.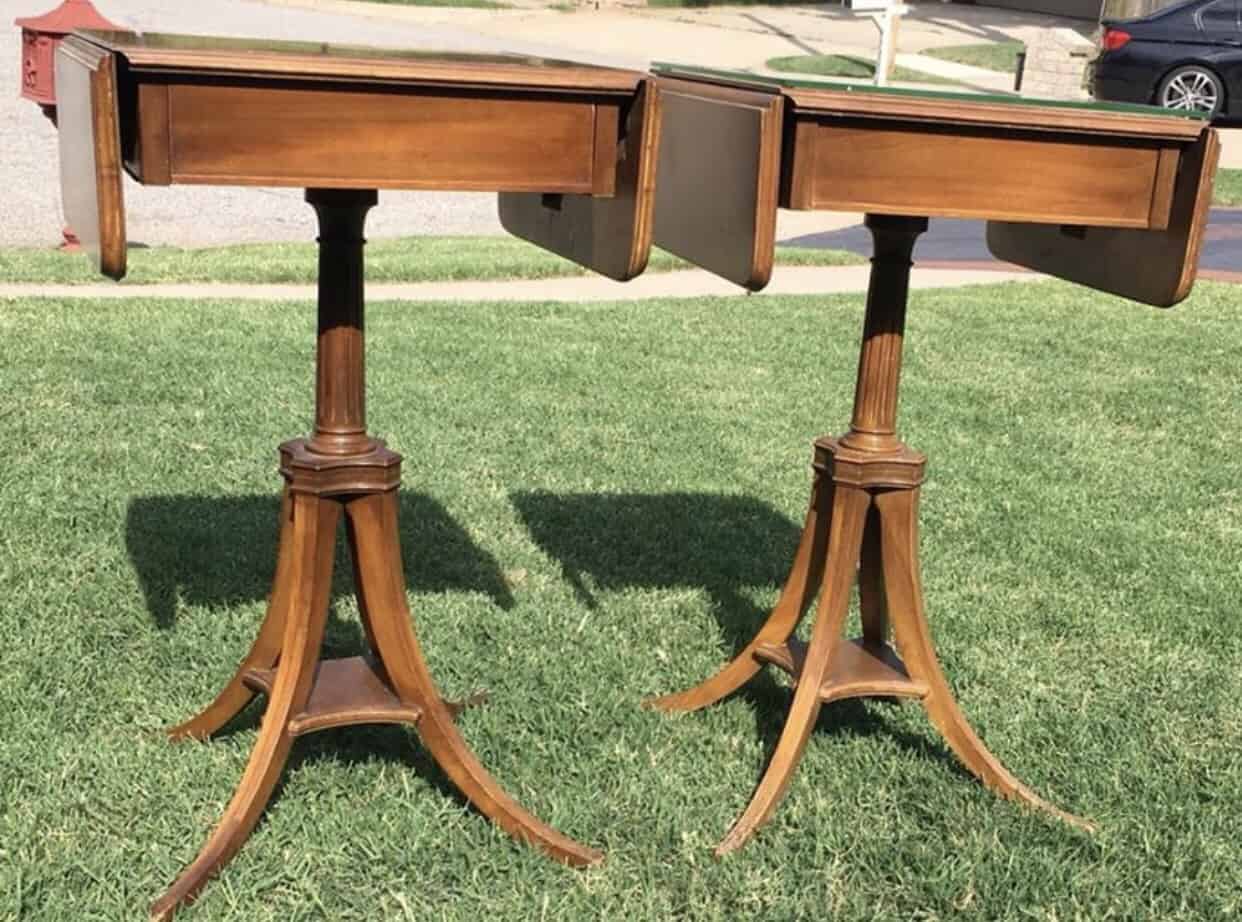 For the base of the tables, I used Annie Sloan's Chalk Paint in Old White. I decided to use a flat brush and use the longer brush stroke method.
They will be going next to our Magnolia headboard, which has a prominent brush stroke finish so I did want to be able to see the strokes, but didn't want them to be really noticeable if that makes sense.
What are the Steps in Using Chalk Paint?
You will need:
Your favorite can of chalk paint
Stir stick
Flat or round brush
Clear Wax
Lint-free cloth or pad
You want to make sure your piece is clean of any dirt and dust. Open your can of paint and stir well to make sure everything that has settled to the bottom gets mixed in again. Grab your paintbrush and get to work!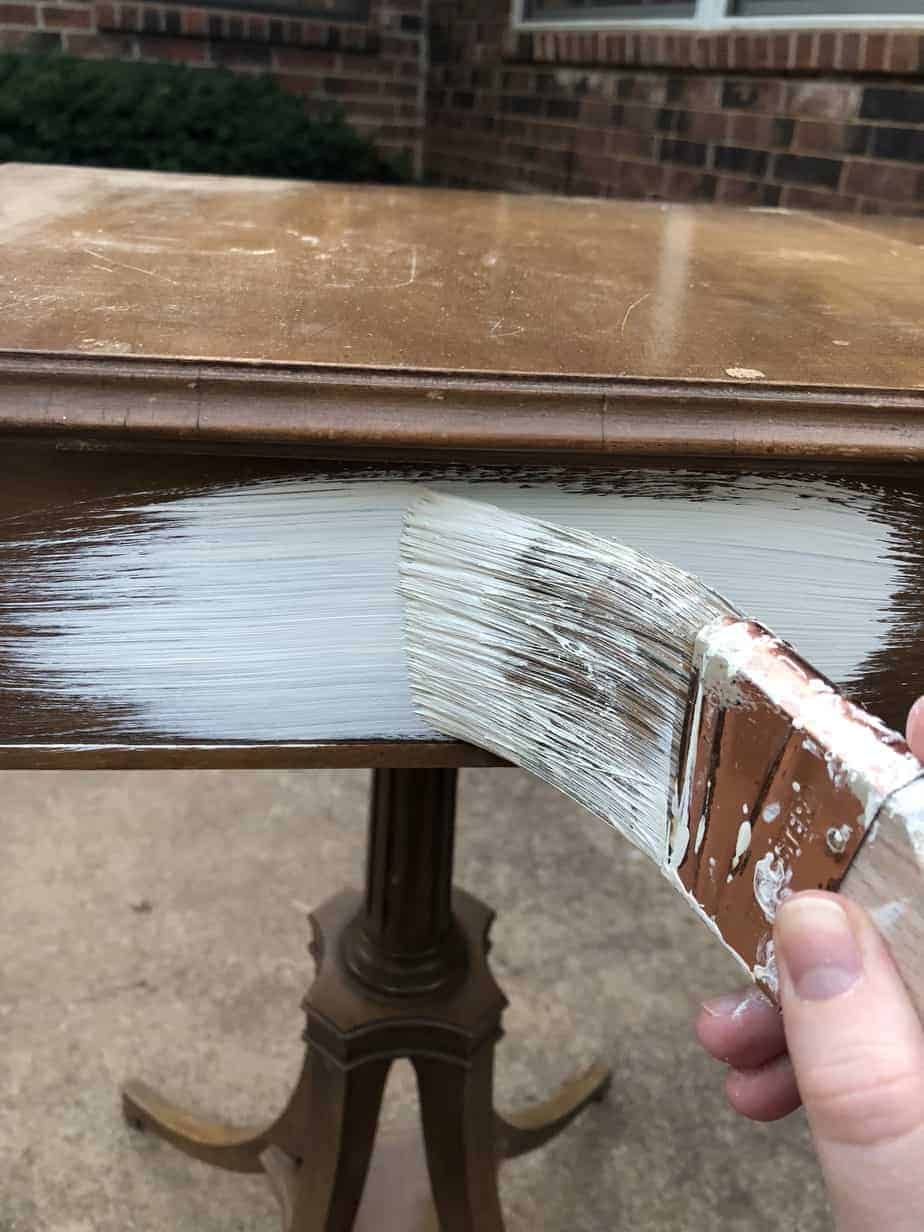 I used long brush strokes and painted in the direction of the grain. The tables had some hard-to-reach spots where I wasn't able to use the longer stroke method so I just made sure it was covered and then after it was dry, I used steel wool to make those spots smoother.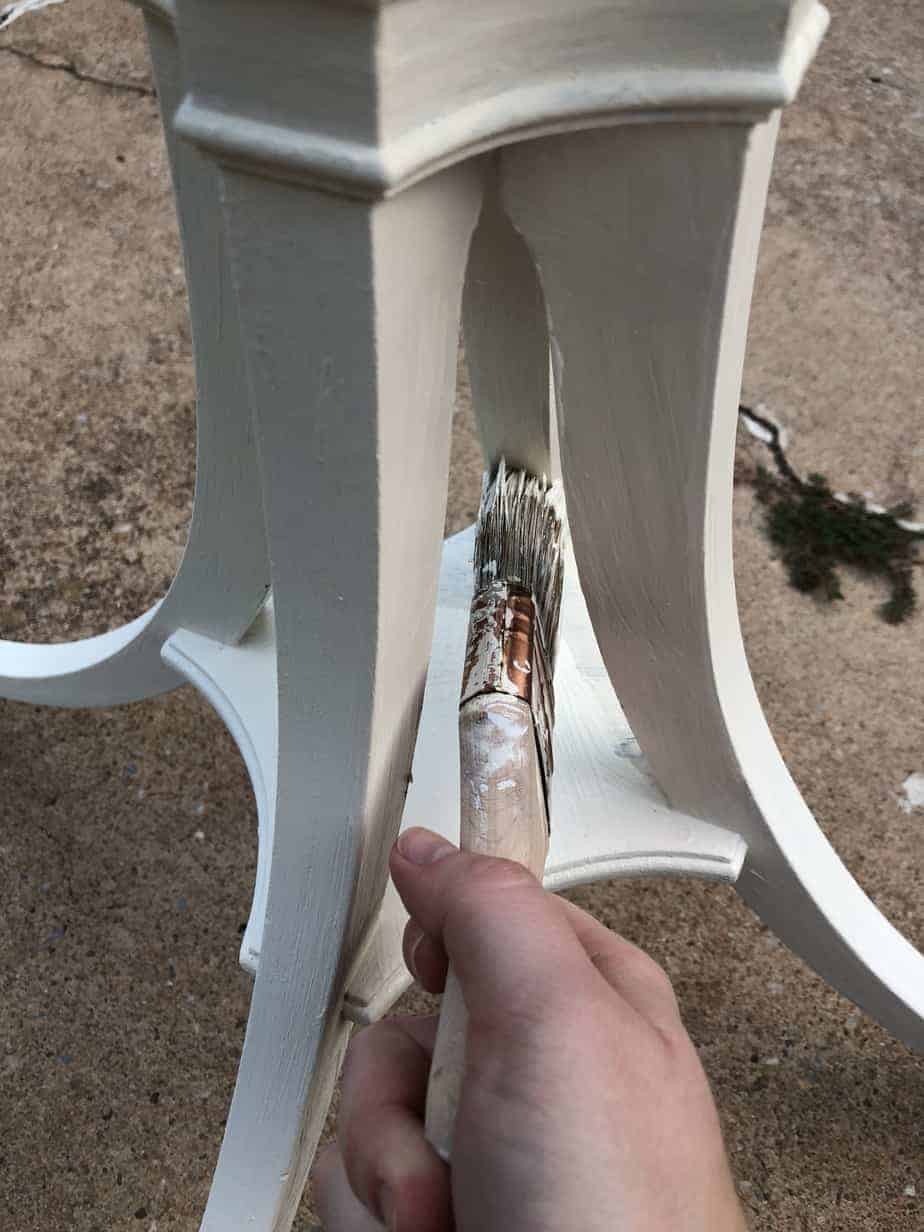 The number of coats you'll need to do depends on the look you're going for. When I'm using Annie Sloan's Napoleonic Blue, I love for the original stain to show through the blue so I usually only do one coat and then seal it with a dark wax to give it more of a navy shade.
This time, I didn't want the stain to show through so I did two coats.
How Long Does Chalk Paint take to Dry?
Another great thing about chalk paint is that it dries really fast. Usually by the time I've finished the first coat of paint, I can start back at the beginning with the second. Once you've applied all of the coats you desire, you want to let it cure for 24 hours before applying a topcoat.
After they were completely dry, I lightly distressed them, wiped off the dust, and then added a clear wax to seal the finish. I cover how to seal chalk paint in this post.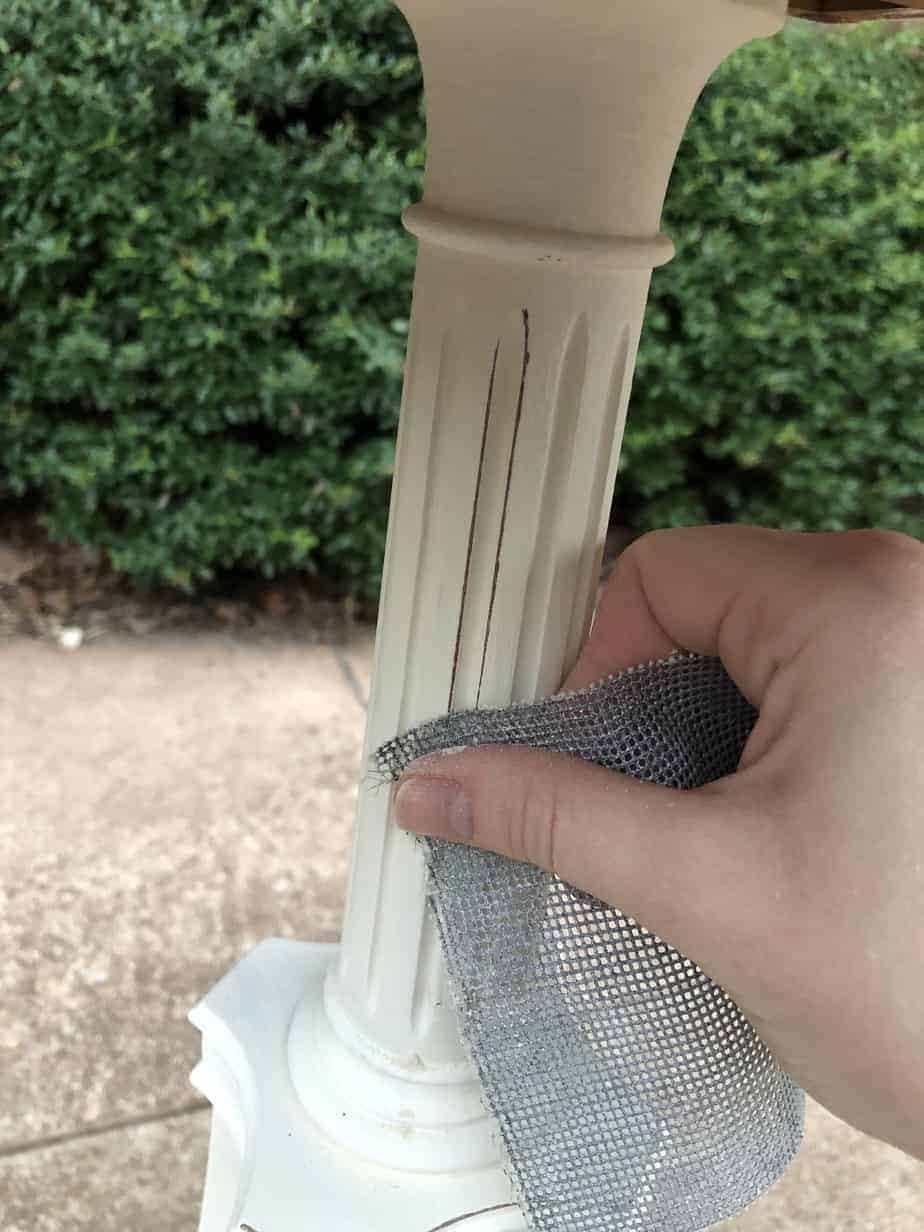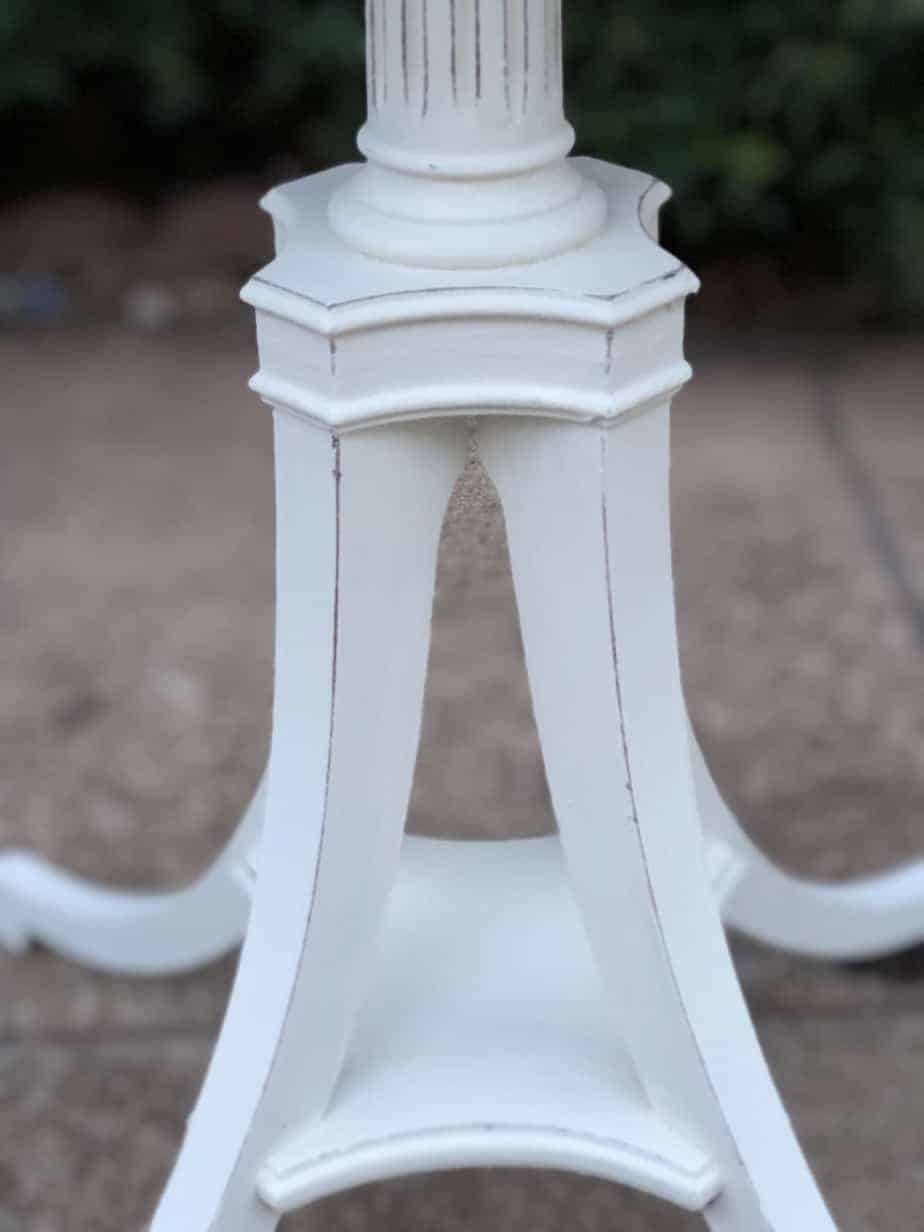 Chalk Painted Furniture Before and After
You can see how chalk paint has given this tired side table a new lease on life in just a few easy steps!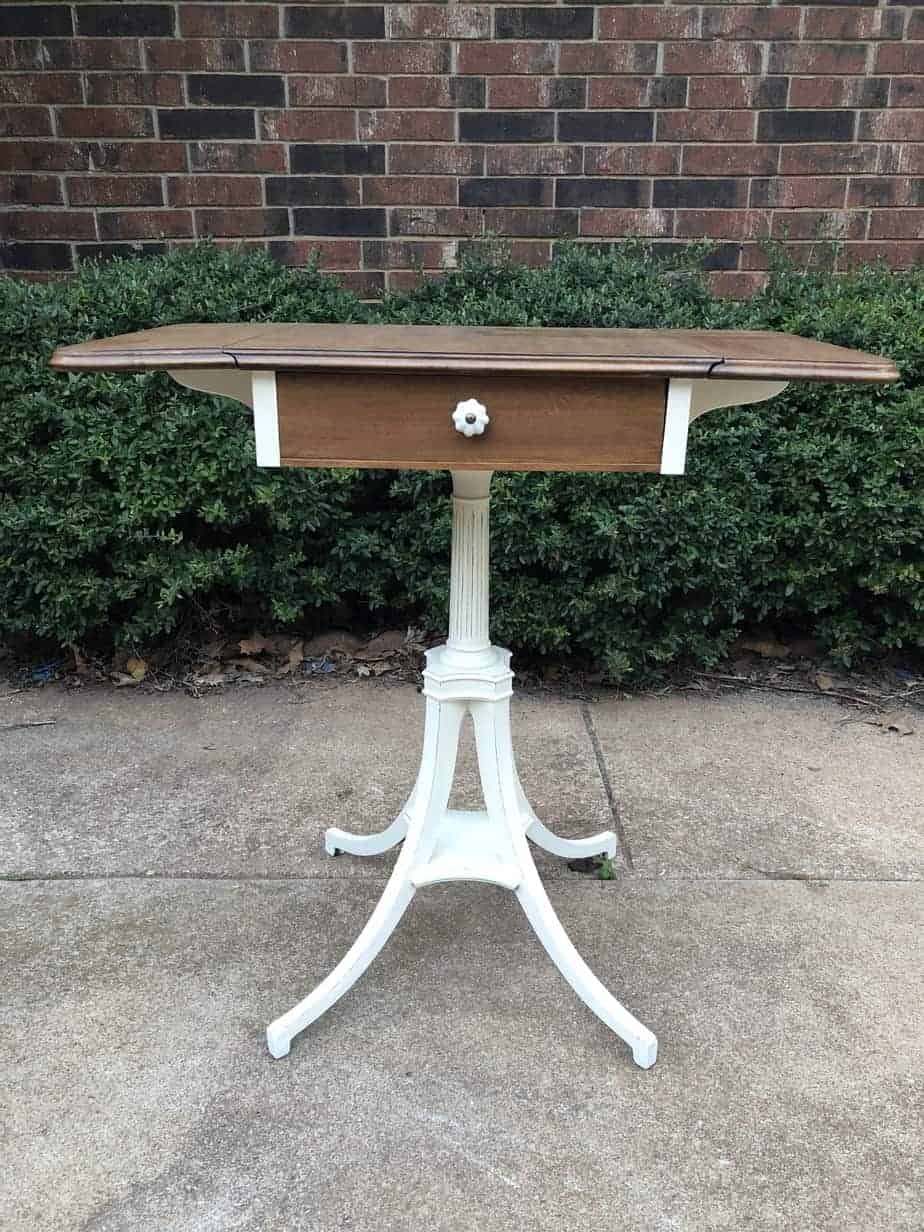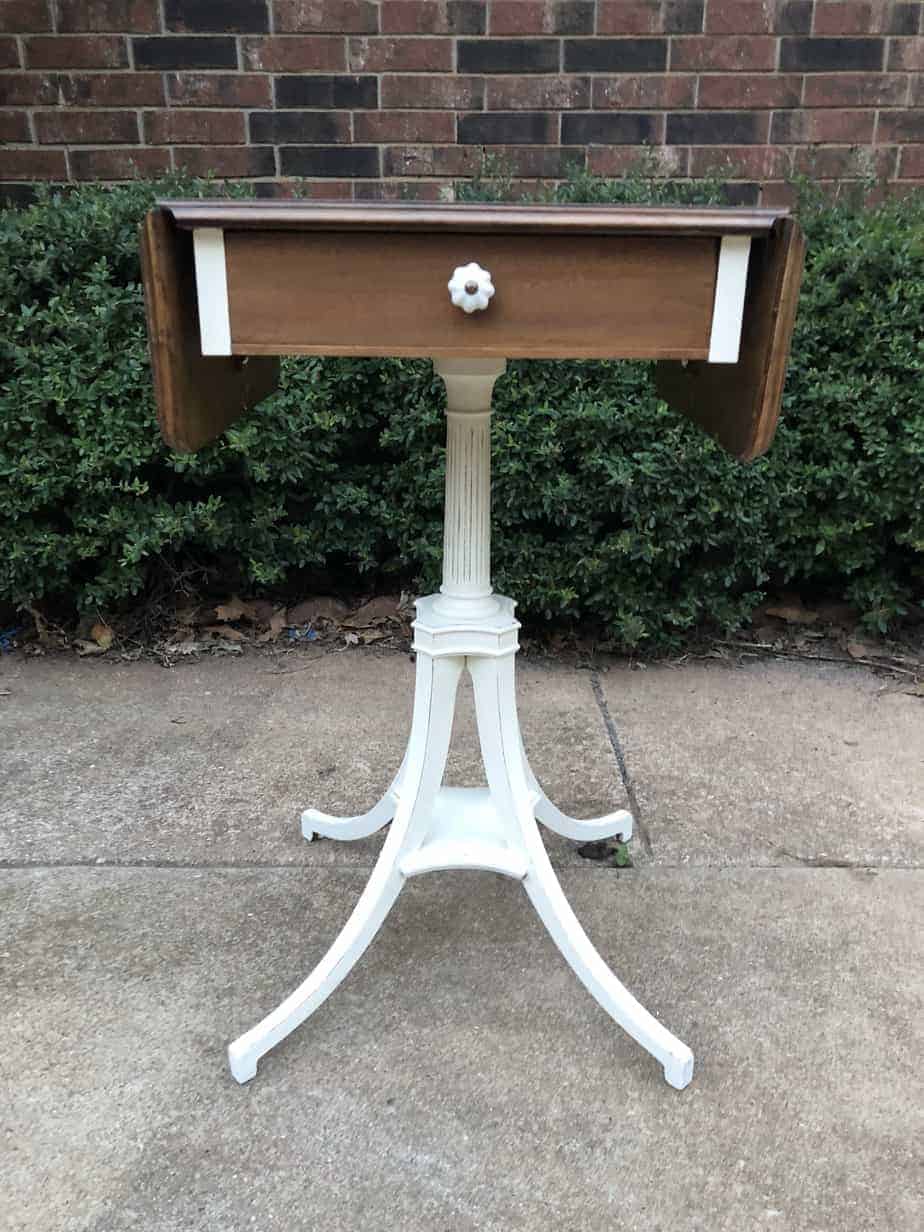 Can you Make Chalk Paint?
You can make your own chalk paint by mixing one part Plaster of Paris to two parts latex paint. This will give you a nice, thick consistency that's perfect for painting furniture.
Chalk paint can be mixed with water and latex paint, but it is NOT recommended to mix chalk paint with any other type of paint such as milk paint, polish paints, interior/exterior varnishes or polyurethane. The reason for this is because regular exterior latex paints are made to withstand the weather and will not work well with the porous surface of chalk paint.
Pin for later: