How to Refinish a Cast Iron Sink
Before you decide to replace your kitchen sink read this! How to refinish a cast iron sink for $30!
We still have a few things left on our budget-friendly kitchen makeover, but we can finally see the finish line! Today I'd like to show you how to resurface your kitchen sink for about $35!
This post contains affiliate links for your convenience. See my disclosure policy here.
I'm Dreaming of a Farm Sink
I really wanted a farm-style sink. I've wanted one for years, but it hasn't worked out. We looked at them this time around, but it just wasn't in the budget. Maybe someday!
Since writing this post, we've installed a Sinkology Farmhouse Sink and you can read all about it!
Our current sink looked absolutely disgusting. It was time for a budget-friendly change!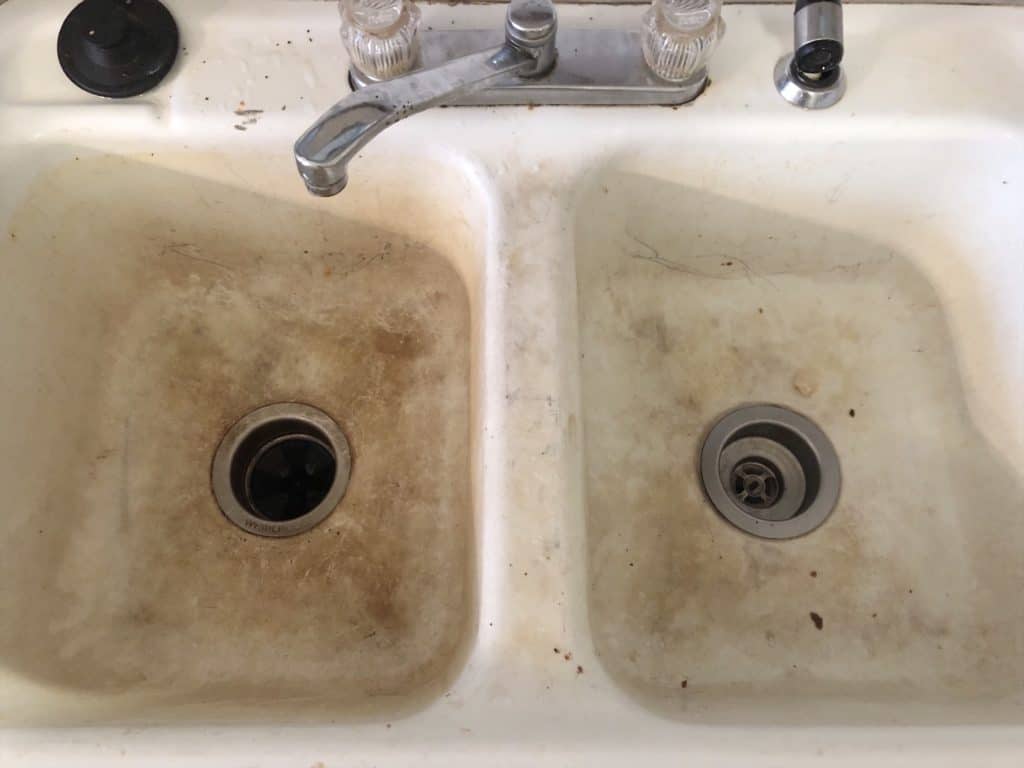 Can't Afford New? Refinish!
I was browsing Pinterest one day and came across a blog post on how to refinish your bathroom sink. I had heard of re-glazing a bathtub and I thought, why not a kitchen sink?
We did some more research and landed on this product from PPG. It was around $30! A lot cheaper than purchasing a $400 farm sink. Ours is cast iron so it's solid. It just needed a little help!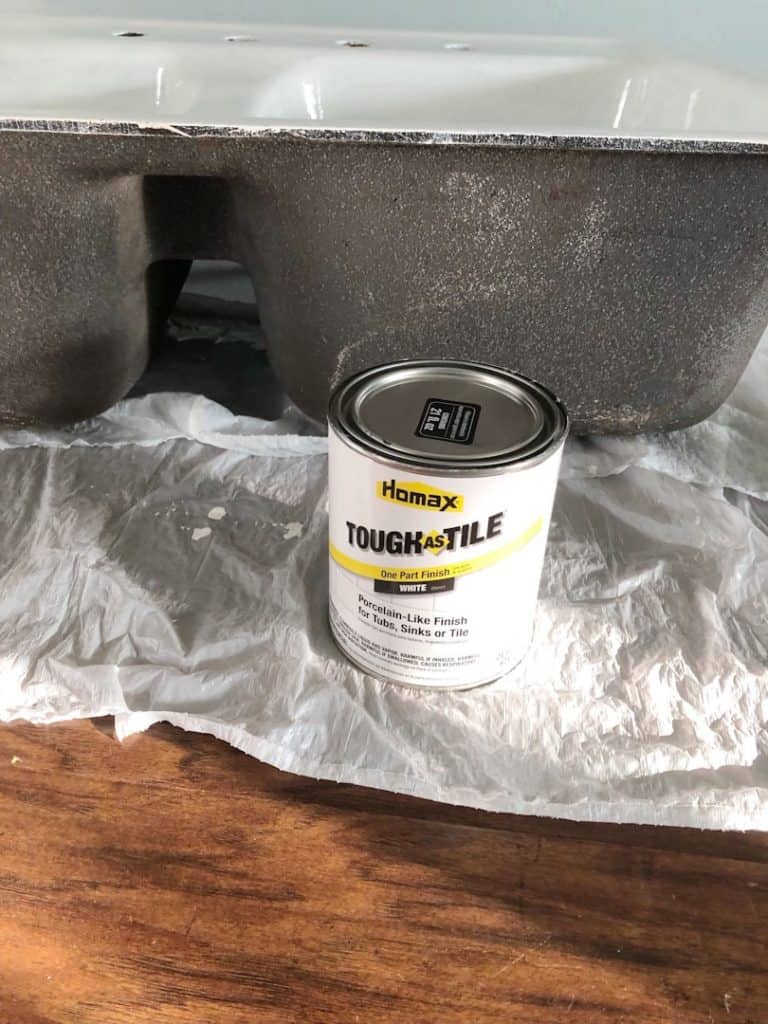 Refinish a Cast Iron Sink
Eric removed the sink and set up a place to work on it inside because according to the directions you can't use the product in excessive heat. Oklahoma in July? I think that qualifies!
Related Post: Kitchen Peninsula Shiplap Look for $25
There were several steps to the projects and you need to be prepared to be without your kitchen sink for three days. There's a lot of drying and curing in between coats.
You start by cleaning it. I mean REALLY cleaning it. Eric used steel wool to help remove the grime. Follow the instructions included in the box to clean and prep the surface.
CHECK OUT THE YOUTUBE TUTORIAL!
If you're not removing your sink for this project you'll want to tape it off so you don't get any of the product on surrounding surfaces.
Related Post: Beautiful DIY Kitchen Remodel (for under $1,000!)
Now you're ready to begin applying the product. Brush on the first coat in a thin, even layer. Thin layers ensure there are no drips.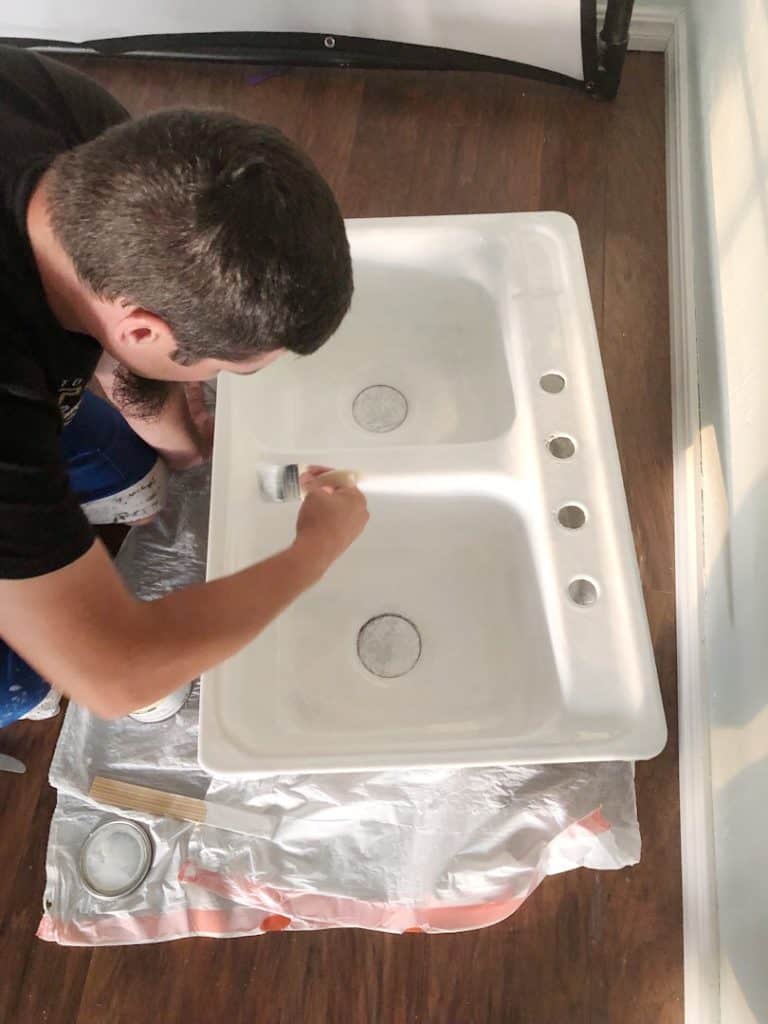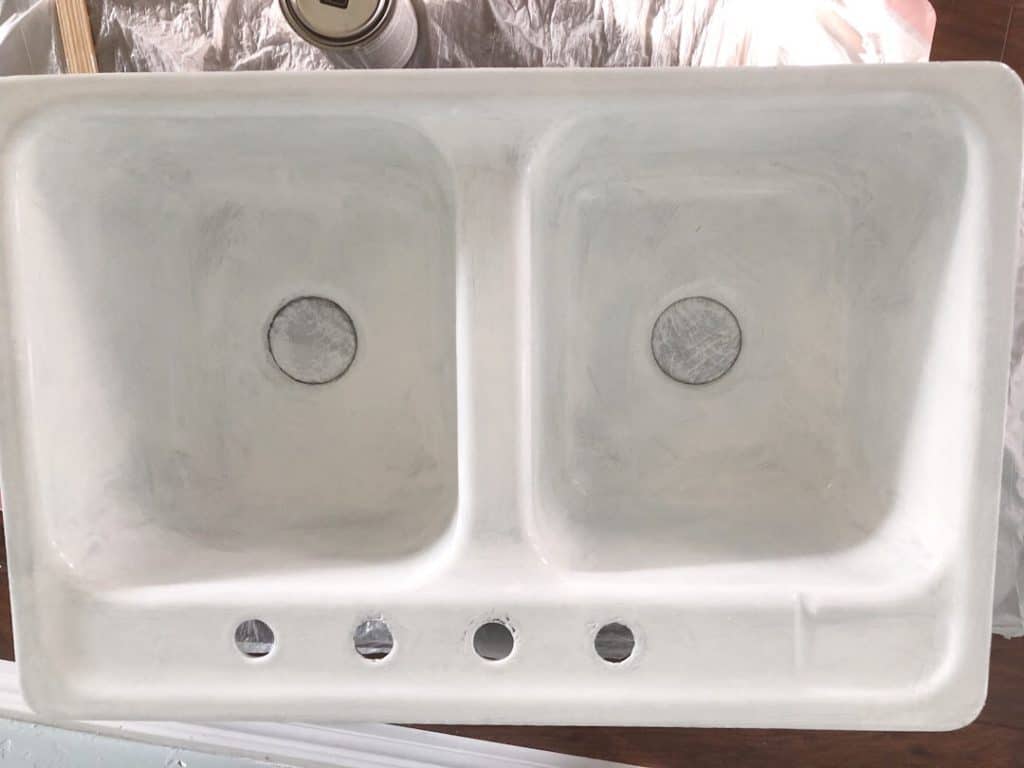 Once you've brushed on the first coat, you need to allow the sink to dry for at least three hours but not longer than six before applying the second coat with a new brush.
Do not reuse the previous brush. There may be leftover particles from the first coat that could appear on the surface of the sink. Repeat this step for the third coat.
Wait Patiently!
Once you've applied the final coat, allow the sink to cure for at least 48 hours. DO NOT RUSH IT! We had company coming in town so we re-installed it and started using it a few hours before the allotted time was up and it had not completely hardened.
We've had a few places where it peeled off the surface because we didn't wait like we were supposed to, which is really annoying! It still looks good, but not as good as it could've had we allowed it to fully cure.
Again, make sure you read the directions completely before starting the project to make sure you have everything you need to complete this sink makeover!
And That's How You Refinish a Cast Iron Sink!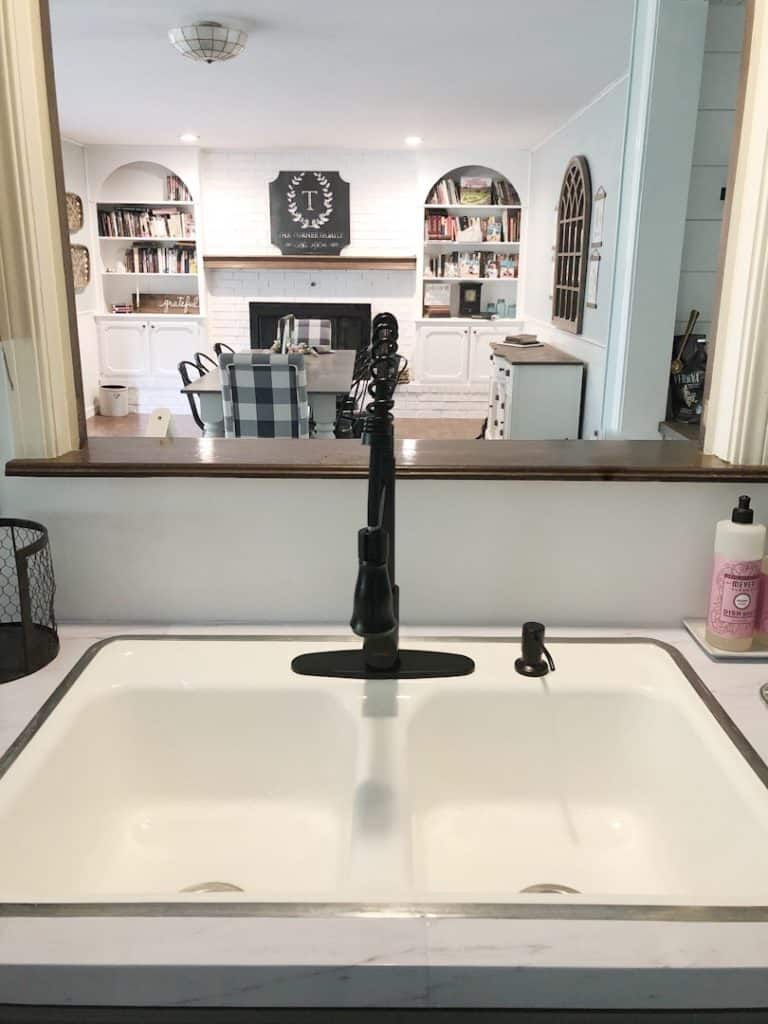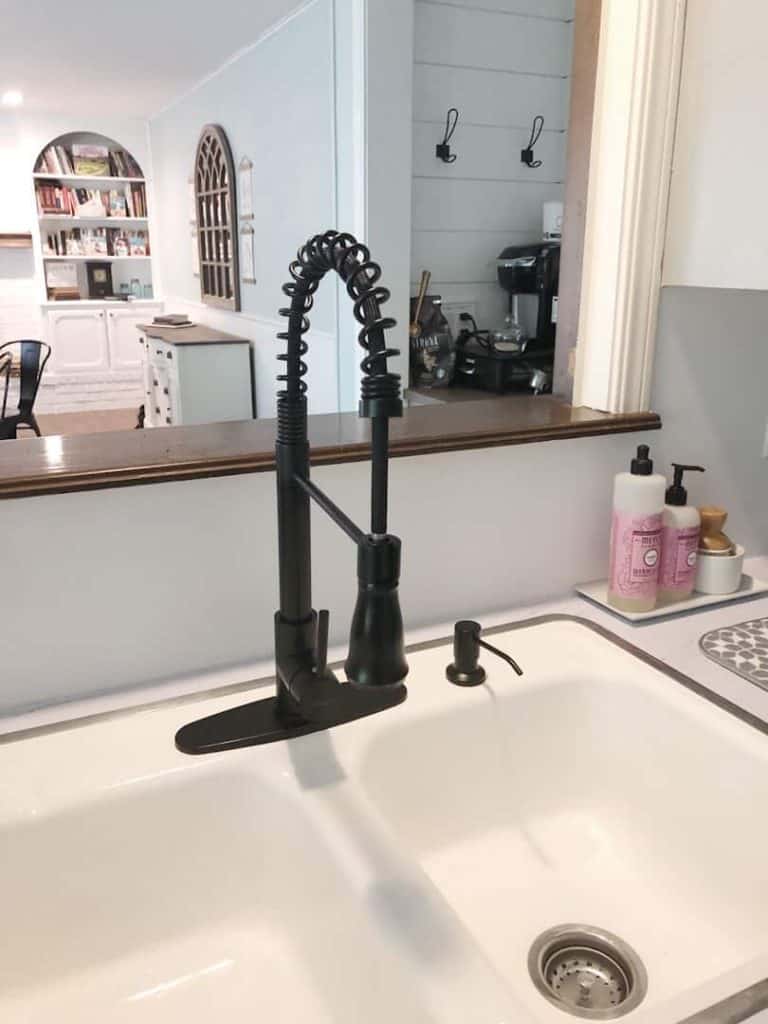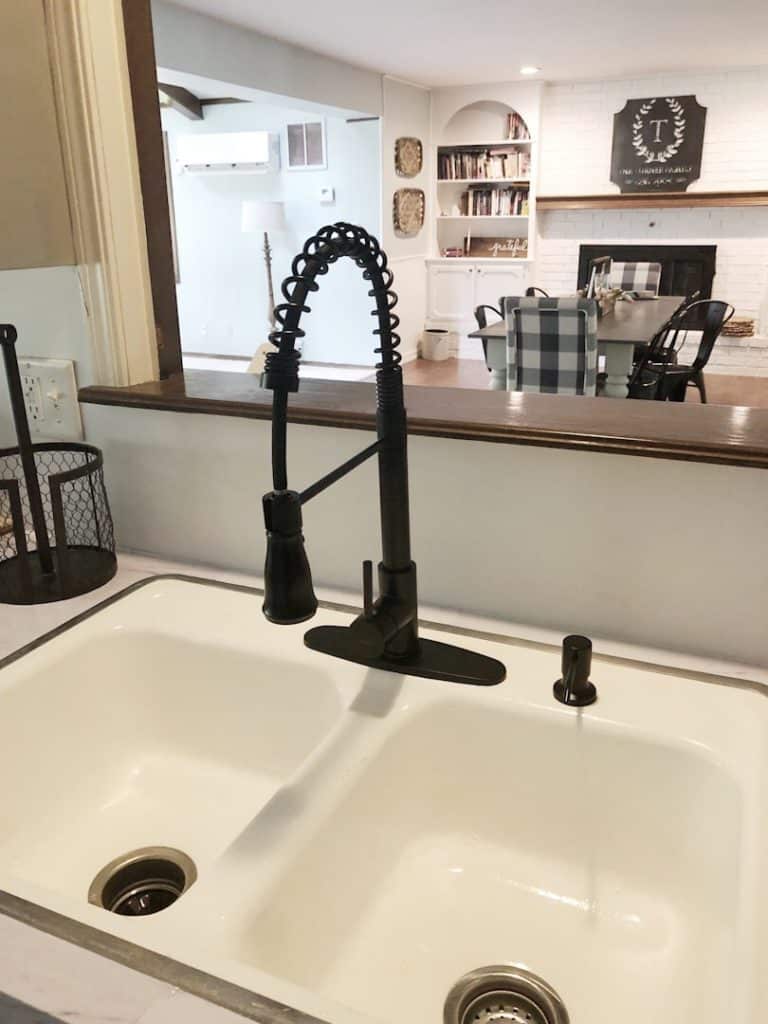 What do you think? Big transformation for around $30!
We decided to change out the faucet at the same time and also added a soap dispenser since we no longer needed the sprayer. And let me just say, I LOVE the new faucet! It looks great, was affordable, and it does a great job! You can check it out on my Amazon Storefront along with the other finishes in our kitchen!
So if you don't have the money to replace your current sink, consider refinishing a cast iron sink instead. It's affordable and looks like new when you're done! If you have any questions, please feel free to reach out in the comments or shoot me an email!
Thanks so much for hanging out with me today! Like what you see? Be sure to subscribe so you don't miss a post!
Before you decide to replace your kitchen sink read this! How to refinish a cast iron sink for $30!
Pin for Later: