Sinkology Farmhouse Sink Installation and Review
If you're wanting to transform your kitchen, a Sinkology farmhouse sink is the way to go! We recently made the upgrade to a white double farmhouse sink from their line of sinks and I'm sharing all the details!
If you're looking for budget-friendly ways to save on a kitchen renovation, be sure to check out how we saved on our remodel!
The kitchen sink has been an essential part of every kitchen since the 18th century, or at least that's when Pierre Francois Blondel invented them.
However, over time and with the aid of different trends and fads, sinks have evolved to take on new forms and functions and the iconic farmhouse sink was no exception.
Modern technology has allowed us to develop new materials, shapes, sizes and designs of sinks for people with different tastes.
The farmhouse sink was initially designed to have a place in the traditional style kitchen, but its simple clean lines and rustic charm make it ideal for almost any kitchen.
Sinkology has made it even easier to add the charm of a farmhouse sink to your home with their drop-in farmhouse sink that can be installed over your current countertops.
In addition to adding a farmhouse sink to your kitchen, here are more ways to add farmhouse style to your home!
This post contains affiliate links for your shopping convenience. See my disclosure policy here.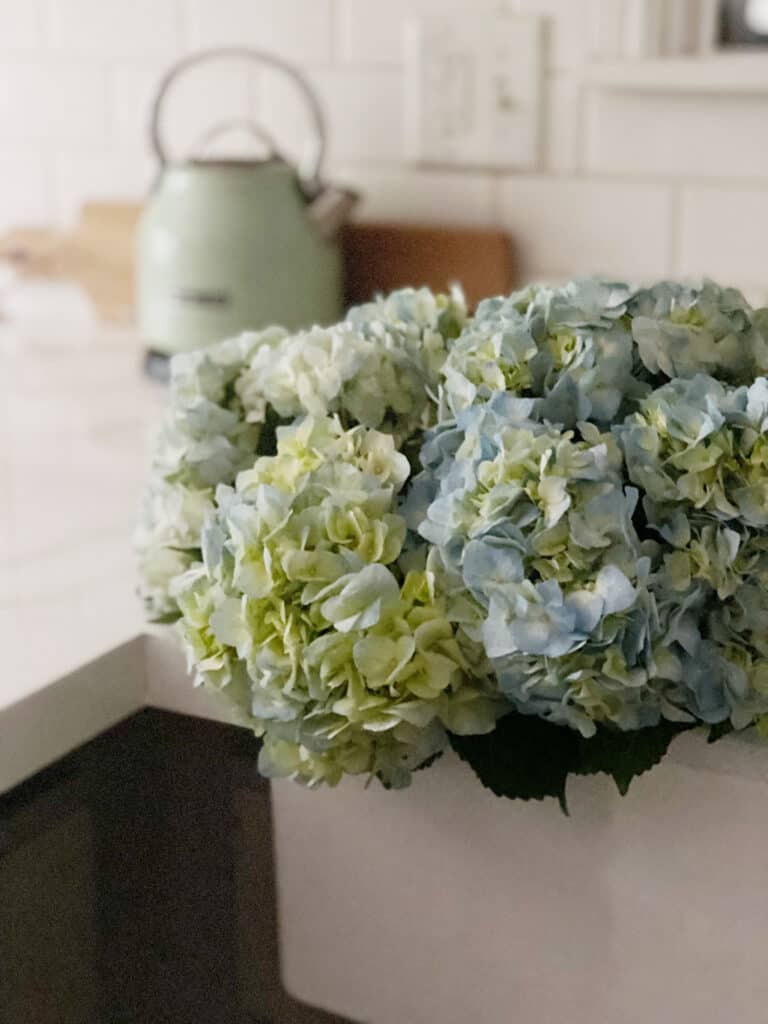 Home Depot Farmhouse Sink
We recently upgraded our kitchen sink to Sinkology's Parker Quick-Fit Drop-in Fireclay Farmhouse Kitchen Sink from Home Depot and the transformation was amazing! We purchased the 33 inch farmhouse sink and it was the perfect fit for our current layout.
You can also purchase a 30 inch farmhouse sink or a 36 inch white farmhouse sink from the Sinkology farmhouse sink line.
Our white double bowl farmhouse sink with garbage disposal was the perfect addition to our budget-friendly updated kitchen we did a couple of years ago.
We weren't sure if we would be able to do a farmhouse sink with our laminate countertops, but with Sinkology's line of drop-in farmhouse sinks, replacing your kitchen sink with a farmhouse sink has never been easier!
Yes, You DO Have to Cut the Countertop!
I do have to pause and tattle on myself – when I first read "drop-in," I thought the Sinkology farmhouse sink would just fit right over our existing countertop. That wasn't QUITE the case.
I told my hubby I had done the research, this was going to be so easy, and I ordered the sink. It wasn't until he went to look at how to install it that we realized…we had to cut into the countertops.
Apparently I skipped over that part somehow in my research.
He MAY have freaked out a little…and I seriously thought for a minute he was going to make me return it. BUT he kept reading and decided he'd give it a go. I'm so glad he did because it's awesome!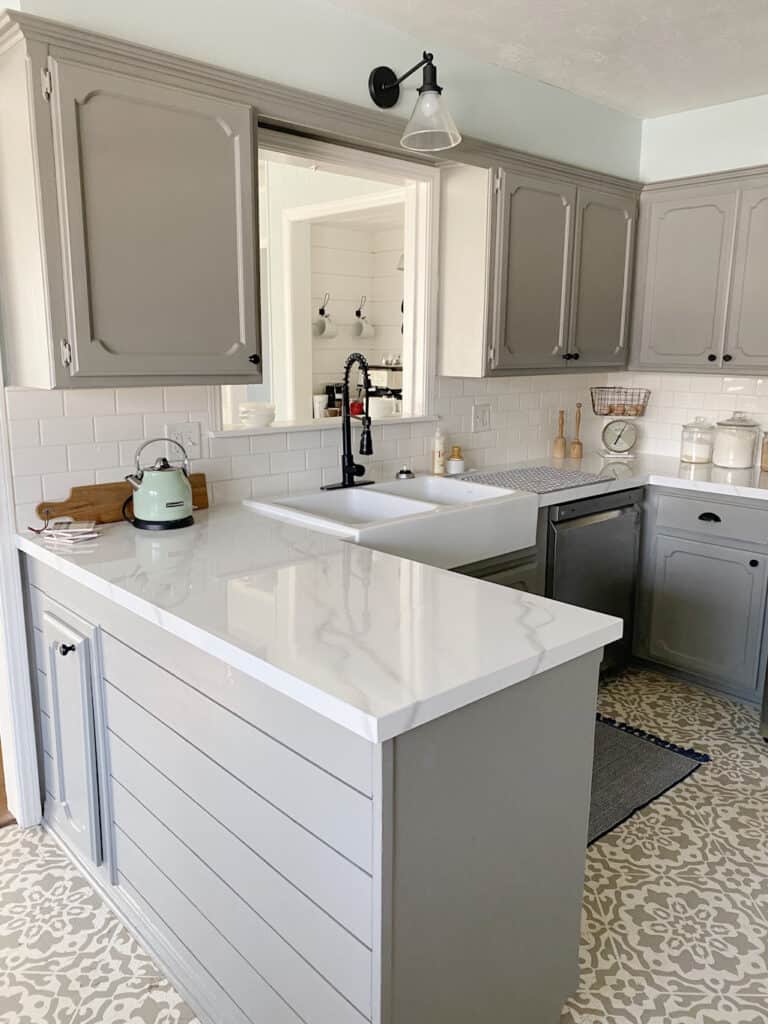 How to Install a Farmhouse Sink Over an Existing Counter
Initially, we decided to refinish our cast iron sink that was original to the house. But it was just a temporary solution while we looked at other options. And we found it with Sinkology's line of farmhouse sinks!
If you're wondering how to install a top mount farmhouse sink, you've come to the right place! Installing a farmhouse sink used to be a lot more complicated. It usually meant having to replace your countertops and/or cabinets, as well.
Sinkology Farmhouse Sink Installation
But replacing a kitchen sink with a Sinkology farmhouse sink is easy thanks to their line of drop-in farmhouse sinks.
You can choose from a variety of sizes and colors and choose a single or double bowl. They do still offer a line of undermount farm sinks if you prefer those, as well!
For our kitchen, we chose the Parker double bowl fireclay farmhouse sink. It's also called the Josephine Double Bowl Farmhouse Sink on Home Depot's site so don't let that confuse you!
Also, if you like the look of our faux marble countertops, check out the process here!
Make a Template
We started by pulling the Sinkology farmhouse sink from the box and flipping it upside down on paper to trace. After tracing it all the way around, we removed the sink from the paper.
You want to measure 1/2″ inside the line you just traced and draw a second line on the inside of the first. This is where you will cut and now you have your template!
Mark and Cut the Countertop
Next, we positioned the template on the countertop and aligned it with the cabinets and plumbing. It's time to mark the openings and cut your countertop!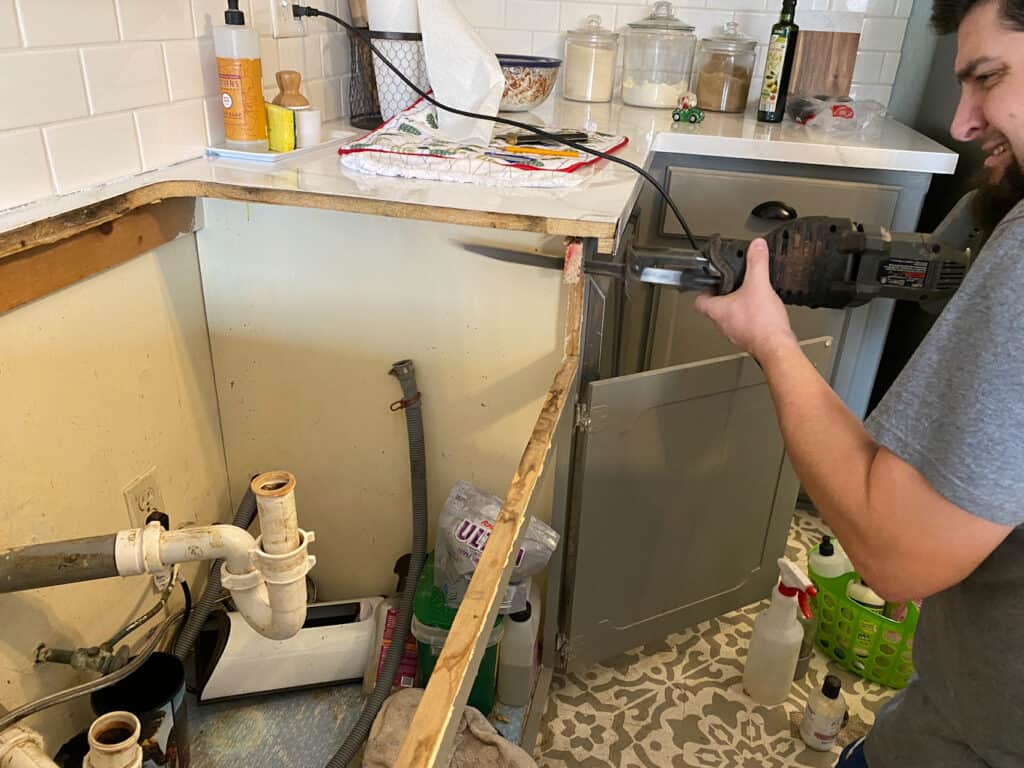 But we still had to make an extra cut to account for the lip on the sink. We used a tool similar to this to measure the lip and trace the exact shape onto our countertops. It was super handy!
We also had to remove the false drawer front and cut it. It looked a little scary in the middle of the project, but thankfully it all came together!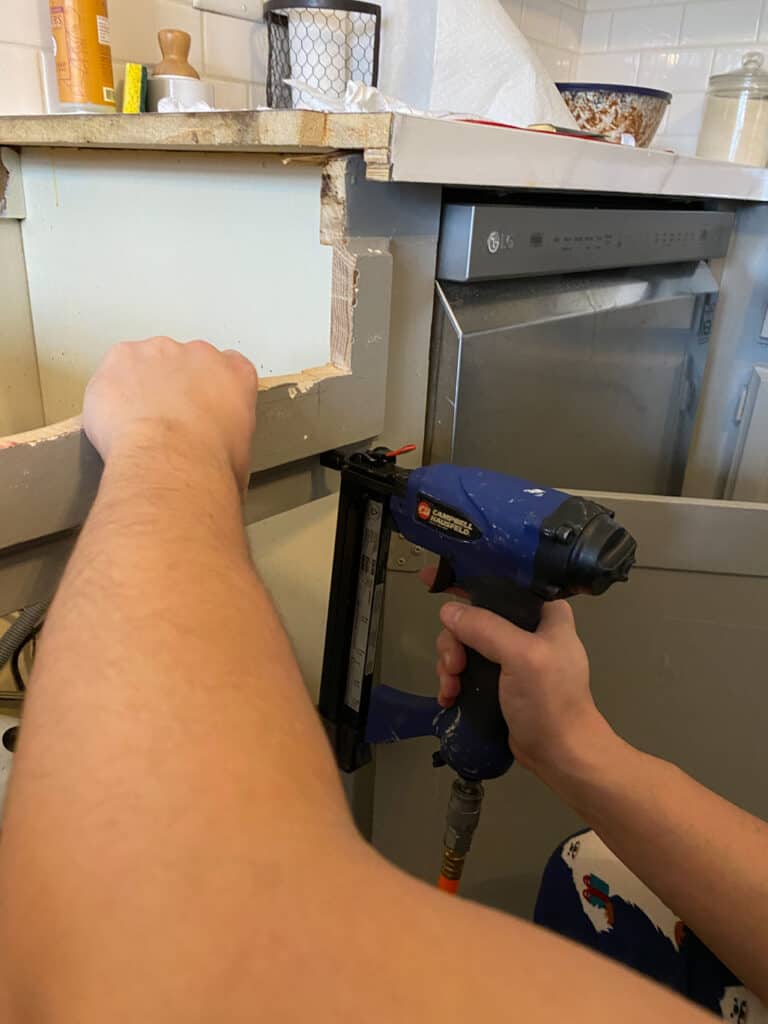 Dry-fit the Drop-in Farmhouse Sink
Once you've cut your countertop, place your Sinkology farmhouse sink into the hole and make sure it fits before moving on to the next step. We had to do this a few times before we got the hole exactly right.
Silicone Sealant
Pull your sink back out and apply a thick bead of clear 100% silicone caulk around the edge of your sink cutout. This will help form a water tight seal around the sink.
Install the Hardware
Now you're ready to install the hardware! You will want to follow the diagram included with your sink to see how to install it properly. Once you've inserted the bolts, you can put your sink back in place for the final time.
You will again follow the diagram to finish installing the hardware underneath your new drop in farmhouse sink.
Install Drains
You're almost done! The final step before finishing with caulk is to install the drains.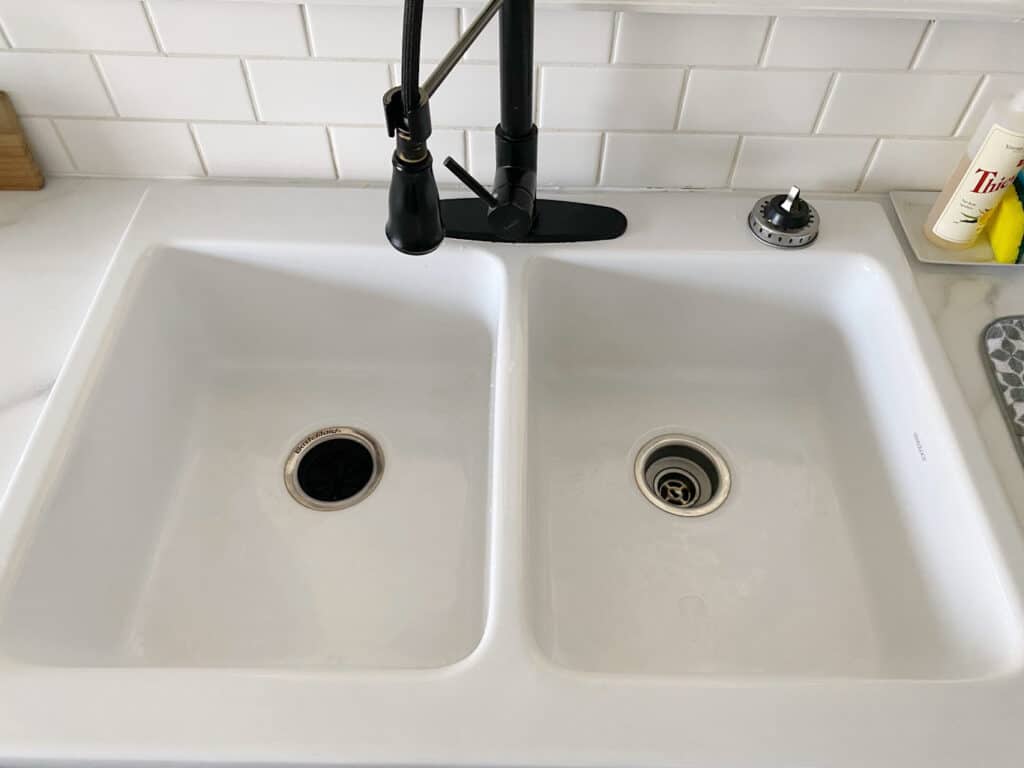 Finish with Caulk
To give your sink a professional look, apply a bead of 100% silicone caulking around the outside edge of the Sinkology farmhouse sink where it meets your countertop.
This will give it a finished look and also keep water from going under the edges!
Farmhouse Kitchen Sink Faucets
The best faucet for a farmhouse sink really depends on your preference. If you're going for a more modern look, the high arc pull down faucets look great! If you want a more farmhouse classic look, you may want an antique style faucet.
We chose a pull down black faucet from Amazon and we're really happy with how it turned out!
Shop Farmhouse Sink Faucet Recommendations on Amazon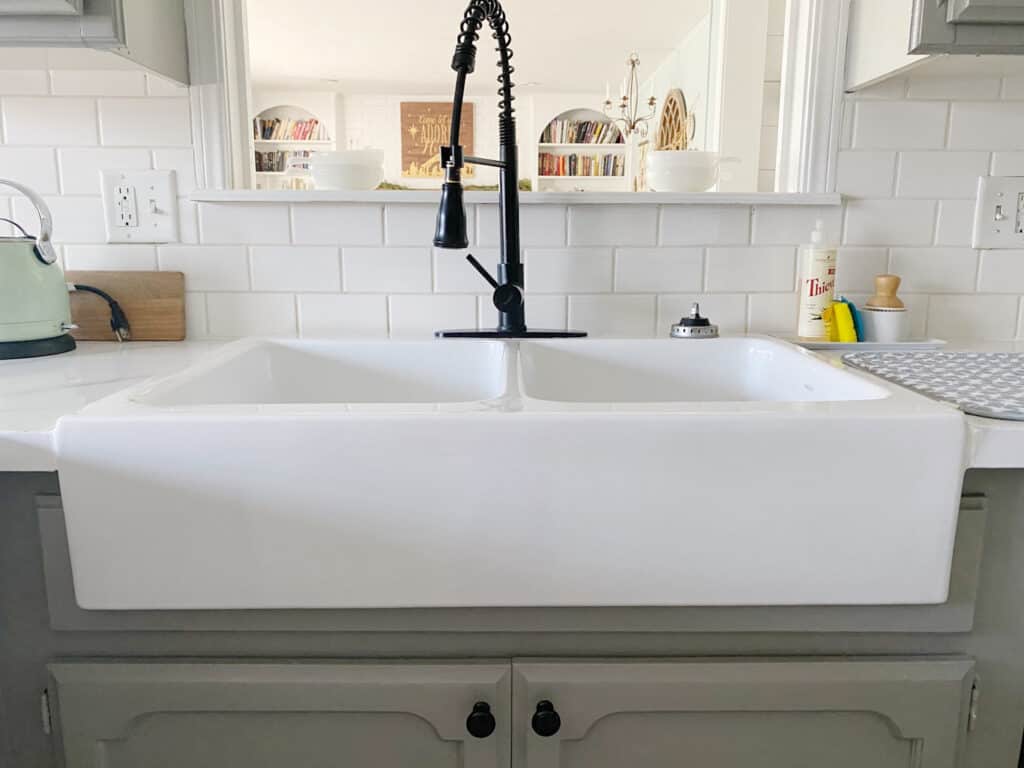 Caring for Your Sinkology Drop-in Farmhouse Sink
Sinkology recommends cleaning your new sink with gentle soap and water. For really tough stains I've been able to use my Magic Eraser and they come right off!
If you have a problem with water spots, they recommend using a high-quality carnauba wax.
The best part about Sinkology drop in farmhouse sinks is their lifetime warranty! According to their site, they are guaranteed not to chip, crack, stain, or rust with proper use. That's pretty amazing!
We've had our sink for over a year and it definitely lives up to the hype. Their sinks are, in my opinion, the best fireclay farmhouse sinks on the market!
Farmhouse Sink FAQs
Is replacing a kitchen sink with a farmhouse sink an option?
You can easily replace your kitchen sink with a farmhouse sink by Sinkology. They offer both drop in and under mount farmhouse sinks!
What is the best farmhouse sink?
It depends on what style and durability you need. Black stainless steel is the perfect look for a sleek and modern kitchen, but can be easily scratched. White fireclay farmhouse sinks are very durable but can stain. Oil rubbed bronze farmhouse sink will hide stains and look great in a more traditional home.
It also depends on where you're installing the sink. Is it a farmhouse sink in the bathroom or a laundry room farmhouse sink? You'll need to think about how much wear and tear the sink will get and what it will be used for to find the best one for you.
Can I replace my sink without changing the countertops?
Drop in farmhouse sinks can be installed along with your existing countertops or you can completely replace them if they are in bad shape.
What is the difference between and farm sink and an apron sink?
An apron sink is built with an exposed front lip which is useful for cleaning larger pots and pans. A farm sink, on the other hand, doesn't have this design element. It's recessed, more like your traditional kitchen sink.
Is it hard to install a farmhouse sink?
With the right tools in hand you can install a farmhouse sink, but if you're new to DIY I wouldn't recommend it. It's a project more for the intermediate DIYer.
What's so great about a farmhouse sink?
Farmhouse sinks can last a lifetime and carry their rustic charm with them for years to come. They transcend current trends and are always in style. Whether you're looking for the vintage look or just want something that's easy to clean, then a farmhouse sink is perfect for your home.
Sinkology Farmhouse Sink: Farmhouse Sinks for Every Kitchen
Pin for Later: