Hale Navy Benjamin Moore: Great Choice for Homes
Benjamin Moore is known for their high-end paint and extensive color options. They offer over twenty-three hundred paint colors, many of which are part of their exclusive Victoria and William collections.
One of their most popular blues, Hale Navy Benjamin Moore, is found in their extensive historic classics collection.
This collection includes colors that are inspired by the well-loved hues from eras gone by. The Victoria and William colors are even more exclusive, as they are either inspired by the designs of Queen Victoria or those of her daughter, Queen Charlotte.
In discussing Benjamin Moore Hale Navy paint, it's worth mentioning that this hue is a deep blue with brown undertones and provides an excellent backdrop for any color in the neutral family.
This post contains affiliate links for your shopping convenience. See my disclosure policy here.
Navy Blue: Still Trending
Navy blue has been trending over the last couple of years and for good reason. Blue gives a calm feeling and can make your home feel serene and peaceful.
Hale Navy Benjamin Moore pulls from the luxurious nature of velvet with the dark blue hue. This color is a popular choice for those looking to use navy as an accent or as a feature wall, as its deep tones make it easy to mix and match with other colors.
This versatile color is beautiful for use on cabinets or doors, too!
We earn a commission if you make a purchase, at no additional cost to you.
Benjamin Moore Hale Navy Coordinating Colors
Hale Navy Benjamin Moore pairs well with any color of the gray family, including cooler neutrals like dove gray. It also goes well with warm neutrals like taupe, or even bright colors like red.
Hale Navy paint looks especially nice with lighter neutrals like cream, ivory, and even white. Try Benjamin Moore's Chantilly Lace or Swiss Coffee for a beautiful combination. This blue is a popular choice for those looking to use navy as an accent or as a feature wall.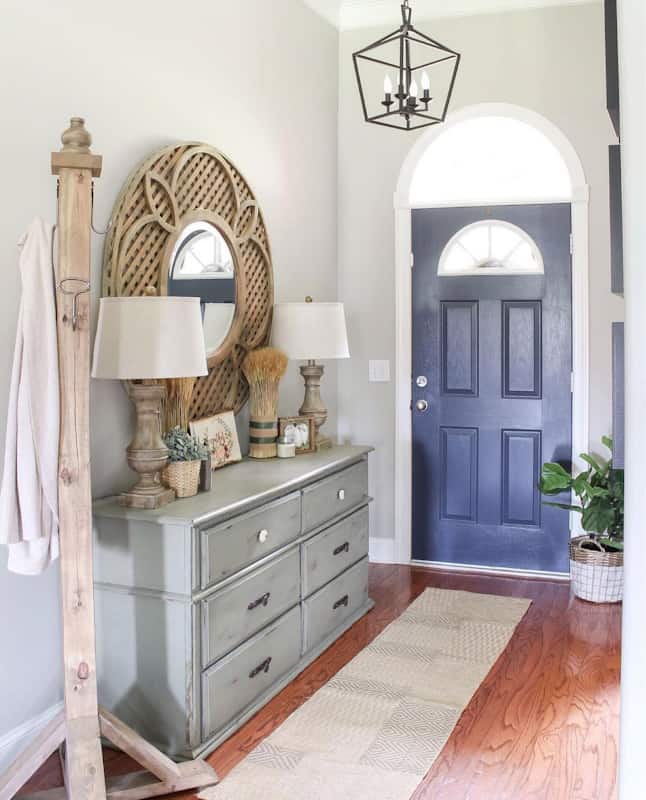 Hale Navy and Revere Pewter
A winning combination, Hale Navy paired with Benjamin Moore Revere Pewter is a show-stopper. The deep blue of Hale next to Revere Pewter's subtle greige is stunning. Try using Hale Navy on kitchen or bathroom cabinets with Revere Pewter paint on the walls. You can't go wrong!
We earn a commission if you make a purchase, at no additional cost to you.
Hale Navy Cabinets
Navy blue is a great choice if you're wanting to make a statement with your cabinets. Hale Navy looks great with light or dark woods and comes in both matte and semi-gloss finishes making it great for any style of home whether traditional or more modern.
Hale Navy Kitchen Cabinets
Hale Navy Benjamin Moore is a popular color for kitchen cabinets because it is a deep dark blue with a sleek and modern look. A darker shade of blue goes well with most kitchen colors and it blends nicely to make a kitchen appear larger.
When you are looking for a dark color, Hale Navy is a good choice because even though it's dark, it isn't overwhelming. The color also looks really nice with lighter grays or off-white colors as well as beiges.
In this kitchen by Bold City Properties, white walls with white uppers and Hale Navy lowers pair with gold hardware for a stunning combination.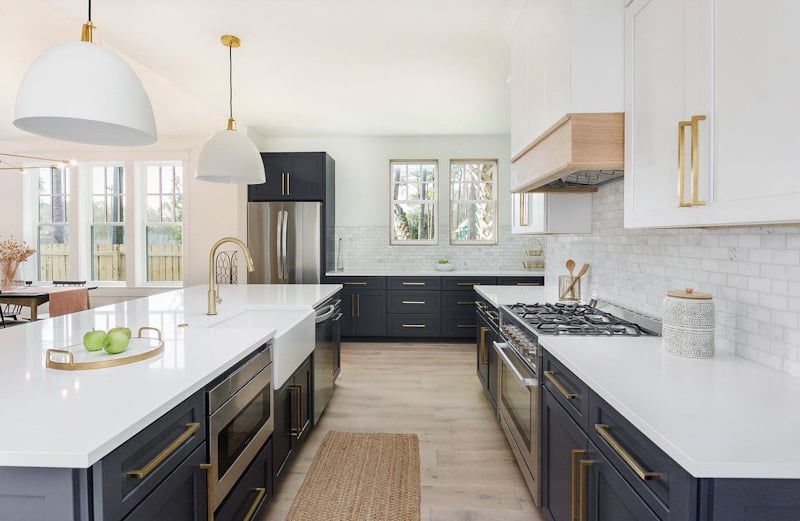 Or pair this navy with nickel hardware for a more modern feel that really pops.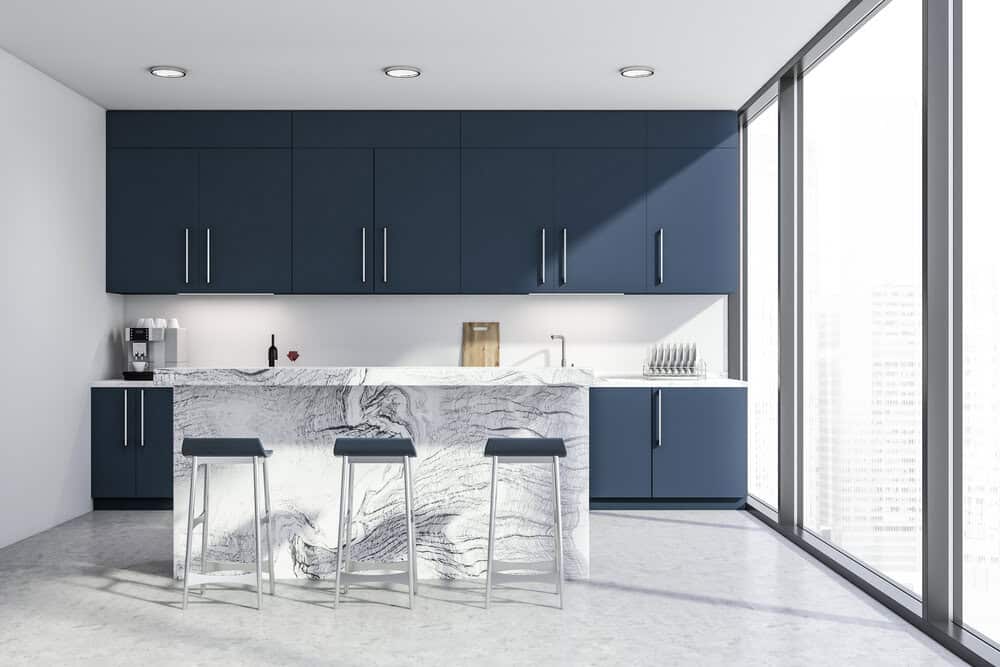 Hale Navy Door
Black is trending for interiors doors but Hale Navy is also a great choice for doors, especially if you have white walls. Try using it on your bedroom doors, or start with a door in an area by itself to give yourself a chance to see if you'd like it throughout your home.
Because the color is very versatile, it can be paired with a lot of different colors which makes it a great choice for any area of your home.
Hale Navy Front Door
Bold colors on front doors are all the rage and Hale Navy Benjamin Moore is just the color to make a beautiful statement and give great curb appeal.
Hale Navy Accent Walls
Navy blue is a great color for walls because it is bold yet not overwhelming. The dark shade of Hale Navy blue allows the wall to become the focal point without being so much that it overtakes the room.
Pair Hale Navy paint with lighter colors like lavender, mint green or even a light gray to help soften the room and give it a calm and relaxing feel.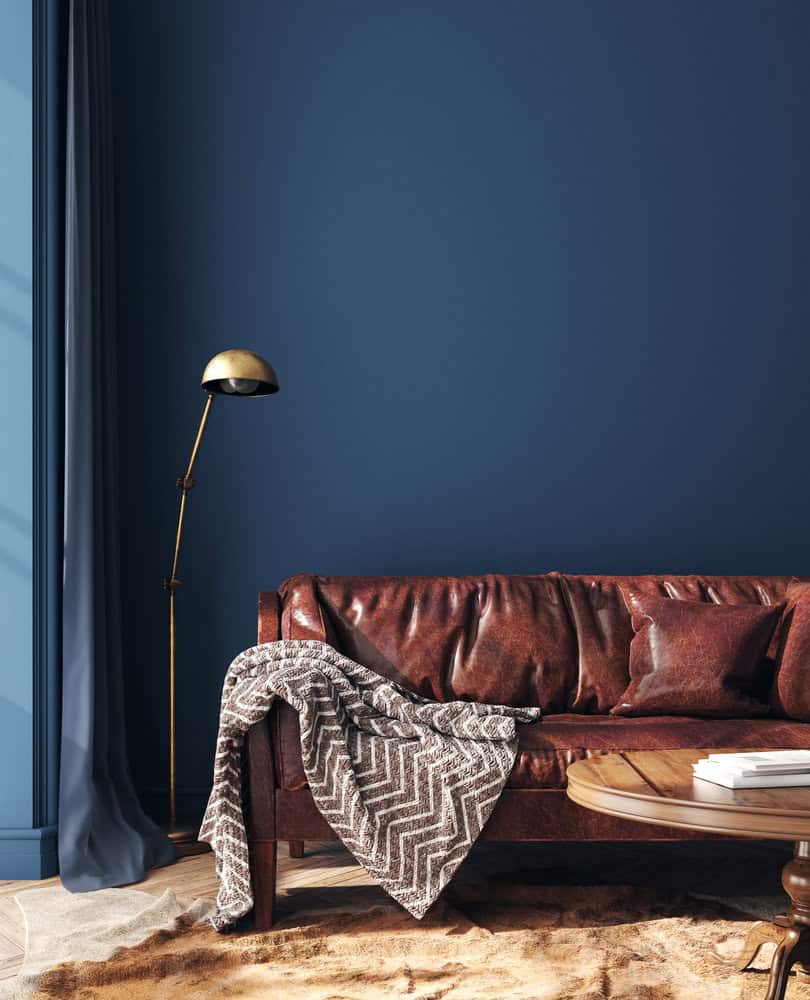 Hale Navy in the Bathroom
This rich hue can look great in the bathroom if you're going for a dark moody feel. Paint all the walls including the ceiling for some dramatic flair. You can also use it as an accent wall.
This more modern bathroom vanity features a butcher block counter against navy walls. The white and gray blocked tile pops against the dark blue paint.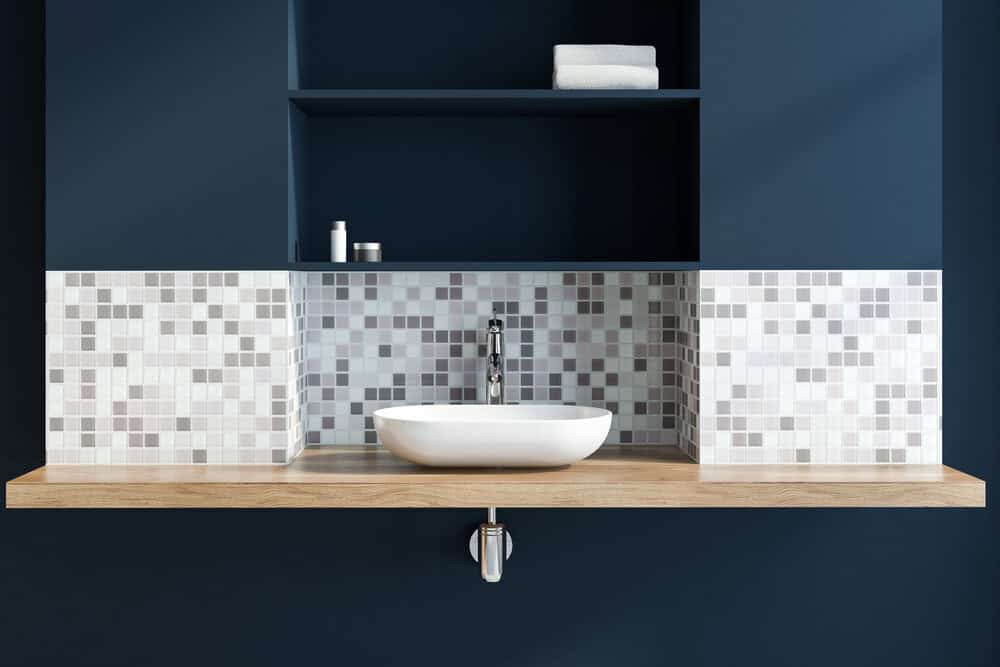 Hale Navy Bathroom Vanity
Hale is the perfect choice for a bathroom vanity, especially against lighter walls that will really allow it to stand out. This beautiful bathroom by Amy Storm and Co. features a stunning vanity painted in Hale Navy.
Paired with gold accents against a neutral wall color, the navy gives a beautiful pop of color!
Navy Blue Exterior Paint
If you're looking to go navy on the exterior of your home whether you're using it to paint the whole house or as an accent on your front door, shutters, or garage door, Hale Navy is a great choice.
Hale Navy Coordinating Colors Exterior
Pair Navy Hale on window shutters and your garage with a stained wood front door and Benjamin Moore's White Dove as your main house color.
If you're going with a gray or beige exterior for the main color, use Hale Navy on your front door and go with a white trim.
Navy Blue Houses
Or go all out and use Hale Navy as your main color with a pretty white trim and wood accents for your shutters, garage doors and front door!
Hale Navy vs Naval
How does Hale Navy stack up against other dark blue hues? Sherwin Williams Naval is another popular navy blue used in homes.
When placed side-by-side you can see that Hale Navy has more gray undertones giving it a stormy blue hue. Sherwin Williams Naval reflects more light and has a more classic navy feel to it.
If you're torn between the two try ordering peel and stick samples from Samplize to see what they would look like in your space without the mess!
Hale Navy FAQs
What colours go with Hale Navy?
Try creamy whites like Benjamin Moore Chantilly Lace or Linen. Greiges like Revere Pewter also look great or you can go with a cooler gray or a warm taupe.
Is Benjamin Moore Hale Navy too dark?
The light reflective value (LRV) of Hale Navy is 6.3, which means it's dark, but not so dark it looks black. It's a beautiful classic navy blue meant to give you the feeling of the sea.
Does Hale Navy look black?
Hale Navy is a rich dark navy blue, but still reflects enough light that it doesn't come off as black.
Is Hale Navy a good exterior paint color?
Benjamin Moore Hale Navy is a great exterior paint color because it is dark, but not so dark that it appears black. It's the perfect blue to use on your front door or navy garage doors.
Is Hale Navy too dark for kitchen cabinets?
Hale Navy can be a great choice for kitchen cabinets, but be sure to check the lighting in your kitchen first to make sure you're happy with how the color looks in your space.
Hale Navy Benjamin Moore: A great choice for homes
In conclusion, Hale Navy Benjamin Moore is a great choice for your house whether its kitchen cabinets, accent walls, a bathroom and more. The deep dark blue color is classic yet perfect for today's home. Pair it with some lighter hues to give the room a calm feel or pair it with an exterior white for a beautiful dark home on the block.