Behr Swiss Coffee: Perfect Creamy White Shade
If you've ever searched for that perfect white color, you know it can be difficult to find. Which sounds funny because isn't white just white? But the different undertones used to create the shade can cause it to look different in a space depending on lighting, accents and more.
Today I want to introduce you to Behr Swiss Coffee. It is one of Behr's most desired colors and is really popular because it works in almost any space. It is a warm, creamy white that is versatile and can be used in a variety of settings.
Many home owners are drawn to this color because it is neutral and can create a calming and inviting atmosphere in any room.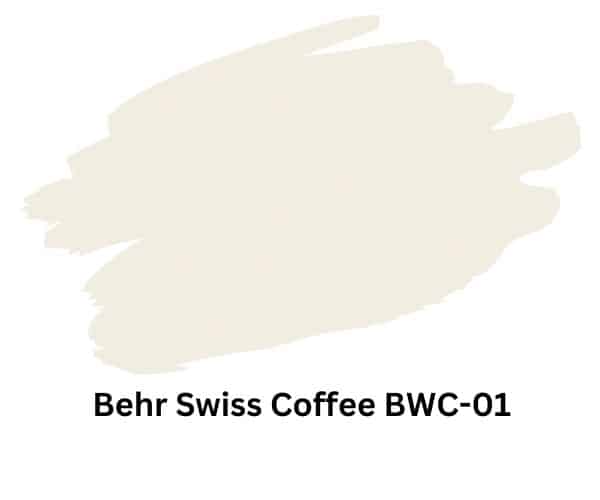 Swiss Coffee is a color that is often associated with traditional and classic design styles. However, it can also work well in modern and contemporary spaces. It is a great choice for those who want a timeless look that will never go out of style.
Another plus for this creamy color is that it pairs well with a variety of other shades! Use it as an accent on your trim and baseboards and doors. Or use it on the wall throughout your home and bring in color with your furniture and decor.
Before learning more about this popular paint color, let's talk about the Behr paint brand in case you haven't used it before!
Is Behr a Good Paint Brand?
If you're not familiar with Behr paint, I can tell you from experience you'll love it. It's a high-quality paint that is known for its durability and coverage. It is easy to apply and dries quickly, making it a great choice for DIY projects.
We used Behr Premium Plus in a creamy blush color in my daughter's room on three of her walls. It was great paint!
We were really impressed with Behr Ultra Scuff Defense, which we used on the green wood accent wall in her room. It has a built in stain blocking primer, which saved us the extra step of priming first. It went on thick with near complete coverage after just one coat.
Behr paint is also low VOC, which means it has fewer harmful chemicals than traditional paints, making it a safer choice for families with children or pets.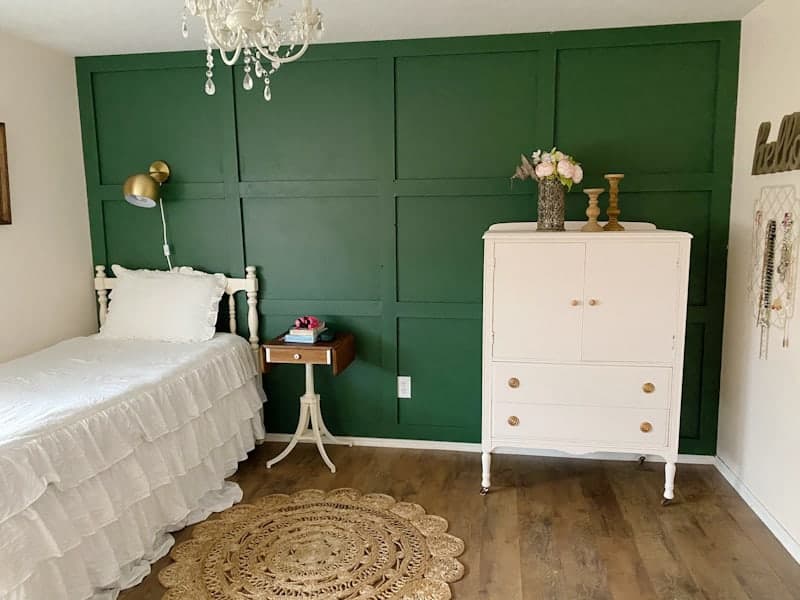 Where can I purchase Behr paint?
You can find Behr paint at Home Depot. They offer a vast selection of colors for any project. They also offer different types from their baseline Premium Plus to their high-end Marquee One-Coat Paint.
What is the average cost of a gallon of Behr paint?
The average cost of a gallon of Behr paint is around $35. If you choose one of their higher end products like Behr Marquee, you'll pay around $53.
Now that you're more familiar with the Behr paint brand, let's dive into the Swiss Coffee shade.
What is Behr Swiss Coffee?
As mentioned, Behr Swiss Coffee is a warm, creamy off-white color that is often used as a neutral base color in interior design.
It's not to be confused with Benjamin Moore Swiss Coffee, a similar shade by a different brand. It has a slight yellow undertone that gives it a cozy, inviting feel.
Behr Swiss Coffee is available in a variety of finishes, including matte, eggshell, satin, semi-gloss, and high-gloss. This allows homeowners to choose the perfect finish for their desired look and level of durability.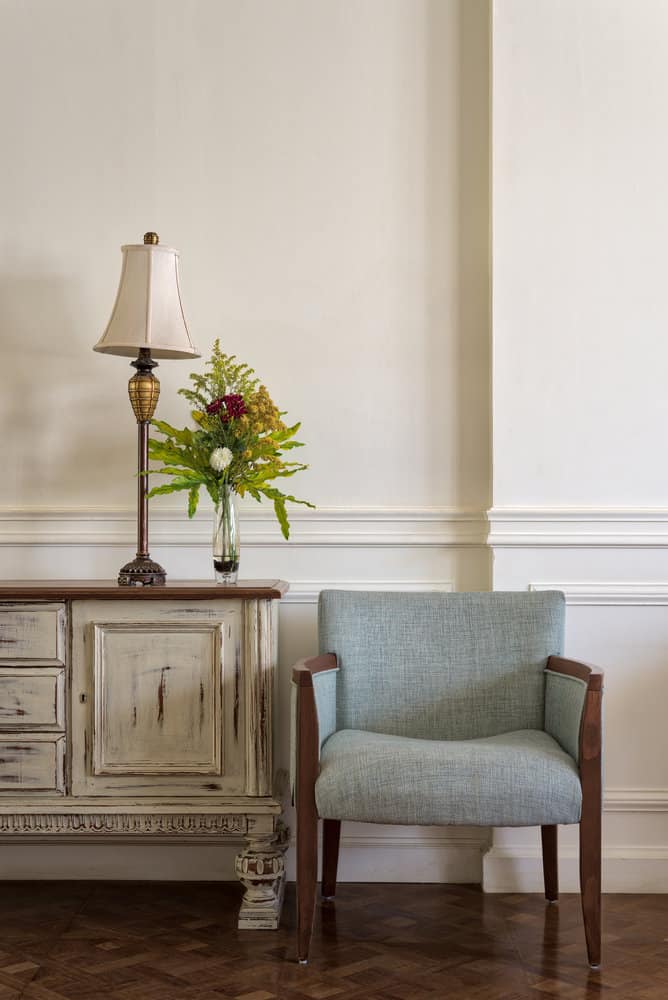 Color Characteristics of Swiss Coffee
Because of the hint of yellow undertone, Swiss Coffee has a warm undertone making it a popular choice for walls, trim, and ceilings in both residential and commercial spaces.
Light Reflective Value (LRV)
One of the unique characteristics of Behr Swiss Coffee is its ability to reflect light in a way that can make a room feel brighter and more spacious. This is because the color has a high Light Reflectance Value (LRV) of 84, which means it reflects a significant amount of light.
If you've read some of my other paint color reviews, you'll remember that the higher the LRV the more light the color will reflect. The lower the LRV value, the less light it will reflect.
With Swiss Coffee's high LRV, this makes it a great choice for rooms that don't get a lot of natural light or for spaces that need to feel more open and airy.
Another benefit of Behr Swiss Coffee is its versatility when it comes to coordinating with other colors. It pairs well with a wide range of colors, from bold and bright to soft and muted.
It can be paired with warm or cool colors, making it a great choice for any design style. It also works well paired with a variety of finishes, including matte, satin, and gloss.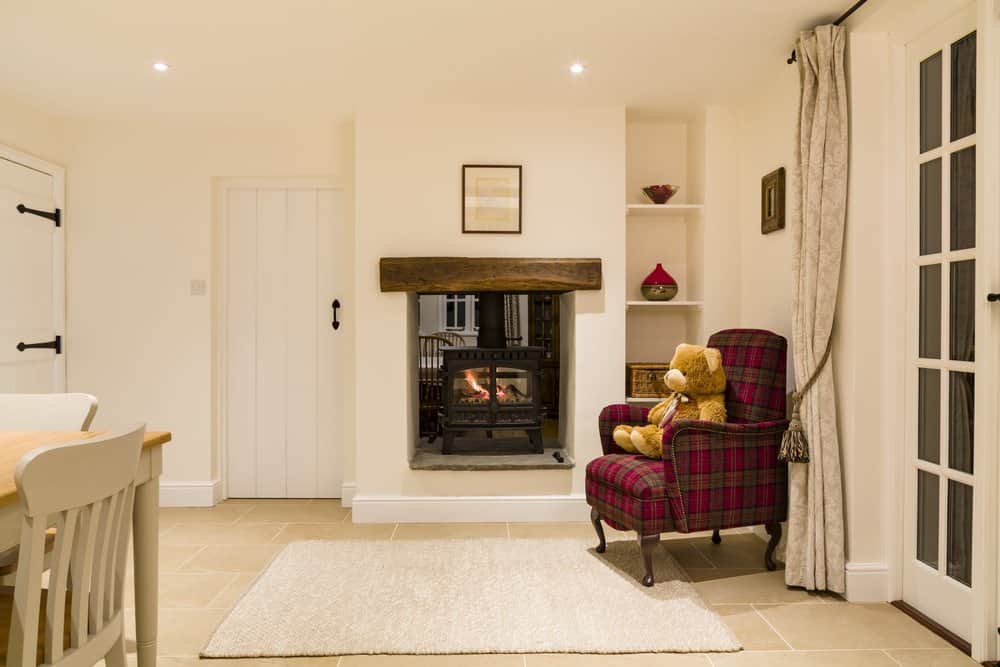 Best Uses for Behr Swiss Coffee
Now that we've established the versatility of Behr Swiss Coffee, here are some of the best uses for this warm, creamy shade:
Walls: Swiss Coffee is an excellent choice for walls in any room of the house. It pairs well with both cool and warm colors, making it a great neutral backdrop for any decor style.
Cabinets: If you're looking to update your kitchen or bathroom cabinets, Swiss Coffee is a popular choice. It can help brighten up the space and give it a fresh, modern look.
Trim: Swiss Coffee is an excellent choice for trim, baseboards, and crown molding. It pairs well with both light and dark wall colors, making it a versatile choice for any room. It's also great for interior doors.
Furniture: If you have a piece of furniture that needs a fresh coat of paint, Swiss Coffee is a great option. It can help give the piece a clean, updated look without overpowering the rest of the room.
Overall, Behr Swiss Coffee is a timeless paint color that can be used in a variety of ways. Whether you're updating your walls, cabinets, trim, or furniture, Swiss Coffee is a great choice that will stand the test of time.
This gorgeous kitchen by Becky of The Other Side of Neutral uses Behr Swiss Coffee on the walls.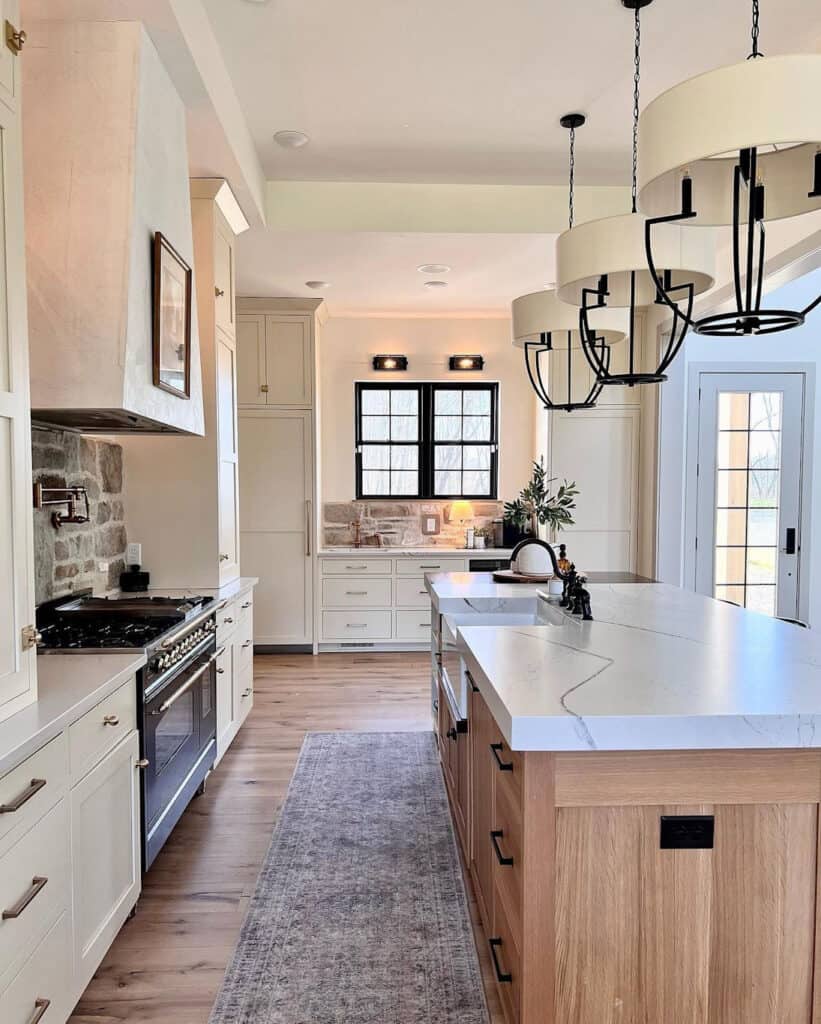 Coordinating Colors with Swiss Coffee
One of the best things about Behr Swiss Coffee is that it is a versatile color that can be paired with a variety of other colors to create a beautiful and cohesive color scheme. Here are some suggestions for coordinating colors:
Gray: Behr Swiss Coffee pairs well with light to medium shades of gray, such as Behr's Classic Silver or Behr's Light French Gray. This combination creates a calming and sophisticated atmosphere.
Blue: For a more coastal or beachy vibe, pair Behr Swiss Coffee with soft blues like Behr's Coastal Mist or Behr's Light Drizzle. This combination creates a serene and relaxing atmosphere.
Green: Behr Swiss Coffee also pairs well with shades of green, such as Behr's Sagebrush Green or Behr's Soft Focus. This combination creates a natural and calming atmosphere.
When choosing coordinating colors, it's important to consider the overall mood and style you're going for in the space.
For example, if you want a cozy and warm atmosphere, consider pairing Behr Swiss Coffee with shades of beige or warm grays. If you want a more modern and sleek atmosphere, consider pairing it with shades of black or white.
When using Behr Swiss Coffee on walls, it pairs well with crisp white trim and accents. Pairing a creamy white with a bright white has become a popular choice for interiors in recent years. Instead of clashing (like you might tend to think), it adds depth, interest and warmth.
For a more dramatic look, consider pairing it with darker accents, such as navy blue. When using it on cabinets, it can create a warm and inviting feel in the kitchen.
This stunning bedroom by Sarah Stewart of Life on Virginia Street features Behr Swiss Coffee on the walls.
Application Tips
Behr Swiss Coffee can be used in a variety of applications. Here are some tips to help you get the best results:
Before applying the paint, make sure the surface is clean and free of dirt, dust, and grease.
For best results, use a high-quality paintbrush, paint sprayer or roller.
Apply the paint in thin, even coats, and avoid overbrushing or over-rolling. If you're going over a dark color with Swiss Coffee, you may want to prime first. If you choose one of the types with the stain blocking primer built in, you can skip this part.
Allow each coat to dry completely before applying the next coat.
If you need to touch up an area, make sure the touch-up paint is the same batch as the original paint to ensure a consistent color. I label mine to keep track of where I've used them.
Keep in mind that the final result will depend on factors such as lighting, the texture of the surface, and the number of coats applied. It's always a good idea to test the paint on a small, inconspicuous area before applying it to the entire surface.

Behr Color Visualizer
I love using peel and stick paint samples on my walls before I commit to a color. I typically order my samples from Samplize because they use two coats of real paint on their samples so you really get a good idea of what it will look like.
However, Samplize doesn't carry the Behr brand. But that's ok because they have something really cool called their Color Visualizer.
If you go to their site you can upload an image of the room you're wanting to paint. Select the color you're thinking about and simply click on where you would use it in the space. It will change your current color to the color you select from all the options they offer. Pretty cool!
You can also purchase a small sample pot at Home Depot and have it mixed in the color of your choice. Take it home and paint a sample section with two coats and allow it to dry. Be sure and check it at different times of the day to see what the lighting does to the shade before deciding!
Frequently Asked Questions: Behr Swiss Coffee
Is Behr Swiss Coffee Warm or Cool?
The slight yellow undertone of Swiss Coffee makes this shade a warm creamy white paint color.
Why is Swiss Coffee Paint So Popular?
Swiss Coffee has gained in popularity due to it's versatile creamy off-white shade that goes well in almost any space and can be paired with a variety of colors.
What is the Difference Between Behr Simply White and Swiss Coffee?
With a LRV of 88, Behr Simply White reflects more light than Swiss Coffee and will appear slightly brighter. While it still has a slight yellow undertone, it's less so than that of Swiss Coffee.
Does Swiss Coffee Look Yellow?
Behr Swiss Coffee has a very slight yellow undertone which gives it a warm tone. However, in some lighting, the undertone may give it a yellow tint. This is why it's important to test the color in your space before committing to the shade.