15 Ways to add Vintage Farmhouse Style to any Home
Easily add vintage farmhouse touches to any style of home with these tips!
My style has evolved over the years, but I've always been drawn to timeless vintage styles from homes to decor to cars.
The first home we purchased was built in the early 1900s with beautiful original hardwood floors, antique doors and knobs, and all the charm that comes with that time period.
This post contains affiliate links for your convenience. See my disclosure policy here.
Early on in our marriage (before it was popular) we would buy pieces of furniture to refinish and sell and I was always taken with antique vanities and buffets.
My husband drives a 1965 baby blue Ford Mustang that his parents bought him as his first car in high school. Ya, they're pretty cool parents! I can't tell you how many offers he's had from people wanting to take it off his hands!
We're only in our mid-thirties, so call us old souls, but we just love vintage!
One of the reasons we fell in love with our current home is because it lent itself to that vintage farmhouse feel we had always wanted. It was built in the early 70s, but had so much charm that was just waiting to be uncovered!
RELATED POST: Farmhouse Design Style: What is It and How to Get It
But even in our previous homes that were more traditional, we found ways to add that charm, so today I'd like to share 15 ways you can add vintage farmhouse style to your home!
1. Paint
The first way to add vintage farmhouse charm is to start with a good color for your walls! Paint is a cheap yet dramatic way to transform your home! Whites, blues, grays, and beige are all popular choices.
We painted our home using Gray Leaf by Glidden and people are constantly asking me about it. It's a fun shade because it changes with the lighting. Most of the time it looks light blue, but sometimes it looks gray and sometimes it looks blue-green.
We love it! You wouldn't typically think of blue being neutral but this color really is.
Some other popular colors are Icy Teal by Glidden, Sherwin Williams (SW) Sea Salt, SW Repose Gray, SW Agreeable Gray (which is actually more of a light beige), SW Divine White (more of cream), and Cozy White by Valspar (also a lighter cream color).
2. Shiplap
This is an obvious one that has gained huge popularity since being featured by Chip and Joanna Gaines of Fixer Upper. I keep wondering if it will go the way of paneling, but honestly, we have paneling in our home and we just painted it. We love the texture it adds!
Shiplap is so versatile and can be used as an accent or all throughout your home. We used it in our coffee bar to cover some really hideous wallpaper that had been glued right to the sheetrock. Instead of ripping it all out, we just covered it in shiplap and it looks amazing.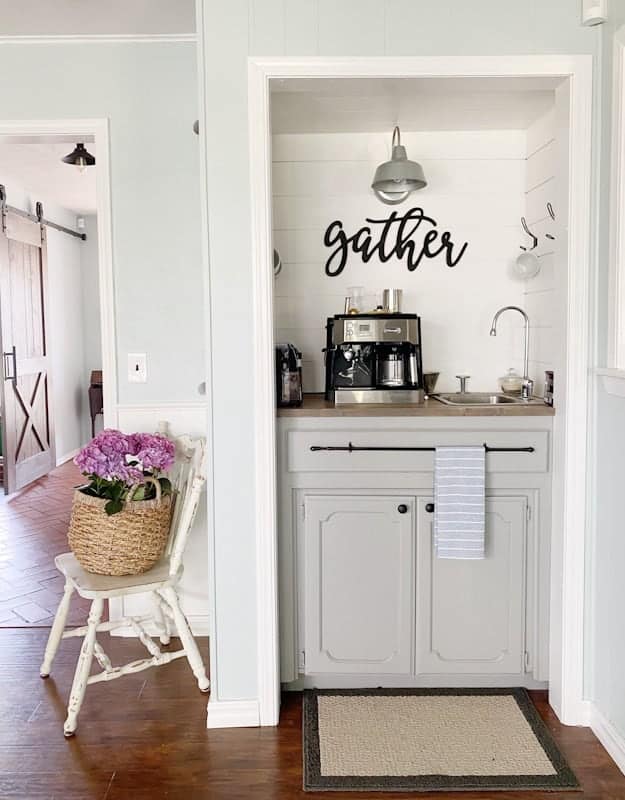 We also found a cheaper way to add faux shiplap to our kitchen peninsula and it has become our most popular project on the blog. You can check it out here! This summer we plan on installing shiplap over the wallpaper in our stairwell. I'll be sure to share it with you!
And it doesn't have to be white! The shiplap on our peninsula is gray! I recently saw it in the hallway of a home and it was painted navy blue. Beautiful! So don't be afraid to add some fun color!
3. Wallpaper
Wallpaper has made a comeback and is great as an accent! There are so many different styles of vintage wallpapers for any room!
Use a pretty floral in the entryway or antique brick in the kitchen. Vintage airplanes would look awesome in boy's room or toile in a girl's room! Use it in a nook or as an accent wall. The options are endless!
Shop Vintage Farmhouse Wallpaper

4. Lighting
Switching out your light fixtures is an easy way to add vintage farmhouse charm to your home! Whether it's pendants over your island, a romantic chandelier in your bedroom, or a barn light in a cozy nook, it's sure to add some drama!
Shop Vintage Farmhouse Lighting

5. Antique Furniture
Over the years we've collected some beautiful pieces of antique furniture! It adds a rustic beauty you just don't get from something new. Plus it was made to last, unlike a lot of furniture available today.
Some of the pieces were inherited, which make them even more special!
The best part is you can usually find them affordably priced on Facebook Marketplace, at garage or estate sales, and antique stores!
6. Vintage Hardware
Swapping out the hardware on doors and drawers is a great way to add vintage flair to your home!
When I painted our built-in hutch, I switched out the knobs for the ones pictured below.
And again when we painted our fireplace built-ins, we switched out the knobs for these pretty blue and white ones.
Shop Vintage Knobs and Pulls

Eric's mom gifted us with a beautiful marble doorknob that came from his great-grandma's Missouri farmhouse. He installed it on our hallway closet door.
His great-grandma passed away in January shy of her 100th birthday so it's even more special to have that keepsake.
7. Barn Doors
Barn doors are popular in farmhouse style homes. We have them in our entryway and kitchen.
But one way we added some vintage was with the door we just recently added in our bedroom that leads into our bathroom. It came from a house built in the 50s. We purchased it on Facebook Marketplace for $35 and then added the slider hardware.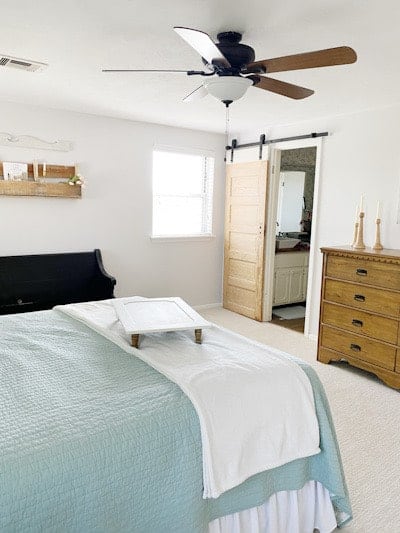 You can check out that barn door project in this post!
8. Architectural Pieces
Antique architectural pieces make great vintage farmhouse decor!
We found this antique window at an antique mall in Kansas City. I love the look of the magnolia wreath hanging on it over our bed!
Corbels are another great decor option! When we gave our fireplace a makeover, we removed the corbels and repurposed them into bookends.
You can also hang them in the corners of doorways, attach a piece of wood to make a shelf, or use them as a stand-alone piece of decor!
Antique fireplace mantles, old columns, chippy spindles, and vintage shutters also make great vintage farmhouse decor!
9. Vintage Scales
I recently ran across this vintage scale at a price I couldn't pass up! There are several awesome styles of antique scales out there!
Adding flowers or a potted plant is my favorite way to dress them up, but they also look great with candles or alongside other vintage kitchen gadgets like an antique jar filled with potato mashers and rolling pins.
10. Antique Books
Antique books look so pretty stacked on a shelf or on a table and always add a beautiful vintage farmhouse touch to any space!
I used to just buy any old book, but then realized how fun it was to hunt for books I actually cared about like Bibles, hymnals, classics like Dickens, and my copy of Black Beauty.
11. Old Typewriters
I think vintage typewriters are the coolest! My hubby recently found the perfect one for me at a local antique shop and I had just the spot for it!
Can you imagine sitting down to hammer out a letter or a book on one of those? We're so spoiled with modern technology (and I'm definitely not complaining), but it's fun to have this a reminder of simpler times!
12. Milk Glass
Milk glass is just beautiful. I only have a few pieces, but it's a collection I'd like to build on!
These pieces look gorgeous displayed on bookcases, in hutches, and on shelves. Add some pretty flowers to a vase or a faux cake to a stand to dress them up, but they're perfect all on their own, as well!
13. Crocks
Funny story: the one and only crock I have came from a lady that wanted to trade me for a small piece of furniture. She asked if I'd take a crock pot in exchange and I literally had no idea what she was talking about.
I thought she meant a Crock-Pot like what I cook my food in and I was not interested. I felt really dumb when she brought it to my house and I finally understood what she meant.
I thought it was super cool and decided to make the trade and I'm glad I did! I love putting potted plants in mine, but they also look great on display in the kitchen filled with fun vintage gadgets!
14. Repurposing Vintage Finds
Repurposing old finds is another way I love to add vintage farmhouse style to our home! We've turned cabinet doors into trays, a bird feeder into a plant holder, vintage tin into a coat rack, piece of a dresser into wall decor and the list goes on.
You just have to look at it with new eyes and think about what else it could function as. Pinterest is great for ideas, as well!
15. Brass Fixtures
The last way I'm going to share on how to add vintage farmhouse touches to your home is with antique brass. Antique brass has made a comeback and looks beautiful in kitchens and bathrooms.
When we refinished our guest bathroom, we used knobs with brass details, a brass light fixture, a mirror with brass accents and a brass faucet.
I love the way it paired so beautifully with the gray paint on the vanity. Still one of my favorite projects because we were able to accomplish it on a very tight budget. You can check out the full renovation here.
This is by no means an exhaustive list, but I hope it helped to get your wheels turning on how you could add some vintage farmhouse charm to your home, no matter what the style!
Thanks so much for hanging out with me today! To see more of our home, come visit me on Instagram! And be sure to subscribe so we can be friends! I'll send you DIYs, tutorials, home decor ideas and more!
EASILY ADD VINTAGE FARMHOUSE TOUCHES TO ANY STYLE OF HOME WITH THESE TIPS!