15 Ways to add Vintage Wall Decor to your Home
Easily add vintage wall decor to your home with these tips!
My style has evolved over the years, but I've always been drawn to timeless vintage styles from homes to decor to cars.
One of the reasons we fell in love with our current home is because it lent itself to that vintage farmhouse feel we've always admired. It was built in the early 70s, but had so much charm that was just waiting to be uncovered!
But even in our previous homes that were more traditional, we found ways to add that charm! So today I'd like to share 15 vintage wall decorating ideas for your home!
This post contains affiliate links for your convenience. See my disclosure policy here.
RELATED POST: Farmhouse Design Style: What is It and How to Get It
1. Set the Tone with Paint
My first two suggestions are more about getting your walls ready for the decor. In order to set the tone for your vintage wall decor, you need to have the right paint color. Paint is an affordable yet dramatic way to transform your home!
Whites, blues, grays, and beige have all been popular choices. More recently dark greens and black have gained momentum and make a great backdrop for vintage and antique decor.
We painted our home using Gray Leaf by Glidden. It's a fun shade because it changes with the lighting. Most of the time it looks light blue, but sometimes it looks gray and sometimes it looks blue-green.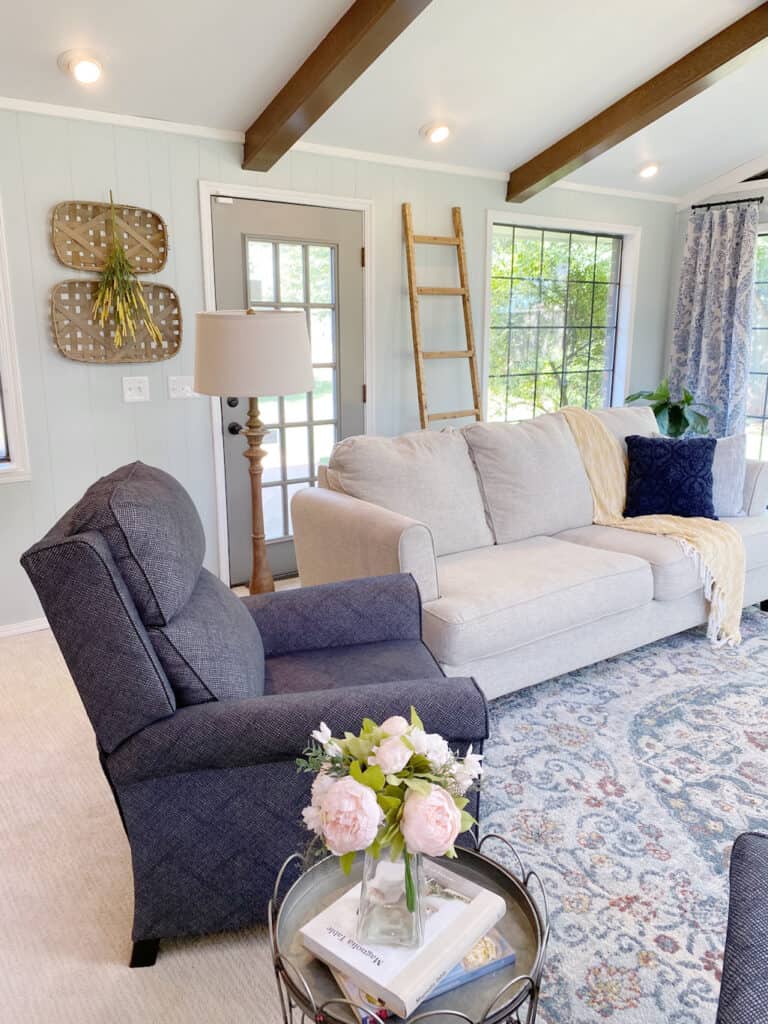 Some other popular colors are Sherwin Williams (SW) Sea Salt, SW Repose Gray, SW Agreeable Gray (which is actually more of a greige), SW Chantilly Lace, and Swiss Coffee by Benjamin Moore (a lighter cream color).
A great way to test multiple colors at once is by using peel and stick samples from Samplize!
Samplize | Peel & Stick Real Paint Samples
Hand painted swatches of real paint that adhere to your wall. Easily removable so you can try in different locations. All your selections delivered the next day to your door!
We earn a commission if you make a purchase, at no additional cost to you.
2. Add Some Shiplap
Shiplap can really enhance vintage decor. I keep wondering if it will go the way of paneling, but honestly, we have paneling in our home and we just painted it. We love the texture it adds!
Shiplap is so versatile and can be used as an accent or all throughout your home.
We used it in our coffee bar to cover some really hideous wallpaper that had been glued right to the sheetrock. Instead of ripping it all out, we just covered it in shiplap and it looks amazing.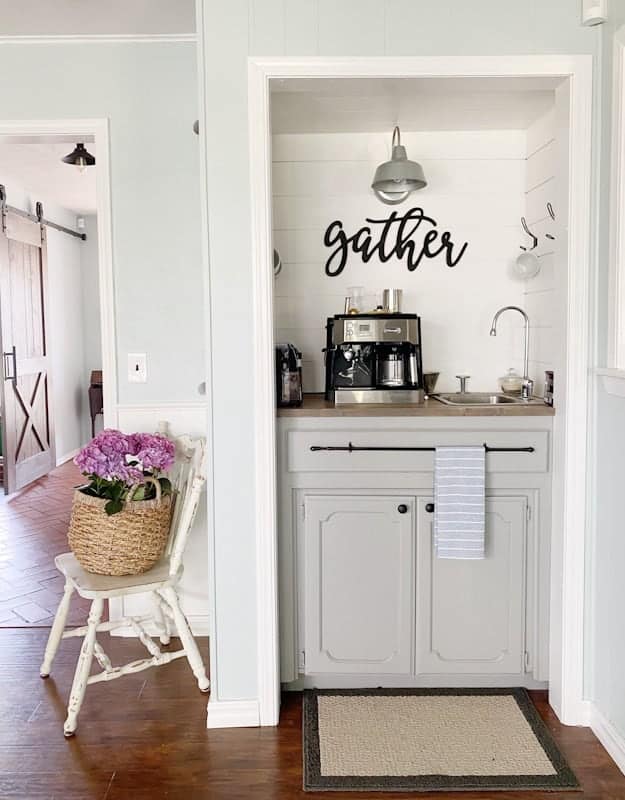 We also found a cheaper way to add faux shiplap to our kitchen peninsula. You can check out our DIY shiplap here!
And it doesn't have to be white! The painted shiplap on our peninsula is gray! I recently saw it in the hallway of a home and it was painted navy blue. Beautiful! So don't be afraid to add some fun color!
3. Vintage Wallpaper
Let's get into the decor! Wallpaper is a great decorative addition to your walls! And there are so many different styles of vintage wallpapers for any room!
We used a pretty peel and stick floral wallpaper in our entryway. Antique brick wallpaper would be great in the kitchen.
Wallpaper with vintage airplanes would look awesome in boy's room or toile wallpaper in a girl's room! Use vintage wallpaper in a nook or as an accent wall.
The options are endless!
Shop Vintage Farmhouse Wallpaper

4. Vintage Wall Art
Vintage wall decor for your living room or bedroom can be in the form of beautiful vintage wall art from a thrift store or antique shop.
We found this beautiful floral wall art for my daughter's bedroom while antique shopping at a vintage decor store.
5. Vintage Kitchen Wall Art
Vintage posters featuring antique kitchen gadgets or different views of fruit and vegetables make great vintage kitchen wall art!
Frame them out with some wood and hang them up to enjoy!
6. Vintage Kitchen Wall Decor
If you're a collector of vintage kitchen items, find a way to display them artfully as vintage kitchen wall decor.
Arrange copper pans or cast iron skillets on the wall. Display various vintage rolling pins. Use hooks to hang those antique China plates you inherited!
7. Vintage Industrial Wall Clock
A large vintage industrial wall clock looks great over a fireplace mantle or dining room buffet.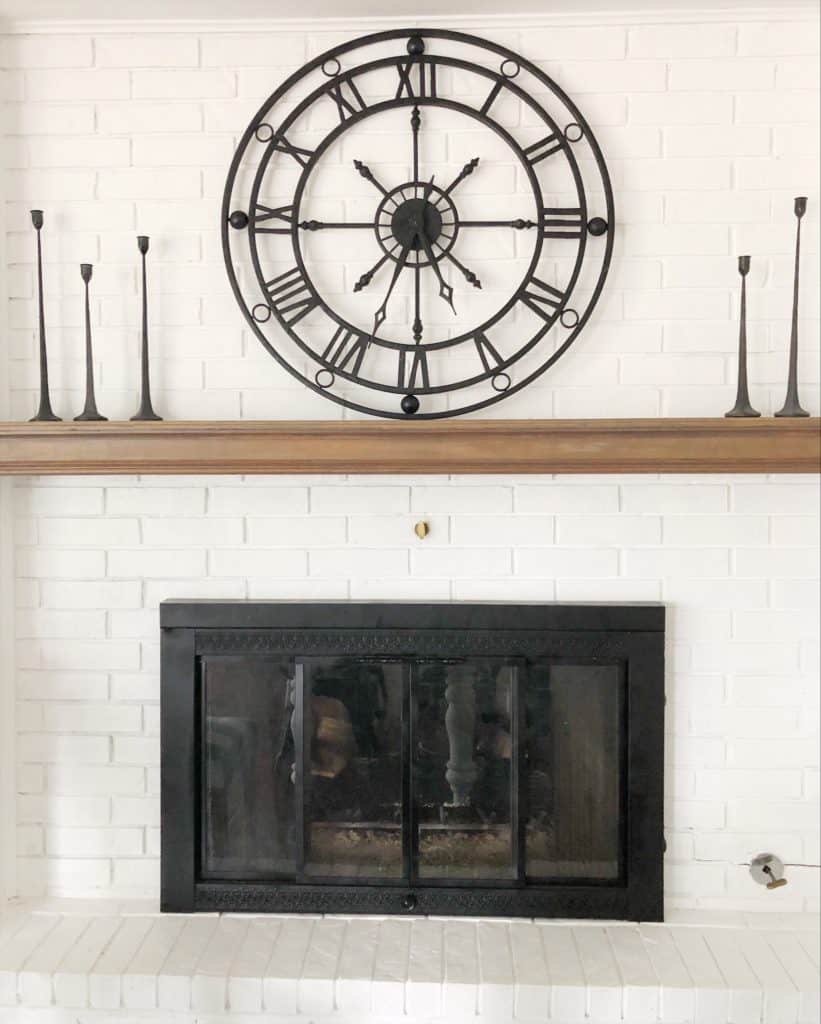 8. Vintage Wall Candle Holders
Vintage wall candle holders are great accessories to art work and mirrors. Hang one on either side of a piece of art, window, door, etc.
9. Vintage Wall Coat Rack
I've made different versions of a vintage wall coat rack over the years and they add tons of charm, plus they're purposeful! Wrap vintage tin around a 1×6 piece of wood and add vintage hooks.
Or use an old farmhouse window and add hooks to the top for jackets and bags. Useful and decorative!
10. Vintage Industrial Wall Lights
Switching out your light fixtures is an easy way to add vintage charm to your home!
Whether it's pendants over your island, a romantic chandelier in your bedroom, or a vintage industrial wall light in a cozy nook, it's sure to add some drama!
Shop Vintage Farmhouse Lighting

11. Vintage Framed Maps
Companies like Old World Prints carry a line of U.S. vintage state maps you can get framed and hang on your wall for beautiful vintage wall decor.
12. Vintage Barn Doors
Barn doors are popular in farmhouse style homes. We have them in our entryway and kitchen.
But one way we added some vintage flair was with the door we just recently added in our bedroom that leads into our bathroom.
The door came from a house built in the 50s. We purchased it on Facebook Marketplace for $35 and then added the slider hardware. It serves as functional vintage decor!
You can check out that barn door project in this post!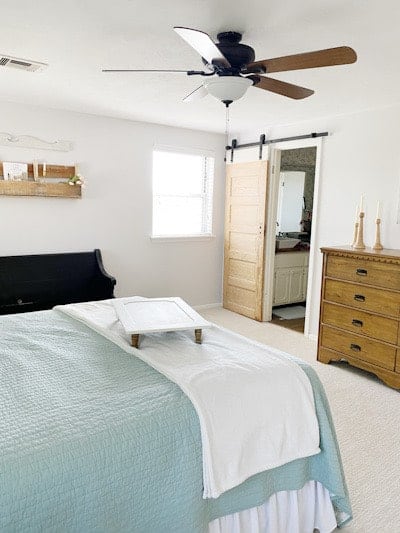 13. Vintage Corbels
Antique architectural pieces make great vintage decor!
Corbels are another great decor option! When we gave our fireplace a makeover, we removed the corbels and repurposed them into bookends.
But you can also hang them in the corners of doorways, attach a piece of wood to make a shelf, or use them as a stand-alone piece of vintage wall decoration!
Antique fireplace mantles, old columns, chippy spindles, and vintage shutters also make great vintage decor for walls!
14. Repurposing Vintage Finds for Decor
Repurposing old finds is another way I love to add vintage decor to our home!
In our bedroom, we used this decorative top from an antique dresser as wall decor to hang above our DIY pallet shelf.
15. Vintage Brass Fixtures
The last way I'm going to share on how to add vintage wall decor to your home is with antique brass. Antique brass has made a comeback and looks beautiful in kitchens and bathrooms.
When we refinished our guest bathroom, we used knobs with vintage brass details, a brass light fixture, a mirror with brass accents, and an antique brass towel holder.
I love the way it paired so beautifully with the gray paint on the vanity. Still one of my favorite projects because we were able to accomplish it on a very tight budget. You can check out the full renovation here.
15 Ways to add Vintage Wall Decor to your Home: In Conclusion
This is by no means an exhaustive list, but I hope it helped to get your wheels turning on how you could creatively add some vintage decor to your walls! Have fun decorating!