Get ready for some porch inspiration! I've teamed up with a group of super talented ladies to bring you our DIY doormats! Huge thank you to Terrie at Decorate and More with Tip for hosting this fun blog hop!
It's springtime and, if you're like me, that comes with an urge to freshen up your home decor! This DIY doormat was really easy and I was able to customize it to look like and say what I wanted it to. Plus it was budget-friendly which is always a plus in my book!
This post contains affiliate links for your shopping convenience. See my disclosure policy here.
DIY Doormat
What you need:
Blank doormat
Stencil (optional)
Painter's tape
Paint
Assorted brushes
I started by purchasing my doormat. It was on sale at Target for $8.99! Then I made a run to Hobby Lobby and purchased a stencil. I already had the tape and paint needed for the project.
Taping the Doormat
I put a piece of tape down the middle of the rug. Then from the edge to the halfway point I measured halfway again and place another piece of tape. I repeated this on the other side. This will give you four equal sections running the length of the mat.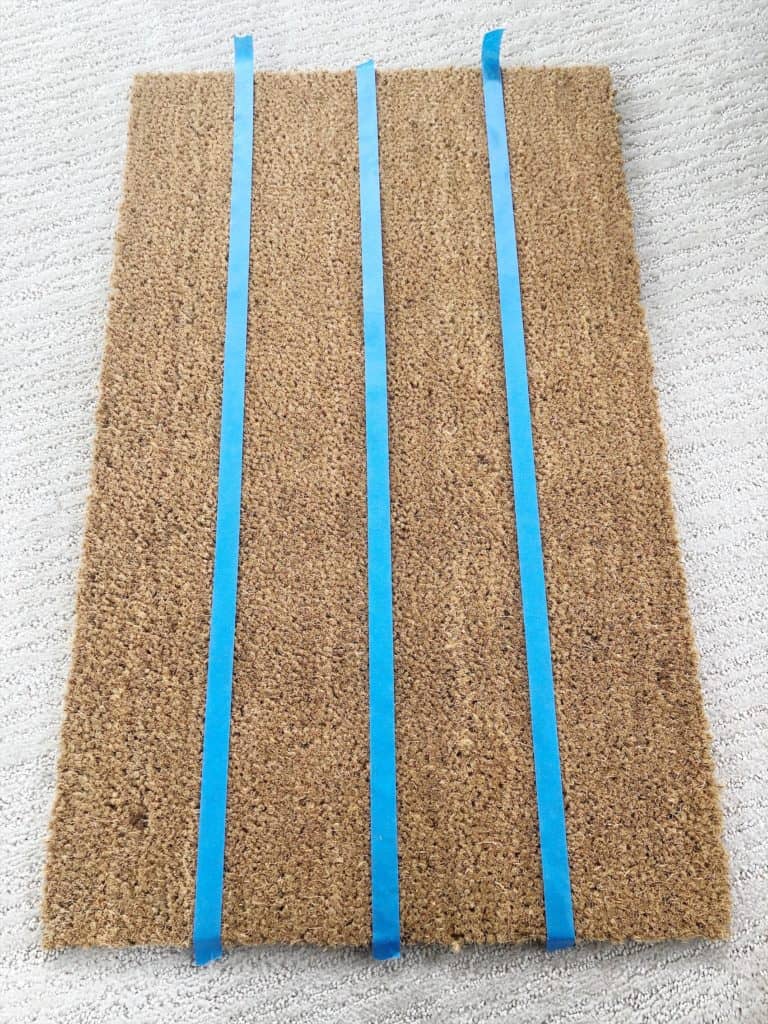 Next, starting on the far left section, I measured halfway down the width of the rug and placed a diagonal piece of tape. Then I placed the tape at either end running from edge to edge. From there I was able to measure halfway between the middle piece the end pieces to tape off the final sections. This should leave you with four equal sections and two triangular sections at either end.
Repeat this going in the opposite direction on the next section and so on until you have the whole mat taped off. It should look like this:
Paint the Pattern
Now you're ready for the paint! I had some leftover black Krylon paint that I used for this project. I used an angled brush and applied the paint with strokes moving away from the tape so that the paint didn't seep under the tape.
After each section has been painted, peel the tape off. Let the mat dry completely before applying a stencil.
Apply the Stencil
Once the mat has dried, you can leave it or apply a word stencil. I purchased an adhesive "welcome" stencil to place on my mat. It was nice to have the adhesive because it helped to keep it in place! You can also tape it in place or use spray adhesive to get it to stay while you paint.
I used some white paint I had and used a small brush to paint. I had to go over it several times to get it to show up well, but I think it turned out nice!
I'm so happy with how this project turned out! Now I'm going to send you off to see what my talented friends came up with! I'd love to hear about some of your favorites in the comments!
Styled by Kristen Wiltgen
Welcome to the Taborhood
Barn House Mess
City2Farmhouse
Savvy In The Suburbs
Thanks so much for hanging out with us today! I hope you found some fun inspiration for your spring decor! Be sure and subscribe so you don't miss a post and follow me on social media! Have a blessed day!
You may also be interested in:
Pin for Later: