Best Way to Paint a Door with Windows
The Best Way to Paint a Door with Windows for the Perfect Finish!
Don't you love a weekend with no plans? We had beautiful weather and with nothing on the schedule, it was the perfect time to get some projects done!
This post contains affiliate link for your shopping convenience. See my disclosure policy here.
Our back door was in need of a fresh coat of paint. I had been neglecting it because I really wasn't excited about having to paint around all of the windows.
Taking the time to tape it off was going to take forever. Half of the time (at least for me) the paint seeps under the tape anyway.
I needed to find the best way to paint a door with windows.
Then I had a thought.
How about a putty knife? I could butt the putty knife up against the window trim and paint it, moving the putty knife down and around each rectangle while painting.
This could work.
Getting Started
Supplies:
Putty knife
Paper towels
Paint
Paintbrush
Painter's tape
Directions:
For this project, I used Valspar's Furniture Paint in Sherwin Williams Perpetual Gray. We've used this same paint on SO many projects throughout our house. You can check it out on our front door, coffee nook, laundry room, guest bathroom, AND our kitchen cabinets.
I also wrote a review of the paint you can check out. I seriously love it. No sanding, no priming, no brush marks, and great coverage. What's not to love?
But back to the project! I purchased a set of three plastic putty knives in varying sizes. It was cheap and this way I was sure to have the perfect size to use on my door.
I used a short angled trim brush to apply the paint. I love this paint brush and you can find the brush on Amazon here.
The stubby handle makes it easy to hold and helps with precision. The angled tip helps with cleaner lines.
I would recommend taping off the door handle with blue painter's tape so you don't risk getting paint on it. We were out of tape so I just made sure to be really careful!
Once you have your supplies in place and your knob taped off you're ready to go!
You'll start by painting the outer part of the door. Start at the top and work your way around.
Once you have the first coat on, grab your putty knife and start working on the window panes.
You want to hold the putty knife against the trim at an angle between the glass and the trim. Then paint the trim, moving the putty knife along the trim as you apply the first coat.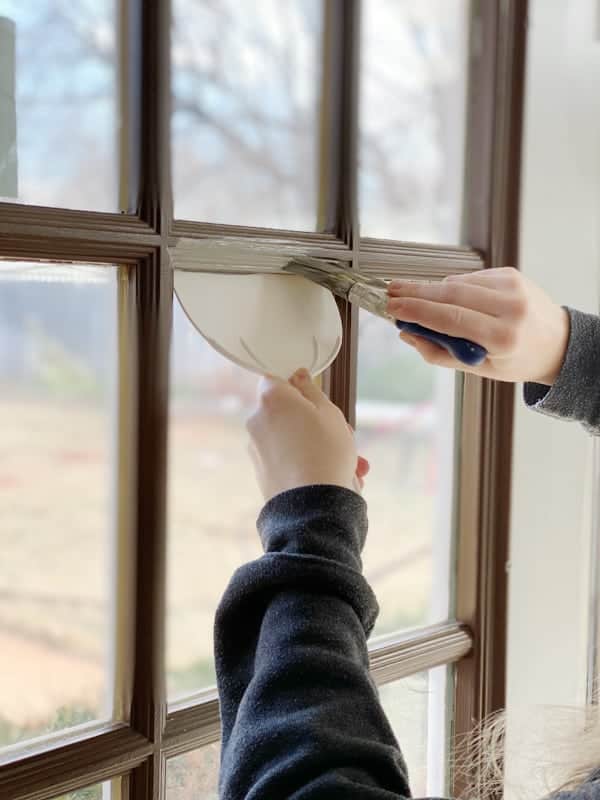 Make sure you keep some paper towels close by to wipe the putty knife clean between panes to ensure clean lines.
Repeat this process until you've painted all of the window panes. Step back and check out your progress (this always helps motivate me for the next part)!
Now you're ready for the second coat!
Start back on the outer part of the door. Depending on the paint you use, you may need to allow some dry time before the second coat. One of the reasons I love Valspar's Furniture Paint is for the quick dry time!
Once the outer part has a second coat, grab your putty knife again for another round on the window panes!
Another reason I love Valspar's Furniture Paint is because of the coverage. You don't need a primer and it typically only takes two coats. That makes for a fast project!
Do I Need to Prime First?
If you're using a different kind of paint you may need to prime before painting. This will depend on how drastic the color change and the condition of the surface.
Are you going from a dark color to a light color? Definitely prime if using regular paint. Is the current surface slick or shiny? You'll also want to prime if using regular paint.
Do I Need a Topcoat?
It's really up to you as to whether you topcoat after you paint your door.
A few things to think about: Is your door in a high traffic area? Will it be used frequently by kiddos who can be hard on a paint job (I love my three offspring dearly, but they are HARD on paint!)
If you answered yes, you may want to consider using a topcoat like Polycrylic in clear satin.
Finishing Up
After you've finished the second coat, take a step back and check for any missed spots. If you decide it needs a third coat, allow for sufficient dry time and then repeat the process again.
Mine was pretty much ready to go after two coats. I just had a few final touch-ups and it was done! I decided to skip the topcoat because so far this paint has held really well in other areas.
Was it Really The Best Way?
The putty knife worked SO well for this project. It made the job go so much quicker and the panes came out clean and crisp with no paint seepage! This really is the best way to paint a door with windows!
I gave the trim around the door a quick touch up with Valspar's Door and Trim Paint (another paint I love and will be sharing a review on soon!) and it looks SO much better now!
I love how this room is coming together. We just have a few things left to finish and I'm looking forward to sharing it with you!
I hope this was helpful! Have questions or comments? I'd love to hear from you below or feel free to shoot me an email!
The Best Way to Paint a Door with Windows for the Perfect Finish!
OTHER RELATED POSTS:
Valspar's Cabinet Enamel Review
RELATED VIDEO:
Paint a Door with Windows with Martha Stewart
Pin for Later: