How to Paint Paneling the Right Way: 6 Steps
Paneling was popular from the 1950s to the 1970s and is still found in many homes today. It's making a comeback in modern-style homes and used in accent walls, on ceilings, and more.
When we moved into our 1970s two-story, there was quite a bit of paneling. It was the outdated ugly paneling common from this era. We could've torn it out and replaced it with sheetrock, but we decided to paint it instead.
Painted paneling, like wainscoting or shiplap, is a great way to add interest and texture to any room. It's also one of the easiest ways to update your home without spending too much money.
If you're considering painting your paneling, you've come to the right place! We're going to cover how to paint paneling including different types and techniques.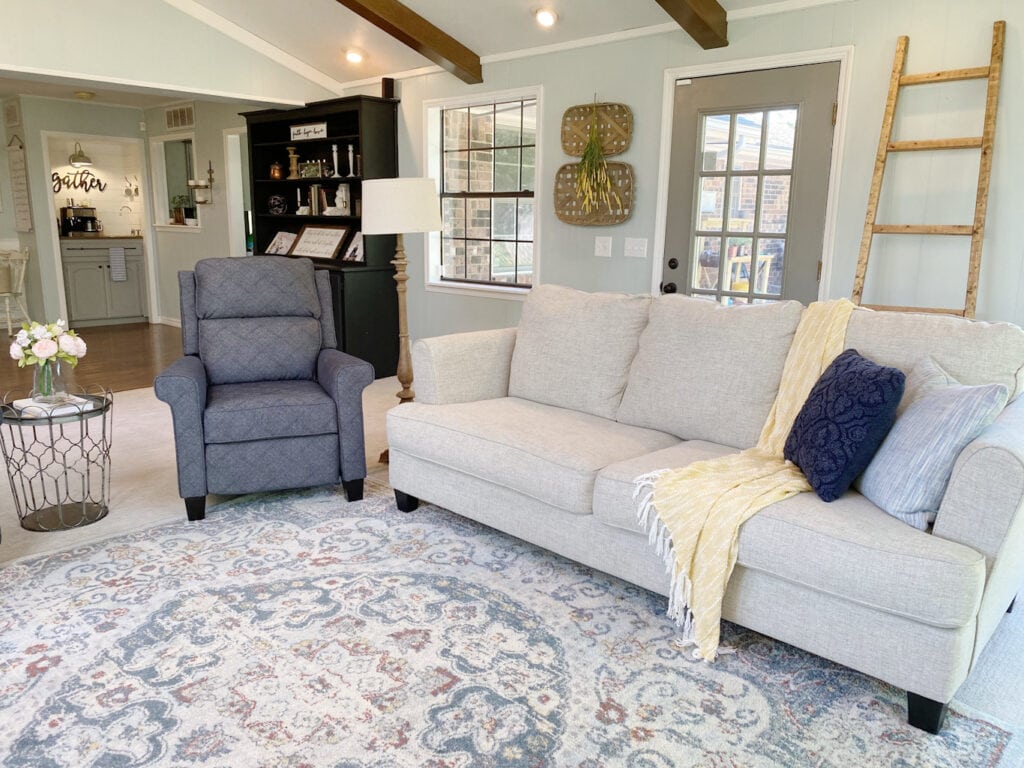 How to paint paneling
Painting paneling is definitely something you can tackle yourself if you have the right tools. You will need the following supplies to get started:
STEP 1: Start by covering your floors with the drop cloth. You'll also want to cover any furniture that's close by.
STEP 2: Use the blue painter's tape and seal off any baseboards or trim pieces so you don't have paint seeping onto them.
There are a few different techniques for how to paint paneling, but I've found that using a roller is the easiest and provides you with the best results. You'll need the trim brush to get into the cracks of the paneling.
STEP 3: You'll want to start with a coat of high-quality primer. This will ensure that your paint sticks and leaves a smooth finish. You can check out why Valspar's High-Hiding Primer is my favorite here.
Using the roller, apply two to three thin coats of primer using an even back-and-forth motion. Let it dry for at least one hour between coats.
STEP 4: Use fine steel wool to lightly sand the primer for a smooth finish. Now you're ready for your paint.
STEP 5: Apply two coats of paint, allowing sufficient drying time between coats. The paint shouldn't be tacky, it needs to be completely dry before adding an additional coat.
STEP 6: Once the paint is dry, you can remove the painter's tape and coverings from the flooring and furniture. You're ready to enjoy your freshly painted paneling!
We've used this process on how to paint paneling in multiple rooms of our home now including our living and dining room with great results! Shiplap is a type of paneling and you can read my post on how to paint shiplap here!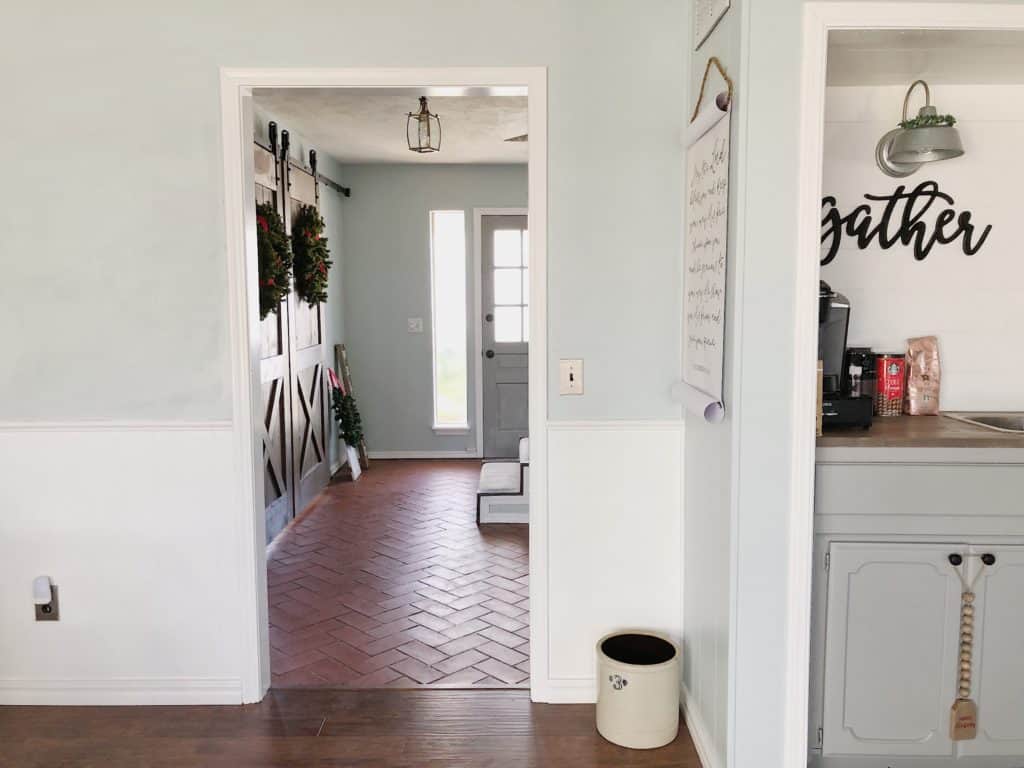 How to paint paneling without sanding
You can paint your paneling without sanding if your paneling has a smooth surface and you use a high-quality primer. Follow the steps above on how to paint paneling.
How to remove paint from paneling
Maybe your paneling has already been painted and you need to remove it. It could've been because the job was done poorly, or you want to strip it down to its original finish for a more natural look.
Whatever the reason, you can remove paint from paneling with one of these two methods: You can use a chemical stripper or heat gun (or blow dryer).
Using a chemical stripper to remove paint from paneling
The first way is by using chemical paint remover like Citristrip. You can buy it online or at home improvement stores like Walmart or Home Depot, but I've found the best price on Amazon for this product.
With any type of stripping method you choose, be sure to wear protective gear including gloves, safety goggles, and a respirator mask when using chemical paint remover because these products can be harmful to you and the environment.
You should also have a ventilated area for this project, preferably outdoors or in an open garage where there's more airflow. If you can't remove your paneling to strip, you'll want to keep windows and doors open to keep air moving through.
Start by covering anything you don't want the chemical stripper to touch. That includes your furniture and floor. Then, use a paint scraper or putty knife to apply the chemical stripper directly onto the paneling.
Follow the instructions on the container for how long to let it sit (no longer). After the product has been applied, the paint will begin to bubble up on the surface. Use a paint scraper to scrape the old paint off of the paneling.
Be sure to reapply as needed because you might need more than one application depending on how thick the previous coat of paint was and how much is left.
Once you've removed most of the paint, use a sander to remove any remaining paint and smooth out the surface of the paneling.
If you're wanting to remove stain from paneling, it's much like removing the stain finish from furniture. Check out my how-to video on removing stain here!
Using a heat gun to remove paint from paneling
Chemical paint removers will break down latex paints but not oil-based ones, so you'll need to use a heat gun or blow dryer for oil-based paint. That brings us to the next option for removing paint from paneling.
The second way of removing the old finish is by using a heat gun (it's basically like an industrial-strength hairdryer). You can pick one up at most hardware stores, home improvement centers, and online.
A heat gun with variable heat settings will give you more control, but if all you have is an on/off switch that's fine. Heat guns and blow dryers work great for removing multiple layers of paint quickly.
Start by putting down a tarp or plastic sheet to protect your floor and furniture before using the heat gun because this process can get messy! Heat the surface of the paneling with the tool until the paint starts bubbling up.
Once the paint has started to bubble up, use a scraper or putty knife to get underneath and start removing it.
Apply more heat if needed before scraping away what you can of the old finish. Then use a sander to remove any remaining paint that didn't come off easily with the scraper.
Now your paneling is ready for a new coat of stain or a fresh coat of paint! Follow the steps above on how to paint paneling for an updated look!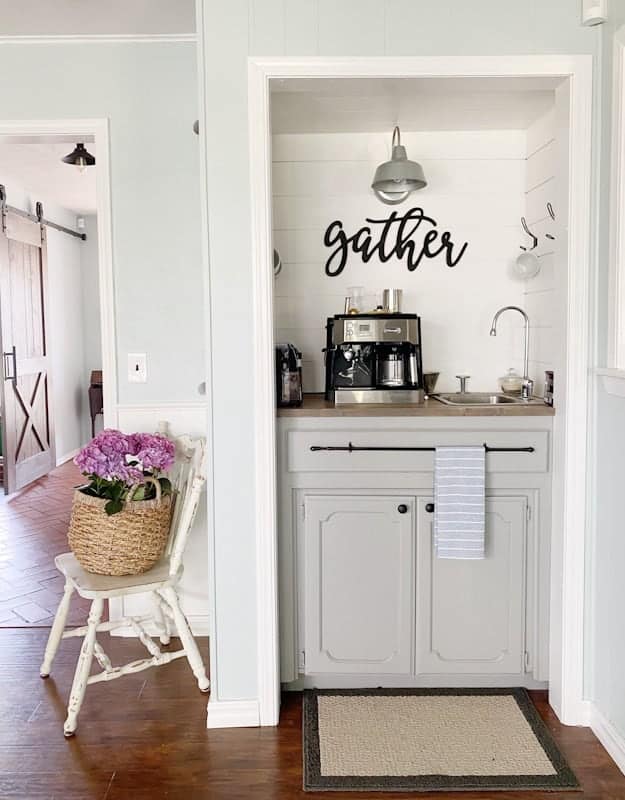 Other how to paint paneling FAQs
How to whitewash paneling with paint
Whitewashing is an easy way to give old or boring paneling a fresh look by refreshing its color.
Whitewash paneling with paint by diluting white paint with water. You can use a formula of one part paint to three parts water.
Use a paintbrush to apply the thin white paint onto your paneling. Allow it to dry completely and, if desired, apply a second and third coat until you're happy with how it looks!
How to paint beadboard paneling
Painting beadboard paneling is much the same as painting any other paneling. You'll need to prime and use high-quality paint.
However, due to beadboard paneling having more grooves, it is easier to use a paint sprayer. You can buy one at most home improvement stores and online.
How to paint knotty pine paneling
Knotty pine paneling is often used in rustic homes, so to make it fit with a modern design you'll need to paint the knotty pine. Knotty pine has a lot of character and detail so painting over it can be tricky. If possible, you'll want to carefully remove all the boards from your walls before starting this project.
Use a screwdriver to remove the finishing nails from your knotty pine paneling. A pry bar will help you get underneath and lift up on bigger panels so that they can be removed with ease.
Once all your knotty pine paneling is removed, you'll need to fill in any holes or cracks that are leftover. Use a sander or sandpaper to smooth out any rough spots along grooves in the wood and around the knots.
Use wood filler and let it dry completely before sanding down the surface again so that it's smooth once more.
Use a primer made for knotty pine paneling as this will help seal those knots from bleeding through your paint color! Next, use high-quality paint to give your knotty paint two to three coats, allowing it to dry completely in between coats.
The final step is to put your knotty pine paneling back up on the walls! You can use finishing nails and wood glue if you want them permanently attached again. Or simply nail them into place so they can be removed again if needed.
How to paint fake wood paneling
Painting fake wood paneling is a great way to easily refresh the look of your walls without having to redo everything. It's an easy and affordable project but it will add so much character!
You can't sand fake wood paneling so you'll need a high-quality primer. Give the paneling two to three thin coats of primer and then use the paint of your choice to finish the job.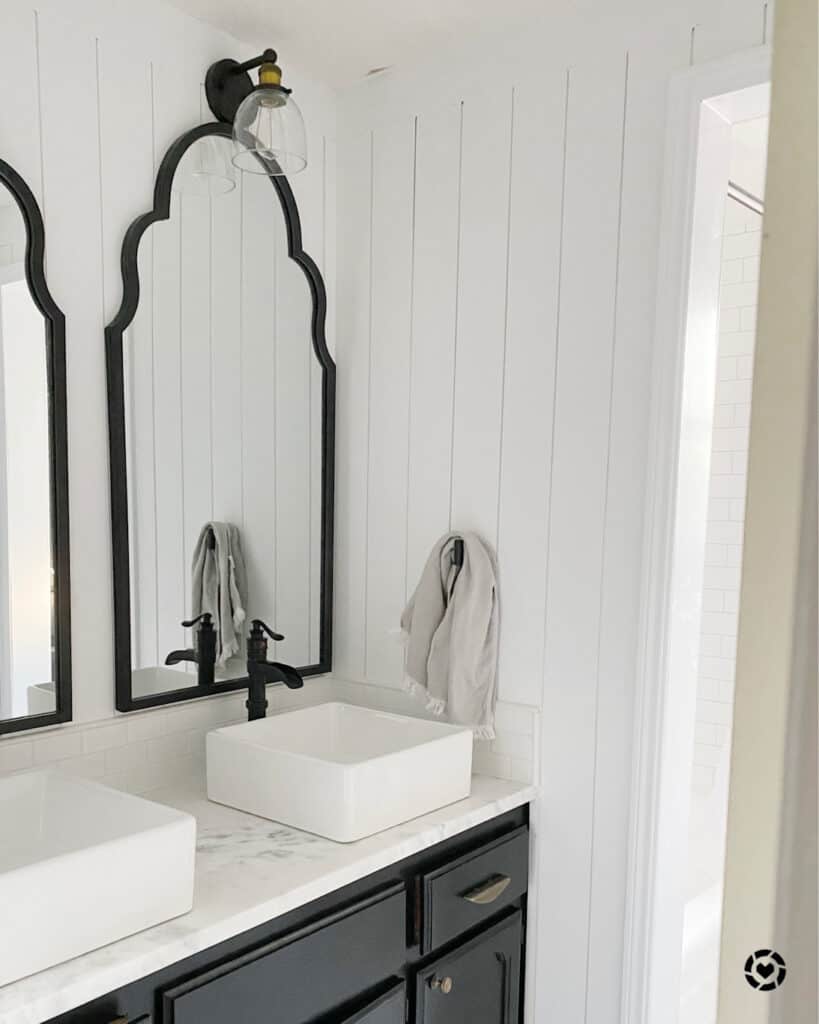 How to paint wood paneling to look distressed
Give your wood paneling a distressed look with paint! Start by mixing your paint color choice with water. You can use a 1:1 ratio for this. Use a brush to apply the paint and allow it to dry. Use sandpaper to distress the paneling to your liking.
How to paint paneling to look like shiplap
If you want your wood paneling to look like shiplap, the best thing to do is to paint it. You can paint wood paneling to look like shiplap by following the steps above on how to paint paneling.
How to paint paneling in a mobile home
Paneling found in a mobile home is most likely made of faux wood. To paint paneling in a mobile home, start by priming first. You don't want to sand it if it's not real wood. Use high-quality paint after priming to finish off the job.
How to paint wood paneling with grooves
Paneling can be tricky to paint if it has deep grooves. You can paint the grooves by using a paintbrush to get into the crevices. An easier option is to use a paint sprayer.
How to paint paneling white
Paneling can be painted white by using two to three thin coats of high-quality primer followed by two to three coats of your favorite white. But you don't have to just use white on paneling! Check out these popular farmhouse colors for paint color options!
How to paint paneling
As you've seen, painting paneling can be done if you have the right tools. Although it comes in different types and styles, sometimes requiring different techniques, it can be painted and given a fresh new look! Follow this tutorial on how to paint paneling for a flawless finish!