Beautiful (and Easy!) Christmas Tree Decorating Ideas for 2023
Decorating your Christmas tree doesn't have to be complicated! Check out these tips on Christmas tree decor ideas you can use on your own tree this holiday season whether you have artificial trees or use a real one!
This post contains affiliate links for your shopping convenience. See my disclosure policy here.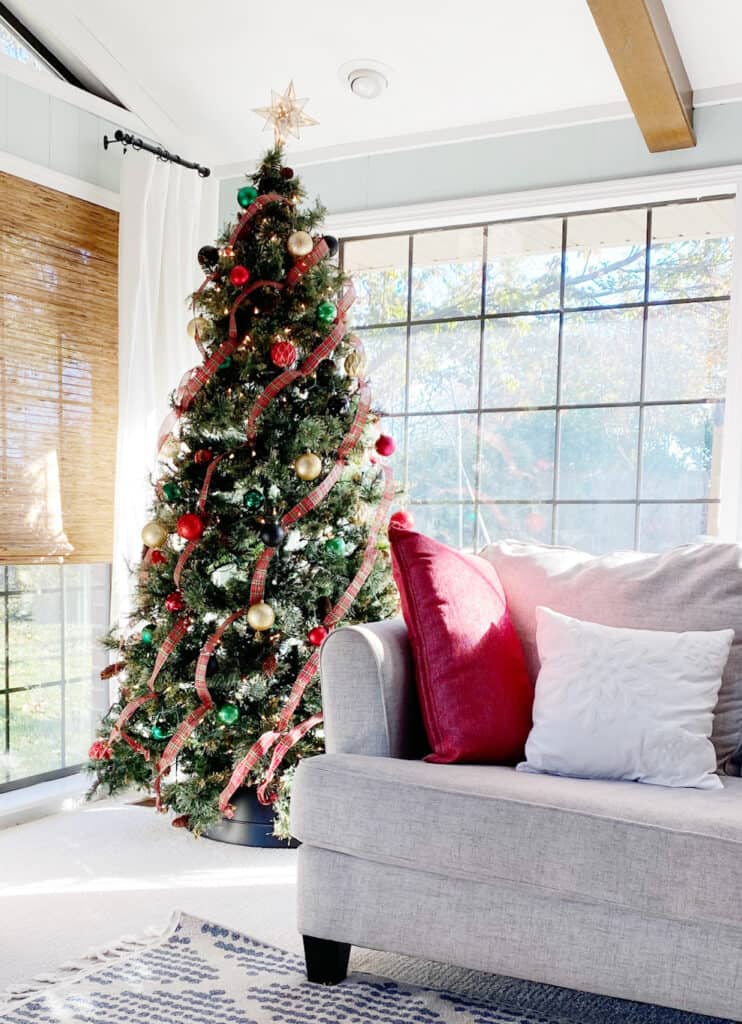 How Do You Decorate a Christmas Tree Properly?
The tree is up and you're ready for the next step. But what steps do you take to properly decorate a Christmas tree?
Christmas Tree Theme
First, you need to decide on a theme or style for your tree. According to Balsam Hill, minimalist, Scandinavian-styled trees are still on trend this year, along with monochromatic.
Maybe you enjoy a more elegant Christmas tree theme with golds and silvers. Or maybe modern farmhouse style with a black tree collar for the base.
Boho is also trending – this year I decorated the tree in our bedroom boho vintage with beaded garland, copper bells, dried oranges, and velvet blue bows!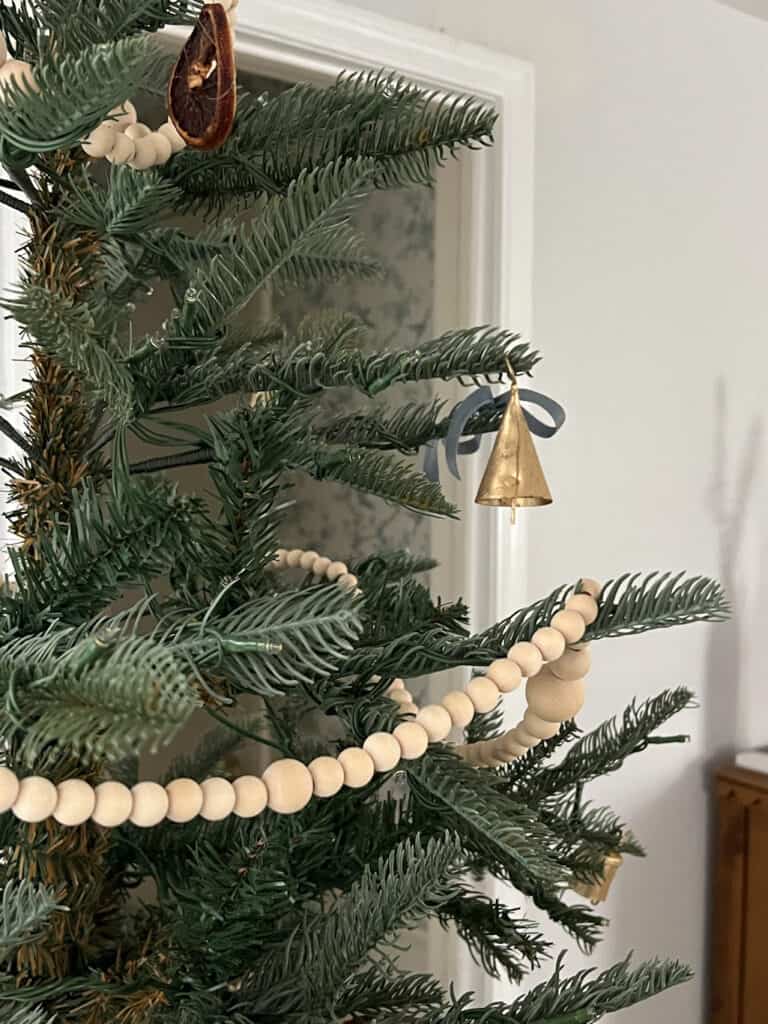 If you want an outdoorsy Christmas tree, wood ornaments with white ornaments looks great with some pine cones scattered in!
Color Scheme
Before you dive into the Christmas tree decor, you need to decide on a color scheme for your tree. You can always go with the traditional red and green looks or try a monochromatic tree for something different!
Here are some color combinations to help get the creative juices flowing:
Red and green with gold, silver, or black accents
Gold and silver
Green, black and copper
Blue and silver or gold
Red and white
Green and gold
White and gold
The color ideas are endless, I suggest scrolling Pinterest or Instagram for some inspiration if you're having trouble deciding!
RELATED: Create a Killer Hot Cocoa Bar
Memory Tree
We have one tree that houses all of our sentimental Christmas heirloom ornaments that our family has collected throughout the years and it pretty much stays the same each year.
I like to weave some solid and plaid ribbons throughout to give it that full tree look. And one year we added a fun vintage ski lift from my hubby's growing up years!
Decide what story you want to tell with your tree, whether fancy or minimalistic, whimsical or rustic, etc.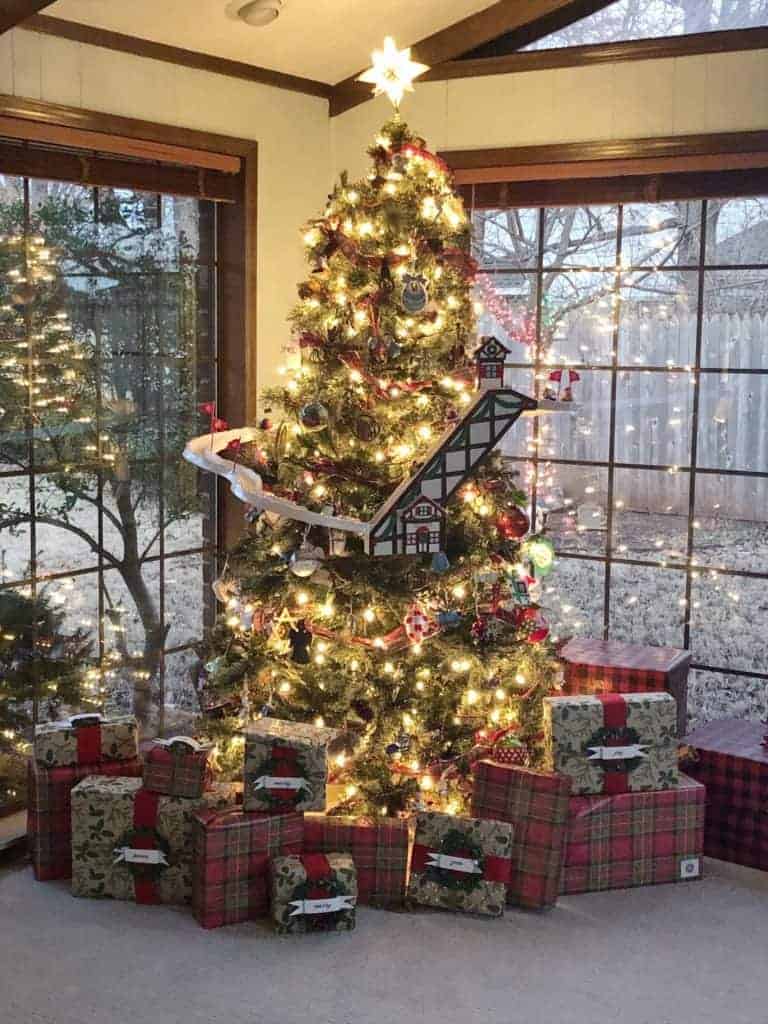 Christmas Tree Decor Ideas
Now that you've decided on your color scheme and tree theme, you're ready for the tree ornaments.
There are many options to choose from as you look to decorate your tree. You can go with a Christmas tree kit that has pre-selected ornaments and holiday decorations in coordinating colors.
Like us, you may already have a collection of sentimental ornaments and you're just needing some fillers like Christmas tree ribbons or bows.
These are a few popular options:
Layering Your Tree
An easy way to decorate your tree is to do it in layers. When I was growing up in the 80s and early 90s, we didn't have the luxury of pre-lit trees so the order looked something like this:
Light strands
Flashy garland
Ornaments
Tinsel
Retro paper towel angel tree topper (anyone else?!)
Those were some rough years for interior decorating across the board!
Base Layer – Garland, Beads, Ribbon
But, planning out your layers is a great way to ensure a cohesive look over your entire tree. If you plan to use garland, beads, or cascading ribbon, I recommend starting there.
I love using ribbon throughout my tree to add interest. Some years I use one color and some years I use two coordinating ribbons. Have fun with it!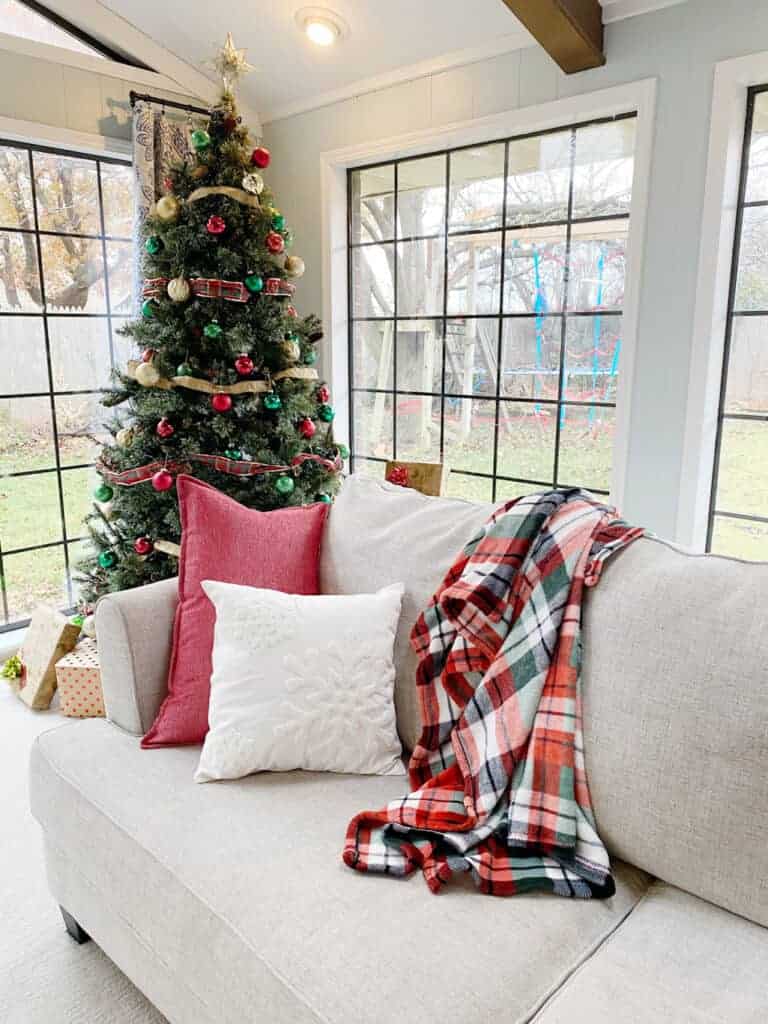 Ornaments
Once you've applied your base layer, you're ready for the Christmas ornaments. I like to use green hooks so they blend in with the tree. Disperse your ornaments evenly around the tree taking into consideration the different colors and sizes to make sure they spread out evenly.
Fillers
Now, if you desire to take your tree to the next level, you're ready for fillers. At this stage you can use floral or berry picks to fill in the bare spaces. Another popular option is to tie bows on the ends of branches.
Tree Skirts and Collars
Get the base of your tree ready for Christmas gifts with a pretty tree skirt that coordinates with your theme. Or a popular option I love right now are tree collars! Here are a few of my faves:
Buy Now

We earn a commission if you make a purchase, at no additional cost to you.
Tree Topper
To finish off the top of the tree you'll need a tree topper. You can go with a large beautiful Christmas bow or the traditional star. Snowflakes and top hats are great options, too!
Or maybe you have a fun holiday tradition that's been passed down like a vintage angel.
I love the simplicity of this beautiful copper star from the Hearth and Hand Magnolia line at Target. I chose it this year for my vintage boho styled King Noble Fir tree from King of Christmas.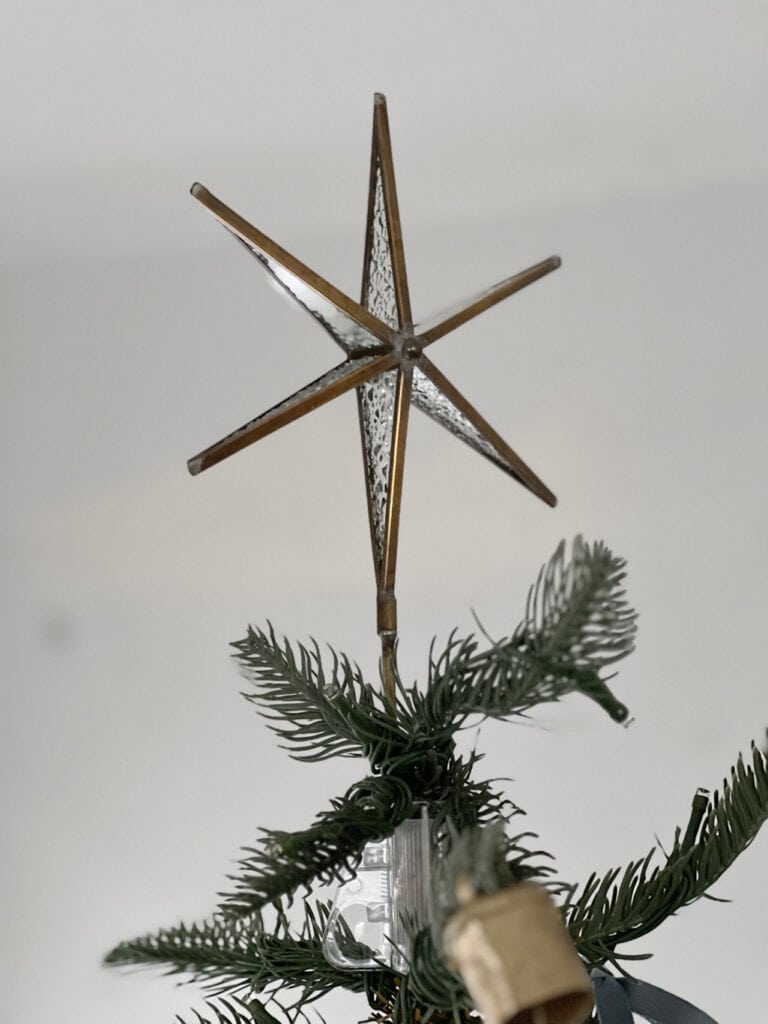 Whatever tree topper you choose to finish off your beautiful Christmas tree, with these tips it's sure to be a show-stopper!
If you're needing a new Christmas tree before you even think about the decorating, keep reading!
The Basics: Artificial or Real?
If you're in the market for a tree this year, check out my King of Christmas review or my picks from Home Depot! Let's talk pros and cons of artificial vs real trees.
Artificial Christmas Trees
Artificial Christmas trees are the go-to for a lot of people for many reasons. They're easy to store, easy to assemble, you can choose the tree size, and so many have natural elements that make them seem more real.
They come in fun colors – you can buy a pink tree, a white tree, a blue tree, and the list goes on! You can find a flocked tree if you like the winter wonderland tree feel and most trees come pre-lit making it a breeze to jump right into decorating.
But not everyone loves a fake tree. Storage space can be an issue. And many people still prefer the look of a real tree.
Real Christmas Trees
For those who prefer the rustic charm of a real tree, local hardware stores have made it a breeze to be able to conveniently find one close to home. You can even have it delivered (delivery surcharges will apply).
Going to a Christmas tree farm is a fun way to get the family in the holiday spirit, too. With some Griswold luck, you may find a light shining down on the perfect real tree for your space!
You can dress up your real tree with an antique tree stand for the base of your tree or use a basket for a farmhouse look.
There are some drawbacks with a real tree, though. The tree branches drop needles that need to be swept up periodically. The trees need to be watered so they don't dry out. And you'll have to dispose of the tree at the end of the season.
Once you've decided what type of tree will work best for you, you're ready for some Christmas tree decor!
RELATED: DIY Wrapping Paper Christmas Banner
Beautiful (and Easy!) Christmas Tree Decor Ideas for 2023
Armed with these tips, you're ready to pick the perfect tree and decorate like a pro!
The Christmas season really is the most wonderful time of the year! Enjoying all of the gorgeous trees is just one small part of what makes it wonderful.
If you're looking for a Christmas project, check out my popular DIY Advent wreath and read about why my family and I celebrate the season!