Boho Christmas Decor Ideas for Your Tree (and Beyond!)
Are you looking for a different way to style your tree this year? Maybe something more natural with a vintage flair? Let's have a discussion about Boho Christmas decor ideas!
Among the glittering lights and traditional ornaments that adorn the holiday season, there's a unique draw to a Boho-style Christmas tree.
It embodies a captivating blend of nostalgia, free-spirited creativity, and a touch of wanderlust (I've always wanted to use that word)!
This post contains affiliate links for your shopping convenience. See my disclosure policy here.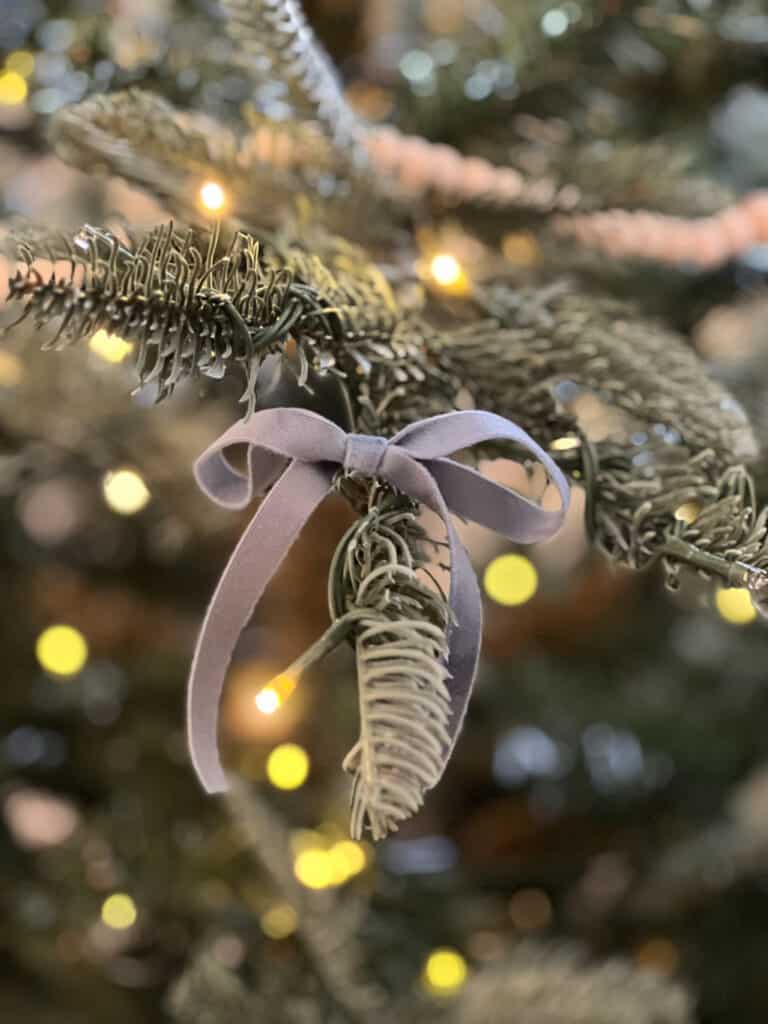 The charm of the Boho Christmas tree lies in its ability to incorporate the traditional concept of the holiday tree with a bohemian twist.
It has an appreciation for the beauty found in simplicity and imperfections.
This style captures the essence of handmade craftsmanship, repurposed elements, and a harmonious fusion of colors, textures, and natural materials.
King of Christmas King Noble Fir
This year, I was given the incredible opportunity to work with King of Christmas again. I love this company and their beautiful high-quality Christmas trees.
I chose the King Noble Fir because I loved the realistic feel and vintage nod to Christmas's past.
I planned for this tree to go in our bedroom which meant I could have some fun with the design because it didn't need to be cohesive with the downstairs decor.
I knew right away that a vintage Boho look was perfect for this tree.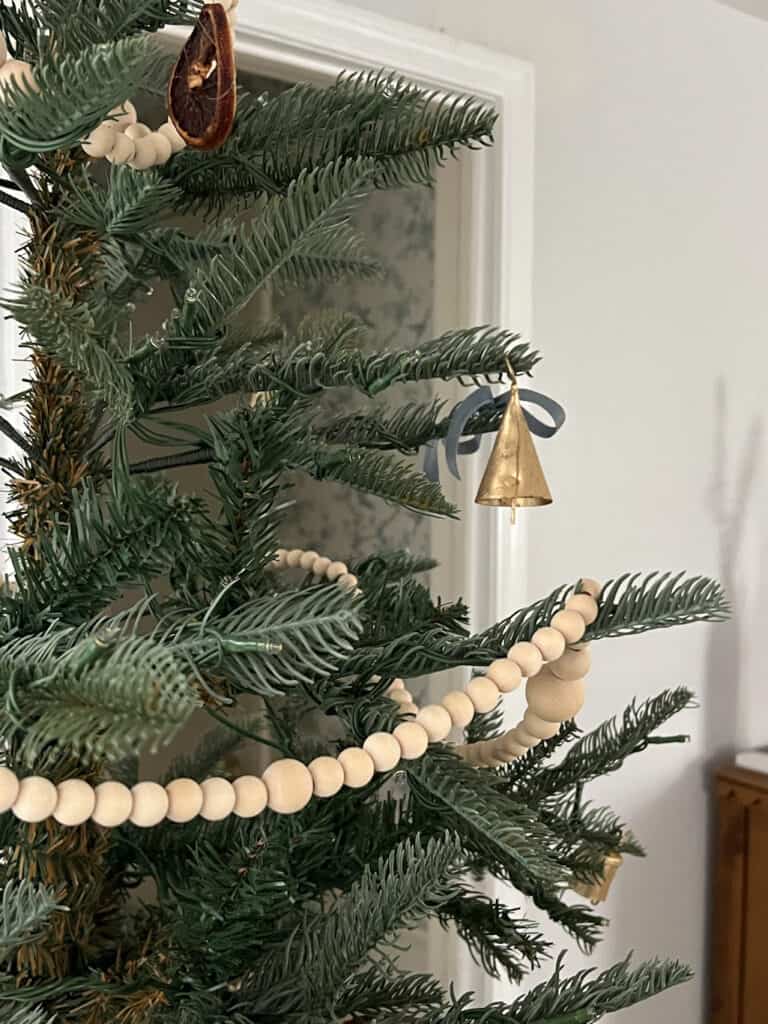 What is a Bohemian Christmas Tree?
Boho-inspired Christmas trees are fun because they bring a free-spirited, eclectic flair to the holiday season. They are known for incorporating natural elements, which is on trend right now!
What sets a Bohemian Christmas tree apart are its features:
Handmade ornaments
Natural materials such as feathers and wood
Woven textiles like macramé
Earth tones mixed with pops of color
Creating a Vintage Boho Christmas Tree
Part of the charm of the Boho style is the nod to vintage elements. These two styles marry to create an ambiance that transports you to a different era.
In order to create this look for my tree I chose a mixture of natural and vintage decor.
Tree Collar
For the base of the tree I chose a woven white washed wood tree collar. The organic texture of the collar gave the tree a simple elegance.
If you were going for more of a Scandinavian style, you could really just stop here and forgo the decorations. This beautiful tree lends itself to a realistic natural beauty and paired with this rattan collar, it's stunning!
Beaded Garland
For garland, I chose a wood beaded rope to drape generously around the tree. Again, this added a natural texture that is characteristic of the Boho style.
My Pick
We earn a commission if you make a purchase, at no additional cost to you.
Vintage Boho Christmas Ornaments
For the ornaments, I kept it really simple. I used dried orange slices strung with fishing line that I made myself. You can find my post on how to make dried orange slices here.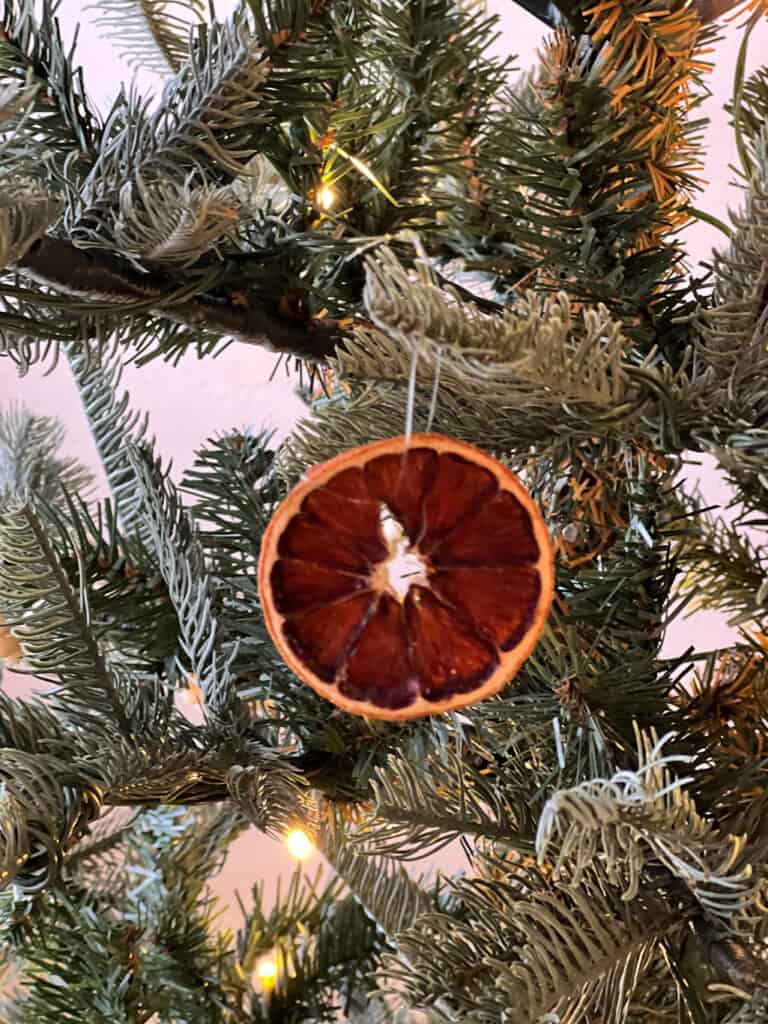 I ordered blue velvet ribbon on a spool and tied simple bows that I placed throughout the tree to add color and a vintage flair.
My Pick
We earn a commission if you make a purchase, at no additional cost to you.
Finally, I purchased rustic gold bells in two different shapes and sprinkled them throughout the tree. I love the little jingle they give off when you brush by the tree!
My Pick
We earn a commission if you make a purchase, at no additional cost to you.
Tree Topper Star
I was stumped on how to finish off the tree until I found myself at Target one day, strolling through the Hearth and Hand section. I spotted this simple, vintage copper tree topper and knew it was exactly what I'd been looking for.
It completely tied together the vintage Boho look I was trying to accomplish with this tree.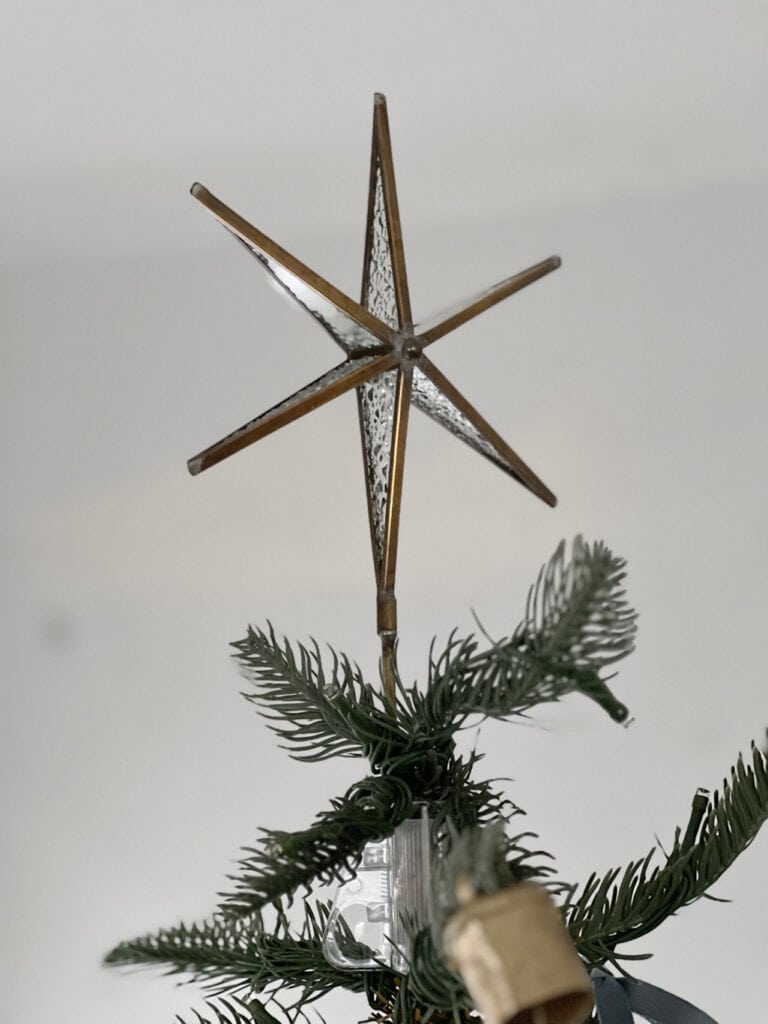 We earn a commission if you make a purchase, at no additional cost to you.
DIY Ideas for Boho Ornaments and Decorations
If you're looking for more Boho Christmas decor ideas, consider making some! Crafting your Boho ornaments adds a personal touch to your holiday decor.
Embrace the joy of DIY by creating macramé ornaments or wall decor using simple knots and cotton cord.
Another delightful addition is handmade dreamcatchers using embroidery hoops, feathers, and beads.
Transform ordinary pinecones into Boho treasures by painting them with metallic hues or tying them with twine and displaying in a bowl or vase for a rustic touch.
Additionally, consider upcycling vintage fabrics into patchwork ornaments or repurposing old jewelry pieces into dazzling tree adornments.
These DIY ventures not only give your tree a unique charm but also evoke a sense of accomplishment and sentimentality as each piece carries its own story!
For more ideas, check out this post from Apartment Therapy!
Rustic Boho Christmas Tree: Natural Elements and Textures
Bringing nature indoors enhances the Bohemian vibe of your Christmas decor. If you're wanting a more rustic Boho look, consider weaving the charm of nature by adorning your tree with dried citrus slices, cinnamon sticks, or slices of wood for a rustic scent and aesthetic.
Integrate woven baskets as tree skirts or use burlap ribbons intertwined with greenery for a textured, earthy look.
Introduce potted plants or succulents around the base of the tree to amplify the organic feel.
The idea is to embrace imperfections, so don't shy away from showcasing raw, unrefined materials like jute, hemp, or even driftwood, creating a cozy, rustic Boho feel.
Boho Christmas Decor Ideas – Wrapping Up
The draw of the vintage Boho Christmas tree is a celebration of imperfections and uniqueness.
It embodies a blend of handcrafted ornaments, natural materials, and a harmonious medley of colors and textures.
I hope this has inspired you to embrace your creativity, infuse your personal style, and reimagine holiday decor beyond convention!
Let this holiday season be a canvas for your imagination. Embrace the joy of crafting traditions that are uniquely yours!