Samplize Peel and Stick Paint Color Samples: Find Your Perfect Color
Samplize peel and stick samples have revolutionized the way paint samples are done. Making what used to seem like a nearly impossible task – that is, choosing the perfect color for you space – a breeze with their super easy-to-use adhesives.
But before we get into more details, let's cover why it's import to use paint samples in the first place.
The Wrong Paint Color – A Common Mistake
Wanting to paint over your existing paint color? There are a lot of factors to consider when choosing a paint color for your home and the choice often isn't easy.
If you're like me, I had to learn the hard way that browsing free paint samples and picking out a color on a small swatch in the paint store doesn't always translate well to the walls in my home.
Too many times I would bring home gallons of paint and roll it on just to find that it didn't look at all like I thought it would.
What looked like beige in the store looked mauve in my living room or what I thought was light blue for my son's nursery pulled purple due to the different lighting. Choosing your favorite paint colors can be a difficult decision.
This post contains affiliate links for your shopping convenience. See my privacy policies here.
Testing Paint Samples
If you've ever hired an interior designer or professional painters you've probably seen the color fans often used to choose paint colors.
This process may work well for them because of the experience they have working with paint colors in different settings, but for those who don't do this every day a small paint chip isn't super helpful.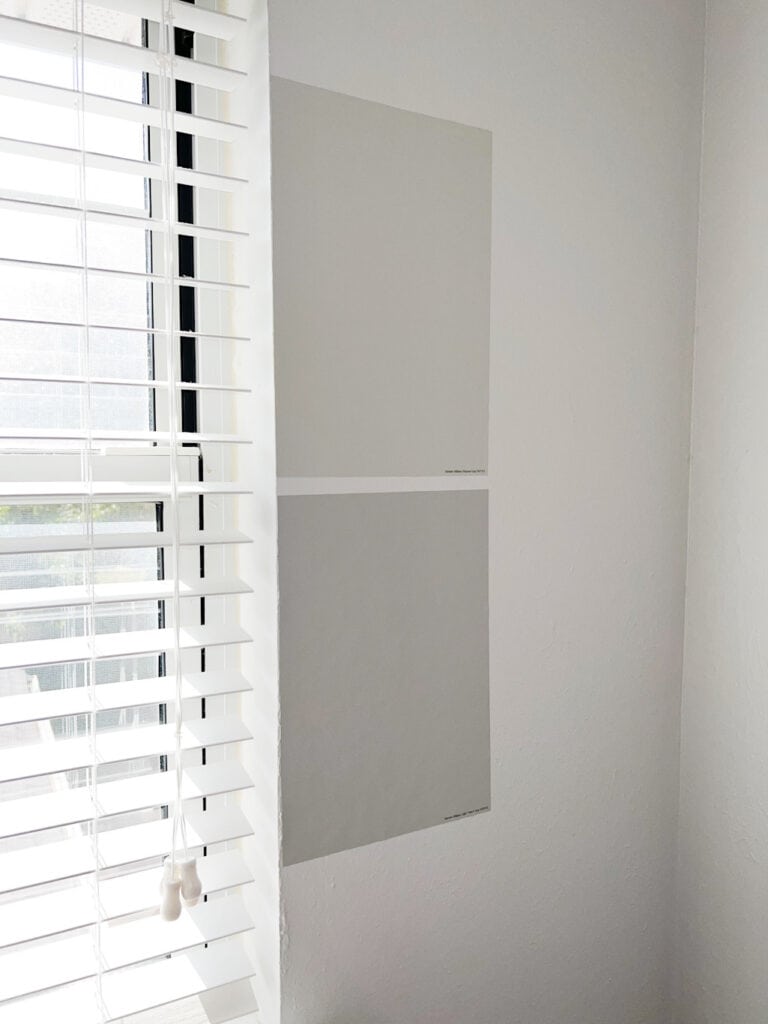 Thankfully, hardware stores like True Value and big box stores like Home Depot began to carry small samples in pots in addition to traditional paint swatches that you can purchase and have mixed in different colors you're considering.
This sample paint allows you to take several options back to your space to try on the wall. You probably know the drill – you grab your paint brush and paint a square on the wall, giving it two coats of paint to get a good sense for what that particular color will look like.
The purpose of this is to test your color choice in different lights – what does it look like in natural light vs artificial light? What does the wall color look like during a particular time of day? Does the color selection look good against your door and trim colors?
If your paint color has any kind of strong undertones, then different types of lighting will cause the paint to look different than the actual color.
So paint samples help give you a good idea of what the actual paint color will look like on your walls without having to paint an entire room. They really are a must if you're going to choose the best paint color for your home.
And while free paint chips are nice because they're well…free, paying a small price to be able to sample a larger area will save you money in the long run.
Samplize Peel and Stick Paint Samples
But as helpful as these paint sample pots are, they can be messy. Plus, if you're wanting to try the color in different rooms, you end up with large paint samples all over your walls unless you're using sample boards.
Cue peel and stick samples!
My first experience with these was with Samplize paint samples. I ordered two different shades of gray to try in our bedroom – Repose Gray and Light French Gray, both by Sherwin Williams. You can check out the video below!
Samplize samples use real paint on sheets of paper that adhere to your wall. They're easily removable so you can try them on different walls in the actual room you're going to be painting.
Their new size offers large samples to help you better envision the true color on your own walls making it easier to pick the perfect paint color.
Samplize | Peel & Stick Real Paint Samples
Hand painted swatches of real paint that adhere to your wall. Easily removable so you can try in different locations. All your selections delivered the next day to your door!
We earn a commission if you make a purchase, at no additional cost to you.
Whether you're looking for exterior paint or interior paints, Samplize carries tons of paint sample colors from the major paint companies like Sherwin Williams, Benjamin Moore Paints, PPG Industries and Farrow and Ball.
Of these paint brands, you can find the most popular colors chosen by buyers which may help you narrow down your choice depending on the shade you're looking for.
On the Samplize website you can search by paint manufacturers, best seller, or color. You can even scan colors around you and they will give you their three most accurate paint color matches! Their color accuracy is spot on!
Once you've landed on the colors you want to try, you can easily add multiple samples to your cart at a time by clicking on the cart image in the right hand corner.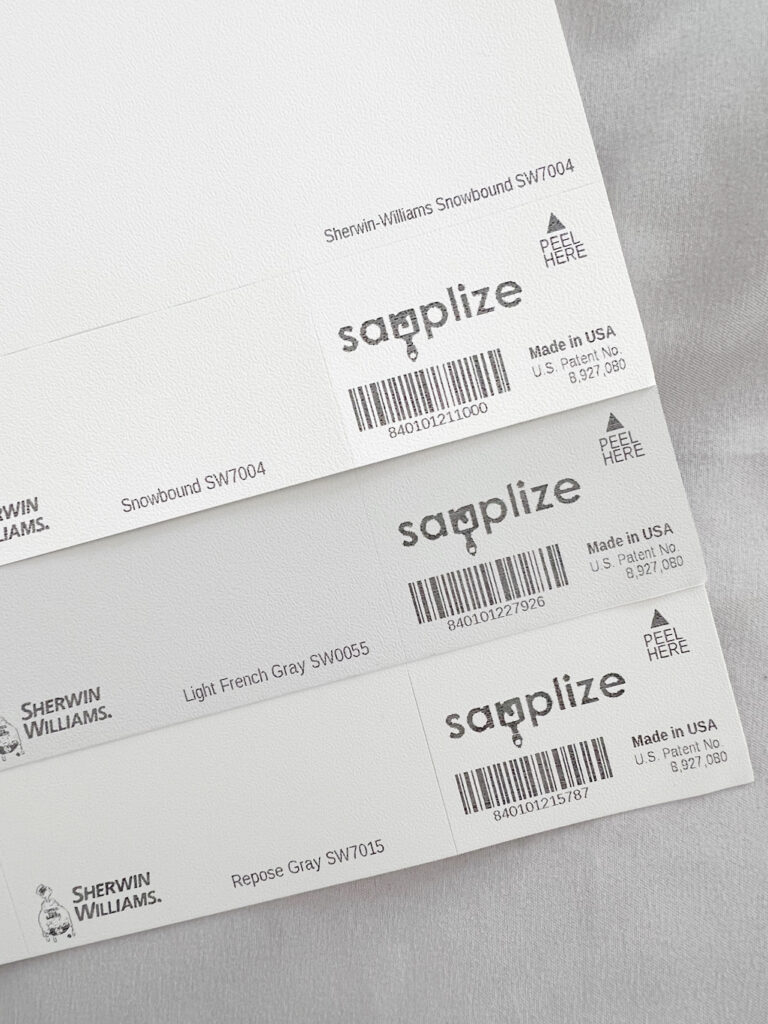 While they don't offer free shipping, it's only $5 AND it's next day delivery. That's right! You order today and get them tomorrow. This means you don't have to put your painting project on hold while waiting days or weeks for your samples to arrive.
When you receive your samples in the mail, I recommend placing them on the wall next to your trim. Look at the sample throughout the day to make sure you like it in all the different lighting. This will help you choose the best fit.
You can even cut the sample into smaller test swatches to use throughout the house if needed.
Samplize FAQs:
Are peel and stick samples accurate?
At Samplize, each swatch is hand-painted with two coats of the real paint for an authentic paint sample.
Who came up with Samplize?
According to their site, Taylor Thomas, Founder and Former CEO, originally came up with hand-painted peel and stick paint samples as a business project in college and through this, Samplize was created.
Are Samplize reusable?
Yes! You can use these samples over and over in different rooms. You can also reattach them to the original backing and save them when choosing colors on a future project.
Where is Samplize located?
You can easily order samples on their website and receive them as soon as the next day.
Samplize Peel and Stick Color Samples: In Conclusion
Using Samplize peel and stick paint swatches will help you avoid common mistakes like choosing the wrong color for your space and will give you peace of mind as you go to paint your walls.
By using Samplize, we were able to easily choose a clear winner for our bedroom!
They're the best way to help you choose a color scheme for your home and they make the process easy and pain-free. Painting your home makes a big difference and Samplize helps you get it right the first time.