Valspar Furniture Paint Review
In this Valspar Furniture Paint Review, I'll go over the claims, where you can use it, and my honest opinion on the product!
We have been busy updating our 1970s home that had hardly been touched in the way of updates since it was built. More on that in an upcoming post, but today I'd like to tell you about Valspar Furniture Paint!
This post contains affiliate links for your convenience. See my disclosure policy here.
We've done a lot of painting throughout the last several years of owning older homes and fixing them up. We've tried all different brands of paint during that time. We used Valspar for the living and dining room in our previous home and it's just really great paint.
Valspar's Specialty Paints
I particularly love their specialty paints. One of my first experiences using their specialty paints was when we refinished our son's mid-century modern dresser.
RELATED POSTS:
Valspar Cabinet Enamel Paint Review
Valspar Door and Trim Enamel Review + How to Paint Trim Like a Pro!

We purchased black matte paint from their Project Perfect line and we were SO impressed. The coverage was amazing. We painted the body of the dresser black and stained the drawers.
We also used it to paint the built-in hutch in our new home. You can read more about our hutch here.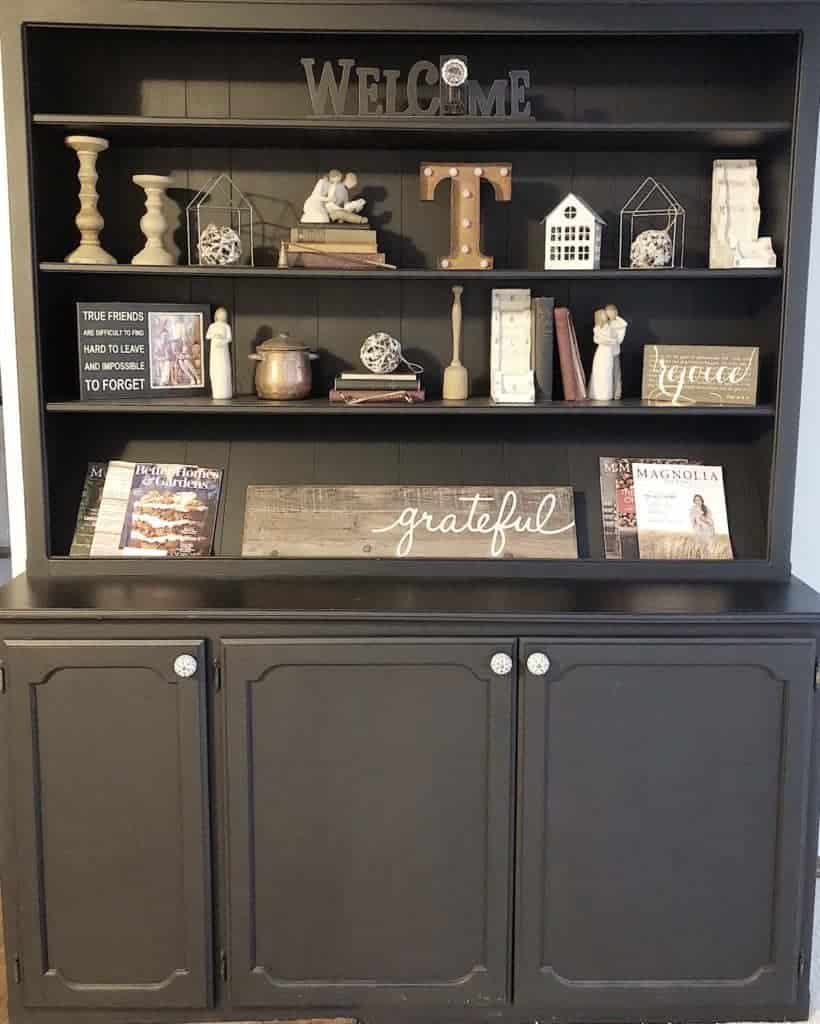 Unfortunately, when I went to purchase it for another project I was told it had been discontinued. The gal at Lowe's told me to try Krylon's version because it was supposed to be just as good if not better. It wasn't. Not even close.
On a later trip to Lowe's we were purchasing supplies for a new project when I came across Valspar's Furniture Paint. It was more pricey than the Project Perfect line had been but I decided it was worth a shot. I was not disappointed!
Paint Color Tip
I had Perpetual Gray picked out from the Sherwin Williams line and asked if they could mix it for me. If you haven't heard of this little juicy tip, I'll share my knowledge! Most home improvement stores have the codes for the colors from all the well-known paint lines.
So if you have a Sherwin Williams color picked out, but don't want to pay the SW price, you can go to a Home Depot or Lowe's and pick out your paint and ask them to use the code for the SW color.
I really like Glidden's line and it's a third of the cost of Valspar and Sherwin Williams. So for example, on our trim paint, I purchased semi-gloss Glidden but had them mix in Ultra White from Behr.
Getting Started with Valspar Furniture Paint
Back to the Valspar Furniture Paint. I had them mix in Perpetual Gray and brought it home to give our coffee bar cabinets a makeover. You can read about the coffee bar makeover here.
Wow. AMAZING!
I painted on the first coat and it dried so quickly I was able to start back at the beginning with the second coat almost right away. That's my kind of paint right there!
Two coats – that's all it took! I was painting over a dark wood stain and two coats was all it took. No sanding or priming and NO BRUSH MARKS!! It dried to a beautiful satin finish and I'm so pleased with how they turned out.
We have since used the same paint on our front door makeover and in our laundry room and downstairs bath remodels that I'll be sharing with you next week.
UPDATE: Check out our laundry room makeover here and our guest bath remodel here!
We plan on using it for our kitchen cabinets someday in the faraway future!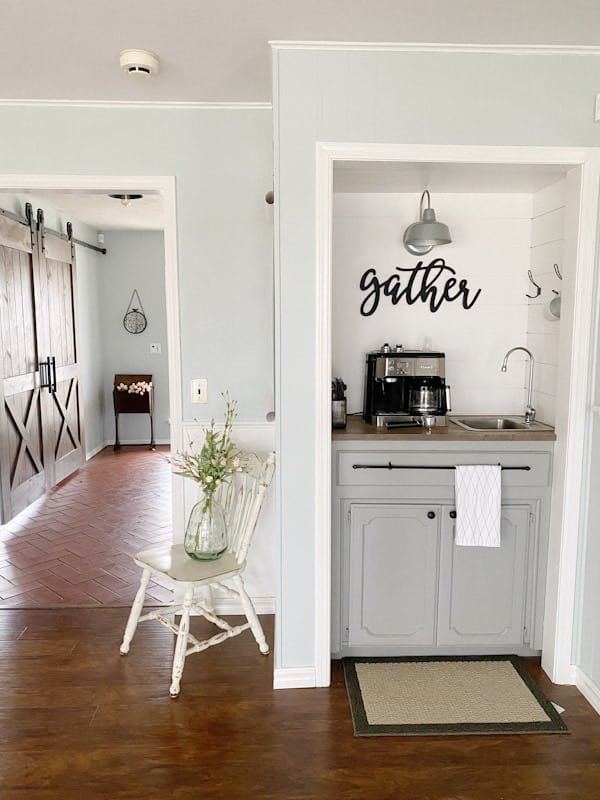 A Little Goes a Long Way
Here's another amazing thing. I'm still using that first can of paint I bought. I've painted our coffee bar, front door, laundry room cabinets and bathroom vanity with that one can of paint and there's still a little left. It lasts forever! It was definitely worth the $25 price tag!
I purchased another can in white to paint the shiplap in our coffee nook and also used it to touch up our fireplace brick and built-ins.
We used it in our laundry room, as well, on the pantry doors and will share pictures of that soon. I did have to do three coats with it on the pantry doors. In my experience, you always have to do more coats when using white. But they turned out beautiful and I can't wait to share that whole project with you next week!
Valspar Furniture Paint REVIEW: Conclusion
So whether you're painting cabinets or refinishing a piece of furniture, I highly recommend Valspar Furniture Paint. I promise you won't be disappointed! I hope this line is here to stay!
UPDATE: I just used the paint on this beautiful antique hutch and you can check it out here!
Thanks for stopping by! I'd love to hear your thoughts if you've tried this line! Have an amazing weekend!
Pin for later: