Beddy's Zipper Bedding Review: Worth it?
Every mom who has asked their kid to make their bed knows what a battle it can be. From struggling to keep the sheets on the bed to straightening the comforter when the bed is up against the wall, it's a huge pain – especially for littles.
Throw in bunk beds? Forget about it! For this reason, I couldn't wait to try Beddy's and see if it lived up to the hype.
This post contains affiliate links which means if you make a purchase, I make a small commission at no extra cost to you. See my disclosure policy here.
What is Beddy's Zipper Bedding?
You probably have, but just in case, if you haven't heard of Beddy's zipper bedding let me explain.
It's an all-in-one bedding set that fits over your mattress like a traditional fitted sheet. With a built in top sheet, bottom sheet, and top comforter, it replaces your entire set. It comes with a minky fabric underside for added warmth with a cooler cotton option for warm sleepers.
Beddy's bedding zips up all the way around starting at the foot of the bed and up the sides. This makes it easy for kids to have a perfectly made bed!
The set also comes with a matching pillow case and pillow sham and they offer coordinating throw pillows and blankets for extra layers to complete the look!
Our Pick
We earn a commission if you make a purchase, at no additional cost to you.
Beddy's Set: A Lifesaver for Bunk Beds
I decided to jump on the Beddy's bandwagon a couple of years ago. My oldest and youngest had shared a room but they were ready for their separate spaces with their own beds.
The bunks stayed in my youngest's room and this boy mom was tired of battling with my 8 year old over his messy bunk beds.
I had seen Beddy's all over Instagram and thought it looked like the perfect solution. My only hang up was the price tag. It's definitely an investment, especially when you think about how kids treat things.
After a chat about not coloring with markers or eating the snacks or drinking the drinks while in his bed (anyone?) we decided to take the plunge.
Since his room has a modern farmhouse vibe, I opted for the "Dakota" black and white checkered set. I purchased a full size for his bottom bunk and a twin size for his top bunk.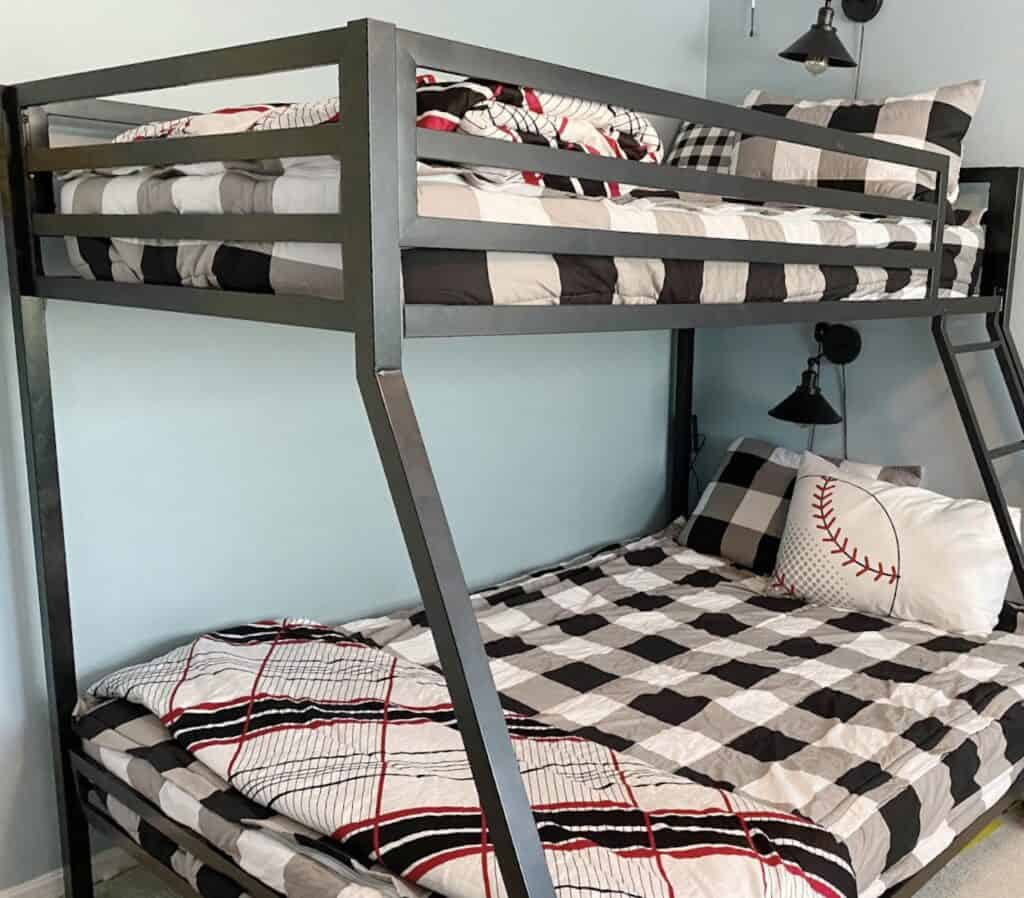 Right from the start I was sold.
It was SO easy to fit the set over the entire bed. Zipping up the minky blanket was A BREEZE. My son loved that he has the option to keep it zipped up for a sleeping bag feel or unzipped when he wants more freedom.
It was especially nice for that hard-to-reach top bunk. Having the all in one bedding slip easily onto the mattress was so nice! Now we don't have the weird situation where the bedding hangs down through the slats.
Another plus is a smoother morning routine. Out of his household chores, making his bed has become his favorite!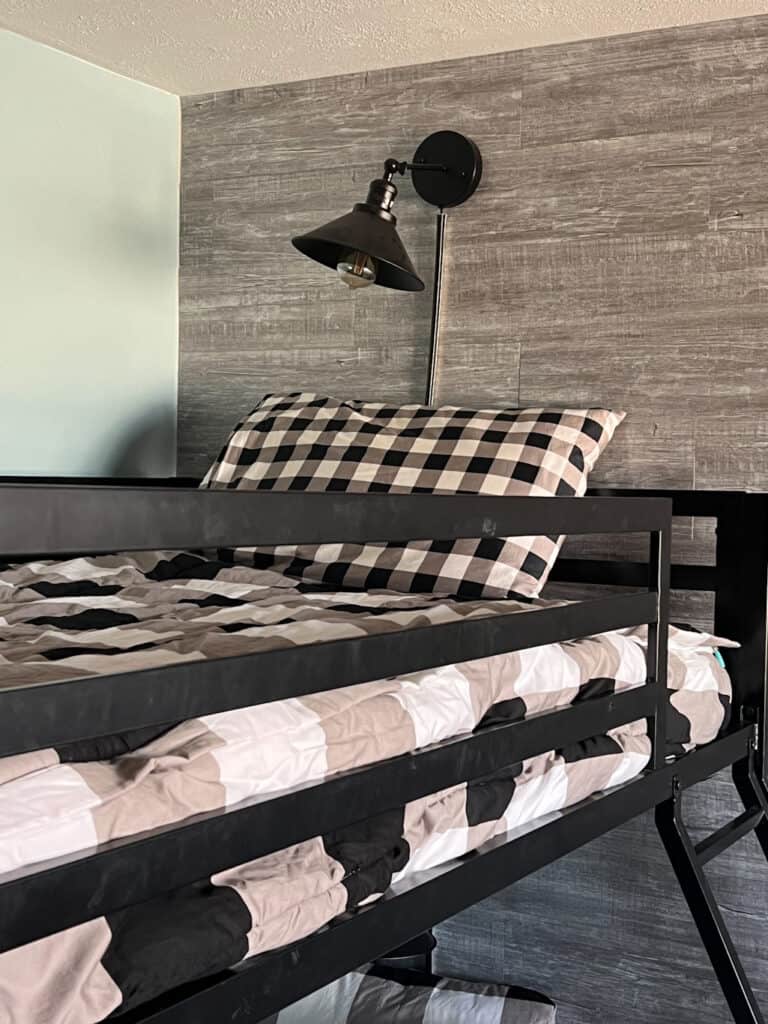 How do You Wash Beddy's?
When you first receive your Beddy's, you'll want to wash it before putting it on the bed. They give very specific instructions for washing and I highly recommend reading through them!
They recommend adding vinegar to the washing machine for the first time so that the colors don't run together. This is where I messed up.
We had ordered the coordinating baseball pillow cases and black, white, and red striped throw blanket to go with the Beddy's beds. I washed them in cold per the directions, but didn't read close enough to see I was supposed to also add the vinegar.
Disaster. I pulled the blanket from the wash to find the red had run onto the white, turning it pink.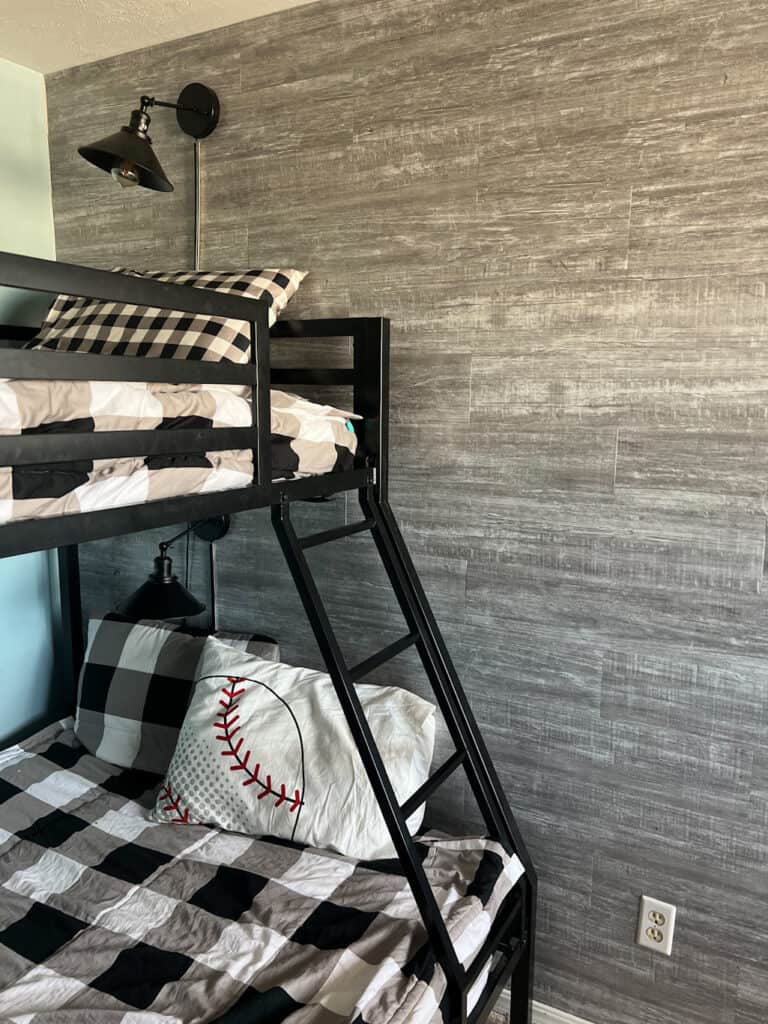 I contacted their customer service team and they were fantastic. Even though it was totally my fault, they were so kind to give me the option of replacing the throw or refunding my money. They made the whole process pain-free. In the end I opted to have them send me another blanket.
Needless to say, I followed the directions the second time around and the new blanket turned out great.
When washing the bedding set, remove the top comforter from the base and wash them separately in cold water with a little bit of regular detergent. Tumble dry low or hang dry.
Beddy's in Other Spaces
We've already established that Beddy's is a game changer for kids' rooms. But what about in other spaces?
Since they go all the way up to King size, a Beddy's set is a great option for your master bedroom or guest room. They're perfect for Murphy beds, easily hiding away when you fold up the bed.
They also come in toddler bedding sets so you can use them in a nursery.
Fifth wheels anyone? Beddy's bedding even comes in a size for your RV mattress!
Use them in place of traditional bedding for:
Dorm rooms
Day beds
Boy rooms
Cabins
Beddy's for Older Kids
After having Beddy's in my youngest's room for a couple of years, we knew this was a high quality material product.
So when it was time to give my daughter a room fit for a teenager, we decided to sell her regular bedding and invest once again in a Beddy's set.
This time we chose the Alyssa Luxe, a peachy blush set, with the minky lining. The contrast against her dark green accent wall is beautiful and she was so happy with the bedding!
Now her friends want Beddy's for their rooms, too, so I'd say it passes the "cool" test!
How is it Holding Up?
It's been over two years for my son's bedding and about six months for my daughter's and I can say it was worth the investment.
The bedding still looks great, no rips or tears, etc. It's held up to multiple sleepovers and pillow fights and I can honestly say I highly recommend this bedding!
Where Can I Buy Beddy's?
You can purchase a Beddy's zipper bedding set straight from Beddy's website. They're introducing new sets all the time and even offer beautiful duvet covers now!
A lot of times they'll run sales around holidays where they offer an exclusive discount or coupon code.
As mentioned, they also carry coordinating bundles with throw blankets and pillows to complete your set.
They also offer fabric samples! If you're not sure whether the bedding is the look you're going for, you can request a fabric sample and they'll mail it to your home.
You can purchase some select Beddy's bedding on Amazon, often times for less than on their website.
Beddy's FAQs
Is it hard to wash Beddy's?
Not at all! Just throw it in your washing machine and wash on the cold cycle with regular detergent and tumble dry low or line dry!
How often do you wash Beddy's?
They recommend that you don't wash your Beddy's more than once a week to preserve the life of the product.
Who owns Beddy's?
Betsy Mikesell started this as a small business and grew it to what it is today.
Is Beddy's minky too hot?
If you (or your kids) tend to be warm sleepers, you may find the minky to get hot in the middle of the night. That's why they offer the alternative cooler cotton option!
Does Beddy's have a sheet?
Yes, the sheet is built in with the all-in-one bedding.