Best Spray Paint for Furniture – How to get a Flawless Look
You CAN get a flawless finish using spray paint!
Let's talk the best spray paint for furniture. Before chalk paint, milk paint, and all the other specialty paints came on the market, there weren't a whole lot of options for painting a piece of furniture.
But spray painting furniture can be tricky. It tends to leave streaks and can chip off. After a lot of trial and error, I came up with a four-step process for a flawless finish that I can't wait to share with you!
Disclaimer: The images I'm sharing with you today aren't the best because at the time I wasn't really focused on stellar pics. My apologies!
Backstory
But first, some backstory! I'm taking you back in time a little over eight years ago, or so. Our daughter was a year old and she needed some bedroom furniture.
We didn't have a lot of money so we knew we'd be buying something second hand. We found an adorable French Provincial set at a garage sale, but it needed some work. I had attempted a dresser redo once before for my son but it did not turn out great.
I was skeptical about my skills but decided to give it another shot.
RELATED POSTS:
How to Paint with Chalk Paint
Valspar Furniture Paint Review
This post may contain affiliate links. See my disclosure policy here.
Painting with Spray Paint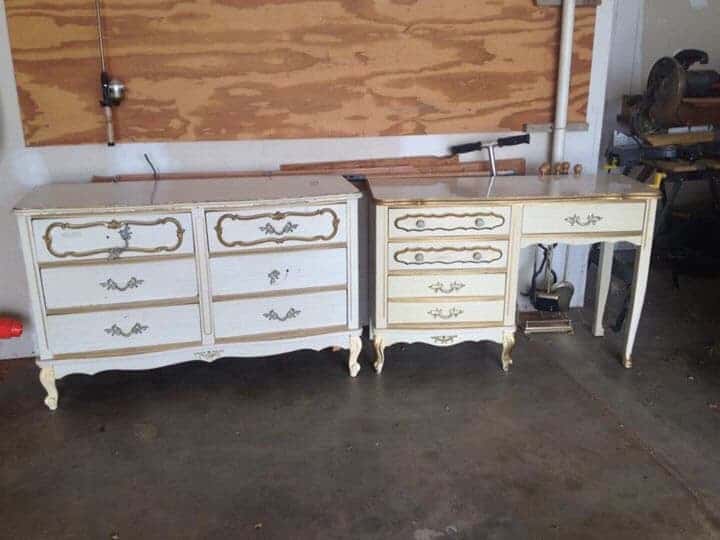 We purchased the set which included a dresser, desk, and two side tables and took it home.
We lived in a small town in western Kansas at the time and I'd never even heard of chalk paint or milk paint or any kind of special furniture paint and even if I had it wasn't readily available where we lived.
I decided to spray paint the set. And just to clarify, I'm talking about latex spray paint. I chose Rustoleum's Antique White for the furniture and also purchased Rustoleum's Oil-Rubbed Bronze to spray the pulls.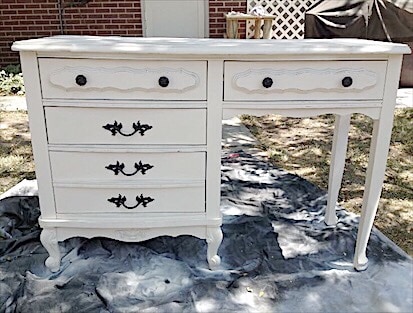 I loved how they turned out. I was so pleased with how pretty they looked and received tons of compliments when people would see them in her room.
Spray painting furniture was so much fun and I decided to keep going. People asked me to redo their furniture and I wanted to do a quality job on their pieces.
Even though I loved my daughter's furniture, it still showed the streaks you get from spray painting. I began to experiment with the process to get even, streak-free coverage with a durable finish.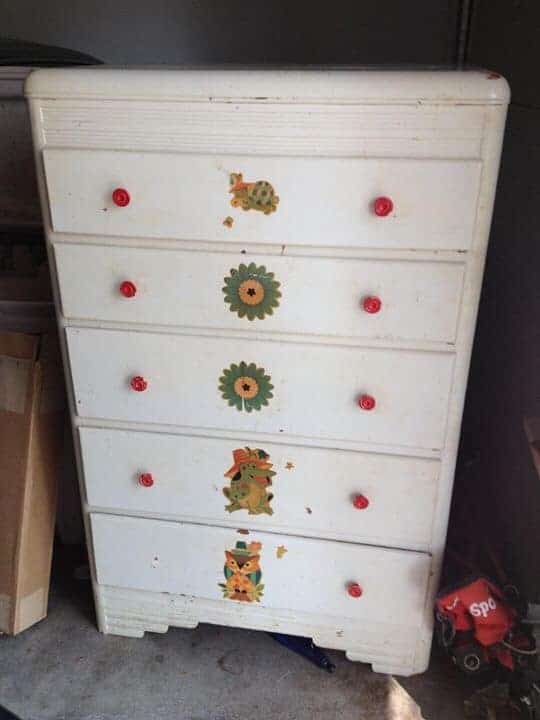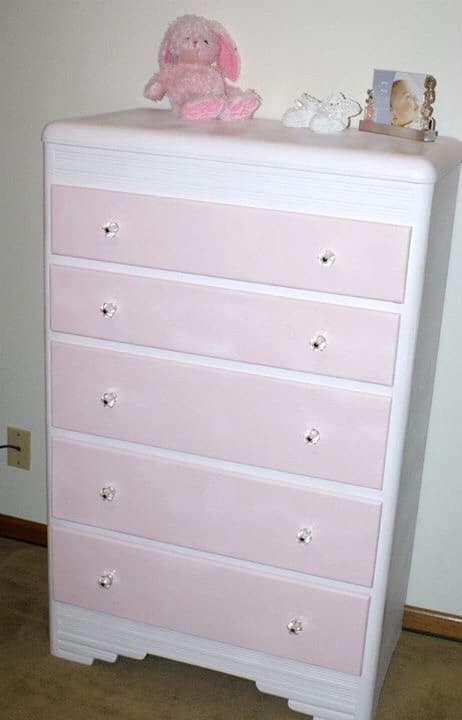 Four steps to a beautiful finish When Spray Painting Furniture
This is the process I came up with and it served me well – my customers were always very happy with the finish! I hope these tips for spraying painting furniture are helpful to you, as well!
Spray the piece with primer first. You don't want to skip this. It gives the color coat something to stick to, especially if your piece isn't solid wood and can't be sanded down, plus it keeps the finish from peeling.
Next, take fine-grit sandpaper and lightly sand over the primed piece to make sure it's nice and smooth.
Now you're ready for the next coat. Take the can and spray in nice even strokes until completely covered. This gives it uniform coverage and prevents drips. Allow the piece to dry completely.
Once your piece is completely dry (wait several hours or overnight), you're ready for your topcoat. I tried SO MANY different topcoats and finally landed on Polycrylic. I brushed it on with a high-quality brush – Purdy and Wooster are great. If there were any streaks on the furniture, the top coat took care of them while providing great protection.
So that's it! Just four easy steps to a beautiful finish using spray paint. You really can get a flawless finish and as you can tell from the pictures, you can still distress it or add other finishes to it for a unique look.
I've added stencils or textured wallpaper to drawer fronts, changed out the hardware, and more to add personality!
Another thing I always loved about spray paint was that it dried so fast. I could get several pieces done in a relatively short amount of time!
Spray Painted Furniture
Here are some examples of other pieces I finished for customers.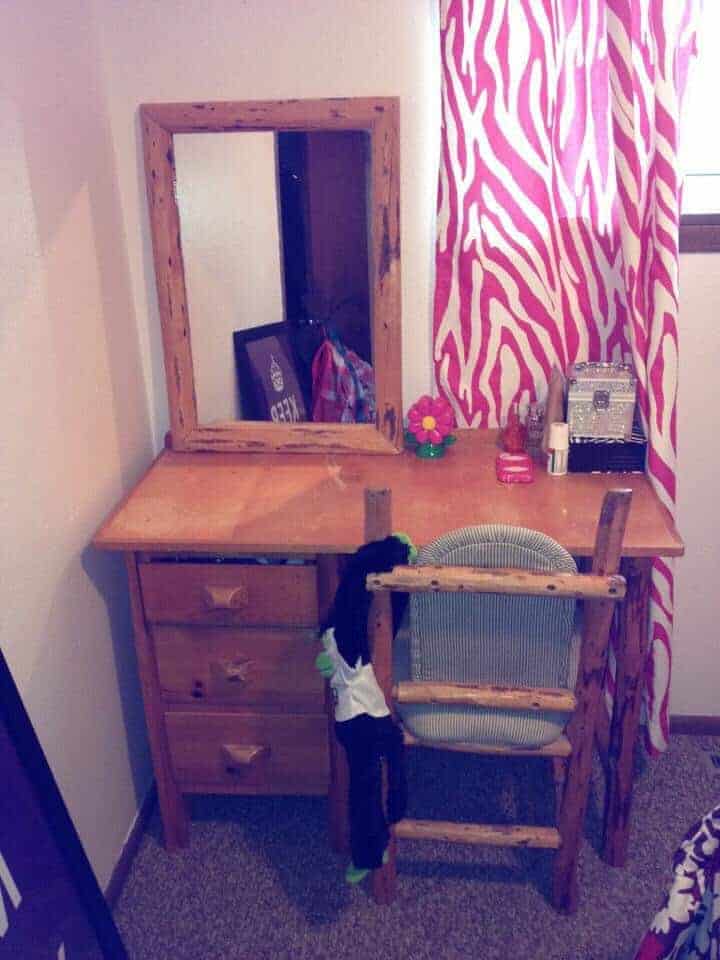 Before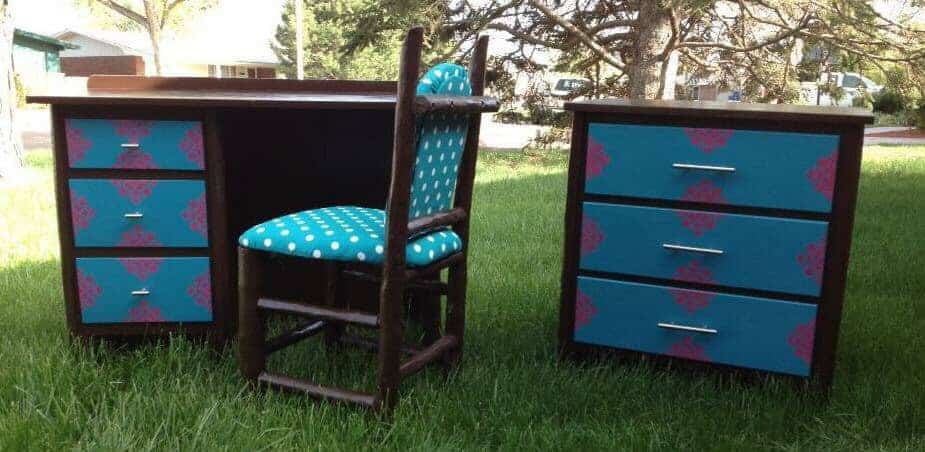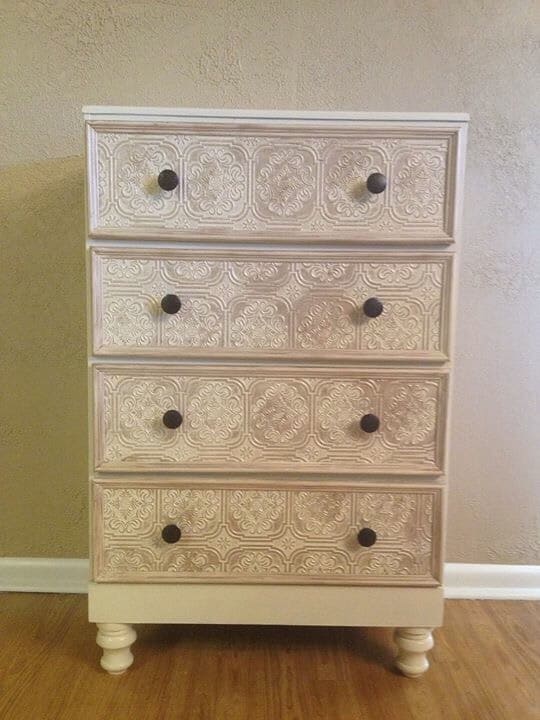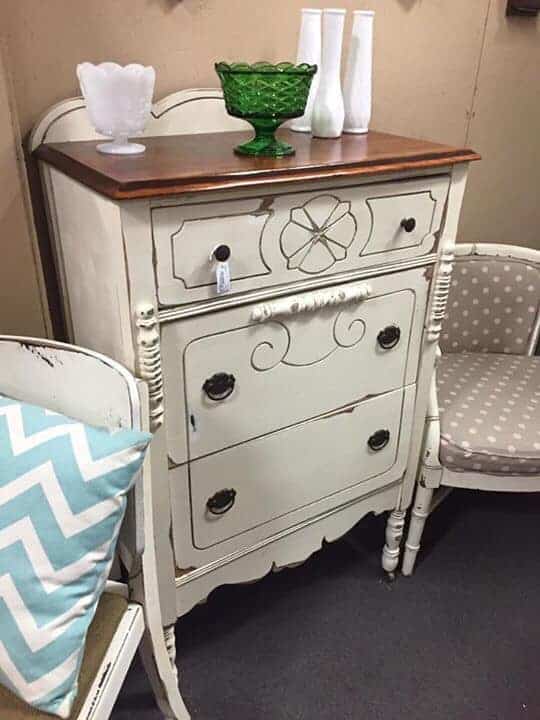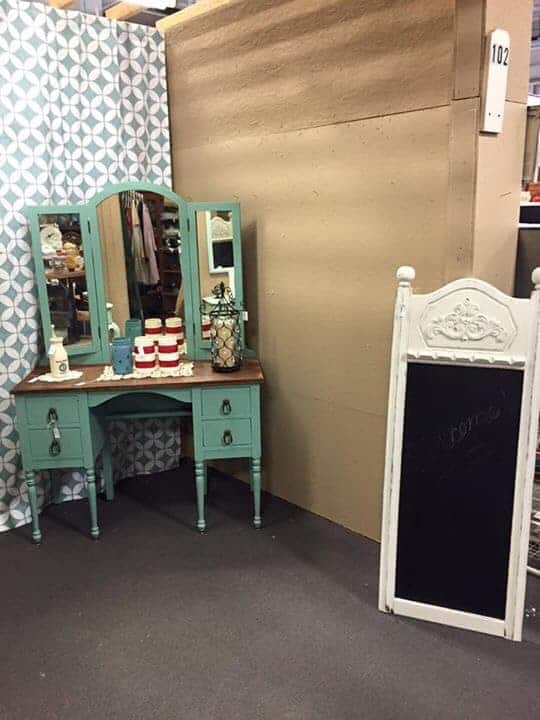 That adorable teal vanity in the corner was done with spray paint!
What about you? Have you used spray paint or do you prefer chalk paint, milk paint, or other specialized paint?
Are you new to painting furniture? Let me know in the comments!
You CAN get a flawless finish using spray paint!
RELATED POST: 10 Tips to Successful Spray Painting by The Shabby Creek Cottage
Pin for Later: