Valspar Cabinet Enamel Paint Review
Is Valspar Cabinet Enamel Paint all it claims to be?
After using this paint in our bathroom, I want to share my thoughts on Valspar Cabinet Enamel Paint in case it can help you in your home projects!
This post contains affiliate links for your convenience. See my disclosure policy here.
Paint: A Budget-Friendly Upgrade
I am always trying out new kinds of paint. I guess I'm curious to see if it can do all they claim it can. And if there's a paint that requires fewer coats or leaves a smooth finish, I'm in!
Unless, of course, it's chalk or milk paint where you're going for brush strokes and chippiness. You can read about my tutorial on chalk paint here.
RELATED: How to Paint Your Kitchen Cabinets (the Right Way!)
When we bought our 1970s fixer-upper, it had been largely untouched since it was built. They had done a little painting, but had painted over wallpaper and didn't do it the right way so you could still see the seams and it was bubbled up in places.
They had replaced the flooring and a few other odds and ends, but for the most part, it had been neglected.
It always amazes me what a coat of paint can do for the look of a space. It's probably the most budget-friendly upgrade you can make to your space. We're on our fourth home now and we've done a lot of painting!
Pro tip: Use peel-and-stick Samplize paint samples for an easy mess-free way to test different paint colors!
Painting Over Dark Stain
In three of the four homes we've owned, the cabinets and/or trim was dark and not in the greatest shape. Since replacing them has never been in the budget, we painted.
I HATE painting trim. Hate it. I told myself in the last house that I would never do it again. But here we are. The end product is worth it, but getting there is a process.
Maybe I'll do a more detailed post about it in the future, but painting trim in my experience takes a coat of oil-based primer and then 2-3 coats of semi-gloss on top of that.
UPDATE: Read my review on Valspar's Door and Trim Enamel – you'll love this paint! It includes a tutorial for painting trim!
You can use a trim brush, a small roller, or there are also special tools made just for painting trim. I usually use a trim brush, but my hubby prefers the special trim tools. To each his own!
Valspar Cabinet Enamel Paint
This time I purchased the Valspar Cabinet Enamel Paint, a high gloss enamel paint, hoping it would make painting the trim easier. You can purchase this Valspar cabinet paint at Lowe's.
I also planned to use it in our half bathroom and on our upper kitchen cabinets but thought it should work just as well on the trim since it's enamel and supposed to hold up to heavy use.
THE CLAIM: It claimed to leave no brush marks, take only two coats, and dry in an hour. You're supposed to be able to use it over old finishes and it's a non-yellowing formula.
Sounds great, right?
So I started on the trim in the laundry room painting over the old cream color. I will say that I didn't use a primer since the trim was already a light color and it claimed you could use it over old finishes.
UPDATE: If I had to do it over again, I would definitely prime first using Valspar's High Hiding Primer. THE BEST PRIMER I've ever used! You can read more about it here.
I had to do three coats to get them completely covered. This was a little frustrating to me, but I thought maybe it was because I didn't use a primer. If I had used a primer, I would still have ended up doing three coats since they recommend two of the cabinet enamel.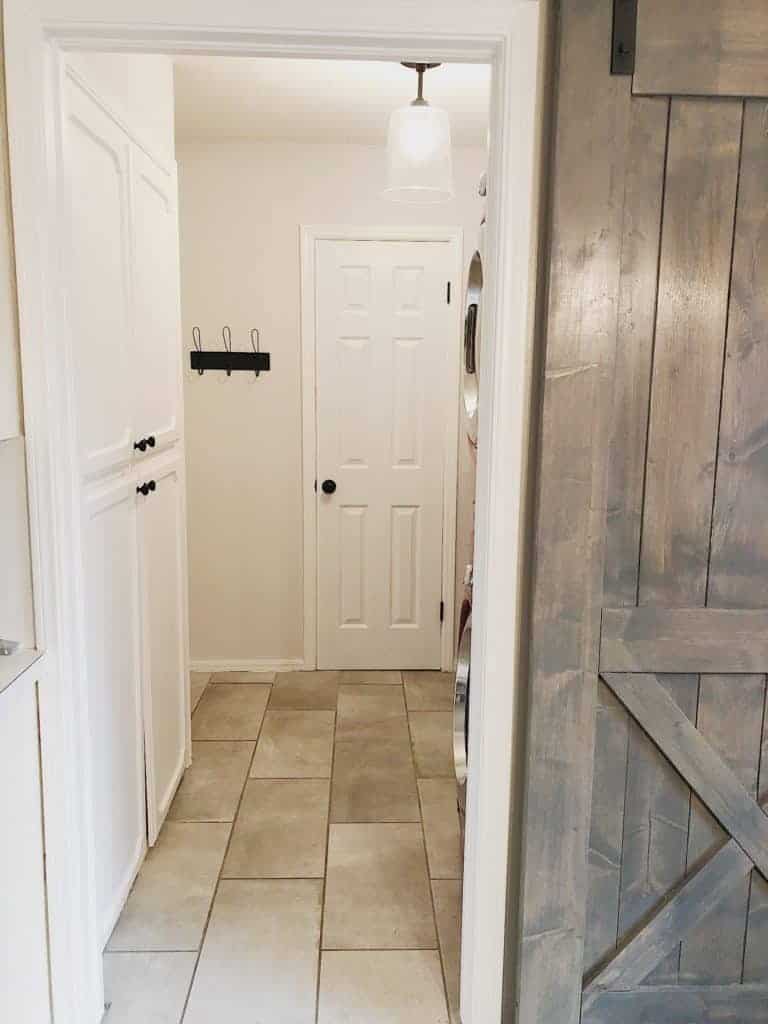 Next, I decided to use it on the new door my hubby installed in our half bath. It came primed so I didn't prime it again. I've done so many coats on that door! It was really frustrating. The finish kept coming out streaky and you could see the brush marks. It looked like a bad paint job.
SOOOO I decided to try again on our paneling turned board and batten project. This time I used a primer first. Again I ended up doing three coats of Valspar Cabinet Enamel and it still looked streaky!
At this point, I was ready to be done with it because I'd done everything I was supposed to according to the instructions and I was having to do several coats and there were definitely brush marks.
I decided to try one more thing before throwing it out. I purchased a small roller and tried rolling the paint on instead. BOOM! It worked. I rolled it on the board and batten and it dried smooth and streak-free. FINALLY. I rolled it on the door and it worked there, as well.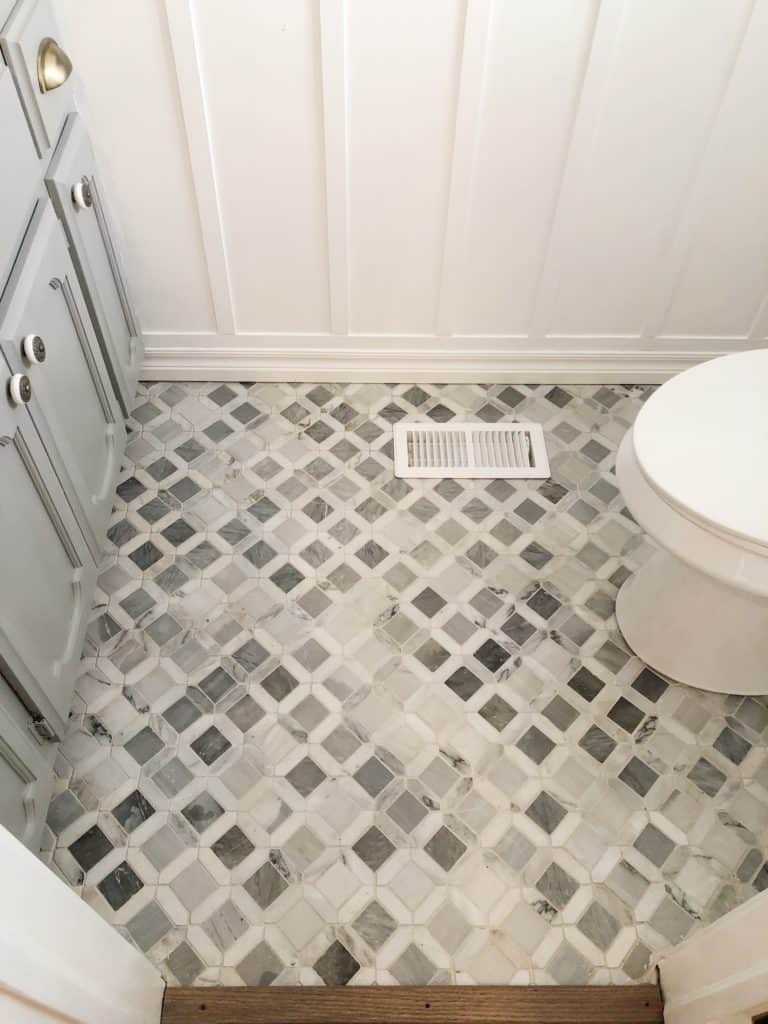 I decided to roll it onto the trim in the bathroom, as well, after priming and again, a great result.
I haven't used it again to see if it would only take two coats using just a roller. I have decided not to use it on my upper kitchen cabinets after all. Instead, I'll be using Valspar's Furniture Paint which I LOVE. You can read my review on Valspar's Furniture Paint here.
PURCHASE VALSPAR CABINET ENAMEL PAINT HERE
PURCHASE VALSPAR FURNITURE PAINT HERE
Let's Review
So let's go back and look at the claims for the Valspar Cabinet Enamel.
Two Coats: In my experience, it took 3-4 if using a brush. Try using a roller.
No Brush Marks: Not true.
Dries in an Hour: This was accurate.
Non-Yellowing: This has been accurate so far.
Use over Old Finishes: You can use over old finishes but use a primer and it may take several coats.
I hope this post has been helpful. I do wonder if it would've been different were I using another color. In my experience, white always takes more coats no matter what paint you use.
I'll probably try the Valspar Trim and Door paint when I get ready to paint the rest of the trim in the house (waaahh!). If so, I'll be sure to let you know the outcome!
Thanks so much for hanging out with me today! If you have any questions or comments or have used this paint before, I'd love to hear from you in the comments!
Be sure to subscribe so you don't miss a post and follow me on all the social things!
Have a blessed day!
Is Valspar Cabinet Enamel Paint all it claims to be?
Pin for later: