2021 Best Home Depot Christmas Trees
Christmas will be here before we know it and if you're in the market for a new tree you need to check out Home Depot Christmas trees!
This will be our 8th year with our Christmas tree that we purchased from Home Depot. It's been through three moves and since we don't have room to leave it up, it gets taken apart each year and stored.
It is still in great condition after all these years! At the time it was quite the splurge for us. We were at Home Depot for something else and then like a light shining down from above (ok that may be a little dramatic) it caught my eye and I had to have it!
I loved the different textured branches and the long pinecones with a touch of glitter. It was thick and pretty and just the right height!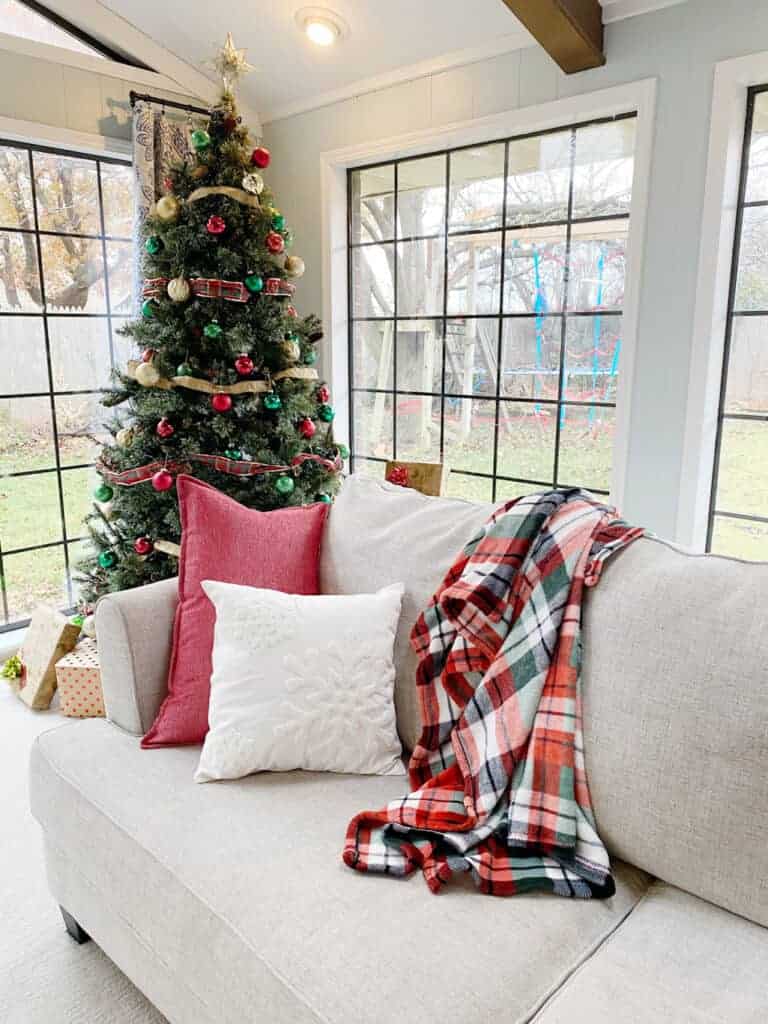 Last year one section of lights went out and we had to add some string lights to fill it in so we decided we'd purchase a new one this year. We're still keeping the old one for a "fun" tree and the new one will be a "pretty" tree.
Home Depot Christmas trees here we come! I've been checking out the selection this year and it's a good one!
This post contains affiliate links for your shopping convenience. See my disclosure policy here.
Realism Scale
Something I like about Home Depot Christmas trees is that they give you what they call the "Realism" scale. In other words, how real the artificial tree looks. Traditional, Realistic and Most Realistic are the options and they tell you how each tree ranks!
Other Christmas Tree Specifications
They also give other specifications like how tall the tree is and if it's available in other sizes, images for how the tree is assembled, tip count, and base diameter.
You can see what color of lights whether multi-colored, warm white, etc. and what type such as LED. Home Depot also tells you how many lights are on the tree.
You can easily find out the type of tree it was modeled after like fir, pine, etc. and the fullness of the tree. Plus there are hundreds to thousands of reviews on each to make help you make the best decision!
Trending Home Depot Christmas Trees
Westwood White Fir LED Pre-Lit Artificial Christmas Tree
The Westwood White Fir is one of my favorites! It is available in 7 1/5 ft., 9 ft. and 12 ft. It features pretty red berries and frosted pinecones with full branches wrapped in warm white lights.
Flocked Fraser Fir LED Pre-Lit Artificial Christmas Tree
The Flocked Fraser Fir is stunning with its thickly flocked branches. Standing at 7 1/2 or 9 ft. tall and featuring 3,000 lights with multiple color options and a remote control, it is one impressive tree!
Snowfall Shimmer Noble Fir Pre-Lit LED Artificial Christmas Tree
The Snowfall Shimmer Noble Fir is the perfect description for this tree that looks like it was just covered in a fresh coat of fallen flakes! Available in 5 ft., 7.5 ft. or 9 ft.
Kingsley Balsam Fir LED Pre- Lit Artificial Christmas Tree
The Kingsley Balsam Fir features a full body with thick branches and SureBright color changing mini lights. A beautifully classic tree, it comes in 7 1/2 ft. or 9 ft.
Pencil Christmas Trees
Pencil Christmas trees are very popular and great for tall ceilings or smaller spaces! Home Depot has a great selections and varying sizes for any room!

Colored Artificial Home Depot Christmas Trees
Like a little bling or splash of color in your Christmas decor? You'll love their line of colored trees!




Home Depot Real Christmas Trees
Home Depot is also one of the best places to get a real Christmas tree in the United States. They have a wide variety of trees that are perfect for people of all ages and sizes!
Their selection of real trees are also very affordable! If you're in the market for a real tree, you'll want to be sure and check them out!
2021 Best Home Depot Christmas Trees
Since we had such a great experience our first time around with Home Depot Christmas trees, it was a no-brainer to purchase another one! I know you'll love them, too, but if you don't, Home Depot has excellent customer service so make sure to let them know!
I hope you have a very Merry Christmas and if you love to DIY, check out my DIY Advent Wreath and weekly advent devotionals!