Stunning DIY Dried Orange Slice Garland
Dried orange slice garland is all the rage this holiday season and the nice thing is, it's a super easy project and affordable to make! All you need are some fresh oranges, a cookie sheet, and some clear fishing line.
This post may contain affiliate links which means if you make a purchase I make a small commission at no extra charge to you. See my disclosure policy.
You can pair your dried orange slice garland with pine garlands and hang it from your mantle or on your staircase. You can use it to dress up a wreath or hang it by itself in a window sill for some natural holiday decor! The kids will love helping with this simple garland Christmas craft.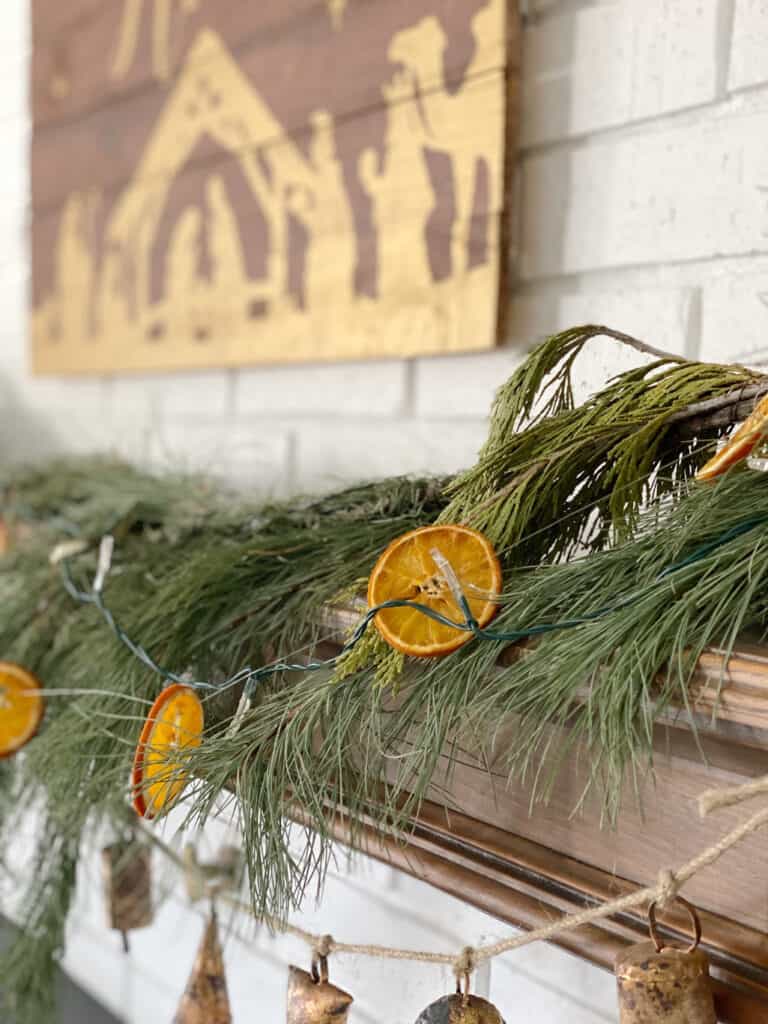 Dried orange citrus garland
You can also use dried orange decorations to decorate your Christmas tree for a natural and vintage look. Oranges slices can be strung individually to create orange slice ornaments or together to create the DIY dried orange slice garland we're going to make today!
RELATED: King of Christmas Artificial Trees: Worth the Hype?
Dried orange garland history
Dried orange garland has a long history, dating back to ancient Greece and Rome. The orange garland was commonly used as a decoration in homes and public places.
In addition to its beauty, the orange garland has long been associated with good fortune and has been used in celebrations from weddings to New Year's Eve.
The tradition of using a dried orange wreath for Christmas goes back many years. When properly cared for, a dried fruit garland can last for several Christmases. It typically needs to be rehydrated every few weeks, using a spray bottle to mist it with water.
Dried orange slices can also be used in other crafts projects. As mentioned earlier, they can be made into a Christmas ornament with wood beads at the top, added to a festive wreath, or used in a centerpiece.
Pair it with a sprig of evergreen and use it in your gift wrapping! (Need a craft for leftover wrapping paper? Check out my DIY Wrapping Paper Christmas Banner!)
With a little creativity, dried oranges can add a touch of festivity to any holiday event.
Orange Garland DIY
As mentioned, you only need a few supplies to make dried orange slice garland.
Large navel oranges
Large cookie sheet
Cooking spray
Knife and cutting board
Fishing line
You'll need at least 4-5 large oranges, maybe more depending on where all you want to use them in your decor.
Grease a large baking sheet with cooking spray or line cookie sheets with parchment paper and preheat your oven to 200 degrees. Low and slow is better for the drying process when making dried orange slices. Using a sharp knife, slice oranges into approximately 1/4 inch slices.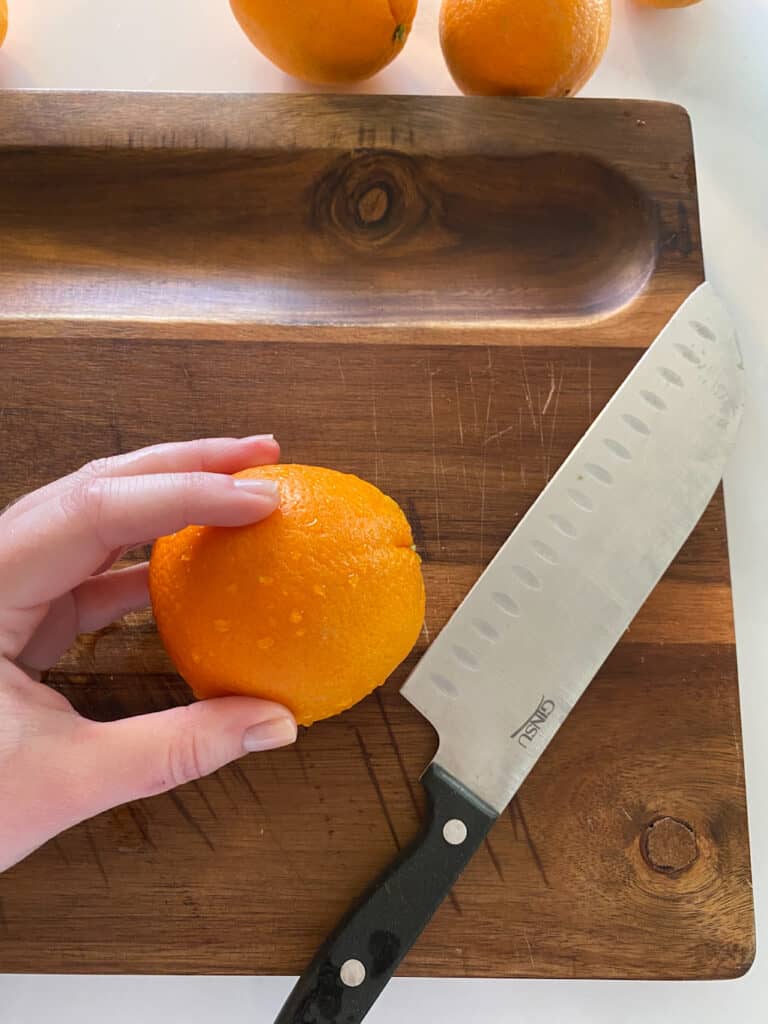 Line the slices in a single layer on a cookie sheet and bake on a baking rack at 200 degrees for 2 to 3 hours (this will depend on your oven – how hot it cooks and if it will go down as low as 200).
If your oven's convection setting doesn't go down that low, put it on the lowest setting and reduce the cook time.
The longer your orange slices cook on a low setting, the better they will turn out. It also reduces the chances of burning the orange slices.
Tip: Check the slices halfway through the cooking time and flip them over to ensure they cook evenly.
When they are fully dried, pull them from the oven and allow them to cool on a wire rack.
How to string orange slices
Once your dried orange slices have cooled off, it's time to string them use the fishing wire. A great way to do this is to use the holes that are already naturally present in the center of the orange slices to string the line through.
You may decide to add some other natural elements to your garland like cinnamon sticks or pine cones also make a beautiful addition.
Decide on how long you want your garland to be and cut your string accordingly, leaving extra on the end to account for the tying.
Using a large needle, string the line through the first dried orange slice and tie a knot to secure it in place on the end.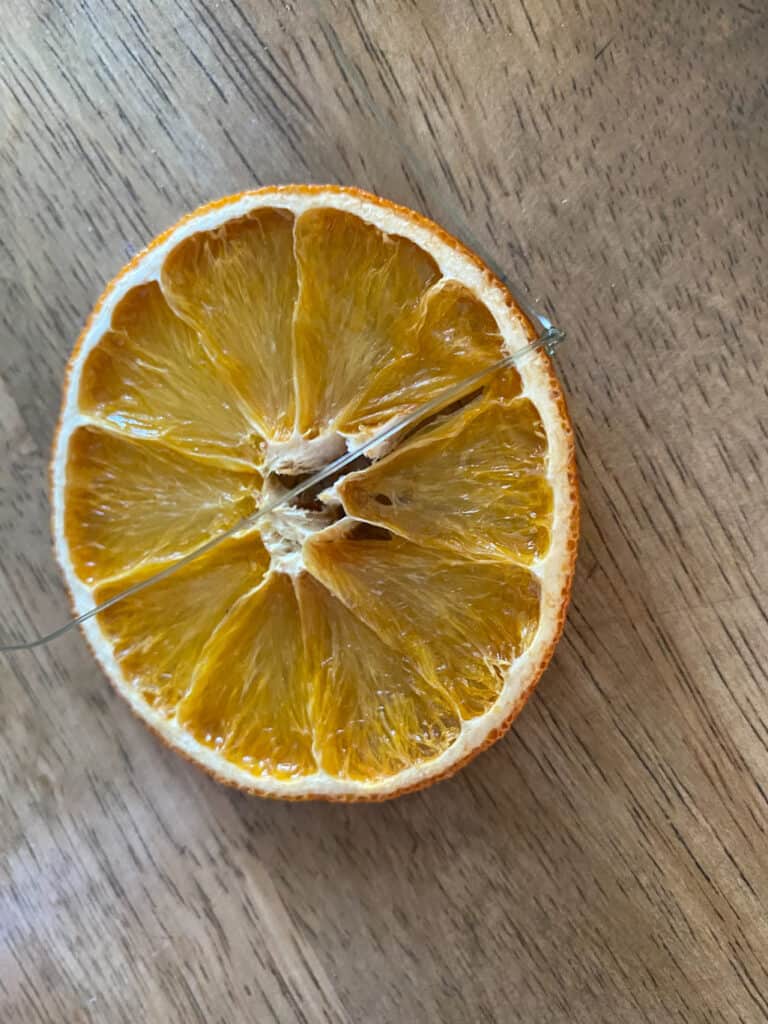 String the next orange, spacing the slices out to your preference. After you have the next slice in place, put the string through the center again to secure the slice. This will still allow you to gently move the orange if you want to adjust the slices when you've finished, but will keep it secure, as well.
Repeat the previous step until you've reached the end of the line and tie the last slice on like you did the first.
Check your spacing on your orange garland, adjust the slices as needed. Now you're ready to hang your simple dried orange garland!
I hung my dried orange slice garland on my fireplace mantle with evergreen, copper bells and lights. I love the layered look and it's neutral enough to keep through the end of January!
Next year I'd love to try cranberry garland in addition to the beautiful dried orange garland to go with our Christmas decorations!