Chalk Paint Brand Review: Which One is Best?
Wondering which brand of chalk paint to use on your furniture? I've used multiple brands over the years so read on for the pros and cons of each!
When I first started refinishing and painting furniture I mostly used spray paint. You can read more about that here. Chalk paint was just starting to become popular, but we lived in a smaller city where it wasn't available, and ordering online was still kind of a newer concept.
Fast forward a few years and we were living in a bigger city where chalk paint was more readily available. It was also easier to purchase online and have it delivered. I decided to give it a try.
This post contains affiliate links for your shopping convenience. See my disclosure policy here.
Benefits of Chalk Paint
Chalk paint is very versatile. There is rarely any sanding or priming involved and you can get away with 1-2 coats.
You can choose to leave the finish for a matte look or wax it for a satin feel. You can use different waxes to achieve different looks and it dries so fast you can finish a piece in one day!
READ THIS POST ON HOW TO PAINT WITH CHALK PAINT
Chalk Paint Brands
There are tons of different brands of chalk paint available these days so how do you know which one is best?
I've tried several brands so keep reading for pros and cons and to find out my favorites and the ones I'll never use again!
Country Chic Paint
Country Chic Paint is the most recent chalk paint I've used. It's an all-in-one chalk-style paint and currently the #1 selling chalk paint on Amazon.
It's run by the husband and wife team, Jan and Rosanne, and when they reached out to ask if I would be willing to try their line the answer was an emphatic yes! I love that it's a family affair and supporting small businesses is so important!
They offer a beautiful variety of colors and I chose a few different ones to try out. It was perfect timing because Eric just built a new entryway table for me and I planned on painting the base of it with chalk paint.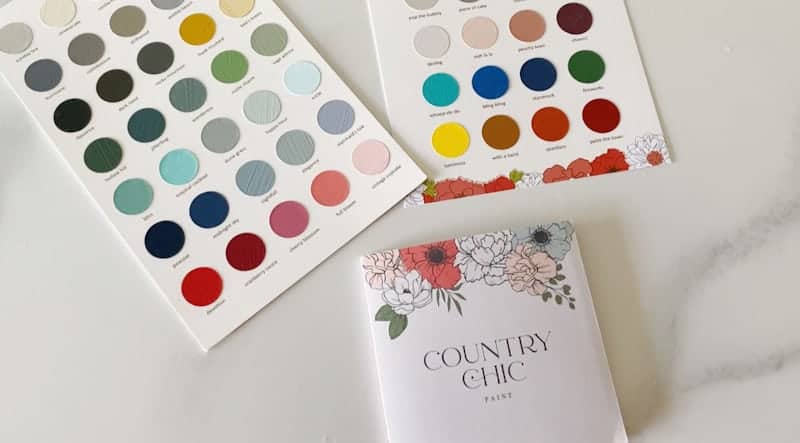 I landed on the color Lazy Linen, a really light gray, for the table.
They also sent me a brush and I can honestly say it's the best chalk paintbrush I've used. It's not the typical round shape that you usually find with chalk paint companies. It was full but rectangular and perfect for getting into the corners and hard-to-reach places.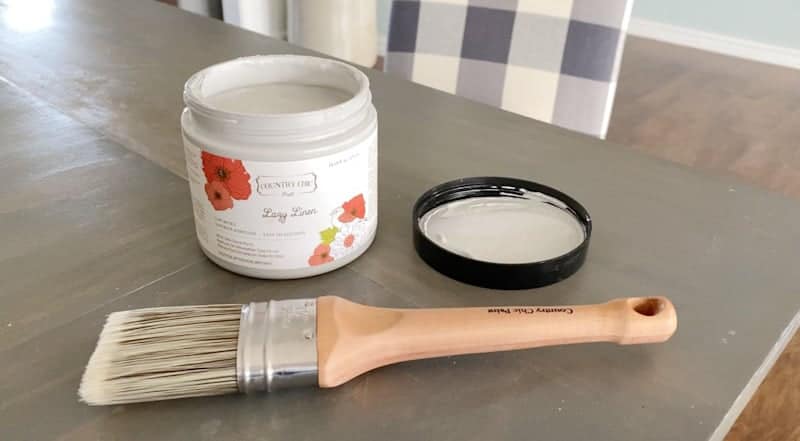 I started on the table and was immediately impressed by the coverage of Country Chic Paint. Usually, a light color going onto a dark surface takes multiple coats. It was almost complete coverage. This means you can get more projects out of one can, saving money. I like that!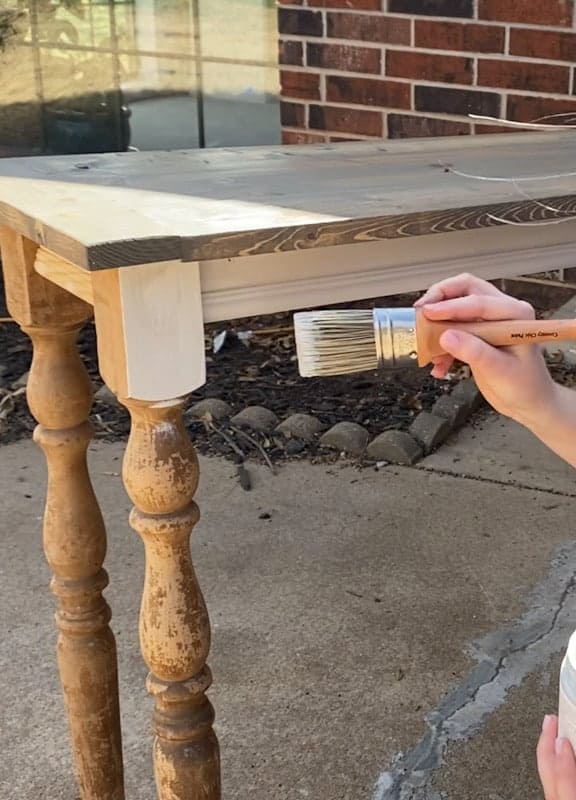 The paint also dried really fast. By the time I finished the first coat, I was able to start back at the beginning and just give a second coat where needed.
The chalk-style paint distressed really easily. I just took a piece of fine-grit sandpaper and distressed the edges lightly.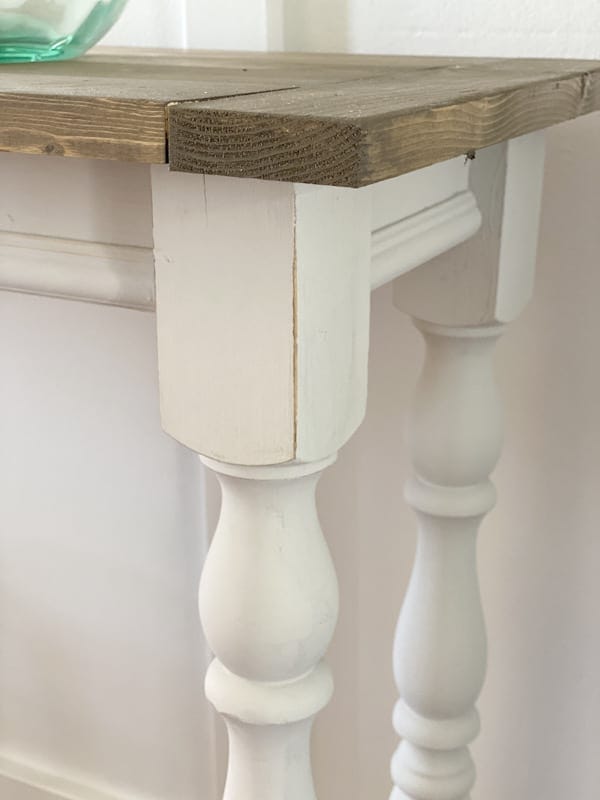 PURCHASE COUNTRY CHIC PAINT HERE
Overall I loved this paint! I can't wait to try some of the other colors I received on some projects I have coming up. And I have a few more shades I'd love to try (hello "Hollow Hill"!) and will be purchasing soon!
The first brand I ever tried was CeCe Caldwell. It didn't take long for me to be hooked! You can do as many or as few coats depending on the look you want.
And distressing was easily done with fine sandpaper or even a damp paper towel. You could layer different colors for more depth and add clear or dark wax for contrast.
CeCe Caldwell is made in America and is eco- and health-friendly. Their products are free from all harmful toxins which makes them a great choice if you're painting indoors or have children to consider.
I also love their containers! The paints and stains come in recycled plastic containers so they won't rust over time.
I also recommend their line of stain + finish in one. The topcoat is built into the stain so you only have one step and the finish is beautiful. It also holds up well to wear and tear overtime!
I have a piece I stained in the Walnut Grove 3-4 years ago and it's still beautiful despite my children leaving their cups with water rings on it!
TIP: If you do get a water ring on your stained finish, use mayonnaise to buff it out!
CeCe Caldwell paint goes on thick and leaves brush marks, but you can always thin it out with a little water for a smoother finish. It's just great paint!
The mother of all chalk paint, Annie Sloan is the most expensive brand of chalk paint, but so worth the money you'll pay. I waited to try it because of the cost but once I did, I was sold.
First of all, the paint goes a long way. I could paint several pieces of furniture with just one can. So even though the initial cost was more, it stretched far.
I love the finish. Straight out of the can, the paint goes on smooth and velvety. If you want it to go on thicker, you can leave the lid off for a period of time to thicken up. You can also add small amounts of water if you want it thinner. It only takes 1-2 coats, depending on the look you want to achieve.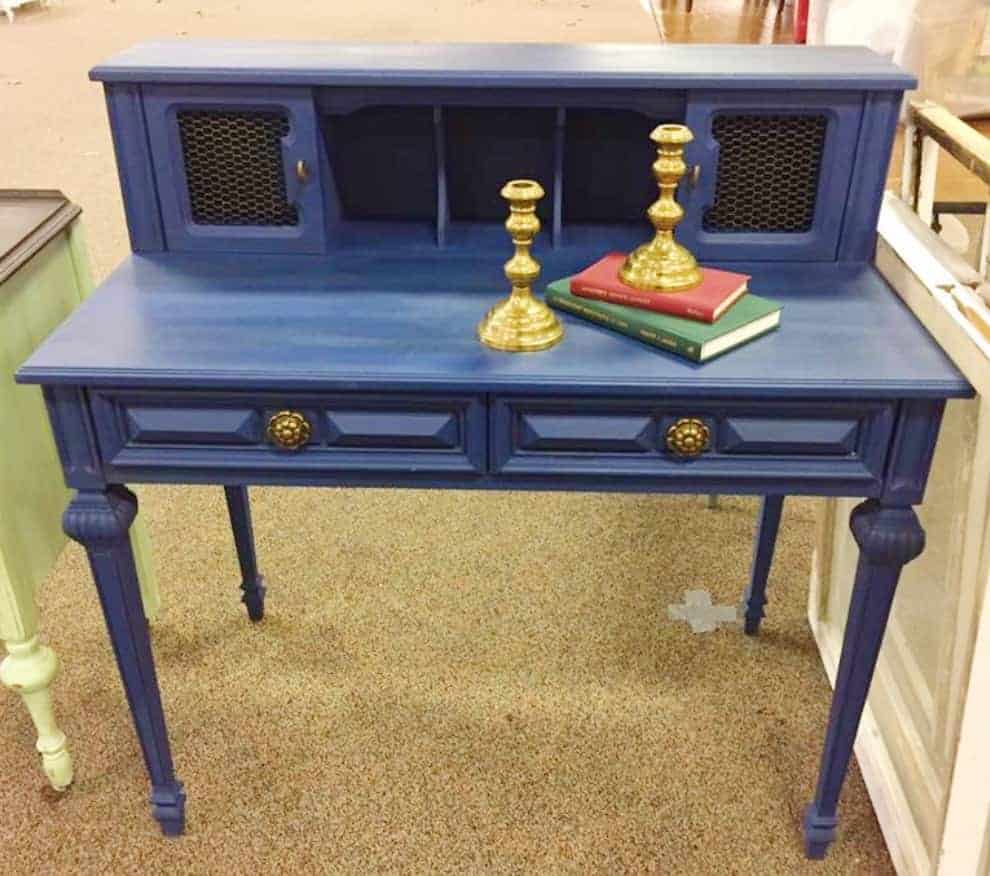 Annie's site is so informational with tons of tips and techniques on how to achieve the look you're going for.
I love to layer dark wax over Napoleonic Blue for a textured navy look. My hubby loves the combination of Old White with brown wax. Duck Egg Blue is another favorite from this line!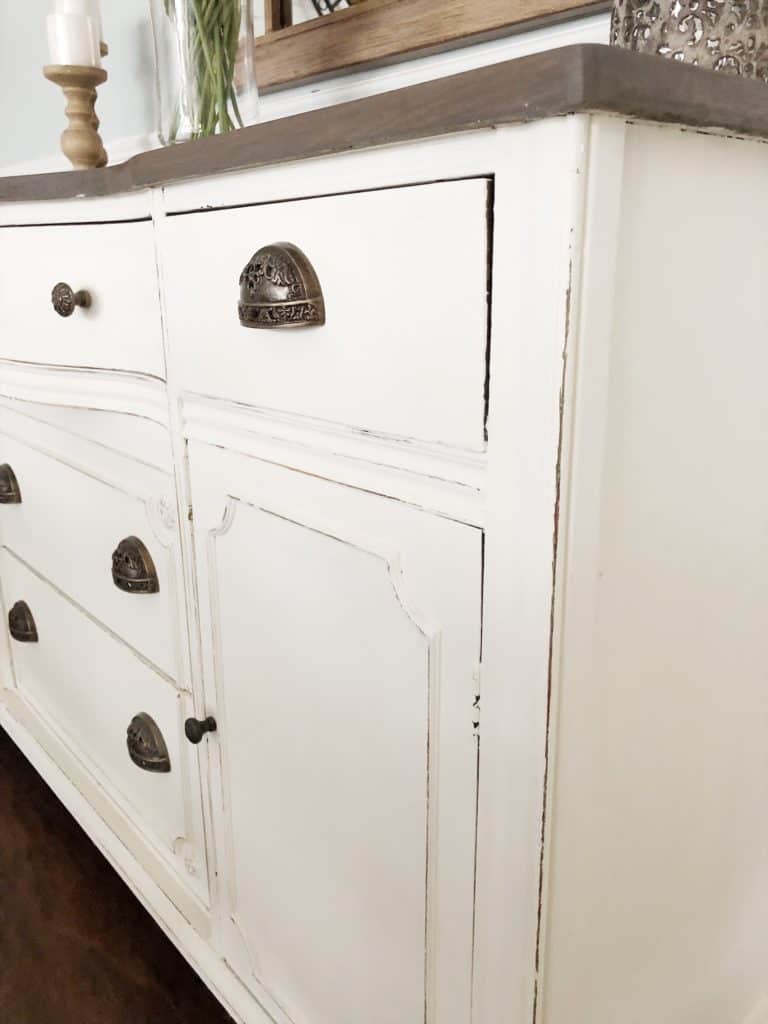 Valspar released their version of chalk paint a few years ago and it's another one I really like to use. It goes on very smoothly. If you're not a fan of the brush marks chalk paint can leave, you'll love the finish on this paint.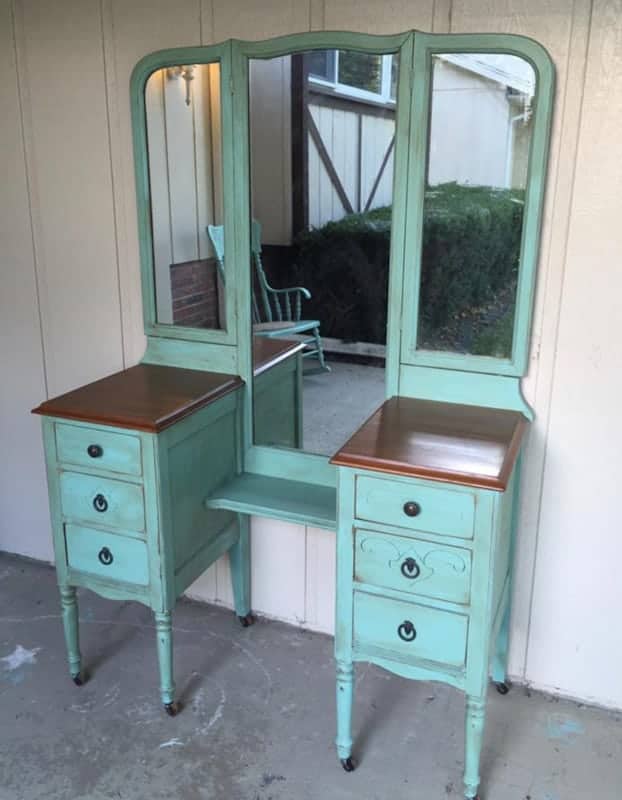 UPDATE: VALSPAR CHALK PAINT REVIEW
I really like the Valspar wax, as well. It's easy to apply and looks great.
My favorite colors in this line are Her Dainties, which we used on our dining room table, and Beaded Reticule, which we used on my daughter's antique dresser.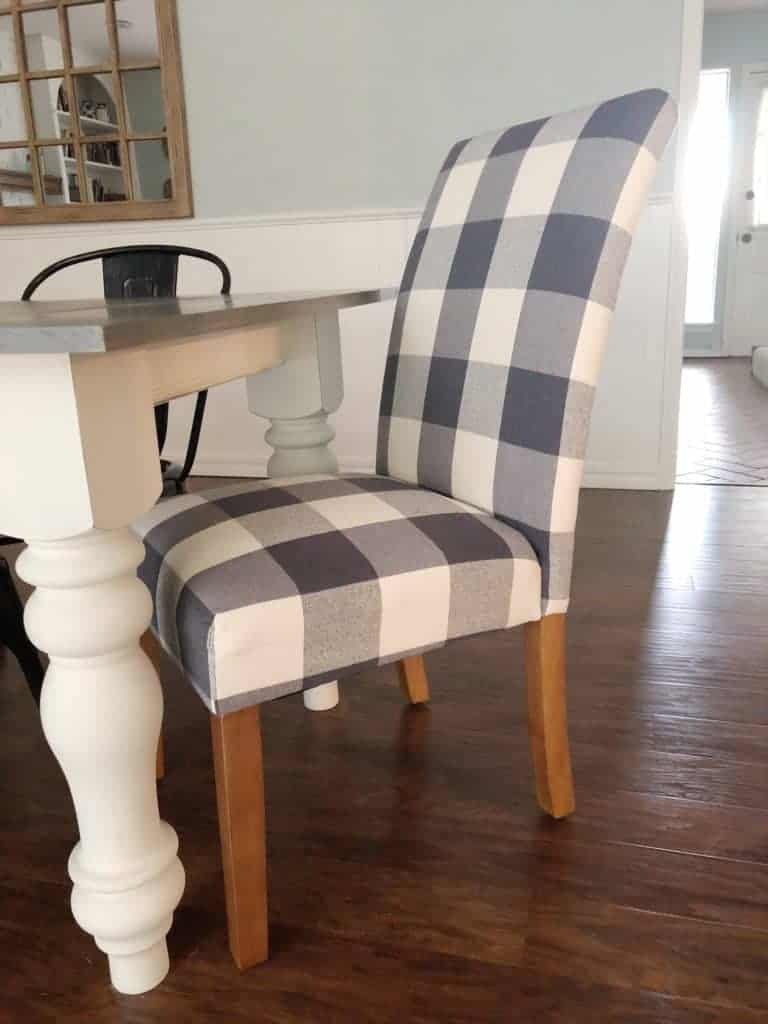 Wise Owl Chalk Syntheses Paint
Wise Owl is the most recent brand of chalk paint I've tried. I purchased the color Blush to use on my daughter's dresser that was previously painted in Beaded Reticule by Valspar Chalky Paint. We're in the middle of giving her room a makeover and the teal no longer matched the color scheme.
We were shopping at an antique mall and saw the Wise Owl Chalk Paint. I love trying new products so I decided to give it a chance.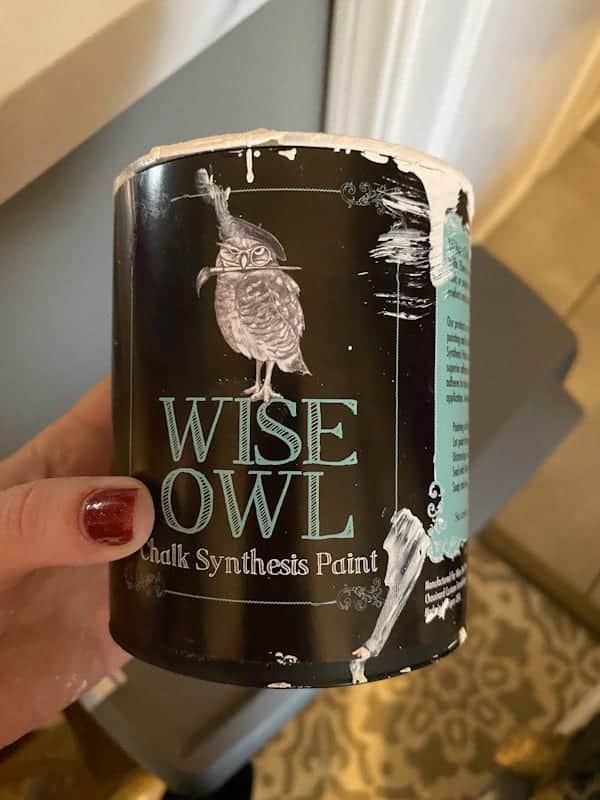 Overall I liked the paint itself. It went on nice and smooth. I did give it a light sanding to make the brush marks not stand out as much.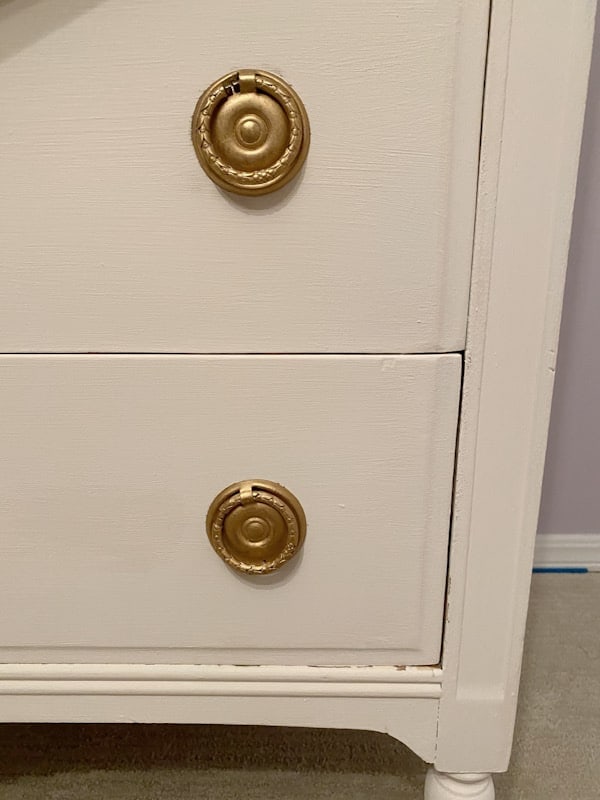 I have two complaints about this paint. First of all, it didn't go very far. I had to go buy a second can of paint to finish her dresser. I've never had to do that before when I've started with a full can of paint.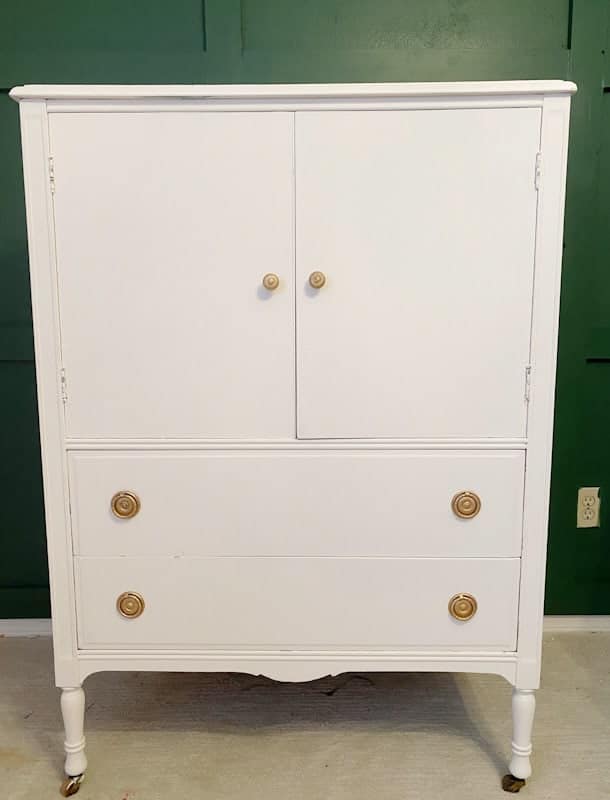 At $25 a pop, it ended up costing more than I wanted to pay, especially when I could've purchased a can of Valspar Chalky Paint for the same amount and had a lot of paint leftover.
Second, when you got toward the bottom of the paint can, there were little clumps of paint that wouldn't mix in and they made the last little bit unusable.
For those reasons, I will not purchase this paint again.
This has been my least favorite brand of chalk paint that I've encountered. I just don't like the finish of it. In my experience, it took more coats to get the look I wanted. When I first tried it they didn't have a wide variety of colors either, but they've since released more options.
I felt like it was difficult to get a smooth finish with this paint and it was just all around harder to work with. It was one of the more affordable choices so I wanted to give it chance, but I'm not a fan.
I would love to try the Magnolia line of chalk paint, as I've heard really good things about it. I'd also like to try General Finishes. Their gel stain is awesome so I imagine their chalk paint is probably really good.
I hope this has been helpful whether you're just getting started with chalk paint or wondering if a certain brand is worth trying! Please feel free to ask me any questions you may have in the comments, I'll be happy to help!
Seasoned chalk painter? What's your favorite brand?
Which Brand of Chalk Paint to use on Your Furniture
You may also be interested in:
Valspar Furniture Paint Review
How to Easily Refinish Wood Furniture
Pin for Later: