Budget Friendly Dining Room Wall Decor Ideas
Dining rooms are a gathering place for friends and families. A place where stories are told and memories are made over delicious meals shared together.
Sometimes trying to decide on how to decorate your dining room can be a struggle. You want it to feel comfortable and cozy, but also appealing to the eye. Maybe you're trying to figure out what to put on the wall.
Should you hang artwork or maybe a mirror? Would a buffet or hutch be the best use of the wall space? Does your dining room have a fireplace and you're not sure how to highlight it? Or maybe some floating shelves might be appropriate…
Then there's the budget. Decorating a dining room can get pricey.
Don't worry – I'm here to help! Let's take a look at dining room wall decor ideas that will wow your guests and won't break the bank.
This post may contain affiliate links for your shopping convenience. See my disclosure policy here.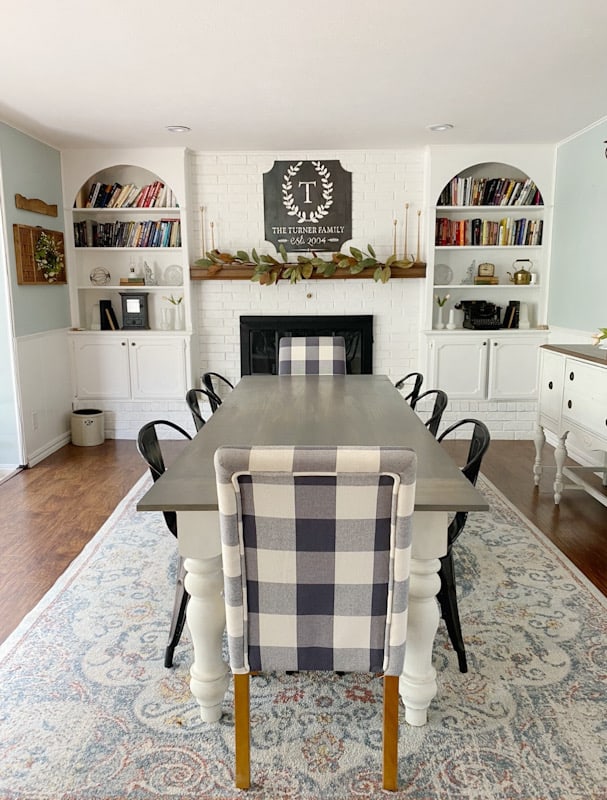 Dining Room Accent Wall
Choosing a wall in your dining room as a focal point or accent wall is a great way to add interest to the space. You can choose to do this a few different ways.
The following ideas are in order from least to most expensive, but all are budget friendly and can be DIY'd for even more savings.
Accent Paint Color
Choosing a different color for the dining room accent wall is an easy choice. You may choose to go lighter or darker than the rest of the walls in the room.
A popular look is to go with white on the surrounding walls and use a dark color like navy blue, gray, or black for a touch of drama.
When trying out different colors, peel and stick paint samples are the way to go. I love Samplize because they carry all the major paint brands and colors so I can order several samples in one place. I can test them on my walls and remove them without the mess!
Wallpaper Accent Wall
Wallpaper is another great choice for an accent wall. I'm a huge fan of peel-and-stick wallpaper because it's DIY friendly and comes in endless options of colors and patterns.
It's not your grandmother's wallpaper that's almost impossible to remove once you've tired of it and want something else. It peels right off leaving a clean wall ready for the next thing.
Shiplap or Wainscoting Accent Wall
Another popular look is to use shiplap or wainscoting either partway up or over the entire wall for a high-end feel that adds depth and character. Keep it light to make the room feel bigger or go with a darker paint for some drama.
Board and Batten
Like shiplap and wainscoting, board and batten is a type of wood detail you can add to your walls. You'll find it on both exteriors and interiors. Using it on your dining room accent wall is a great choice and is often seen in a farmhouse design style.
Grid or Patterned Wood Accent Wall
Grid walls or patterned walls with a design created from wood or MDF are very trendy in home decor right now. You'll see walls with a herringbone pattern, diamond pattern, a simple grid or a geometric design for a more modern feel.
Dining Room Wall Decor
We've talked about how to make your dining room stand out with an accent wall. Now let's talk about different decor ideas for a stunning dining room!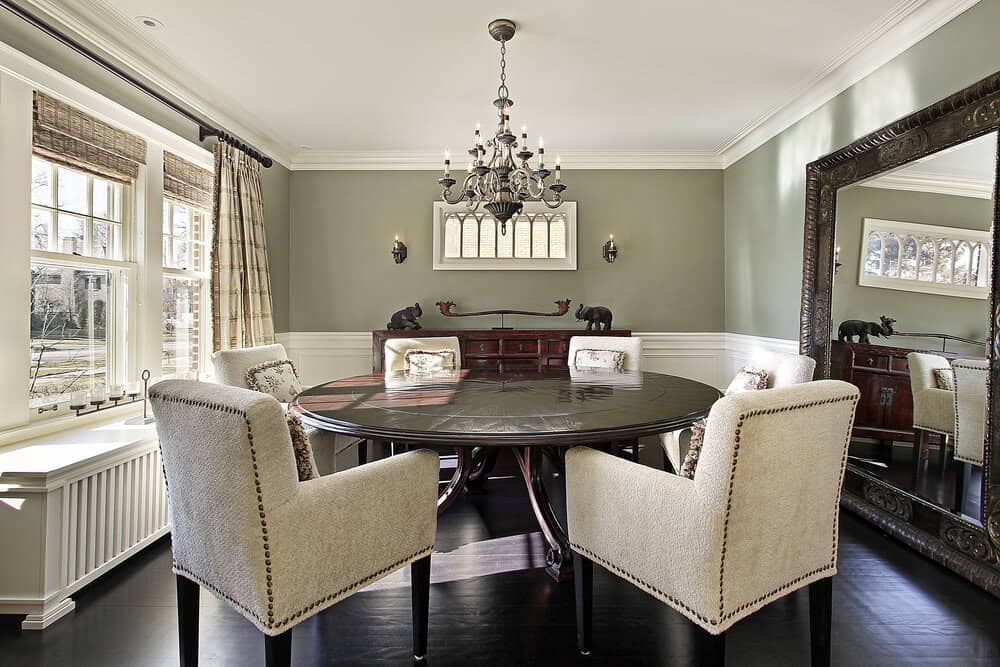 Dining Room Mirror Decor
Mirrors are perfect for making small spaces feel bigger. They reflect light which can also help a dark room feel brighter. They come in all shapes and sizes for any design style. Here are some of my favorite mirrors that look great in a dining room:
Dining Room Artwork
Artwork has the power to set the mood in a dining room. For example, pastoral artwork will give a rustic or country feel making the space feel more laid back while abstract lends itself to a modern design and more formal feel.
Fill your wall with one large piece or use two or three similar pieces and group them together.
Dining Room Wall Sconces
Wall sconces can help create height and depth in a space and look fantastic anchored on either side of a mirror or piece of art. Here are some of my favorites for a dining room:
Dining Room Wall Shelves
Adding shelving, whether built-in or floating, can create dimension in a space and give you extra room to display trinkets and other decor.
Style them with artwork, cookbooks, vintage kitchen gadgets, vases, candle holders, pretty bowls, small plants – the options are endless!
Designer tips: Group objects in odd numbers for visual appeal. Stack books horizontally and place a plant on top. Or stack books vertically next to a bookend or vase.
Dining Room Wall Murals
A mural can be created in different ways and cover part or all of the wall. Some people choose to hire an artist to create a mural that speaks to their design style. You may choose to paint your own mural if you this is something you enjoy doing!
Another way to create a mural is with wallpaper. You can choose a scenic pattern to cover the wall or fill a large section of the wall with the paper and then frame it out with trim as if to look like artwork.
Dining Room Window Treatments
Another way to decorate a dining room is with window treatments. There are a few different options to choose from depending on your windows and the look you're going for.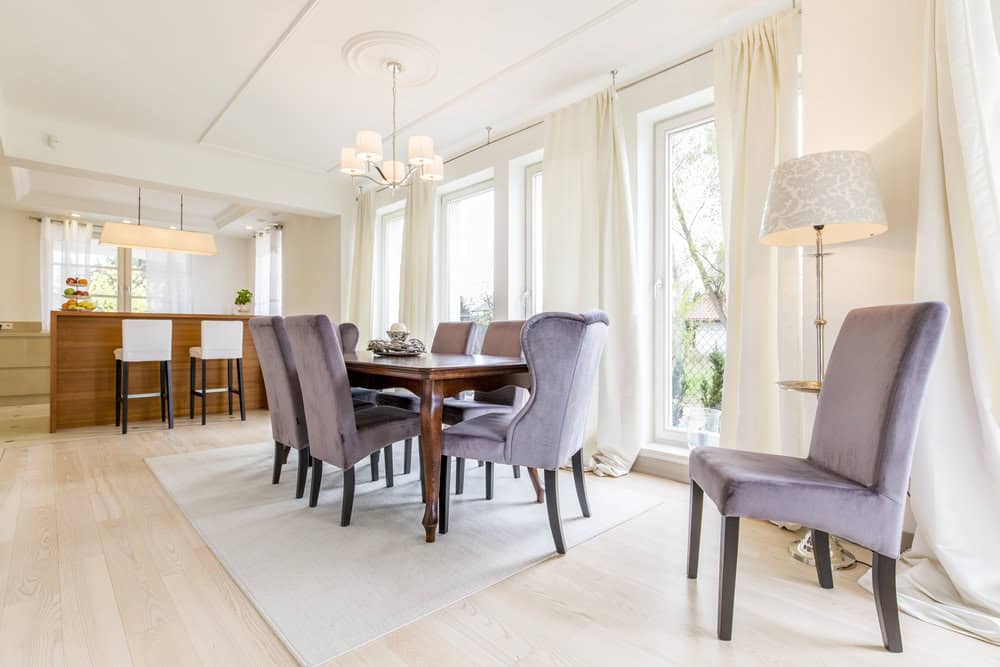 Curtains
Curtains will give your dining room a more formal feel and add beauty to the space. Hang your rod at least six inches higher than the top of your window to draw your eyes up and make the room feel bigger.
You can choose curtain panels that just brush the floor or longer panels that pool for a luxurious feel.
Shades or Blinds
If you need to create privacy, shades or blinds are a great choice for your dining room windows. Wood blinds or plantation shutters provide the most privacy and typically have a more traditional feel.
Shades, whether woven or fabric, allow more light to come through unless you add a room darkening element to the fabric option.
Designer tip: Layer shades or blinds with panel curtains to add depth and interest.
Dining Room Buffet Decor
If you have a buffet in your dining room you may be wondering how to decorate around it. There are several options when deciding on dining room buffet decor.
As mentioned earlier, you can use a mirror or piece of art and center it over the buffet. Add sconces to either side of the mirror or artwork to fill in the space. This would also be a great place to use floating shelves. Keep reading for a couple more ideas!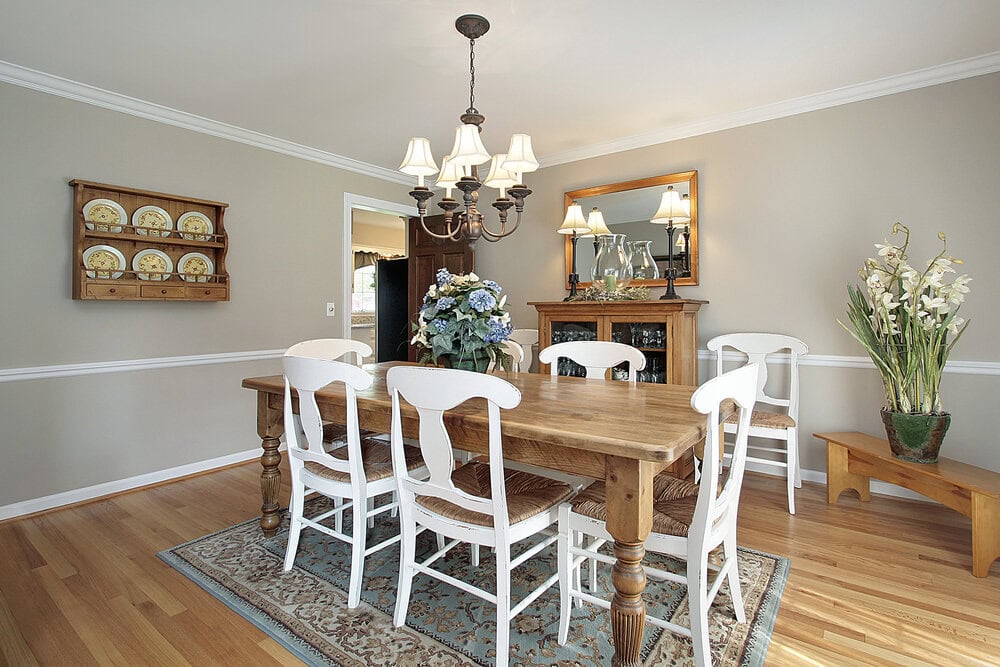 Basket Wall
Basket walls became popular with both the farmhouse and the boho style. Create a design by hanging different sizes of round baskets over your buffet. You can purchase them new or find different styles at antique malls and thrift stores for a vintage look.
Decorative Plates
Never use your china? Consider hanging the plates in a pattern on the wall over your buffet! Ironstone platters are a popular choice for hanging on the wall, as are thrifted designed plates with fun patterns for a splash of color.
Never hung plates on a wall? Check out my how-to video below:
Dining Room Hutch Decor
If your dining room has a hutch you can use if for multiple purposes. You can use it to display your china or even everyday plates for easy access. If you are a collector of something like vintage milk glass or jadeite, etc. this would also work well.
Use it to store drinking glasses or bowls and platters. Or keep it purely decorative using the tips for styling mentioned under the dining room shelves section earlier in this post.
Design tip: If you're wanting to make it pop, try painting the outside of the hutch or adding wallpaper to the inside shelves for interest!
Dining Room with Fireplace
The thing I love most about our dining room is the fireplace. I've always loved a fireplace in the dining room and now that we have it, it's my favorite feature. We painted the brick white when we first moved in which makes it a beautiful focal point in the space.
Decorating a dining room fireplace is so fun! I love a layered look, stacking a piece of art in front of a larger mirror. Add candle holders in different sizes to either side and finish it off with some greenery whether a faux plant or a garland.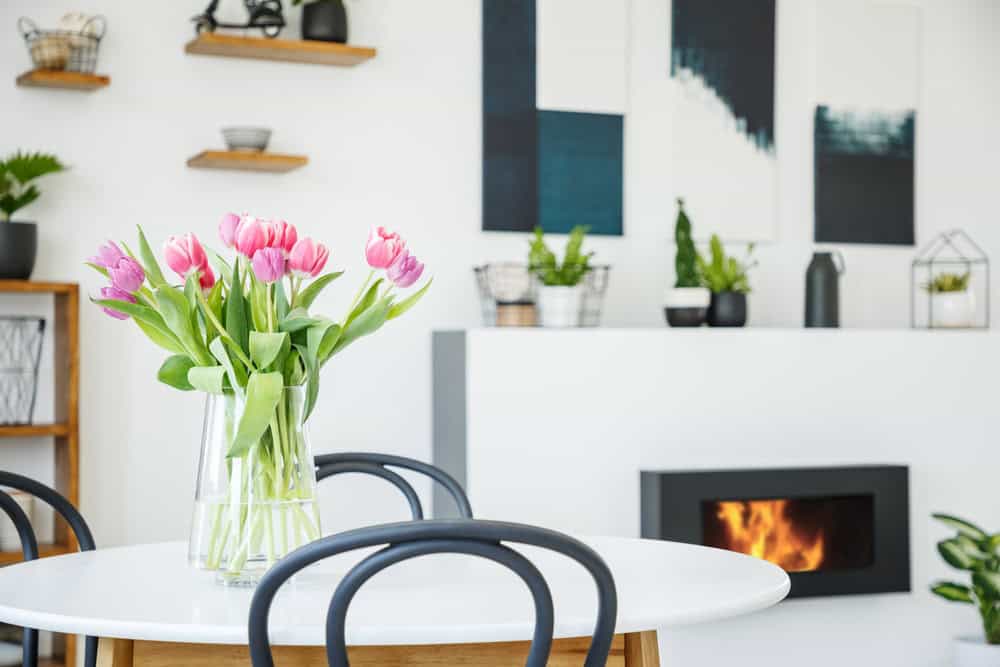 It's also a great place to display a meaningful family portrait or tapestry with your favorite Bible verse or quote.
Looking for more ideas? Check out this article from HGTV on dining room decor!
Dining Room Wall Decor Ideas FAQs:
What do you put on a dining room feature wall?
A large mirror or piece of artwork works well on a dining room feature wall, as does a mural either used across the entire wall or centered on the wall and framed out with trim to mimic a piece of artwork. Hanging decorative plates in a pretty design is also a great option.
What do you do with a blank wall in a dining room?
Peel and stick wallpaper is a great choice if you have a blank dining room wall to fill. You can also use a design element like wainscoting or board and batten to add interest.
How can I make my dining room look cozy?
There are several ways to create a cozy dining room. Mix tones like whites and woods to add warmth and choose comfortable chairs for seating. Layer curtain panels with woven shades on windows to give a cozy feel. Add a feature wall with shiplap or board and batten for dimension.
What kind of art do you put in a dining room?
Artwork in a dining room varies according to tastes. Pastoral scenes are popular right now as are framed watercolor designs. Some people choose to feature food like a painting that displays fruit. Painted murals are making a comeback and decorative plates are always a great choice.
Budget Friendly Dining Room Wall Decor Ideas: In Conclusion
Creating a dining room that you love whether you're entertaining guests or enjoying a meal with family is definitely attainable. Using these ideas and tips you can create a beautiful dining room on a reasonable budget that you'll enjoy for years to come!