Living Room Area Rug: Size, Shape and Placement
Area rugs serve many purposes in a home. Giving warmth to wood or tile flooring, adding color and interest to a neutral space, or providing a focal point are just a few.
Adding a living room area rug is a great way to anchor the furniture in your space!
But how do you know what size and shape works best? And how do you place the seating area around the rug?
That's where I come in! I'm going to answer these questions and more so you can feel confident in choosing the perfect rug for your living room!
Designers are not always on the same page on the rules of areas rugs so you may see conflicting advice.
I'll cover the general rules of thumb plus some non-traditional ideas, as well!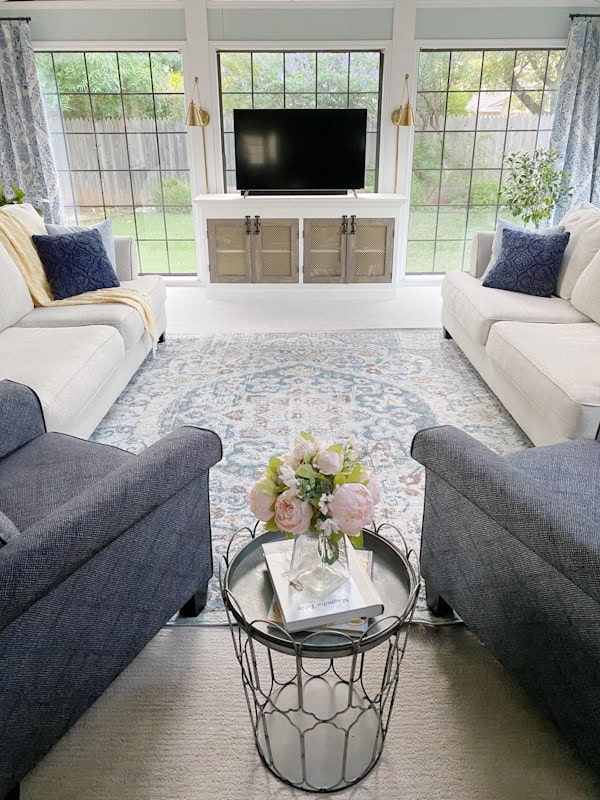 Choosing the right size rug
Let's begin with choosing the best size rug for your living space.
The ideal size of the rug is going to depend on whether you're working with a large room or a smaller room. Choosing the wrong size can end up making the room feel off.
A smaller rug in larger rooms will get lost in the fray or dwarf the space. A large rug in a small space may make it feel crowded.
The most common living room rug sizes are 5×7, 8×10, and 9×12. If you're working with large spaces or open floor plans, you may need 10×14 or larger.
Start by getting the room dimensions of your space to determine the right rug size.
You'll need to decide on a couple of thing after measuring. Do you want the rug to fill the entire room? Or be more of an anchor for your piece of furniture?
Once you've answered these questions it will be easier to determine your ideal rug size from the different sizes available.
Choosing the rug shape
But what if you've measured your space and determined a rectangle area rug isn't the best fit?
While a rectangle is the most common choice due to living rooms often being long and more narrow in width, it's certainly not the only choice.
Interior designers use different tricks like playing with rug shape to enhance the size of the room or highlight a design feature.
If a traditional rectangle isn't working, a square rug or round rug may be a better option for your space and your furniture layout.
When to use a square rug
If you're living or family room is more of a square then a square rug may fit the space better depending on the room look and feel you're going for.
When to use a round rug
Round rugs are more common in dining rooms with a round table. But that doesn't mean you shouldn't use them in your living room.
According to this article by Houzz, you may choose to use a round rug to highlight architectural details like the shape of the room in your home or to make small spaces feel larger.
If you're wanting to make your round coffee table a focal point, you may decide a round rug helps accomplish this.
Also, if your main seating is a sectional, a round rug is a great choice as it adds interest and the round lines lend a softer feel to the space.
Take in the elements of the room and the needs of your space to choose the right area rug.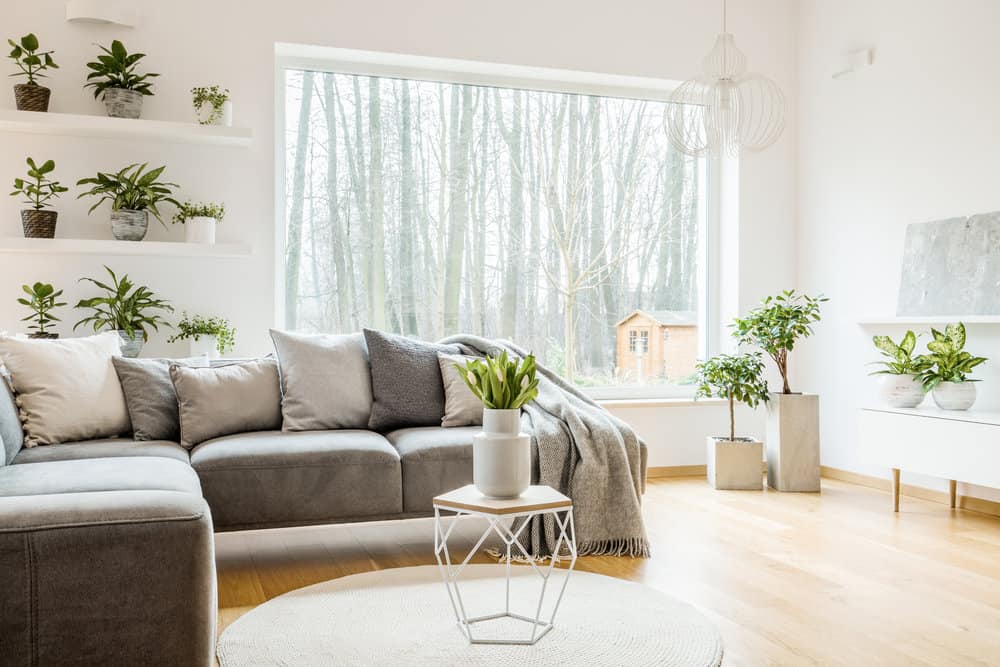 How to arrange the area rug in your living room
Once you have the size and shape determined you're ready for placement. An important factor to remember is that your area rug will help decide your furniture arrangements.
If the room design is such that the rug is in the middle of the room, you'll want to use the rug to anchor your furniture piece.
To anchor your living room furniture you'll start by placing the front legs of the sofa on the edge of the rug with the back legs on the hard floors.
You'll use the same general rule for accent chairs, placing the front chair legs on the rug.
If you have a coffee table, centering it on the rug is a great option or you may choose to have it closer to the sofa.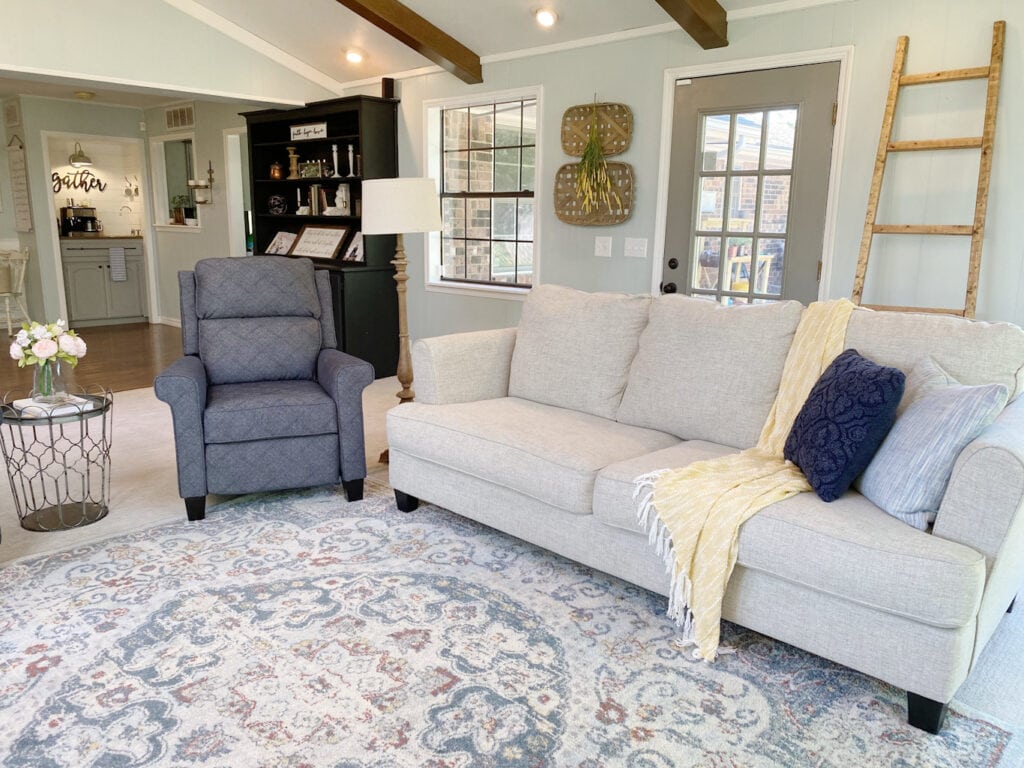 A good rule of thumb is to allow at least six inches of space to hang over on either side of the sofa.
If you have side tables you'll want to take those into consideration, as well.
If the large area rug is rectangle, your sofa should run parallel with the length of the rug.
If you're working with a square rug, the same simple rules above apply.
If you've chosen a round rug to use with a sectional sofa you can use the sofa furniture legs to frame out the rug placing it just over the top of the rug.
A round rug also fits nicely directly in front of a traditional sofa with a round coffee table and accent chairs anchored on opposite ends.
If you're using larger rugs that take up the whole room, you can place the seating arrangement directly on top of the rug like you would carpet.
As you can see there are many different ways you can position your rug, just keep playing with it until you get a nice cohesive look.
Non-traditional layouts
If you're not a stickler for design rules you may want to branch out and try some of these trendy layouts!
Diagonal placement
Placing your rectangle rug at a diagonal and positioning your furniture on the corners is a fresh way to add interest and a unique way to display your rug.
Layering rugs
Another popular look right now is to layer a smaller patterned rug over a larger natural fiber rug for depth and interest.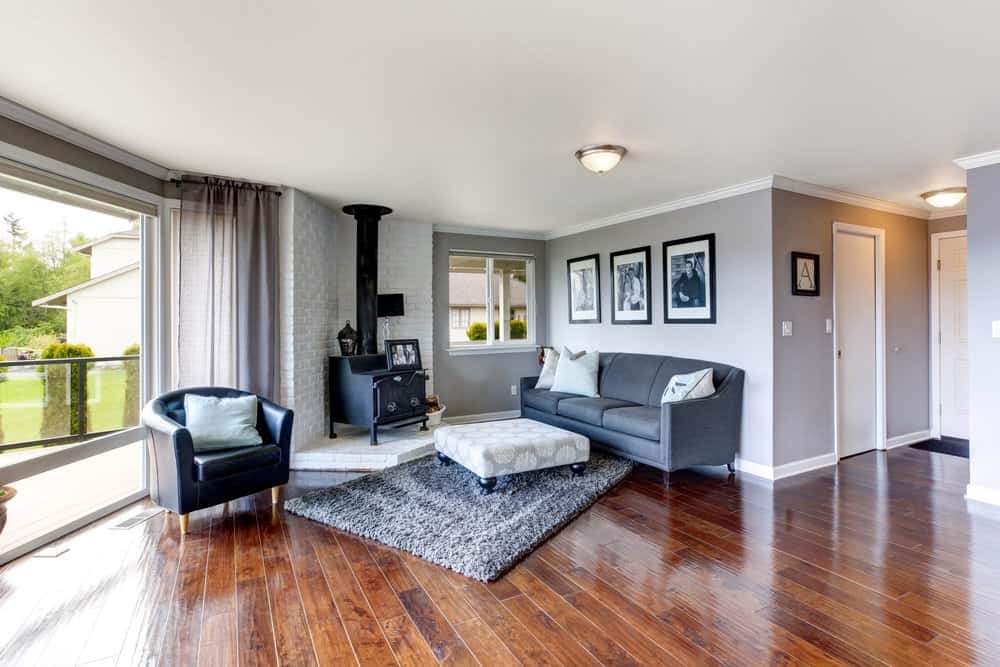 Bonus: Let's talk rug material
When you're choosing an area rug you need to consider if your rug will be in a high-traffic area.
Also, kids and pets can be hard on rugs. If this is the case, you'll need to choose a material that will be easy to clean like cotton. If you need tips for cleaning carpet and area rugs, I got you!
More and more people are purchasing washable rugs that you can put in your washing machine when they get dirty for convenience.
Companies like Ruggable and Tumble are popular for their machine-washable rugs that come with a special detachable rug pad.
Natural fiber rugs like jute can be great for hiding stains but they're hard to clean and the dirt goes right through them. You'll need to sweep under them often and take them outside to beat out the dust and debris every once in a while.
Light colored rugs will show dirt and stains so you'll want to save these for low traffic areas. Rugs with color and pattern are great for higher traffic areas.
Wool rugs are very durable but they do shed so take that into consideration when choosing materials.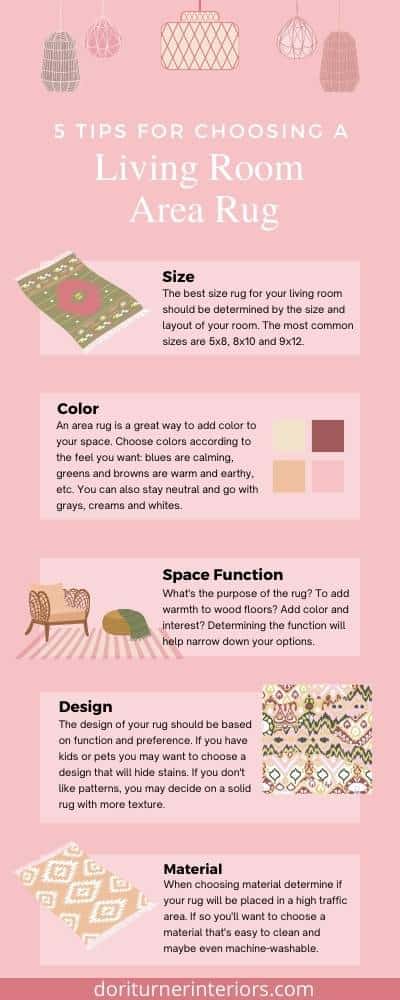 Honorable mentions: Dining room rug, kitchen rugs, bedroom rug, front door rug
If you're in the market for area rugs, I want to mention these areas briefly to help in your decisions.
Dining room rug
The shape of your rug will depend on the shape of your dining table.
Regardless of whether the dining room table is round, rectangle, etc. you want the sides of your rug to extend out far enough for the dining chairs to fit easily on the rug when they're pushed in.
There should be an equal amount of space all the way around the table. A general rule is for the rug to extend 24 inches past the back of the dining chair.
Kitchen rugs
A small rug in front of the sink is a great way to soften the hard floors and provide cushion while you wash dishes.
Standing on your feet on hard floors for a lengthy amount of time can be hard on your feet, knees, and back. A rug will help give support for these areas.
Bedroom rugs
If you have a small room with twin beds, a smaller area rug on the side of the bed is a great option. It provides warmth and support for your feet when you get out of bed.
If you have a larger space with a queen or king size bed in the center of your bedroom you have a few options.
You can go with a larger rug like an 8×10 or 9×12 and layer the bed fully on top of the rug, keeping it even on both sides of the bed. This will also allow you to have end tables on the rug on either sides of the bed.
If you have a smaller space you may choose to do a runner at the foot of the bed. You can also do a 5×7 rug that fits halfway under the bed and allow the rest to come out in front of the bed.
Front door rug
Having a small area rug at the front door helps catch debris and helps welcome people as they walk in the door.
Living room area rug FAQs
Where should an area rug be placed in a living room?
The most common placement for a living room area rug is in the center of the room. This allows the furniture to be anchored on the rug and provides a focal point.
Do rugs go under the couch?
If you're working with a rectangle or square rug you will typically place the front legs of the furniture over the edge of the rug. Round rugs are more commonly placed directly in front of the sofa.
Should rug be wider than couch?
Yes, a rug should be wider than the sofa. A good rule of thumb is to have at least six inches of rug on either side of the couch.
How far should a rug go under the couch?
If the rug is being used as an anchor, the couch only needs to cover the edge of the rug by a few inches. If you're wanting the rug to fill the room the couch can sit directly on the rug.
Living Room Area Rug: In Conclusion
Living room area rugs help anchor furniture and add warmth and depth to your space. They're purposeful and can add interest to an otherwise bland space.
Following the tips laid out above will help ensure you choose the perfect area rug for your home!