Tips for Choosing the Perfect Area Rug
Area rugs add warmth, comfort and personality to any room. They give rooms a lived in look and feel and add sophistication and style.
Area rugs can be used in almost any home decor style; from traditional to contemporary they're popular carpeting choices. They come in various shapes, sizes, colors and patterns that can accentuate or contrast with the room's main color palette.
There are many reasons why people choose area rugs for their homes including affordability, comfort, noise reduction and aesthetics.
Over time rugs can lose their luster or become suddenly outdated because of color fading or the incorporation of new trends into the décor.
But thanks to companies like Well Woven, Tumble, and others, it's easier than ever to change them out without breaking the bank!
I don't know about you but I used to dread picking out rugs. I wasn't sure what size to get and could never decide on a pattern. Would round or rectangle look better in the space? All of these questions stressed me out.
But once I learned some tips and tricks, some from trial and error and some from research, the process actually became fun.
So if you're like I was and you're stuck on how to choose an area rug, this post is for you!
Pro Tip: Flip your rug face-side down after you roll it out and leave it for a few hours to help it lay flat.
Tips and Tricks for Choosing the Perfect Area Rug
Measure Your Space
The size of your space is typically going to determine the size of your area rug. Typically in a large room, you want a large area rug like an 8×10 or a 9×12.
If your living room is smaller, though, a rug placed under your coffee table may work better. Just make sure it extends out beyond the table. A 5×7 is usually a good size for this.
Consider Your Furniture
Living Room
You also want to take into consideration what furniture you have. Anchoring a sofa set on a large rug in a living room is a great way to pull the space together.
You can choose to fit all of your furniture on the rug if it fills up the majority of your space or purchase a size down and place the front legs of your furniture on the rug. This is what we did for our living room.
Round or oval area rugs work well in small spaces, drawing the eye to center stage where you can enjoy it from nearly any spot (including comfy couches and chairs). They're perfect for placing under coffee and end tables.
For more on this check out my post on how to arrange a living room area rug!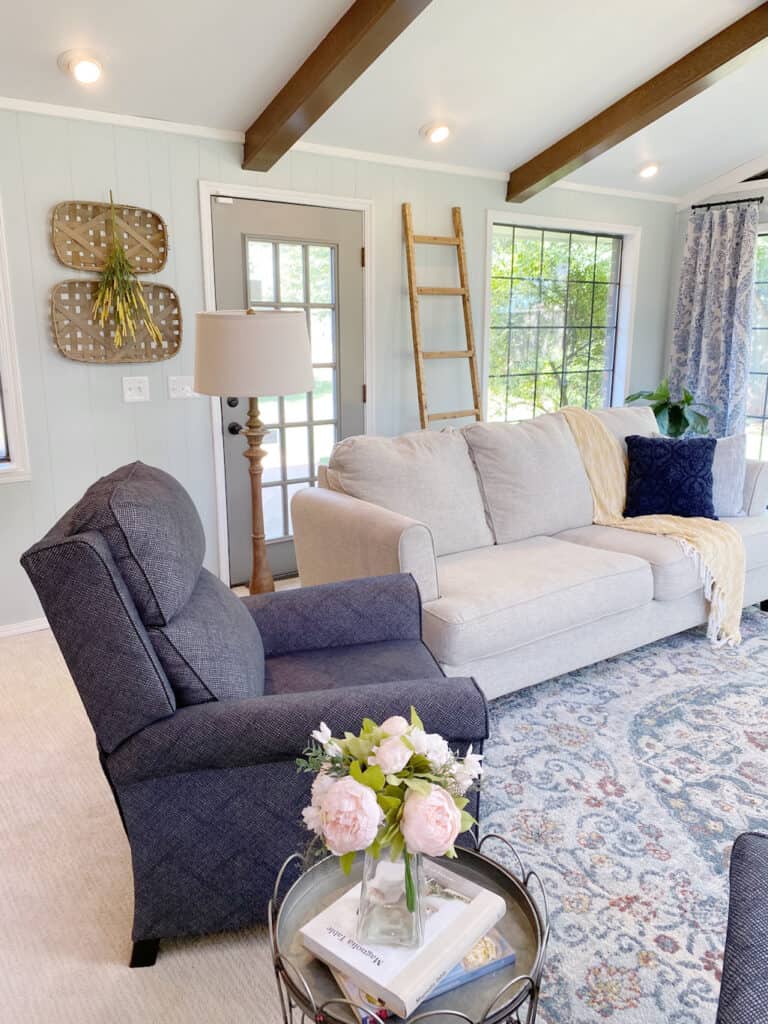 Dining Room
In a dining room your rug should be large enough to fit the table and chairs. Ideally it should extend out far enough for the chairs to still be on the rug when they're pulled out.
If you have a round dining table, a round rug will look best. If you have a long table, a rectangle rug will look best.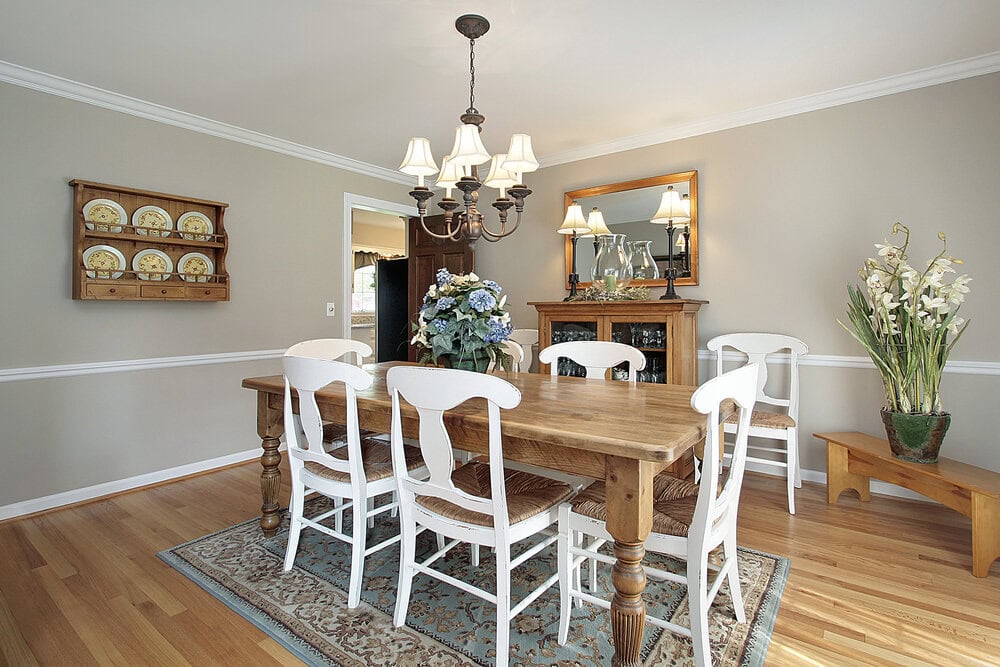 Bedroom
In a bedroom you may choose to have a rug under your bed. In this case, an 8×10 works best for a Queen and a 9×12 works best for a King. How the rug fits under the bed depends on how you're styling the space.
Place 2/3 of the rug under the bed, extending 18-24″ out on either side if there won't be anything at the foot of the bed.
If you'd like to place a bench or lounge chair on the end, then place 1/3 of the rug under the bed. This allows the rug to extend out past the bench at the foot.
You may also choose to place a rug beside the bed instead. You can place one on either side if the bed sits in the middle of the room, or on one side if it sets against the wall.
Office
In an office, the desk and chair should fit on the rug with plenty of rug extending out on all sides. For our office we ordered a 5×7 to accomplish this look.
Corners
Maybe you have corner in a nursery or study that you'd like to add some warmth to. A small round rug is perfect for this! Anchor it with a comfy chair and a small side table and you're set!
What is the Space Being Used For?
When choosing a rug you need to think about what the room is being used for.
If it's a high-traffic area, you aren't going to want to purchase a plush rug that will get matted down and be hard to clean.
If you have kids or pets, you'll want to choose a rug that's easy to clean.
Neutral or Pattern?
What look are you going for? Is your space more neutral? Maybe you want to bring in some bold colors and patterns with your rug.
Does your space already have a lot of color or pattern? Then maybe you want to keep it neutral with a jute or solid rug. A tone-on-tone pattern could work, too.
Maybe you want to add some depth and layer your rugs with a larger neutral rug on bottom and a patterned rug on top.
Also consider what colors you already have in your space and look at rugs that complement those colors.
Or if you're starting from scratch in a new home or redecorating, choose the rug first and pull colors from the pattern to add throw pillow and blankets, etc, that will complement the space.
For more help, take this quiz on how to find your perfect rug!
Area Rug on Carpet
Rugs are not just for hard surfaces. Add interest to a bland space and extend the life of your carpet by adding an area rug to the space!
Layering an area rug on carpet can add a wonderful dimension of comfort, color and softness to your home.
Tips for Choosing the Perfect Area Rug
In conclusion, choosing the right area rug for your space doesn't have to be a daunting task. it's a matter of finding the size and style that suits your lifestyle and design preferences to match your interior decorating theme.
A high quality rug will last you for years, so use these tips to choose the perfect one for you!