Our Magnolia Bedroom Furniture: An Honest Review
An honest review of our Magnolia bedroom furniture!
I'm sharing a review of our Magnolia bedroom furniture in case anyone out there has been contemplating making a purchase from the Magnolia furniture line!
Before purchasing the Magnolia furniture, we had a solid wood bedroom set that we bought not long after we got married. But after moving several times it was pretty banged up!
Not to mention the annoying footboard that stuck out on the side that I kept bruising my thigh on every time I got up in the middle of the night to use the bathroom!
So when we found out we were moving again we sold the old furniture. It was a good thing, too, because it would not have fit on the moving truck!
This post contains affiliate links. See my disclosure policy here.
Magnolia Furniture Line
I love Fixer Upper and had been looking at their new line of furniture. I loved their bedroom furniture in particular and my sweet hubby agreed that we could invest (I say invest because it was more than we usually spend on furniture!) in a couple of pieces.
We ordered our furniture in July of 2017 from Nebraska Furniture Mart. It was on backorder so we didn't receive it until September.
We purchased the Magnolia Home Farmhouse Queen Church Pew Headboard in Jo's White and the Magnolia Home Farmhouse Mantel Dresser.
My initial reaction?
SWOON. It's so pretty! And I love the way the whites and woods give such a nice contrast. The furniture is solid wood and I mean SOLID. My hubby and both of our dads helped us move the furniture in and it was heavy!
Magnolia Dresser
The dresser is taller than usual, which was a plus for my hubby who is 6′ 3″. It has eight drawers instead of the standard six so you're able to fit more, which is nice since we share it. I love the black handles and the scalloped detail.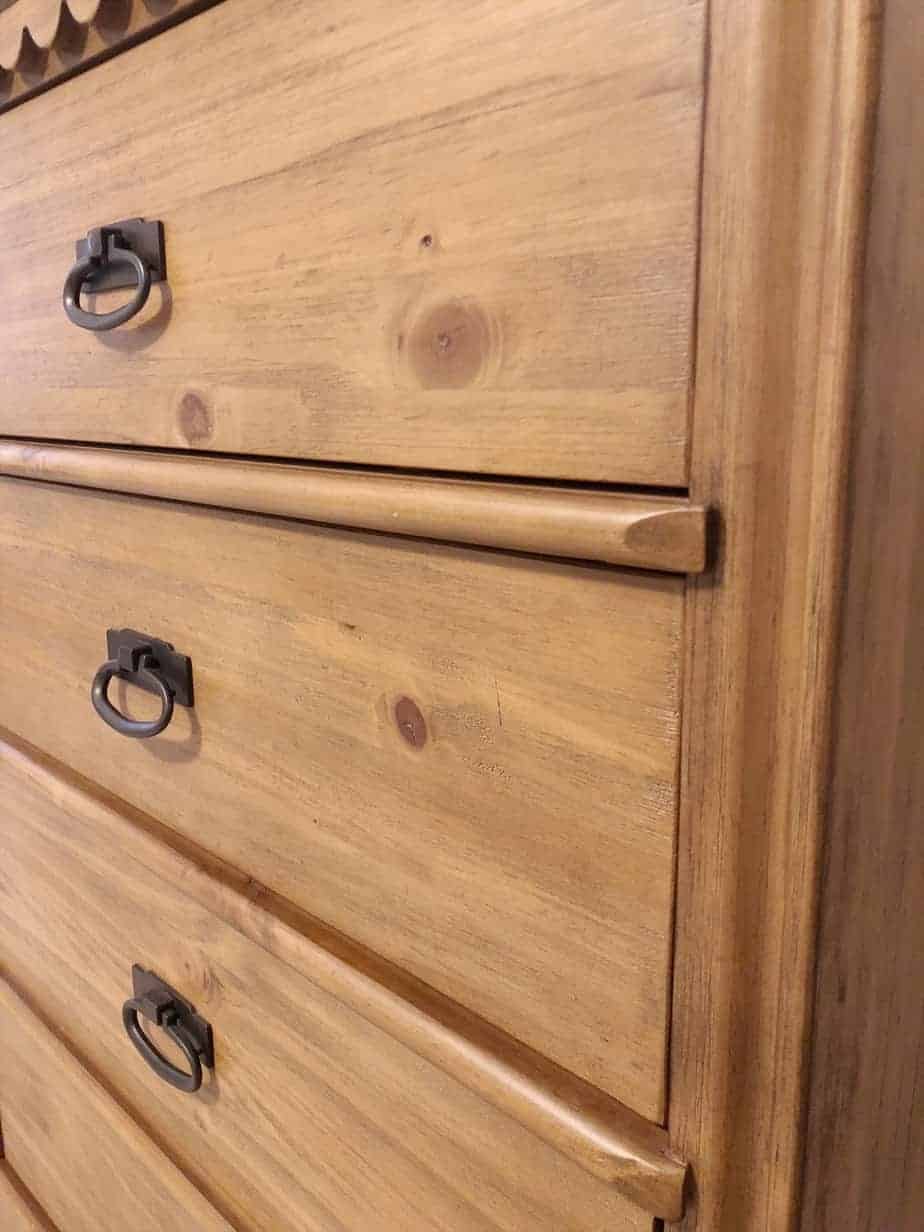 Magnolia Farmhouse Headboard
The headboard is just beautiful! It's tall and catches your eye as soon as you walk into the room. Even now it's the first thing I notice when I walk in the bedroom and I'm still so glad we chose that one.
I love the way it mimics a vintage church pew with the curvy detail.
Both pieces have that vintage antique look that I love.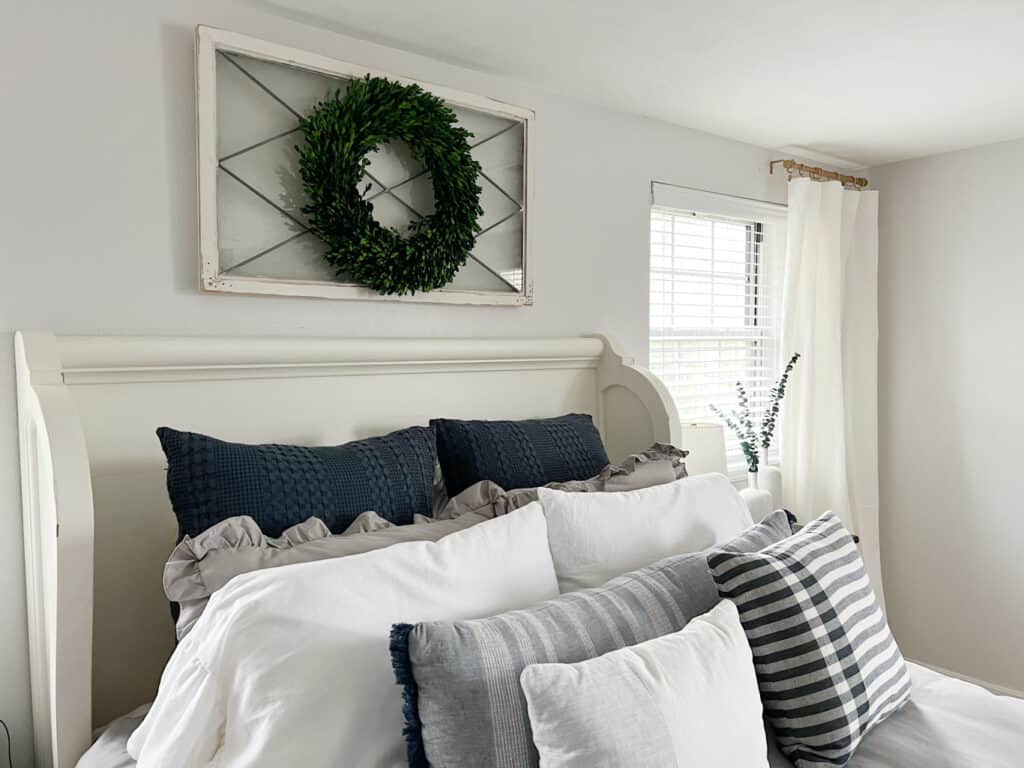 Five years later…
After living with the furniture for five years there are a couple, albeit little things that kinda bug me. I hate to say that because I really love the pieces, but I want to be completely honest.
The headboard was made to look distressed. But instead of actually distressing it, they painted little gray "distressed" marks on the piece. For me, especially since I've redone a ton of furniture, it looks a little cheesy. And they only did it in a few spots so that makes it look even more off if you really pay attention to it.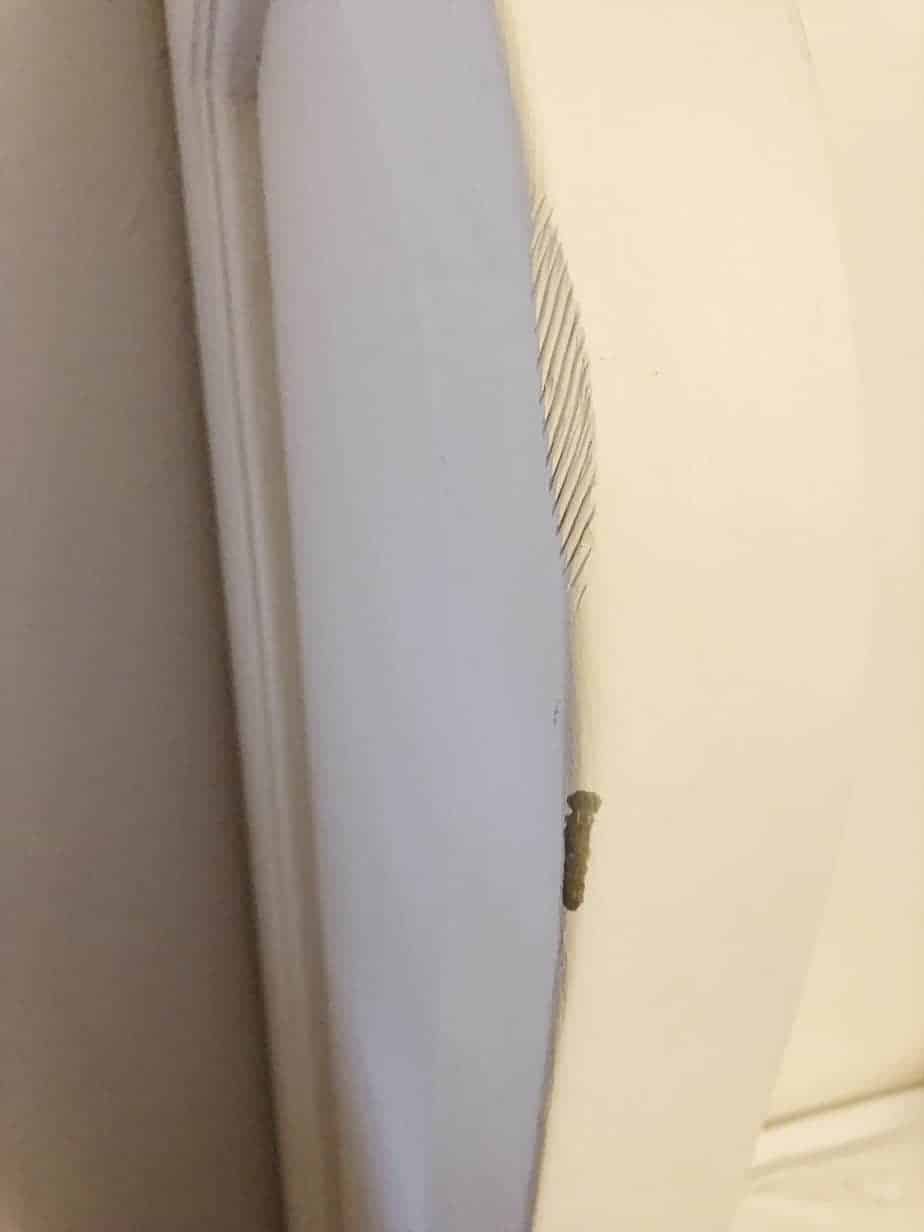 On the dresser, although it is solid wood and the drawers are stained, the base has a veneer over it. We didn't realize it until some small pieces chipped off moving it up the staircase into our bedroom.
I would've much rather it been stained, as well. But as my hubby says, that's what you get with mass-produced products. We were able to cover up the chips with some stain markers so it's no biggie.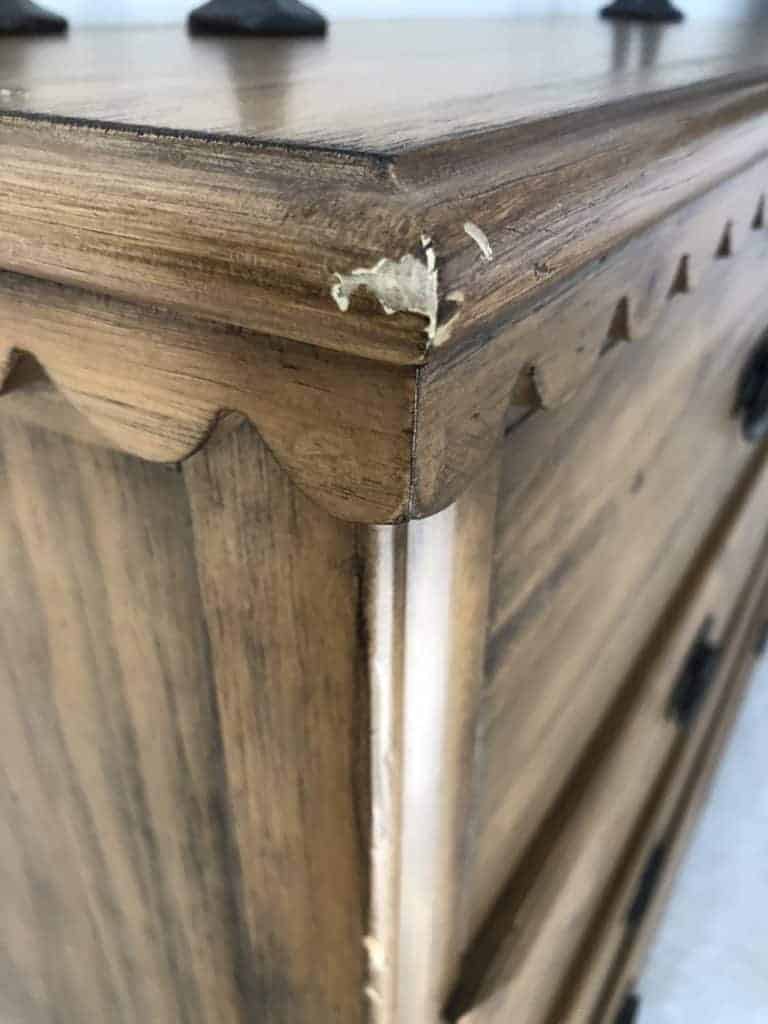 Those are the only complaints I have and really they aren't that big of a deal to me because overall, we LOVE the furniture. We have no regrets and would definitely purchase them again!