Tumble: The Best Machine Washable Rugs for 2023
Area rugs serve many purposes. In addition to providing protection for your wood floor or other types of hard flooring, they can help add warmth to any space.
They can be used to add a pop of color and help anchor furniture in a room. Area rugs are great for achieving a cozy feeling in your home.
When you have kids and pets, machine-washable area rugs are a great option.
I was recently introduced to a collection of washable rugs from the company Tumble. I found them while scrolling through Instagram one day and knew I had to give them a try!
I contacted the company and they were so kind to send me one of their washable runner rugs to try for free.
This post is sponsored by Tumble, but all opinions and images are my own.
This post contains affiliate links for your shopping convenience. I receive a small affiliate commission when you make a purchase using these links. See my disclosure policy here.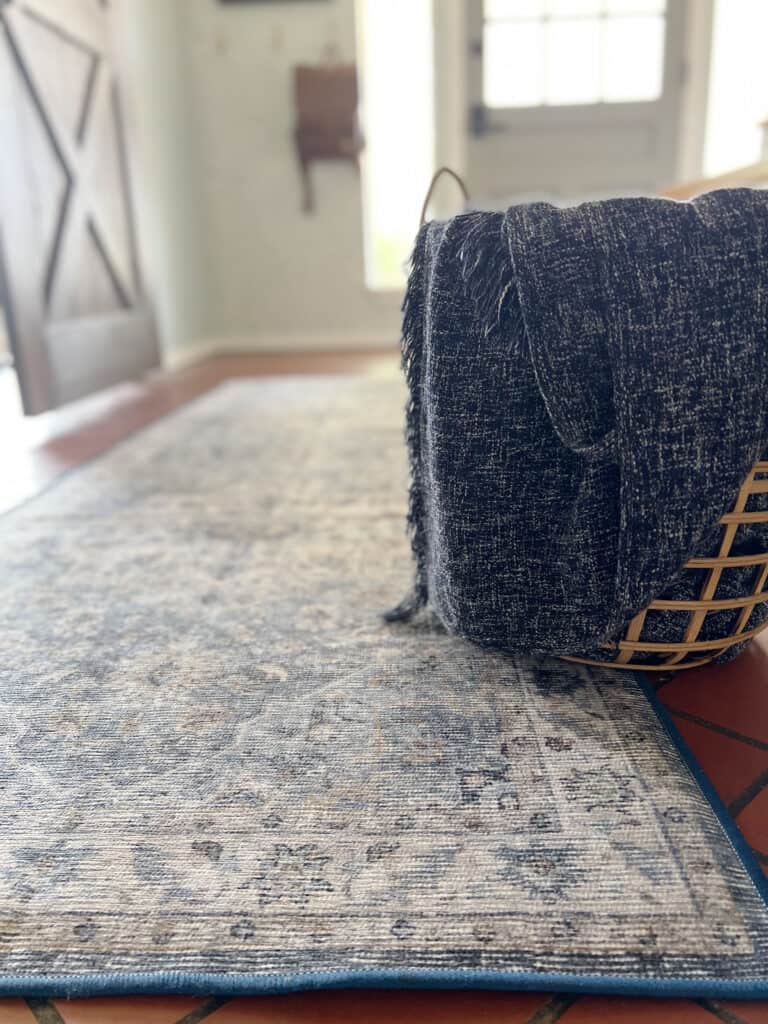 Ruggable: Best Washable Rugs?
Washable rugs have been gaining in popularity since Ruggable rugs introduced their line a few years ago. They're great for high traffic areas like a living room and dining rooms. They're the kind of rug designed with real life in mind.
Washable rugs are typically made of synthetic materials and offered in different sizes from a small area rug to larger sizes. There are washable kids rugs perfect for nurseries, bedrooms, and playrooms.
Interior designers frequently recommend them to families since they can be cleaned in a standard washing machine.
When soiled with pet dander or muddy shoes, they can be removed from the non-slip backing and tossed in the wash. What mom doesn't love that?
As popular as Ruggable's rugs are, they do have some downsides. First, they're pricey. The rug itself isn't unreasonable, but you have to purchase the required rug pad separately. The standard pad is over $200 and the cushioned pad is over $300.
Also, they're not completely stain resistant.
Last year, a friend of mine invested in a new rug from Ruggable with a white background for their new home. Her husband accidentally spilled his full cup of coffee all over it. She immediately washed it, but the coffee stain didn't come out. She was so disappointed!
Hearing her Ruggable review and seeing the price had me pushing pause on purchasing one of their rugs for my home.
Tumble Spill-Proof Rugs
Enter Tumble machine-washable rug. With the tag line "love at first spill" Tumble makes a bold claim. I kept seeing videos of people pouring their drinks on their rugs just to have the liquid bead up on top and easily wipe off.
I thought it was too good to be true. A rug that my kids can't destroy? Where pet stains are no longer a thing? That's a game changer!
How do they do it? Their rugs have a spill-proof coating that repels liquid which decreases the need for washing in the machine. This means your rug will last longer and be easier to maintain.
When you purchase a Tumble area rug it comes with the lightweight rug cover and a non-slip rug pad that you fit together like a puzzle. My area rug came with three large pieces that connected snuggly together to form the pad.
The rug lays over the pad and then the pad tucks into the rug at the four corners. I love this feature because it prevents the corners from curling up like they can with a traditional area rug.
Once I had my runner fit to the pad it was time to spill something.
I filled a cup with water and poured it on. It immediately beaded up and rolled off the rug onto the tile. I took a towel and dabbed at the few beads left on the carpet and they came right up. I felt the rug where I had spilled the water and it wasn't even damp!
Of course when I told my kids they wanted to turn it into a science experiment and began making their own spills. It was the same result every time.
Then came the big one. My youngest went outside after it rained and accidentally tracked mud into the house and onto the rug. Nothing stays clean here for long!
We grabbed a damp cloth and wiped up the mud. I didn't have high expectations, I really thought I'd still need to throw it in the wash, which would've been just fine.
But I didn't need to! The mud wiped right off! Now I did choose a rug with a darker pattern, so a lighter rug may still have to go in the wash. But all-in-all, I was impressed.
More Perks of a Tumble Area Rug
After I saw how spill-proof the Tumble rug really was, I was HOOKED. But there are a few other perks of purchasing from Tumble.
As mentioned, you can wash the whole rug if needed. Just add it to your washing machine like you would a normal load of laundry. Their care instructions recommend washing it in cold water and skipping the fabric softener.
Washing it on the gentle cycle or delicate cycle of your machine is probably a good idea, although not required.
You can line dry the rug or toss it in the dryer on the low heat. According to the manufacturer's instructions, the spill-proof coating will begin to fade so you want to avoid frequent washing. You do not need to use a carpet cleaner.
Another perk is that the rug pad is INCLUDED in the price of the rug, which is a great deal. The price you see is all inclusive AND affordable.
They have a variety of design options available including neutral rugs, geometric designs, and more. I chose the Amara in Indigo/Beige for our entryway. They're a new company so they're introducing new styles all the time.
They also come in various sizes with their largest size being 8×10. Snag a few washable kitchen rugs or a larger family room rug. They're also great for a dorm room. Tumble offers different types of rugs for any home decor style.
One more perk? FREE SHIPPING on all orders! Plus a 30-day money-back guarantee!
Tumble Rugs FAQ:
Is Tumble the same as Ruggable?
Tumble rugs are similar to the popular Ruggable rugs. The difference is that, in addition to being machine-washable, Tumble rugs also have a spill proof coating that allows you to wipe up spills without having to wash the entire rug.
How thick is a Tumble rug?
Tumble rugs with the pad included are 1/4 inch thick.
Can Tumble go in the dryer?
Yes! Your Tumble rug can be placed in the dryer on a low heat setting after washing in the washing machine.
Are Tumble rugs really spill proof?
Yes, Tumble rugs are really spill proof! Their spill proof coating causes liquid to pool on top of the rug instead of sinking into it so you can wipe it right up!
Tumble: The Best Machine Washable Rugs for 2023 – In Conclusion
If you're in the market for a beautiful rug for those high-traffic areas in your home, Tumble is a great choice.
Like a magic carpet, this spill-proof carpet is low stress and high quality. It was the perfect rug choice for our family and I'm confident you'll love them, too!