Tumble Rug Review: Tabor Natural/Ash
Are you looking for the best machine washable area rug to use in your home? I have the perfect washable rug for you!
In this post I'm sharing my experience with the Tabor Natural/Ash Tumble washable rug which is an amazing spill proof rug you can use in your home and wash at any time. If you are looking for a Tumble rug review, this is for you!
And be sure to read to the end for an exciting announcement from Tumble!
This post contains affiliate links. See my disclosure policy here.
Tumble Runners
I have been blessed to have the opportunity to work with the Tumble brand before when I was gifted their Amara Indigo Beige runner several months ago.
I loved it so much that I purchased the Hali Indigo Bronze runner to be able to switch out designs when I wanted to. You can check out my video Tumble rug review here!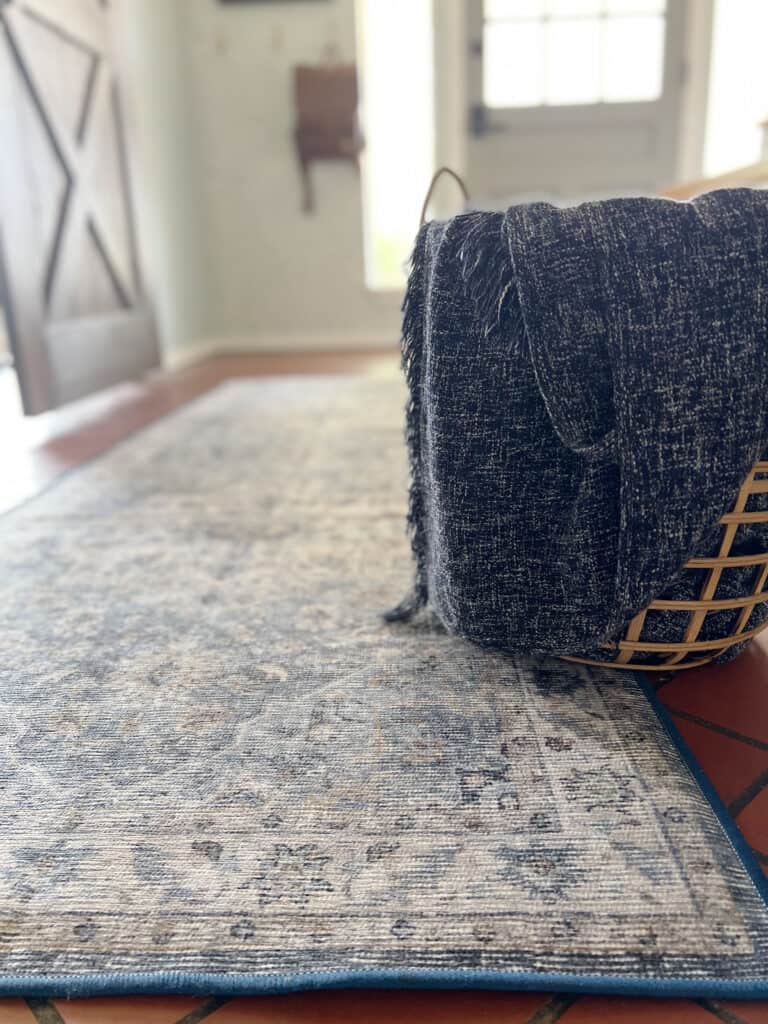 Tumble 8×10 Washable Rug
When they reached out again about reviewing another design I jumped at the chance to work with them. This time I chose the Tabor Natural/Ash Tumble spill-proof rug in an 8×10 to go in our dining room.
I chose it for a couple of reasons: I loved the design, but also, I wanted to put one of their lighter rugs up against my large Goldendoodle and my three kids to see if it would still hold up.
I couldn't wait to test it out so when the rug arrived, we got to work putting together the puzzle piece cushioned pad and laying down the rug.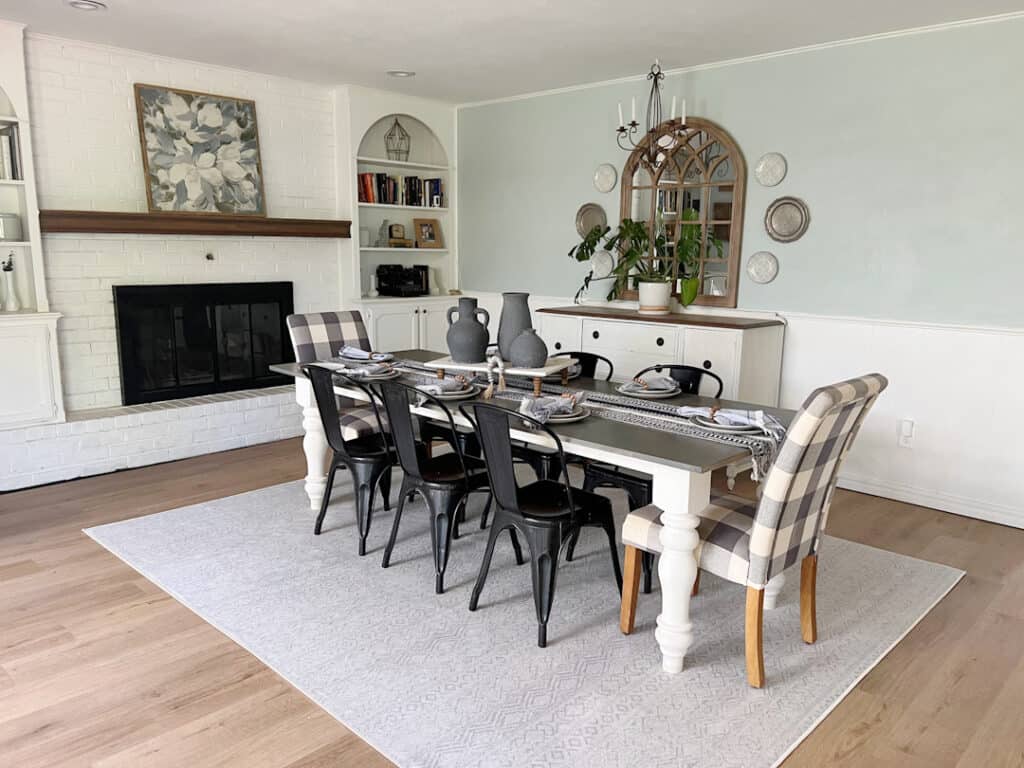 I love the Tumble rug grippers that are included with your washable rug and while I didn't use them with my runners, I did decide to use them on the corners of this rug to keep the edges securely in place.
The grippers also prevent the rug from curling at the edges although I will say I haven't had any trouble with my runners curling without the use of the grippers.
The design of this rug is beautiful and worked perfectly with the farmhouse boho vibe in my dining room. The subtle gray pattern against the cream background made the space feel brighter and more inviting.
Video: Tumble vs. Ruggable Washable Rugs Review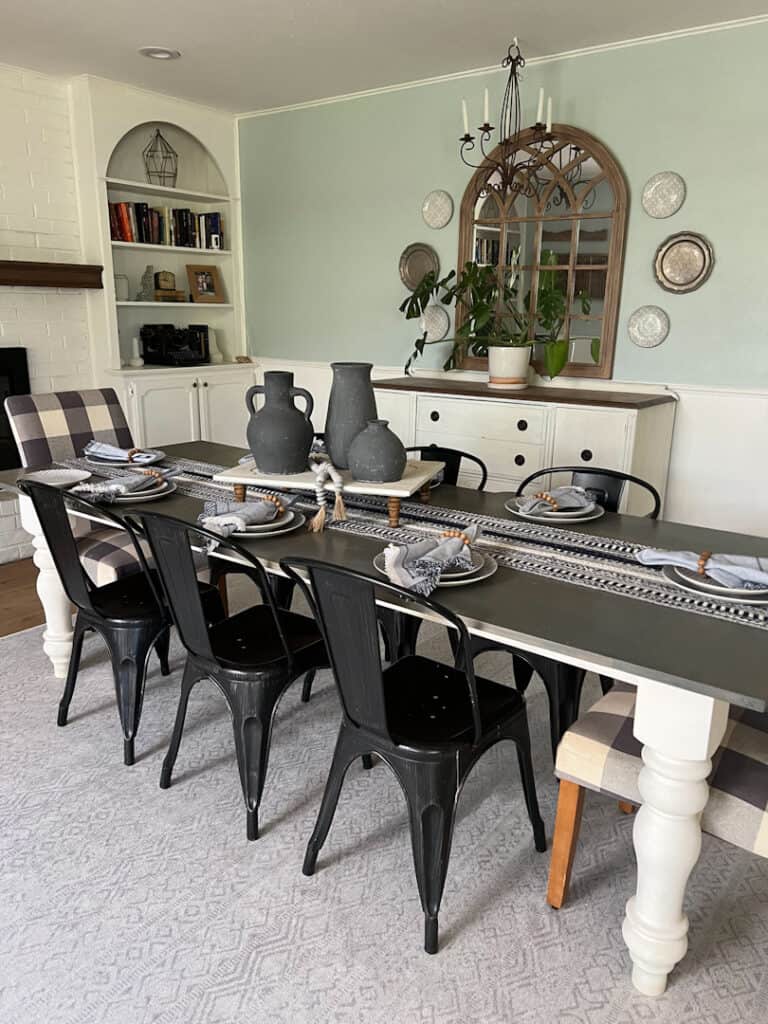 Tumble Spill-Proof Test
Once everything was in place, I was anxious to try the spill test yet again, but this time on a light background. I poured some grape juice on the rug to see what would happen. Just as before, the juice sat on top of the rug and I was able to soak it up with my paper towel. Incredible!
But give anything just a little time around my house and between the dog and my kiddos, it will be a mess! So after a couple of weeks my rug had dirt and mud tracked on it.
If you've read my other Tumble rug review, you know that the spill proof technology fades a little with each wash. I wanted it to last as long as possible so I decided to try vacuuming and spot cleaning the rug.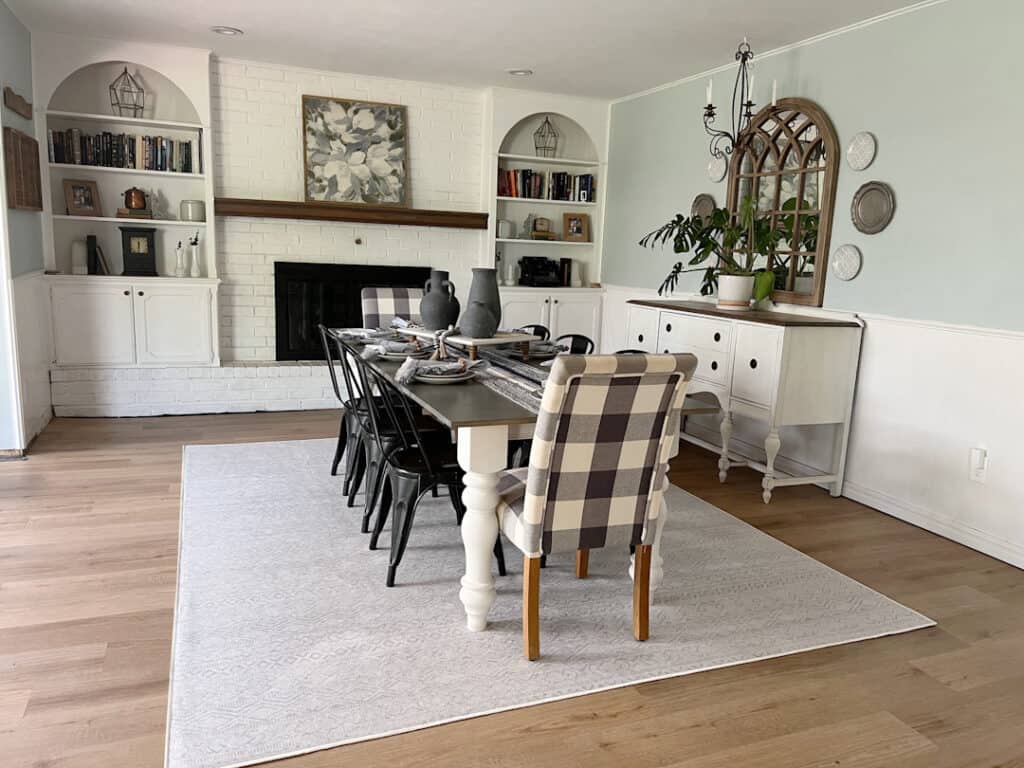 I set my vacuum cleaner on the bare floor setting and vacuumed up the dirt particles.
TIP: Be careful that the suction on your vacuum cleaner isn't too strong or it might suck the rug up. Test it in a small area first.
Once that was done, I took a rag and dampened it with cool water and gently rubbed the mud spot on the rug. It immediately came out! I was thrilled that I could use this method in between washes to keep my rug looking nice.
Best Machine Washable Rug
I knew it was a risk to put a light colored run in our dining room, but with Tumble's spill-proof and washable area rugs, it's a decision I'm glad I made! I love our beautiful Tabor Natural/Ash rug and would definitely choose it again!
Now for that exciting news I mentioned: Tumble just announced that they now carry 9×12 washable rugs!
I was so excited to hear this as I had been looking for one that size for my living room and hadn't pulled the plug because I was worried about spending that much on a rug that couldn't be washed or that wouldn't fit in my washing machine.
But with Tumble's light weight rug covers I don't have to worry about it not fitting and I can wipe those spills and wash those stains when needed!
Need help choosing an area rug for your home? You might enjoy these articles: