Fun Vintage Farmhouse Girly Tween Bedroom
From pink and purple to vintage farmhouse tween bedroom!
Our daughter has entered that stage – the not quite little girl but not quite a teenager stage. She's a tweener (as we call it at our house)!
This post has affiliate links for your shopping convenience. See my disclosure policy here.
We had done the pinks and purples and teal room decor complete with a teal dresser and she loved it for years. But she was ready for a big girl space and so we set out to give her a tween bedroom she could grow into.
Vintage Farmhouse Girly Rooms
I researched girly rooms for some inspiration. We love farmhouse style and wanted to add some hints of boho vintage, too, so for her room we decided to go with a farmhouse look with touches of boho vintage.
I ran everything through her because, after all, she is the one living in there! But she's very easy to please and enjoys antique shopping with me and we had so much fun designing her tween bedroom!
Want to know how to get the farmhouse look? Check out my post on What is Farmhouse Style and How to Get It!
Paint Colors
The inspiration for the colors in her tween girly room came from a pair of leggings she had – not the usual place you would think to find bedroom colors, but what can we say? We loved the colors!
We chose Behr paint because they had the perfect green for her accent wall. And I will have to do a review on the paint soon because it's amazing! We chose Behr Equestrian Green for the trim accent wall and a marshmallow white for the rest of the room.
Behr Marshmallow was the actual name of the other color we used and it paired perfectly with the Equestrian Green. The marshmallow color is an off-white almost blush shade. So pretty!
Be sure and check out our Cool Teen Boy Bedroom Makeover for the boys!
We also painted the inside of her closet and her closet doors in the Behr Marshmallow.
Trim Accent Wall
I will be writing a post soon on how to create the trim accent wall we did in the room. I do have a YouTube tutorial on it you can check out here.
We took 1×4 pine boards and created a grid pattern to add a fun focal point in the space. We gave it two coats of the Behr Equestrian Green and I can't stop staring at it! It turned out B-E-A-utiful!
Flooring
Mikah's carpet was the next thing to go. It was stained and disgusting and it was time! Eric ripped up her carpet and padding and removed all the tack strips.
We decided to install faux wood floors and I did a lot of research to find something durable and affordable. We landed on Select Surfaces Laminate Wood Flooring from Sam's Club in Barnwood.
You. Guys. These floors are ah-mazing! I'll be doing a video and post soon on how to install them and an overall review, but we could not be happier!
At just under $24/box ($1.89 per square foot) this laminate wood flooring was affordable and easy to install but also high quality and so beautiful!
Want more of the vintage farmhouse look? Check out 15 Ways to add Vintage Farmhouse Style to any Home!
Vintage Farmhouse Tween Bedroom Furniture
With the walls painted and the flooring done in this tween girls room it was time to focus on furniture.
We already had the 1930s antique dresser and we decided to give it a makeover with Wise Owl Chalk Paint in Blush.
I love the look of blush with gold and Mikah LOVES anything gold so we decided to paint the hardware with Rub 'N Buff in Antique Gold.
The twin headboard was left behind by the previous owners and after a couple of coats of Rustoleum Heirloom White Spray Paint it fit in perfect with her farmhouse bedroom set!
This nightstand was a set of two farmhouse finds on Facebook Marketplace and it was just the right size. We refinished the top and the drawer, painted the base with chalk paint, and added new hardware.
Mikah originally had a queen-sized bed in her room but she asked if we could downsize because she wanted more space.
With the extra space, we were able to fit this vintage desk we'd had in our office for years. It was a Goodwill find that we refinished. The chair came from my husband's grandma, which makes it extra special!
We love vintage farmhouse bedroom furniture and this set of originally mismatched pieces really came together for the perfect farmhouse bedroom set!
Vintage Farmhouse Wall Decor
We had so much fun picking out her wall decor at one of our favorite antique malls! If you're ever in the Branson area, be sure to check out Ozark Antiques!
RELATED POST: Antique Shopping in Claremore, OK
We entered an adorable booth and Mikah immediately gravitated to this vintage cross-stitch art piece. It really was the perfect piece for her tween bedroom!
She needed a mirror to go above her desk and we found this heavy antique mirror in another booth. It was just the right size and will be great as she grows older for when she starts wearing make-up and curling hair, etc!
Vintage Farmhouse Lighting
We've had the same antique white chandelier for her room since she was a baby. We've moved multiple times since and the light always comes with us. We purchased it at Home Depot and you can find similar ones there.
She loves to read so we wanted to get her some kind of reading light. We landed on this gold wall lamp (see images above). It had the option of either hardwiring it in or plugging it in an outlet which is what we did.
We hung it right above her bed and it may be her favorite feature!
Final tween bedroom touches
We purchased new white ruffled bedding from Amazon and after searching for girl rugs bedroom we landed on this cute round jute rug, also from Amazon.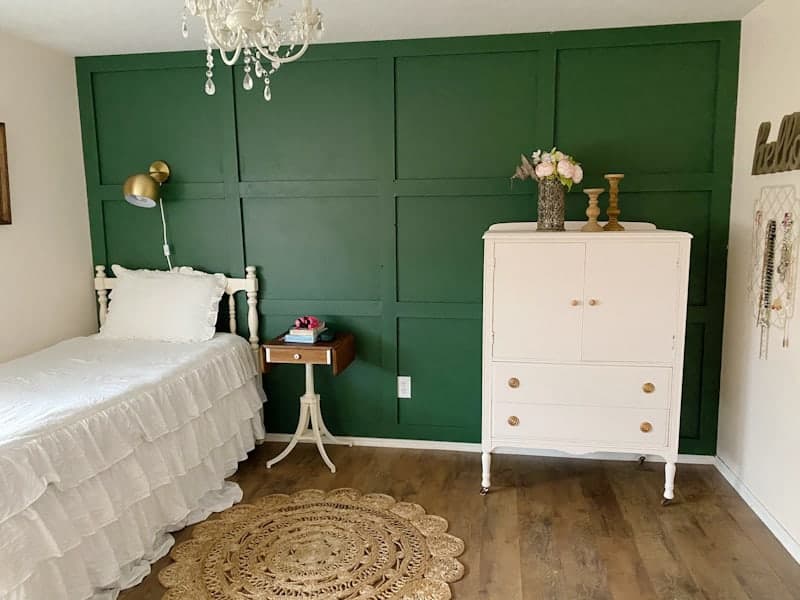 We still need to settle on some window treatments and I'll be sure to update this post when we do!
We also plan on adding some plant decor to go with that vintage boho feel!
VINTAGE FARMHOUSE GIRLS TWEEN BEDROOM!
We had so much fun designing this tween bedroom and Mikah is thrilled with her new space! I may have asked if I could move in…might be time to give our room a little makeover!
Pin for Later