Farmhouse Laundry Room Makeover (for less than $400!)
Give your laundry room a budget-friendly makeover!
Who doesn't love a before and after? I know I do! I am really excited to share our laundry room makeover with you today!
It doesn't have to cost a fortune to redo your laundry room or any space for that matter! Even just some paint goes a LONG way. For less than $400 we completely overhauled our laundry room. So let's dive in!
This post contains affiliate links for your convenience. See my disclosure policy here.
Not Part of the Plan
We hadn't planned on redoing the laundry room and downstairs bath this soon. But over the summer our sewer line started backing up into our backyard.
After renting an auger and attempting to clean the line out ourselves we discovered there were tree roots in the line. We may have gotten the auger stuck in the process…and there may be a YouTube video floating around of my husband showing someone how to get it unstuck by using a pulley system (i.e. our basketball pole). Ya know, just in case.
Anyway, after having multiple plumbers out over the next few months and getting multiple diagnoses, we had the line scoped. They put their cameras down there and discovered the line was a complete mess. Our only option was to completely replace it.
Replacing the Sewer Line
This is the second time in our marriage we've purchased a house and had to change the sewer line out not long after. Can I just go off on a tangent here and say people who knowingly pass their house problems off on the next buyer are so not cool.
In both instances, each plumber told us that there was no way the previous owners weren't aware. In fact, in our first home, the plumber told us he had personally been to our home several times with the previous owners and had told them it had to be replaced. Thanks for that.
Thankfully, only the laundry room and downstairs bath were on that line. The rest of the house was on a separate line. Not sure why, but we were glad!
We stopped using the bathroom a few months ago but continued to use the laundry room. There was still a little backup in the yard but at least it was from the washing machine and not…well, you know.
We got multiple quotes and scheduled the line to be replaced over the holiday break. Merry Christmas to us!
Since we were already taking a loan out for the sewer line (because did I mention we had to replace the HVAC and water heater not long after moving in, too?!) we decided to add a little more to it to remodel the laundry and bath.
Since we did all of the work ourselves, keeping the same floor print and painting cabinets instead of replacing them, we were able to do the job on the cheap. The bathroom isn't quite finished so I'll have to share that later.
UPDATE: See updated Guest Bathroom in this post!
Farmhouse Laundry Room Makeover
We knew we wanted a farmhouse feel for our new laundry room. I had drawn out this amazing plan (LOL) on a sticky note back in summer and shared it with Eric.
SHOP FARMHOUSE LAUNDRY ROOM

Washers and dryers were smaller when the house was built. When we moved our washer into place we couldn't get the door to the bathroom open all of the way because it ran into the washer.
I did some research and found that we could buy a stacking kit and stack our units to make room for the door to open.
My hubby had already tiled the laundry room floor before we moved in so that was done.
UPDATE: See our kitchen remodel here!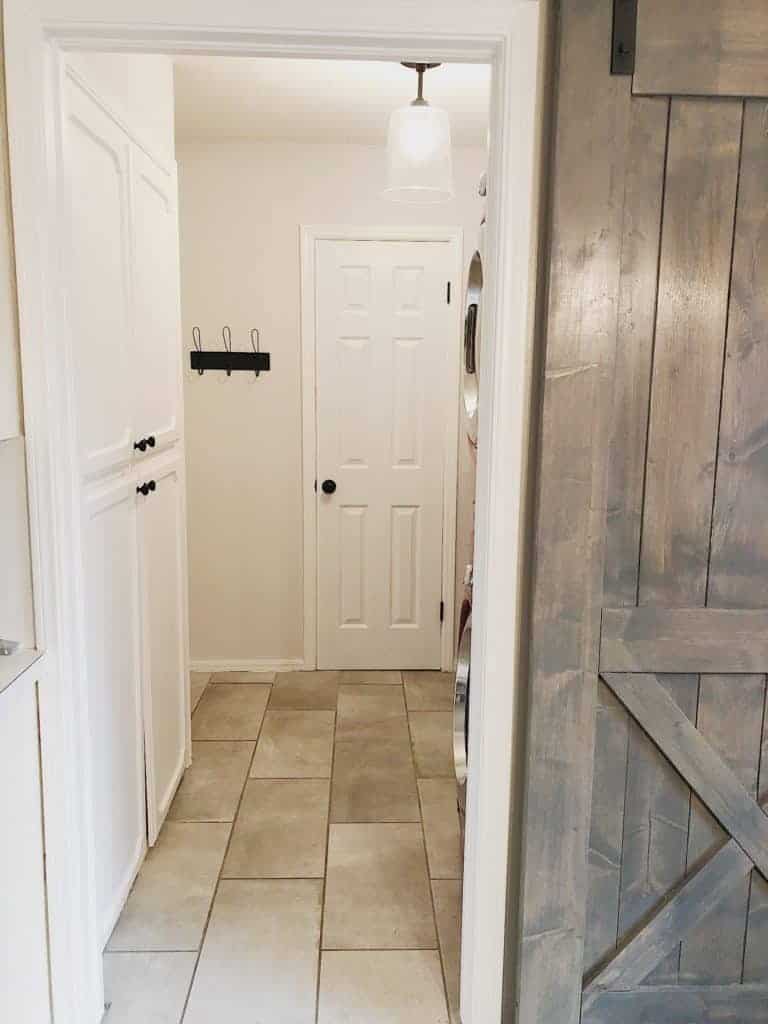 We had to replace the washer box and hook-ups because they were original to the house. They had calcified and weren't working properly anymore.
Eric purchased this SharkBite valve outlet box from Lowe's to replace them. You can also find it on Amazon. He went on and on about how amazing this set was and how easy to install!
You'll notice we didn't move the hook-ups behind the washer. It was going to take a lot more tearing out and sheetrock/mudding (something we're not great at) and more money. So the hook-ups are staying where they're at for now and I'm probably going to make a skirt to cover them later on.
We removed the upper cabinets to make room for the dryer to fit on top of the washer. We also removed the upper cabinets on the other side and replaced them with a bar (not pictured) so we could have more space to hang dry our clothes.
The long cabinet in the middle we left for storage and painted it using Valspar's Furniture Paint. You can read more about this awesome paint in this post.
We had to texture the wall where the cabinets had hung. This was Eric's first time using the knock-down spray texture and he did an amazing job!
We patched and filled holes, etc., and then painted the whole room in Glidden's Silver Screen.
multi-purpose Mudroom, pantry, and laundry room
This room also serves as our mudroom and pantry. We gave the pantry doors a fresh coat of paint using the Valspar Furniture Paint on those, as well. Then we painted the trim.
Folding Table
We purchased a thick pine board, cut it to size and stained it. Eric used it to build a folding table to go where the washer used to go. Then he installed beautiful marble beveled subway tile for some pretty detail. I love how this turned out!
Lighting
We replaced the old dated light fixture with this light fixture that I purchased from Birch Lane. I got a sweet deal on it because it was open-box.
New Doors
Finally, we replaced the door that separates the laundry room from the bathroom with an updated paneled door and new hardware.
We had already installed the barn door leading into the laundry room from the kitchen back in the summer and I love it!
Final farmhouse Touches
Over the weekend we made a shopping trip for a couple of decorations. We purchased these hooks to hang backpacks and coats, etc. and this fun sign to hang over the top to give that farmhouse feel!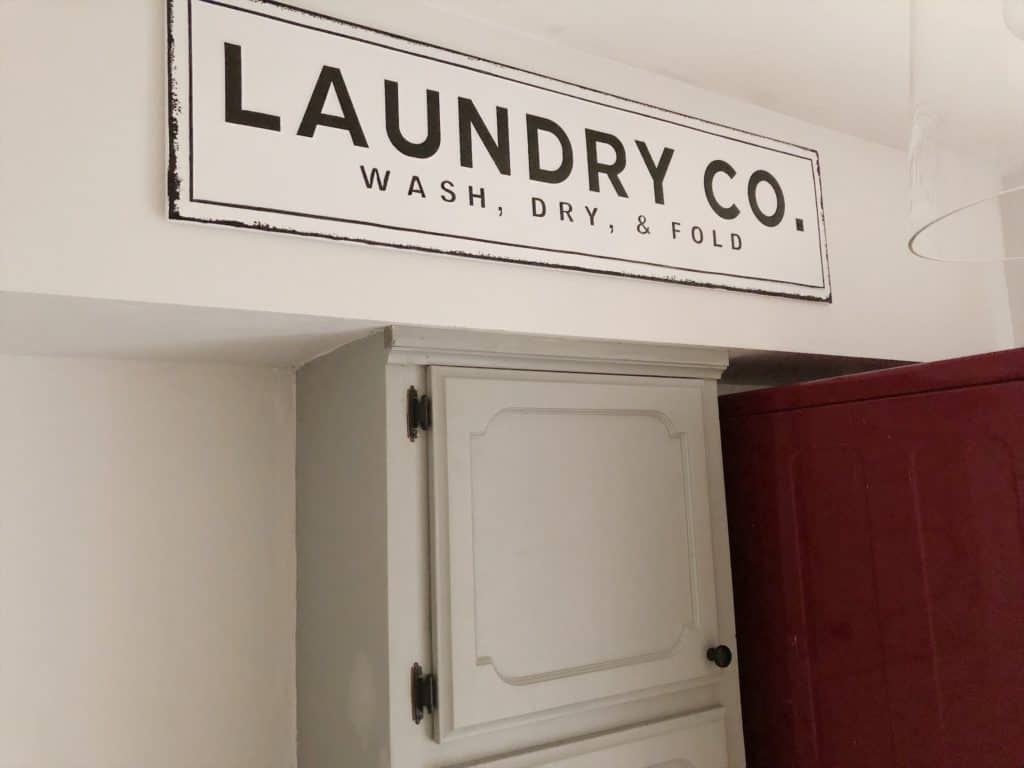 We are really pleased with how it turned out! The layout is much more functional and it's so pretty! We were able to get it done on a small budget which is even better!
Stacking kit: $35
Open-box light: $35
New knobs and hinges: $25
Paint: FREE (All the paint we used was leftover from other projects)
Beveled subway tile on folding table: $30
Grout: $15
Tile glue: FREE (reused from another project)
Folding table: $45
Varathane stain for tabletop: $9
Spray Wall Texture: $20
Misc. (quarter round, new hook-ups, spackling, sheetrock, tape, sandpaper, nails, screws, etc.) $150
Laundry sign: $25
Hooks: $8
TOTAL: $397
Thanks for taking the time to stop by today and check out the transformation! I'd love to hear your thoughts in the comments! Have a blessed day!
Give your laundry room a budget-friendly makeover!
OTHER RELATED POSTS:
Pin for later: