How to Refinish Wood Furniture for Beginners
Today I'm sharing how to refinish wood furniture. It seems like it would be difficult and early on in my furniture refinishing days, I made it harder than it should have been.
Over time (thanks to my hubby browsing the aisles at the hardware store for a better solution) we figured out that it didn't have to be that bad. So in this post I'm sharing one of the easiest ways to refinish wood furniture.
This post contains affiliate links for your shopping convenience. See my disclosure policy here.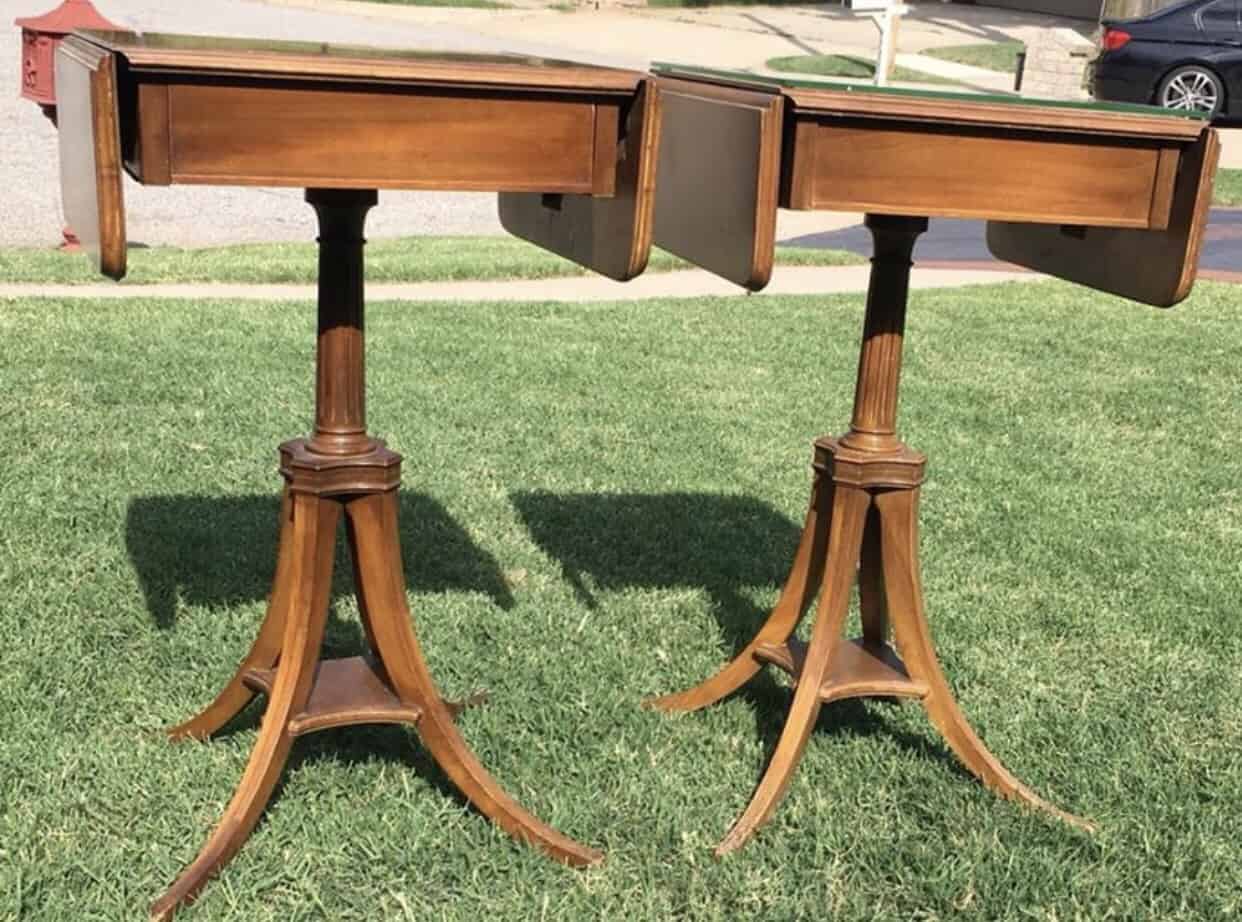 We needed some nightstands for our master bedroom but didn't have a lot of money to spend on them. I ended up finding these cuties on Facebook Marketplace for a total of $50. They were perfect for what we needed.
I knew I wanted them to be a combination of paint and stain to tie in with our stained dresser and painted headboard. I decided to refinish the tops and the drawers and paint the base with chalk paint.
Want to refinish furniture and avoid stripping? Check out this post by Family Handyman!
Stripping and Refinishing Wood Furniture
SUPPLIES:
Drop cloth or old sheet
Steel wool
Wood refinisher/stripper
Stripper wash (we use Zinsser's StripFast Stripper Wash)
Glass or metal bowl (NOT plastic)
Rubber gloves (you'll definitely want these)
Pre-stain
Stain of your choice
Quality stain brush (I like Purdy or Wooster)
Clean lint-free cloth
Mineral spirits (to clean your brush when done)
Stripping furniture
Lay down your drop cloth with your furniture in the middle. Put on rubber gloves and pour stripper into bowl.
Soak steel wool in bowl of stripper and squeeze out excess. The stripper will burn your skin so you definitely want the gloves AND if you get it on you, you need to immediately wash it off with soap and water.
Now, apply the steel wool to the wood, working in the direction of the grain. Watch the finish begin to dissolve as you apply the stripper. You may have to scrub stubborn spots, especially if you have a piece with a rough texture.
Continue to apply the stripper, folding over the steel wool to a clean side when one part gets too much stain caked on. Continue dipping steel wool into stripper as needed until all stain has been removed.
Depending on the size of the furniture you're refinishing you may need multiple pieces of steel wool to get the job done.
When you have gone completely and thoroughly over the piece with the stripper and are confident you have removed the stain, it's time for the stripper wash.
The stripper wash gets any remaining stain off, plus it removes any streaks or sticky spots the stripper may have left behind to give the piece a nice smooth surface ready for the new stain. Apply a thin coat using steel wool.
Once dry, if the piece shows white streaks, go over it again with clean steel wool and the stripper wash.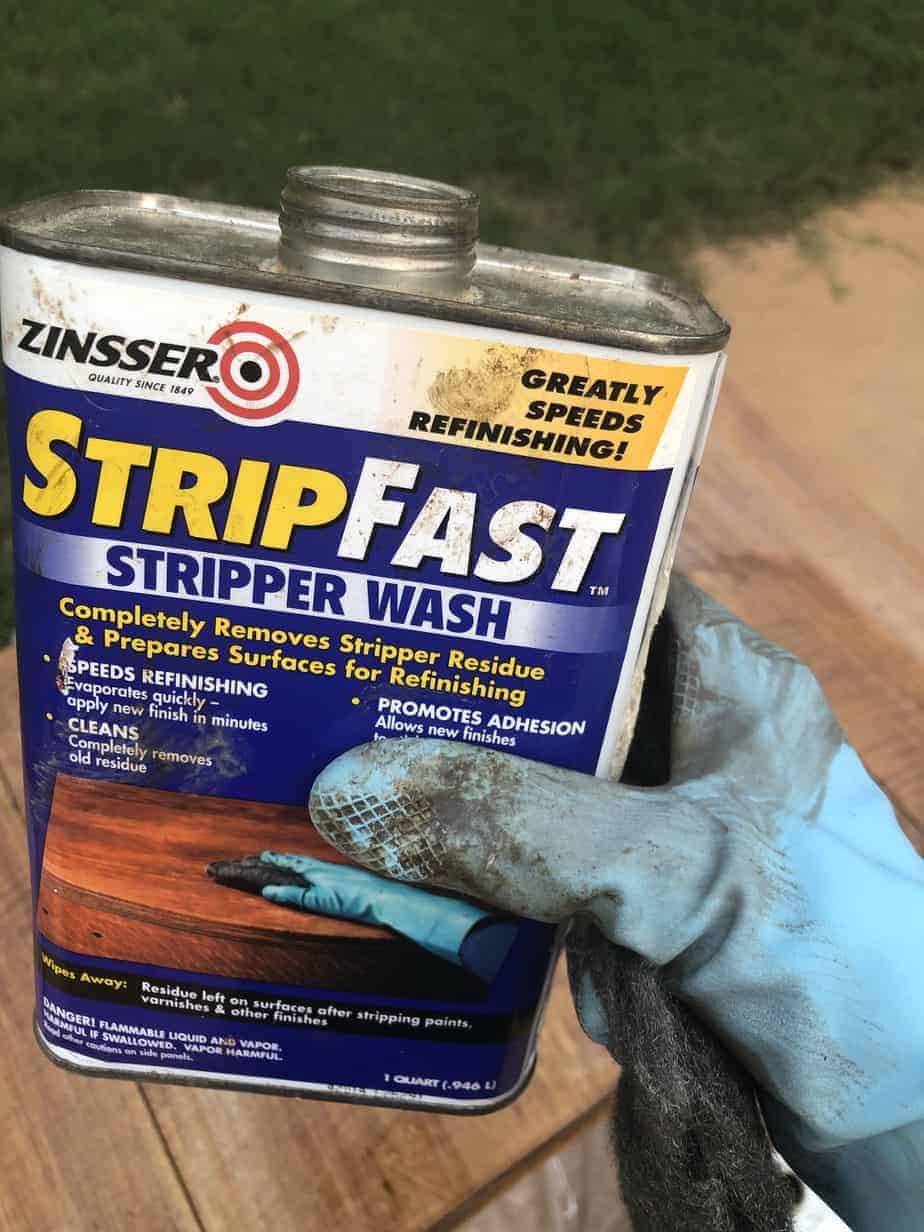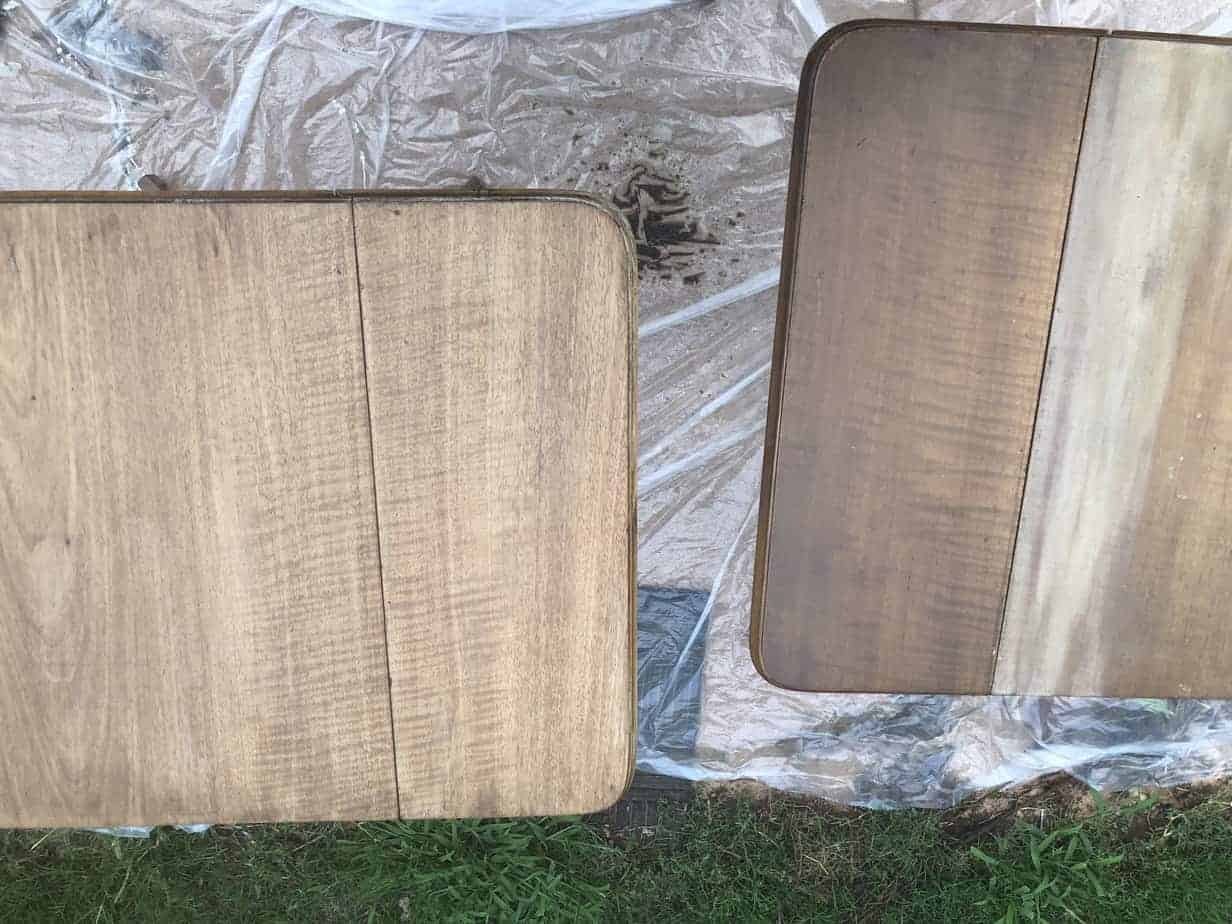 Refinish Wood Furniture with Stain
If your furniture has a smooth surface, it should be ready for the next step. If it's a rough surface it may still need a light sanding to remove hard-to-reach crevices. Once the surface is completely clean and void of old stain you're ready to stain the furniture.
Make sure your furniture is completely dry before starting. Brush on a pre-stain like Minwax to condition the wood and help the stain go on nice and even.
Let the pre-stain dry completely, but don't leave it for too long because once you've applied it the stain needs to go on within two hours.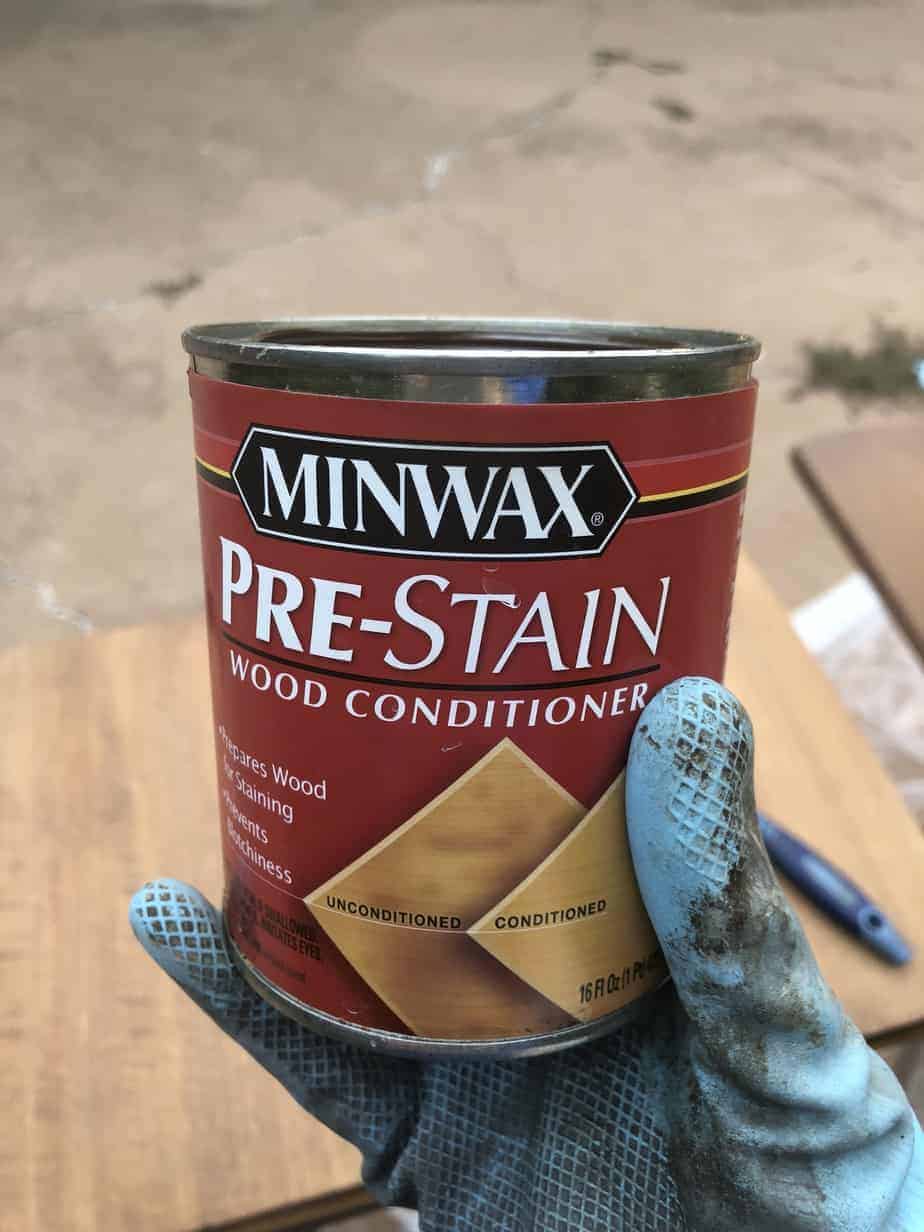 3. Once dry, you're ready for your stain. I chose Minwax's Wood Finish Penetrating Stain in Provincial because the color matched our dresser and I also love the way this stain brings out the natural grain of the wood.
4. Apply the stain with a clean, high-quality brush made for staining. Leave the stain on for 5-15 minutes, depending on how dark you want the finish to be. After the time is up, make sure to wipe the remaining stain off with a lint-free cloth.
NOTE: If you decide you want the piece to be darker, you can do a second coat after a couple of hours. For my tables, I left the stain on for a little over 5 minutes and only did one coat.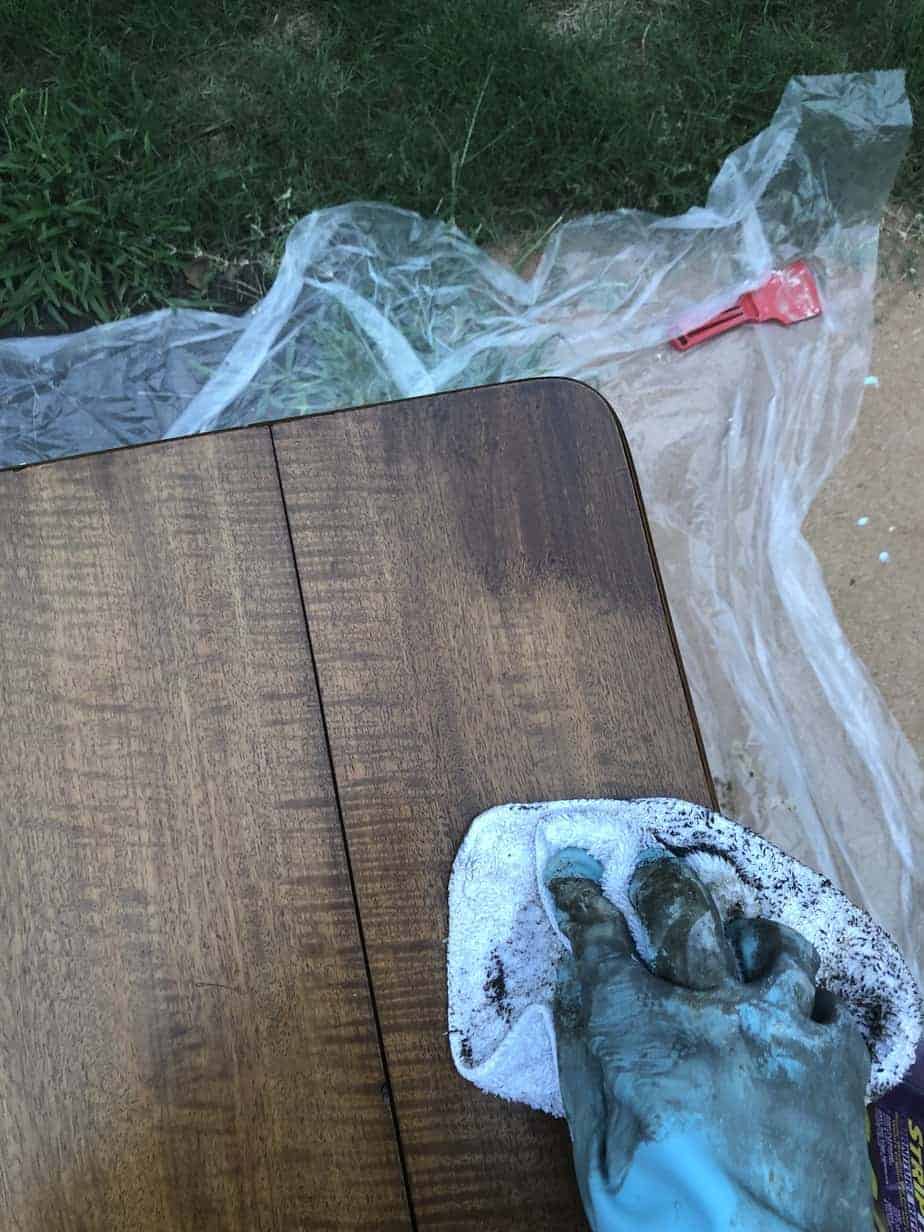 When you've reached the shade you desire, clean out your brush with mineral spirits and let your piece completely dry, preferably overnight.
Next, I recommend applying a topcoat. I like Minwax Fast-Drying Polyurethane in Satin. Brush on at thin coat and allow 3-4 hours to dry. Sand with light sandpaper or steel wool and then add another coat. Allow to dry 24 hours before use.
Check out the huge difference between the old stain and the new. The grain is much more visible now and looks beautiful!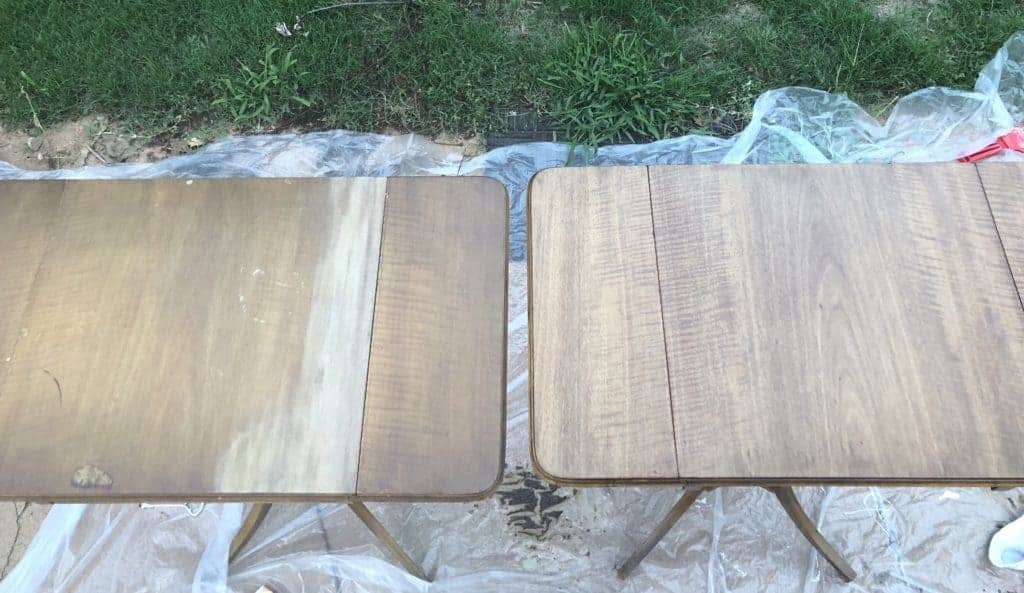 Refinishing Wood Furniture FAQs
Is it better to sand or strip furniture?
If you want to avoid using chemicals, sanding furniture is the best choice. I prefer to use a combination of chemical stripper and a sander to remove old stain from furniture. It's quick and efficient.
Can I stain over stain without sanding?
Yes you can! General Finishes Gel Stain is a great choice if you're wanting to stain over old stain without removing the old varnish first. I used their Java Gel Stain to stain over the old finish on my stair railings in my previous home and they turned out beautifully!
What if the old stain is thicker?
If you're working with an old thick stain that needs to be removed, try a product like Citristrip. Apply it according to the directions on the bottle to remove stubborn stain. You can also use a belt sander to remove the difficult finish.
How can I refinish furniture with paint?
Chalk paint is a great choice when you're wanting to refinish wood furniture with paint. Check out my post on how to use chalk paint to give your piece a new look!
How to Refinish Wood Furniture: In Conclusion
If you want to refinish wood furniture, it doesn't have to be a difficult process. Follow the steps above and check out the FAQ section for trouble-shooting if needed. You'll be on your way to breathing new life into a piece that will last you for years to come!