Beautiful Farmhouse Dining Room Makeover
Goooood morning! I am getting ready to head to conferences for my kiddos, but I wanted to pop in today to show you our dining room transformation!
I've mentioned before that we got a pretty sweet deal on our house because it needed A LOT of work. Honestly, more work than we realized when we took it on. But we love the house. Out of all the homes we've owned, this one is our favorite. And we are having so much fun getting to make it our own when we're not fixing and replacing other major and less exciting things like the air conditioner and water heater!
This post contains affiliate links. See my disclosure policy here.
Dining Room Before
This room was originally the living room. Sometime in the '80s, the owners added on a large sunroom. It's beautiful-it's really what sold us on the house. We still have some work to do there, but we love that space. So the original living room became sort of an extension of the new add-on. The previous owners used it as a sitting area, but that seemed awkward to have a sitting area back up to the living room. Here's what it looked like before we bought it:
The house had a formal dining room off of the kitchen. But the formal dining wasn't huge and I really wanted a large farmhouse style table for when we have company over. Ultimately we decided to make the formal dining room into an office/craft room (it's still a work in progress) and to use the former living room turned sitting area into the new formal dining. Here's the original formal dining room after we painted.
So. Much. Wallpaper.
After we closed on the house, but before we moved in, we decided to paint. There was wallpaper EVERYWHERE. And it had been glued directly to the sheetrock. There was no getting that off without completely redoing the sheetrock, so my hubby textured over the wallpaper and then we painted it. We had a lot of help from our family, which was a huge blessing.
Painting the Fireplace
We gave the trim a fresh coat of white paint, as well. Then we tackled the fireplace. I have wanted a white brick fireplace for YEARS. Our previous home had a brick fireplace and it was on the to-do list, but we never got around to it so this time we made it a priority.
Farmhouse Dining Table
My hubby built our table. I gave him an idea of what I was wanting and he made it happen. He is so talented! And I am thrilled with how it turned out. He stained the top gray and I painted the base with chalk paint.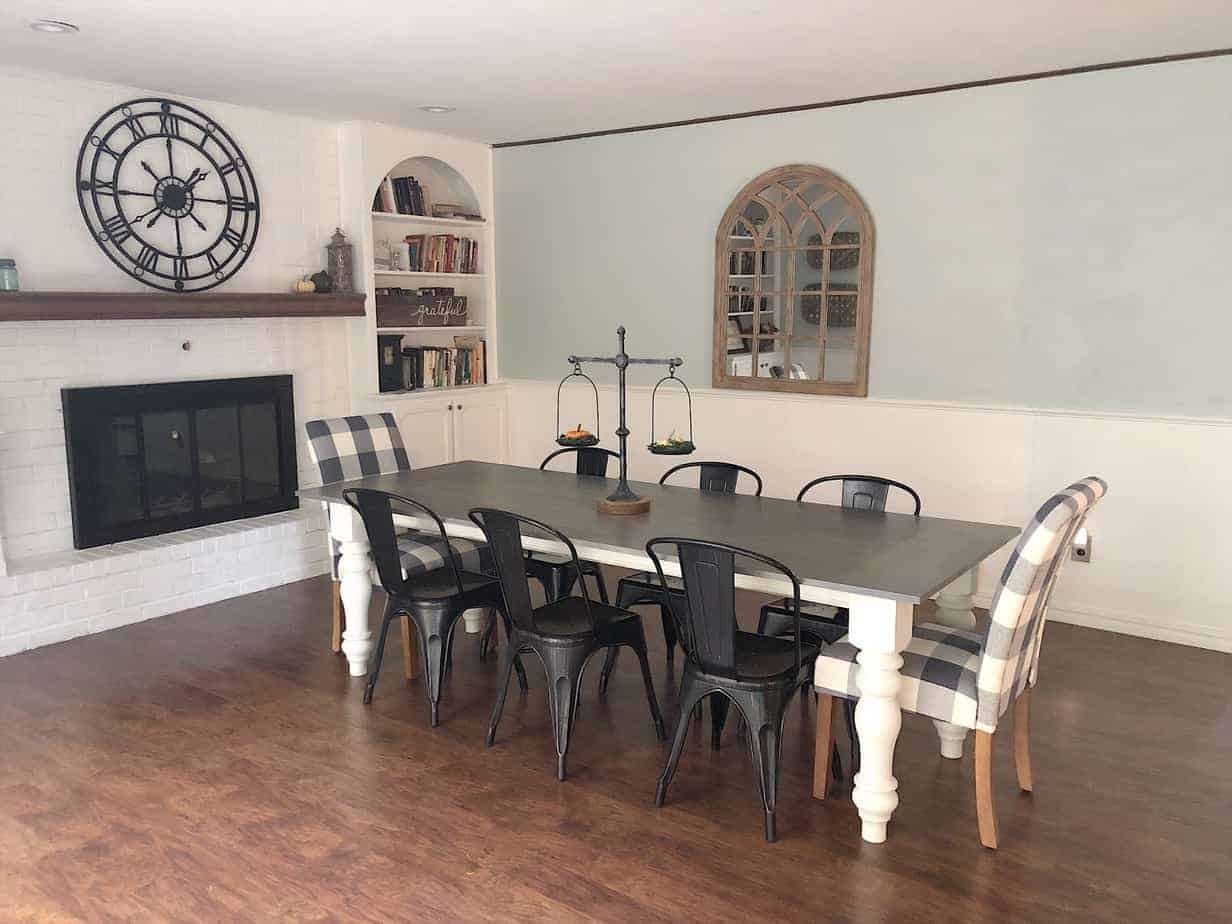 We already had the metal chairs. We had purchased them for the previous table he built for our home in Nebraska. I love those metal chairs! Before that, we had fabric chairs and I was ALWAYS cleaning them because we have three kids! We switched to metal to save my sanity and they are awesome!
We just recently purchased our buffalo check end chairs and they are beautiful! They were a sweet deal on Wayfair and excellent quality for the price. You would think we paid a ton for them because they look and feel high-end. Plus they're very comfortable.
**Since posting this, I've had several questions about both styles of our dining chairs. You can go here for more info on the buffalo check chairs and here for the metal chairs!
SEE FARMHOUSE BUFFET MAKEOVER HERE
I found the large mirror at Kirkland's and the arch echoes the arches on the bookcases, which gives it a cohesive feel!
Work in Progress
We still have a few things left that we'll add as we have time and money. We'll eventually add thick crown molding. We'd also like to add an area rug for under the table and a chandelier of some sort over the table. And those books on the built-ins will go in the office when it's finished, leaving room for some pretty shelf decor! I will share updates as they happen!
All in all the space works perfectly for our formal dining! The fireplace gives it a cozy feel and light walls and trim really make the space feel bright and cheery. We are really happy with the way it turned out!
This area over here is our next project! That wet bar is in some definite need of updating! It's going to involve a little shiplap, some wood shelving, and a galvanized light fixture! Stay tuned!
UPDATE: See the updated coffee nook here!
Thanks for stopping by today! Hope you have a great weekend!
OTHER RELATED POSTS:
Before and After: Built-in Hutch Makeover
Laundry Room Makeover on a Budget
Pin for later: