Easy DIY Stencil Wood Sign
Make this easy DIY stencil wood sign with supplies you already have at home!
I have an easy DIY for you today! Have you seen those stencil wood signs that say "Blessed" or "Thankful" and people display them on their fireplace or front porch? Well, today I'm going to show you the easiest way to make your own stencil and sign!
I've been wanting one of these signs for a while and we had some leftover weathered wood in our backyard that was perfect for this project!
This post contains affiliate links for your shopping convenience. See my disclosure policy here.
Stencil Wood Sign
You will need:
Stained or weathered 2×6 cut to length (depending on how long your word is)
Paint color of your choice (I just used some I had leftover)
Spray adhesive
Printout of the word you want on your sign (I chose "WELCOME")
Scissors
Paintbrush or small roller
Directions:
I started by printing out my letters. The font I chose was Times New Roman in bold. Make sure they're the correct size for your board.
One thing I will do differently next time I do this is to print the letters on cardstock. I just printed them on regular paper and it still worked, but I think cardstock would've been easier.
Cut out your letters like this to make a stencil:
I cut them out in such a way that I only had one entry point and was able to tape it closed and cut down the stencil into a square/rectangle to make it fit on the board.
Next, I spaced out the letters down the length of my board and measured them to make sure they were even.
Now it's time to spray the adhesive on your piece of wood to help keep the letter stencil in place.
I pushed the seams down to make sure the paint wouldn't bleed underneath.
Using a paintbrush or small roller, paint over the letter stencils. While the paint is still wet, remove the stencil.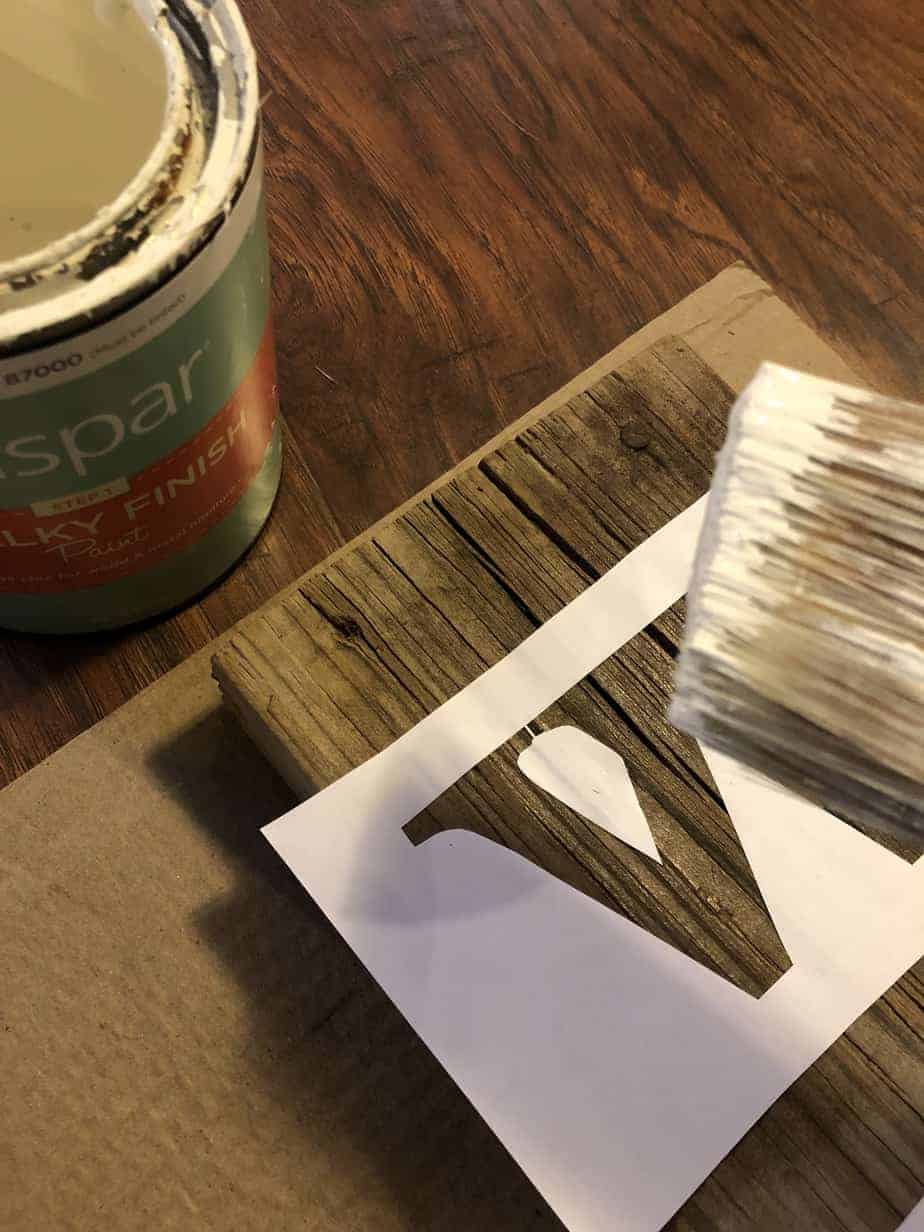 After removing the stencil, I took a damp paper towel and wiped off the places I accidentally got a little crazy with the paint! When the paint was dry, I used a little bit of stain I had leftover to cover the paint the didn't come off with the towel.
Tada! A beautiful and easy wood sign! It takes all of about 30-45 minutes from start to finish and it was super cheap since I already had everything except for the spray adhesive.
That was my first time using spray adhesive and it was awesome! I can think of a few more projects that adhesive would be good for!
This sign would also be cute in a kitchen with the word "Bakery" or in a living room with the words "Home" or "Family". The options are endless!
I hope you enjoyed this DIY today! Be sure to subscribe so you don't miss a post and come say hi on Instagram!
OTHER RELATED POSTS:
DIY Rustic Sign Post
DIY Fall Sign on a Budget
Pin for later: