Amazing Dining Room Buffet Makeover
Hey there! I am really excited to finally share this buffet makeover with you today!
This post contains affiliate links for your convenience. See my disclosure policy here.
Beauty from Ashes
I love refinishing furniture! If you've followed along for a while, you know I used to have a side business redoing furniture to bring in some extra income while I stayed home with my kiddos. I named it Beauty from Ashes because the Lord has brought beauty from ashes in my own life. And I was taking ugly pieces of furniture and making them beautiful so I felt it was appropriate.
I started the business in Kansas and re-launched it when we moved to Nebraska. After having back problems for years I had to have major back surgery to fuse part of my spine together. Although I'm much better off, it's still hard on my back to work on furniture so I made the decision not to start over again when we moved to Oklahoma.
Buffet Needing Some Love
I really miss it so I get excited when I get the chance to work on a piece! This time it was a buffet for our dining room.
We purchased it for a great deal on Facebook Marketplace. My hubby and son went to pick it up from a couple who had purchased it to refinish themselves but hadn't gotten around to it. It's been sitting in our garage for several months, but when we had a couple of surprisingly warm days one weekend, we tackled it!
It was in pretty rough shape! We had to make some repairs and patch some cracks. There were layers of paint and stain to go through to get the top ready for new stain.
Fresh Paint
We went back and forth on the color for a while but eventually decided to paint the base the same color as the farmhouse style table my hubby, Eric, built. Eric stripped and sanded the top until it was nice and smooth.
Staining the Top
We decided to use the same stain on top that we had used on the entry barn doors, the mantle and the wood top on our coffee bar. It has a gray undertone that we thought would complement the table top, which is stained classic gray. The top was a redwood which made the stain look different than it did on the pine doors and coffee bar top. Looking at it in the garage, I wasn't sure I was going to like it. But when we got it in the house – wow! It is beautiful!
The Jewelry
We centered it under the mirror and it sat there for close to a month looking naked because it needed new knobs and pulls. I think that was the hardest part of this whole project! Usually, I LOVE picking out the hardware. I call it the icing on the cake or the jewelry to complement the outfit. But this time I was STUMPED. I searched Pinterest for ideas and shopped multiple places online and in person to try to find just the right ones! I bought some that didn't work and had to return them. It was crazy!
I finally landed on these pulls for the two small and large drawers, small round knobs for the doors and larger round knobs for the curved drawer. They all came from Hobby Lobby. Hobby Lobby has the neatest knobs! And when you can catch them on sale, even better!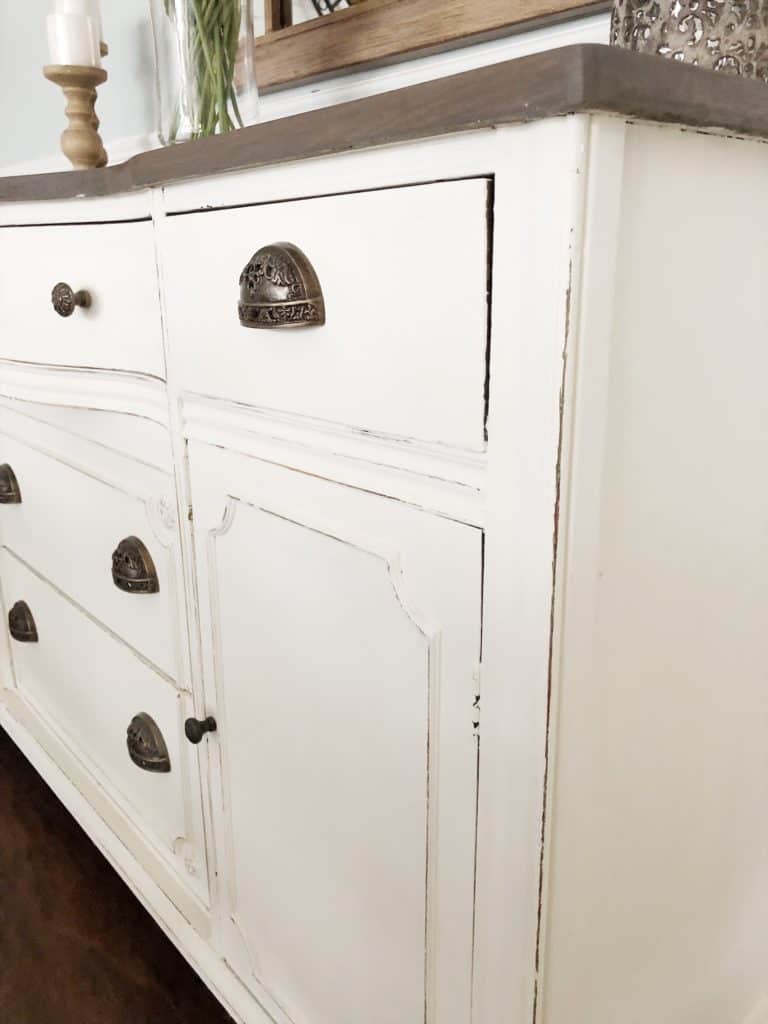 Buffet Makeover
And here she is all done! I love how it turned out! It's even better than I pictured. The color of the stained top goes perfectly with the arched mirror I purchased from Kirkland's when we first moved in. The cream color matches the dining table my hubby built and they compliment each other well.
Find Kirkland's Natural Sadie Arch Mirror HERE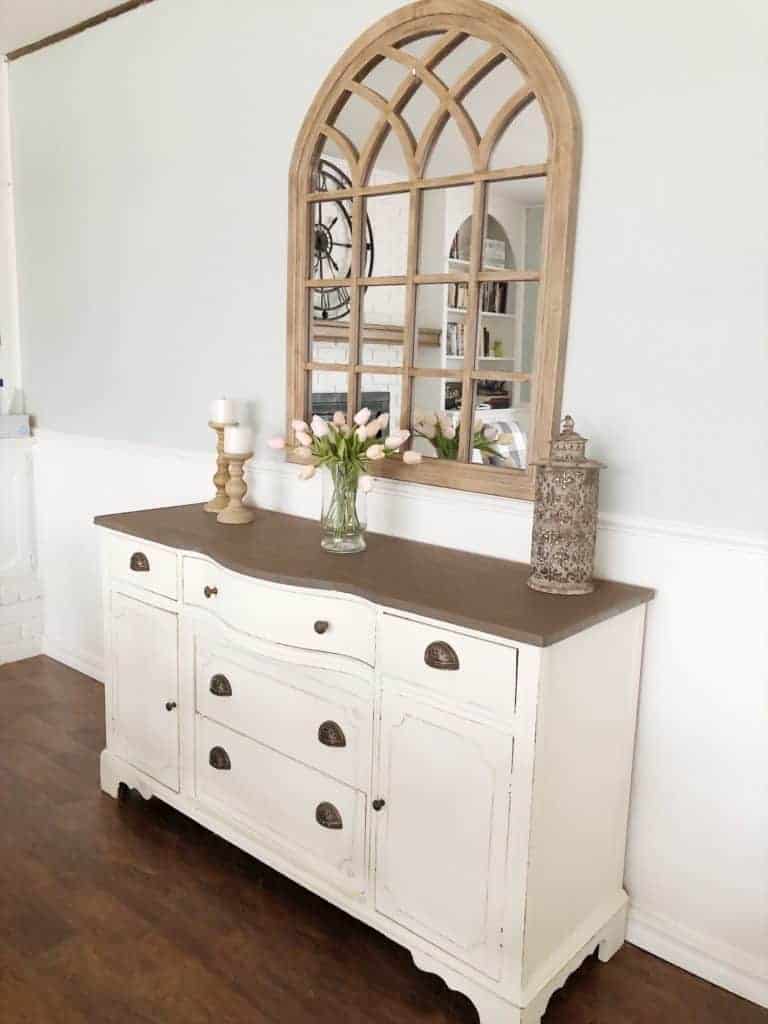 The buffet was one of just a few things we have left to finish off this room and I love how it's coming together! We'd like to add thick crown molding, a chandelier, and an area rug to complete the look, but that'll be later on!
Thanks so much for hanging out with me today! Be sure to subscribe so you don't miss a post! Have a blessed day!
You may also be interested in:
How to Easily Refinish Wood Furniture
How to Paint with Chalk Paint
Pin for later: